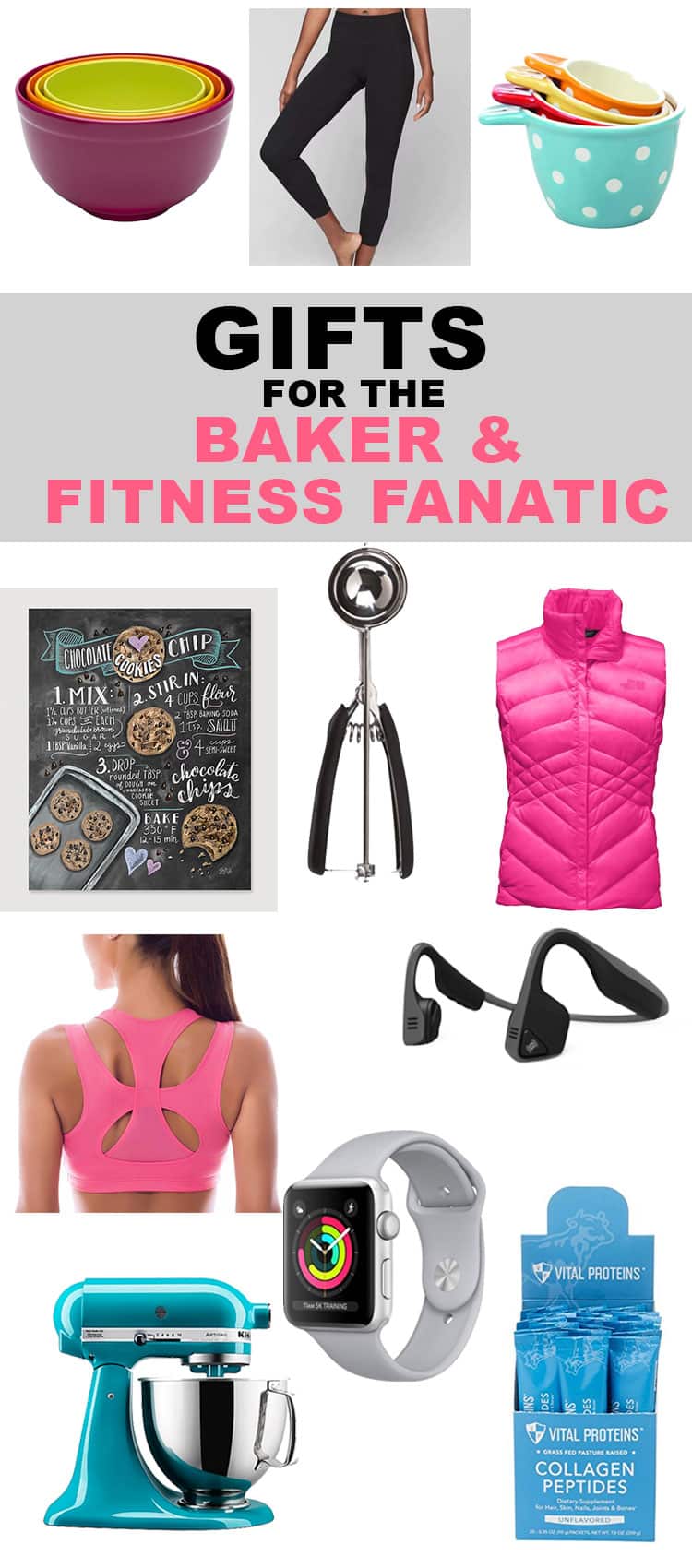 You asked! Here are the top 20 picks for that baker or fitness fanatic in your life. Or, let's be honest, for you too. Because we all deserve a little reward for shopping during the holiday season
AfterShokz Bluetooth Headphones – Hands down, the best headphones I've ever owned. These are powered by bone conduction technology and sit on your cheekbones and deliver sound via mini vibrations to your inner ear, bypassing your eardrums completely. There's no ear buds, completely sweat and slip proof! And the really cool thing is since there's no ear buds, you can still hear your surroundings. AND currently the Trekz Titanium are only $79.95 (originally $129.95)! If you miss this sale, don't worry! After Cyber Monday, if you use the link provided you'll still get 20% off.
Zak Designs Mixing Bowl Set – I really like all of the Zak mixing bowls and they pretty much go through the dishwasher daily. I use them for baking, cooking and as "garbage" bowls when chopping up ingredients. I've had these for 2ish years and still in perfect condition.
OXO Cookie Scoop Set of 3 or Sur La Table Cookie Scoop (4 Sizes) – OXO and Sur La Table scoops are the absolute best and last forever. I recommend purchasing each size if you can. I use the small for smaller cookies or as a melon baller. I use the medium for mostly cookies and the larger one is perfect for measuring out meatballs!
Ceramic Polka Dot Measuring Cup Set – I just ordered these a few weeks ago... I'm obsessed. These are so cute. Enough said.
KitchenAid 4.5-Quart Stand Mixer – the best gift I ever received was my stand mixer. I use it for almost everything and with so many attachments, there's pretty much nothing you can't do with it! AND it's currently almost 45% off!
Apple Watch – when these watches came out back in 2015, I was skeptical if I'd like it or not. I have the OG Apple Watch (2.5 years old) and it still works like a champ! I use it for tracking fitness related activities that all link to the health app which is awesome but also use it for work (IMs, email, calendar, etc.)
RxBar Kids Chocolate Chip – for some reason I'm more in love with the kids Rx Bars than the regular. These are ~110-130 calories and I always keep a few in my purse and backpack so I don't get hangry.
Blender Bottle – these are a favorite for pre-workout, protein shakes, etc. I have a cabinet filled with them and my collection keeps growing. Can't stop, won't stop.
Vital Proteins Collagen Peptides Stick Packs – this stuff is liquid gold and I drink it every day either in tea, protein shake, smoothie bowl, etc. It's so good for bone and join health and helps to restore protein content of the muscle.
Aqua Polka Dot Oven Mits – over the past month I've been on the hunt for new oven mits since mine are pretty gross despite washing them. And these are too cute to pass up.
Vitamix Blender – I know, it's a bit pricey. But after running a poll on Instagram a few weeks ago, nearly all readers said it was worth every penny. AND right now, you can save $50! The Blendtec Total Blender was a very close second (by 2 votes) and for Cyber Monday it's only $189.95... that's 48% off!
Carrot Whisk – Oh my cuteness. I ordered this as I wrote this post (because I don't have enough?)
Lily & Val Shop – everything in this shop is adorable. I own a few prints (no longer available) that I framed but now I'm eyeing out this one, this one, and this one. SANTA PLEASE FOR MY OFFICE!
NIKE Dri-Fit No Show Socks – my entire sock drawer is filled with these. They are always my go-to when I need new socks.
Running Belt – this belt isn't just for runners, it's also perfect for weightlifting, walking the pups, working out at the gym, etc. It's light-weight so you can barely tell it's there and holds a ton!
Wirefree High Impact Sports Bra – if you know me, you know I have to wear TWO bras when running and it totally sucks. With these, I don't have too! Santa, please get me more!
North Face Women's Vest – one of my favorite vests of all time to throw on to go for a run or just running errands with a favorite long sleeve.
C9 Champion Long Sleeve Workout Top – now that the weather is getting cooler down south, these are perfect to throw on with a vest to go for a run or even just out and about. I love that they are reasonably priced and sometimes are even additional % off on Cartwheel. Also, if you have your Target 20% off coupon that starts 11/28-12/10 then stock up (online or in-store)! OR Target has 15% off your entire order today online only.
Athleta Salutation 7/8 Tight – these tights were brought to my attention about 1.5 years ago and are still the ONLY kind that I wear when working out. I'm a sucker for these and the mesh ones. Athleta is my favorite company, ever, for the fact that their motto is how badass women are (cause we are!) AND you can literally return anything regardless of the condition – ie. hole in your 2 year old tights? No problem. Exchange them for a new pair. Right now (ends today, 11/27) all orders are 20% off!
Gatorade Squeeze Bottle – so I have a confession to make: I'm superrrrr weird when it comes to water bottles while working out. I need to have a water bottle that I can easily squeeze to get water and this one does just that.
And a few more more because I had to! Cookie Spatula – you know how obsessed I am with spatulas and there's so many cute ones. Maybe too obsessed? NAH.
Awesome Workout Tanks – when you feel good during a workout, you workout better... that's my motto! This shop is a favorite of mine and if I could buy them all, I would.
Deep Tissue Foam Roller – I can't stress enough how important it is to foam roll after a workout, or even on your off days. This is my favorite foam roller because of it being deep tissue.
OK last one, I promise! Lodge Cast Iron Skillet Set – these are my favorite skillets ever. And what most people don't know is a good seasoned cast iron skillet is actually non-stick. I use it for pretty much everything; browning meatballs, cooking chicken, green bean casserole, homemade pot pie, and even roasting veggies.
Some of the links provided above are affiliate links, which pay me a small commission for my referral at no extra cost to you!