These soft-baked cookies are a cross between chocolate chip cookies and your favorite cake filled with sprinkles!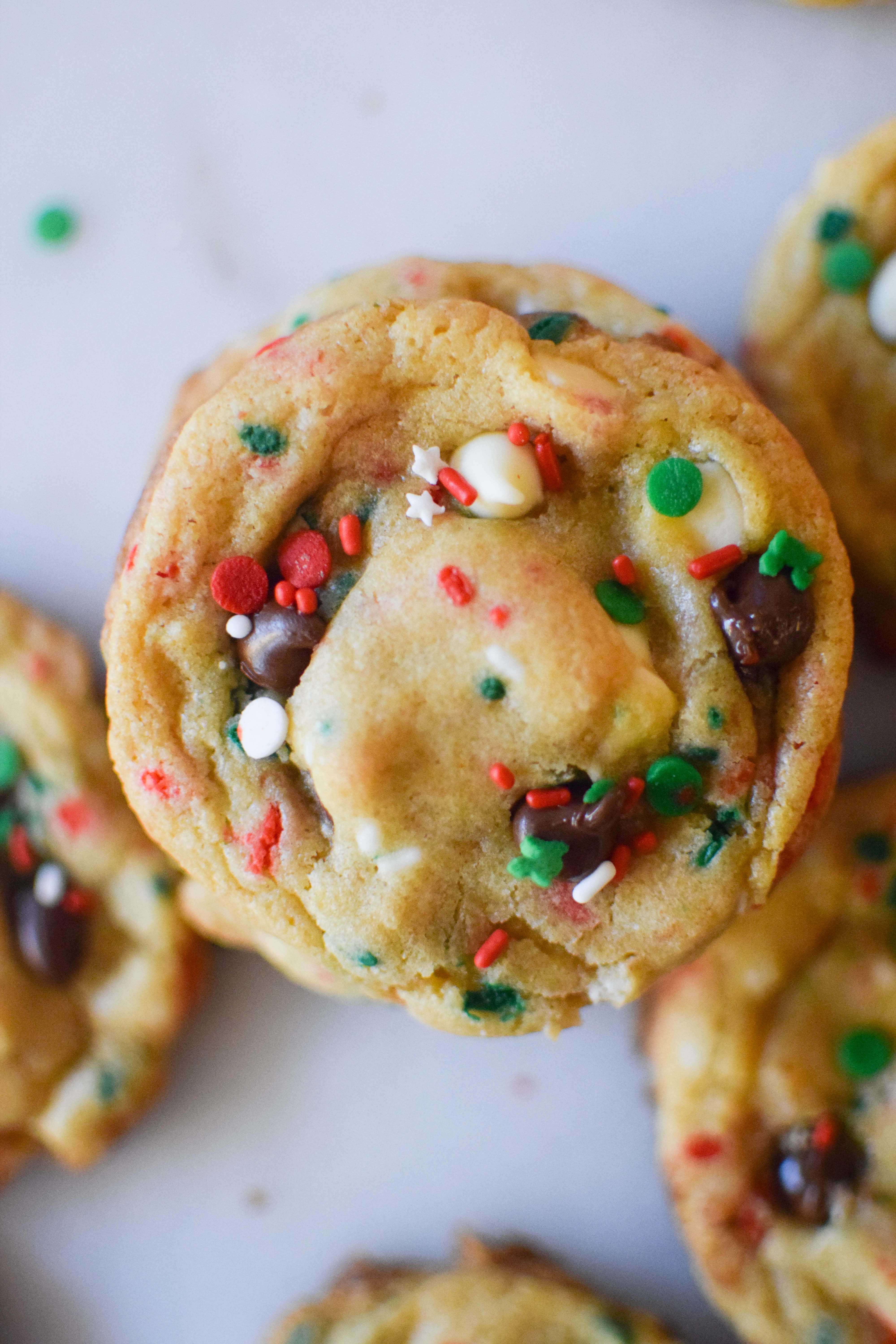 I'm baaaaaaack with another cookie to add to your cookie jar! My love for classic homemade chocolate chip cookies is always there, but sometimes you want to kick it up a notch. If it isn't the incredible chewiness of each cookie with the taste of a cake, it's the combination of white and semi-sweet chocolate chips combined. Or maybe it's the sprinkles. Yes. It's definitely the sprinkles.
Sprinkles all day, every day. Thankyouverymuch♥
Bottom line: you need to make confetti cake batter chocolate chip cookies this week.

And today, I bring the you the one and only cookie that combines the two best flavors on the planet which also happens to be recipe #4 of the Christmas cookie countdown. Inspiration: my husband. He's a lover of cookies and cake batter.
Alright cookie lovers, let's do this👊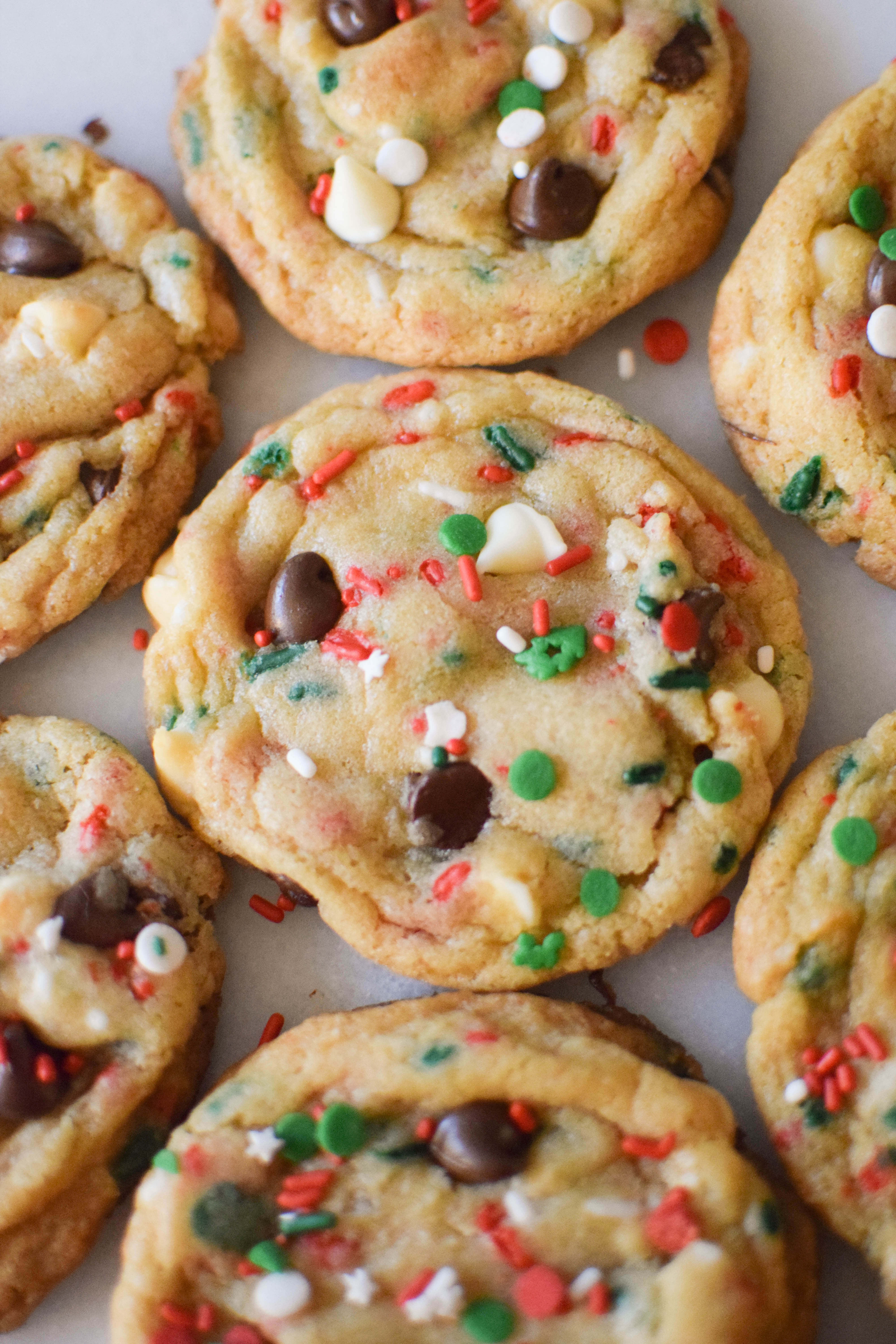 If you're anything like me, thick and chewy cookies are you jam. Today I'm giving you some pointers for cookie success. Think of it as a "cookie lesson."
KEYS TO COOKIE SUCCESS
1. Cornstarch gives cookies that thick and chewy texture.
2. Just like these, an extra egg yolk helps produce a chewy cookie.
3. Chill the dough.
Before I move any further, let me emphasize how important chilling the dough is. I cannot stress this enough. I chill the dough for nearly every single cookie I bake. If you try and bake room temperature cookies, especially when using melted butter, you will find your cookies in a single crisp on the baking sheet. The cooler the dough, the less the cookies will spread, thus producing a thicker cookie.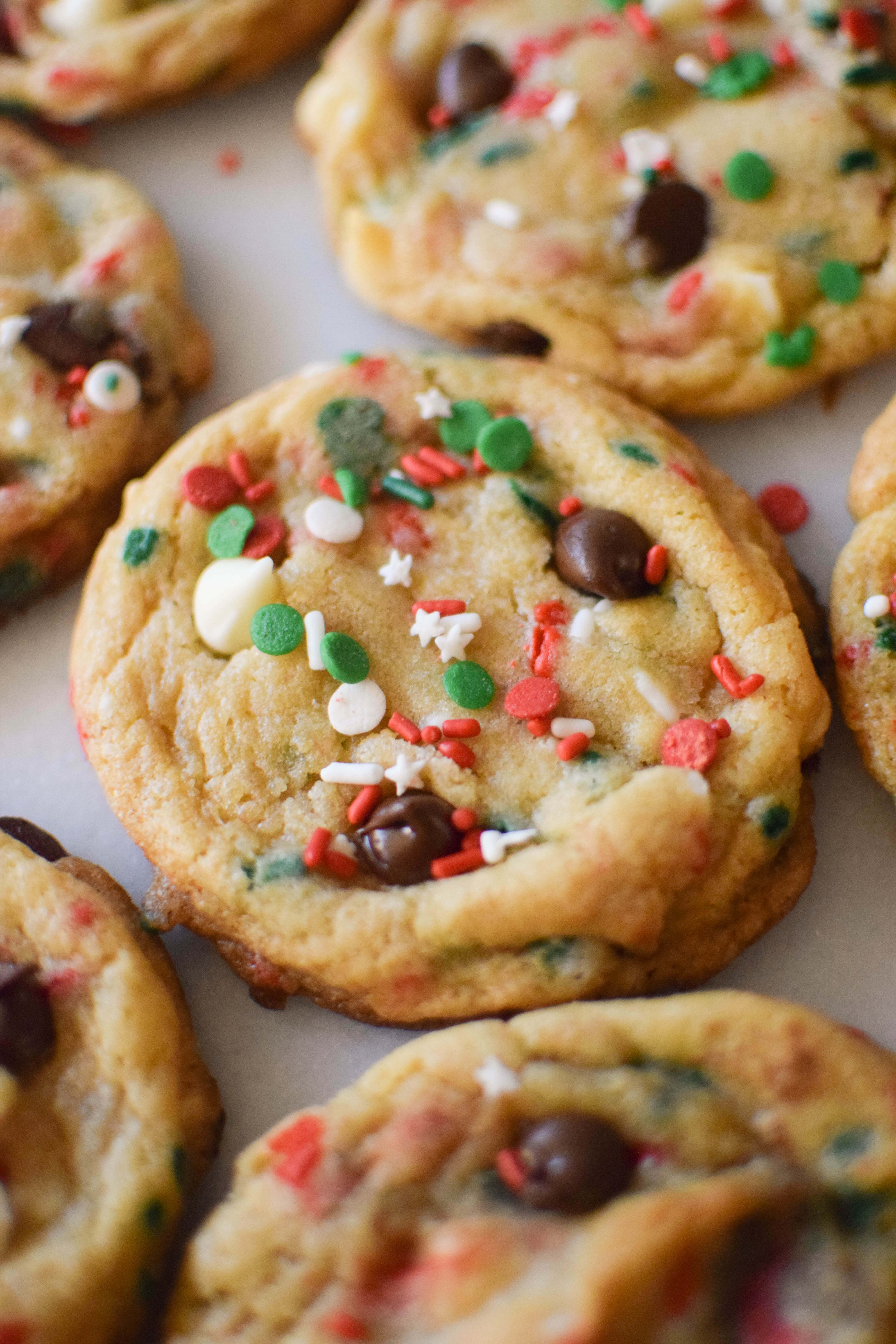 After you've chilled the dough, grab 1.5 Tablespoons of dough and roll them in "taller" balls, rather than round. Bake them for 10-12 minutes. These took exactly 11 minutes. They will look slightly under baked, but that's what you want!
Now, grab a friend, a family member, or yourself and head on into the kitchen and get started.
THIS is what I call cookie perfection.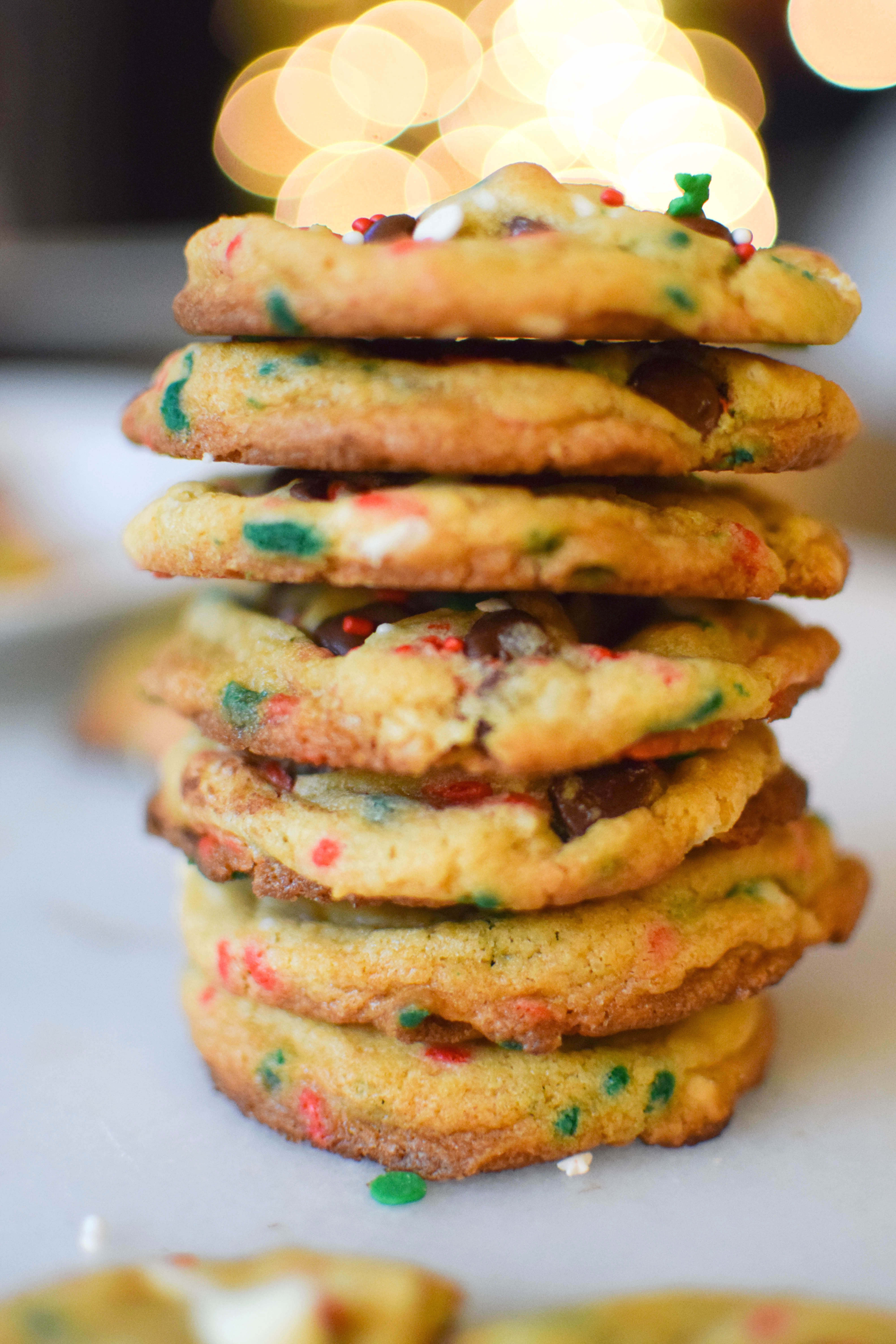 Follow me on Instagram and tag all recipes you make using #addictedtothekitchenblog so I can see♥
Confetti Cake Batter Chocolate Chip Cookies
These soft-baked cookies are a cross between chocolate chip cookies and your favorite cake filled with sprinkles!
Ingredients
1

and 1/2 cups all-purpose flour

1

and 1/4 cup cake mix

I used the Moist Supreme® Classic Yellow cake mix

1

teaspoon

baking soda

1

and 1/2 teaspoon cornstarch

1

and 3/4 cup

1.5 sticks unsalted butter, melted

3/4

cup

packed brown sugar

1/4

cup

granulated sugar

1

teaspoon

vanilla extract

1

large egg + 1 large egg yolk

3/4

cup

chocolate chips

I used a combination of semi-sweet and white chocolate chips

1/4

cup

sprinkles
Instructions
In a large bowl, combine the flour, cake mix, baking soda and cornstarch. Whisk together and set aside.

In a microwave safe bowl, melt the 1.5 sticks of butter in 30 second increments. Once melted, allow to cool slightly. Whisk in both sugars and vanilla extract. Add the egg and egg yolk and whisk together until combined.

Pour in the dry ingredients and mix together using a rubber spatula or wooden spoon. Mix together until just combined. Fold in the chocolate chips and sprinkles. It may not look like either will stick because of the melted butter, but use those arms to work it in.

Cover tightly and refrigerate dough for at least 2 hours, or up to 3 days. This step cannot be skipped. If this step is skipped, the cookies will spread.

Preheat the oven to 350F degrees. Line two baking sheets with

silicone baking mats

(preferred) or parchment paper. Grab 1.5 Tablespoons of cookie dough and roll it into "taller" rather than round balls. Place 8 one a baking sheet at least 2 inches apart. Bake for 10-12 minutes. Mine took exactly 11 minutes. The cookies may look slightly under baked, but thats what you want. Allow to cool for a few minutes on the baking sheet before transferring to a wire rack to cool completely.

Cookies stay fresh up to 7 days in an airtight container.
See more recipes in the Christmas cookie countdown.