Healthy, fresh and light one pan bruschetta chicken. Perfect for a weeknight dinner!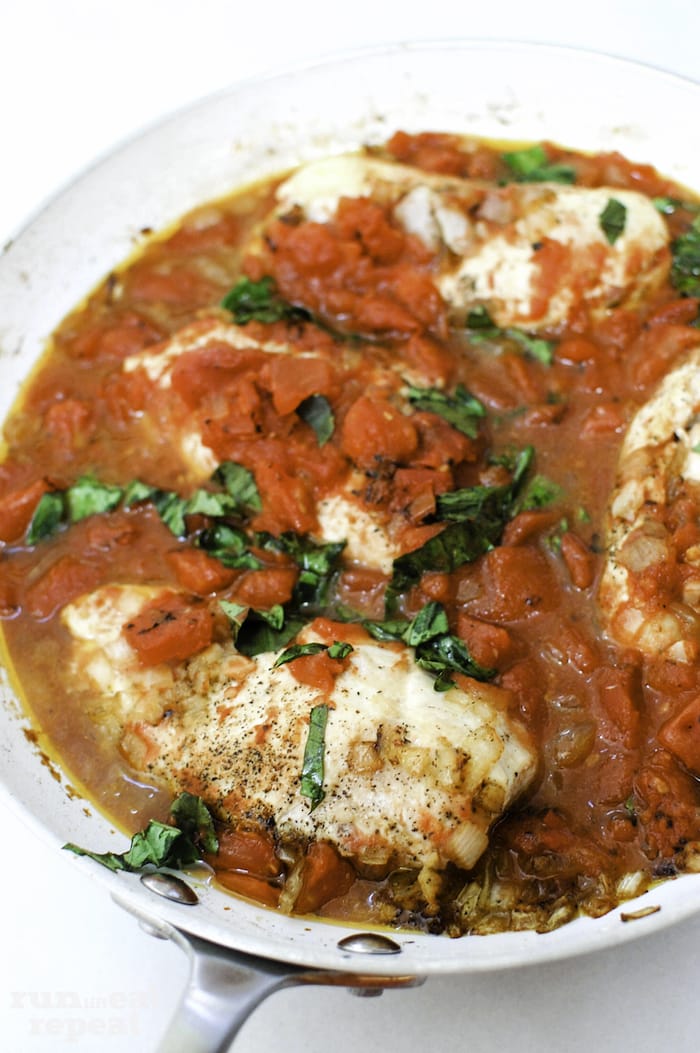 I'm baaaaaack, after a little hiatus. Sometimes… you just need a break.
I feel like life has been so disorganized for me lately, but somehow not. Weird, I know. Every weekend has been packed or travel. I'm looking for a weekend of nothing.
Anyway. Back to why you're really here. I told myself earlier this month to add more variety to dinners. Meaning, don't eat the same few things every week. Don't get me wrong, I could live off tacos, tacos and more tacos.
Shine the light on this beauty. Incredibly flavorful, ready in 30 minutes bruschetta chicken with zooooooodles!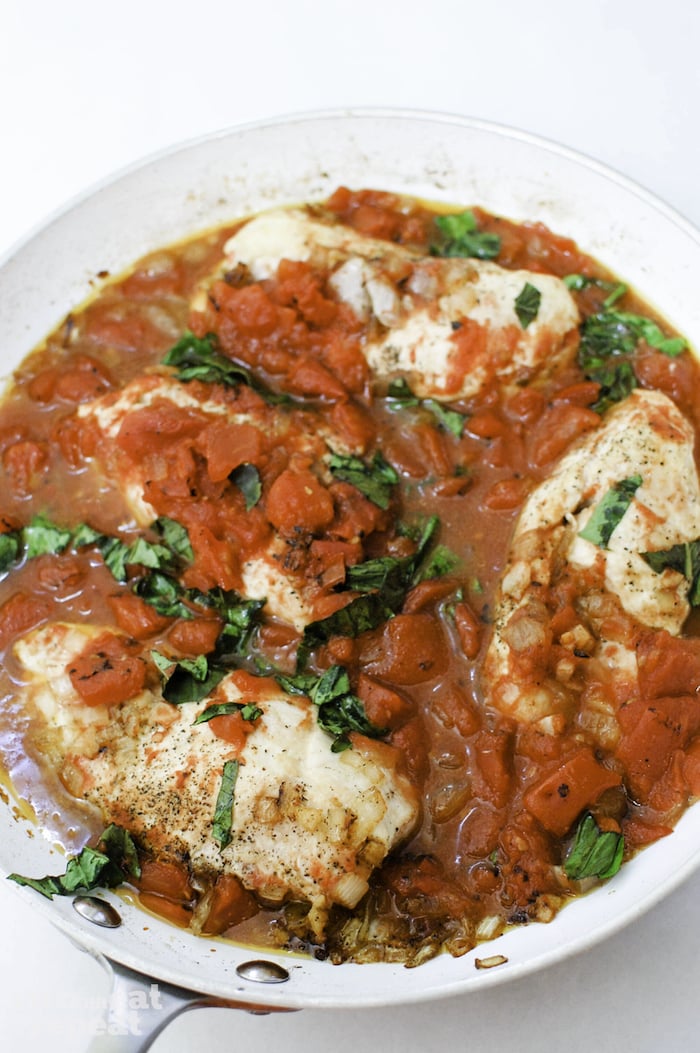 I pretty much crave Italian on the daily, but it's not always the healthiest. I whipped up a lighter recipe with so many fresh flavors.
The star: bruschetta topping! A variety of tomatoes, fresh basil, fresh garlic, a simple dressing. You'll cook up the chicken in a pan and then add the zooles to the pan after the chicken is cooked through to soak up the flavor. Add some of the bruschetta topping and stir together. Add the chicken back to the pan and top with bruschetta.
So beautiful. So fresh. One pan, healthy and so filling.
If only all dinner was this easy.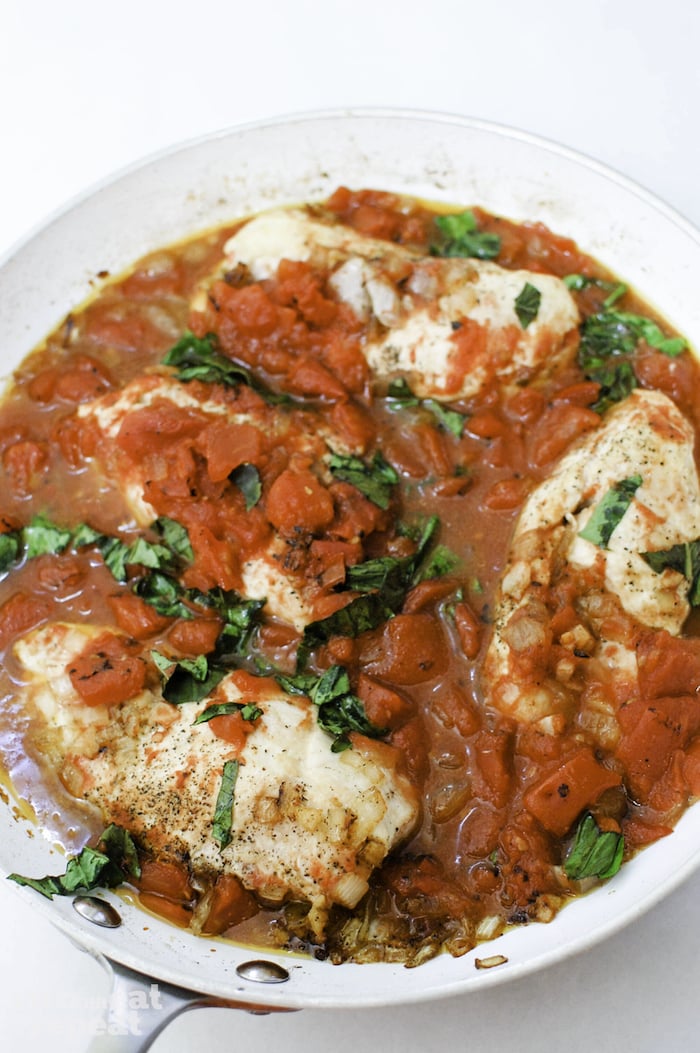 Print
One Pan Bruschetta Chicken
Healthy, light one pan bruschetta chicken. Perfect for a quick weeknight dinner!
Ingredients
MARINADE
1/2

cup

extra virgin olive oil

1/4

Tablespoons

fresh lemon juice

zest from one lemon

1

teaspoon

dried parsley

1/2

teaspoon

onion powder

1

teaspoon

dried basil

1/2

teaspoon

dried oregano

1

teaspoon

salt

1/2

teaspoon

ground black pepper

special equipment: mason jar or container
DINNER
4

boneless skinless chicken breast

half marinade

1

pound

tomatoes

chopped

1/4

cup

fresh chopped basil leaves

2

garlic cloves

minced

salt/pepper

3

Tablespoons

olive oil

2

large zucchini spiralzed

I use this spiralizer
Instructions
Marinate the chicken: Place the chicken breasts in a large ziplock bag or a shallow dish, such as a pie dish. Pour half the marinade over the chicken and make sure it's coated evenly. Seal or cover and refrigerate for a minimum of 1 hour or up to 24 hours.

Make the bruschetta topping: Combine the chopped tomatoes, basil leaves, minced garlic and 2-3 Tablespoons of the marinade. Add salt and pepper to taste. If making ahead: cover tightly and refrigerate for up to 24 hours.

In a large skillet, heat 2 Tablespoons of olive oil over medium heat. Add the chicken and cook for 12-15 minutes, turning once (the time will be dependent on the thickness of the chicken.) You are looking for the chicken to be nice and browned on the outside and fully cooked on the interior (165F degrees.) Remove chicken and set aside.

Add the remaining Tablespoon of olive oil to the skillet and add the zucchini noodles and half of the tomatoes. Cook for 5 minutes, stirring occasionally. You want the zucchini noodles to cook down slightly and absorb the left over flavor from the chicken. Remove from heat and place chicken over top the zucchini noodles. Evenly top the chicken with the remaining tomato mixture. Serve immediately.

Leftovers stay fresh in the refrigerator for 3 days. Reheat in the microwave or eat cold (my favorite!)
Try another zoodle recipe: Asian Chicken Vegetable Zucchini Noodles. A favorite in this house!