If you like peanut butter, you'll love this! Oh, and it's super easy too!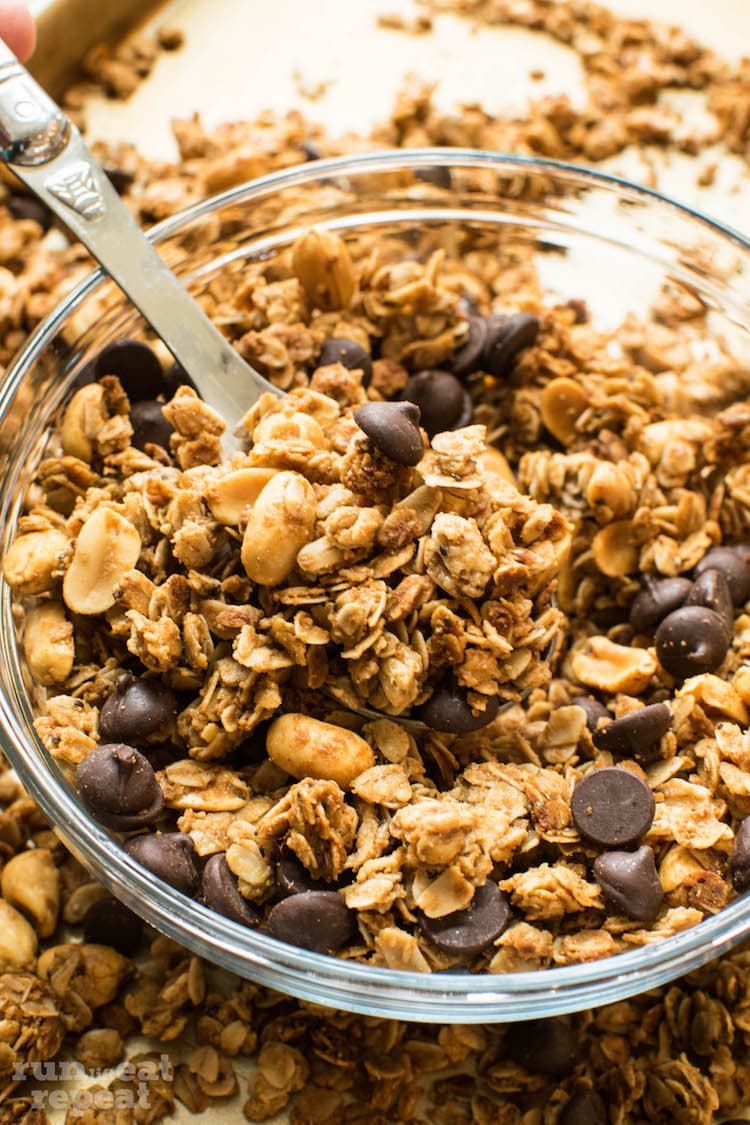 Hello hello! I hope you had a wonderful weekend! I'm on the mend from a pretty nasty head cold so I was stuck inside. I'm looking forward to this week for a couple reasons. First, I'm almost feeling somewhat human again. And second, I finally get to share this recipe.
After a weekend of eating whatever made me feel better and no gym, I'm ready for something on the healthier side.
Enter: homemade granola with peanut butter, a delicious crunch, and accompanied with peanuts and dark chocolate studded throughout.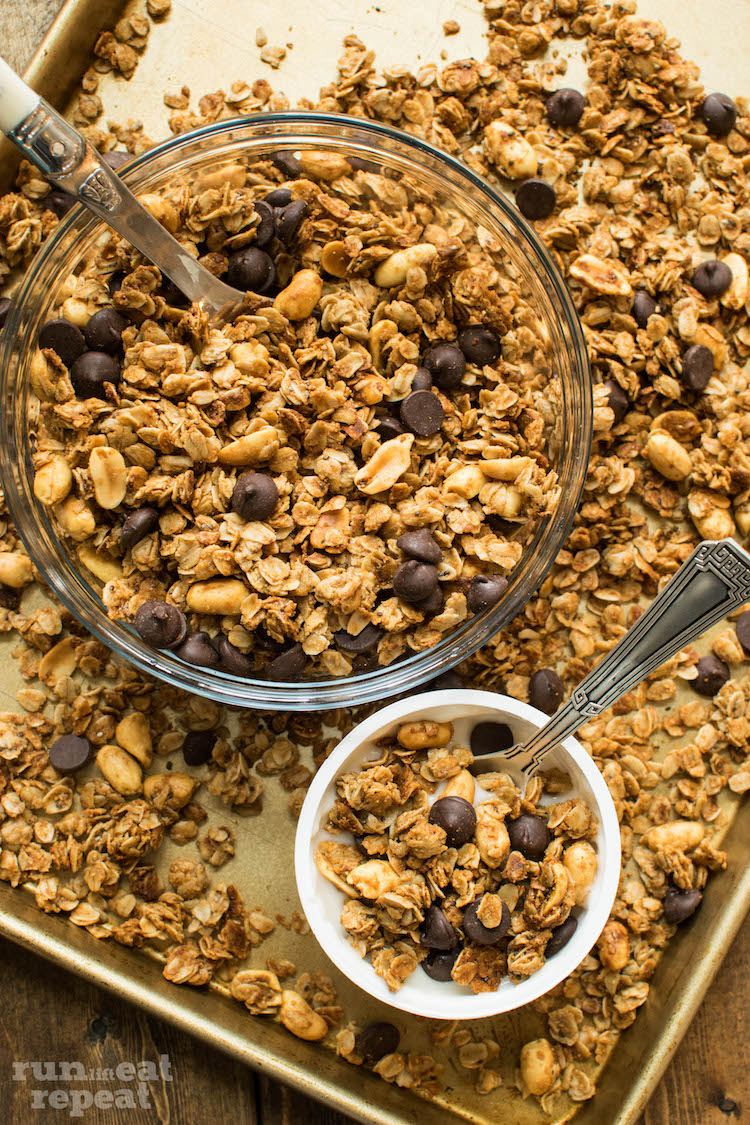 I don't know about you, but granola is one of my favorite snacks. Sometimes I hate that I love it so much— it's one of those snacks that I keep going back for more and suddenly the bag is gone. Lucky for you when you run out, it's a snap to make more!
This granola recipe is a one bowl deal and you only need 7 ingredients: oats, peanut butter, coconut oil, honey, maple syrup, peanuts, and vanilla (chocolate chips are optional but highly recommended!) All you have to do is stir it together, then bake bake bake! It's done in about 40 minutes. I like to let it cool completely so it crunches up.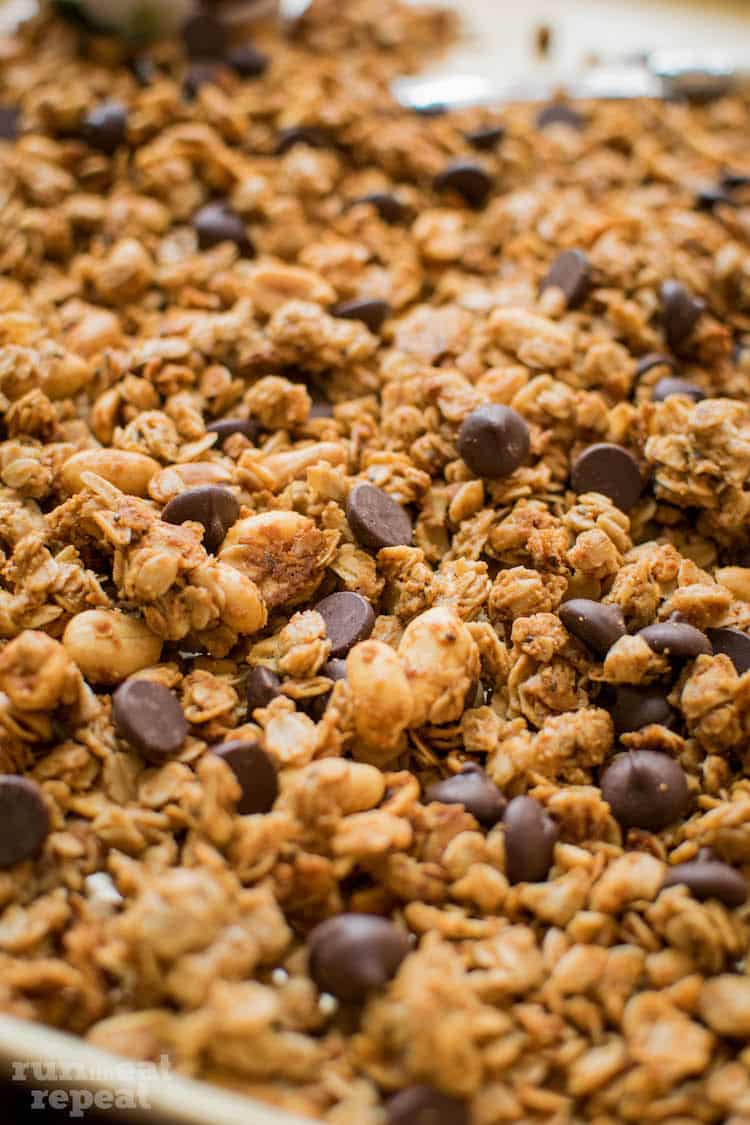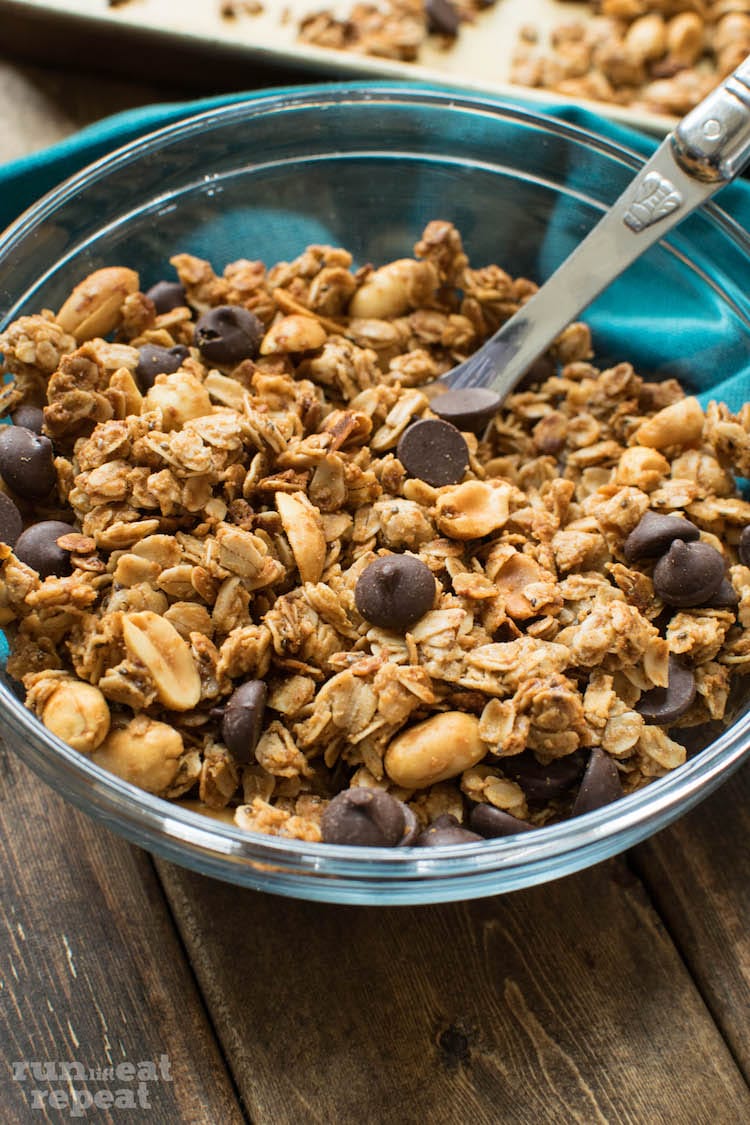 There's so many ways to eat it too! Add it to some of your favorite yogurt. Pour a little almond milk over it. Pack a bag of it for an on-the-go snack. To satisfy that sweet tooth: add some mini M&Ms to it or sprinkle it over ice cream.
[amazon_link asins='B01AGQ027S,B005FQ25SE,B00S8S8UCQ,B01HKALEC0,B0000DJUYR' template='ProductCarousel' store='r0e8a-20′ marketplace='US' link_id='f5e5b3e7-1819-11e7-812e-77f5f921b475′]
Some of the links above are affiliate links, which provides me a small commission at no extra cost to you! These are products that I own and love. Thank you for supporting Run Lift Eat Repeat!