A lightened-up family favorite and perfect for leftover turkey or chicken!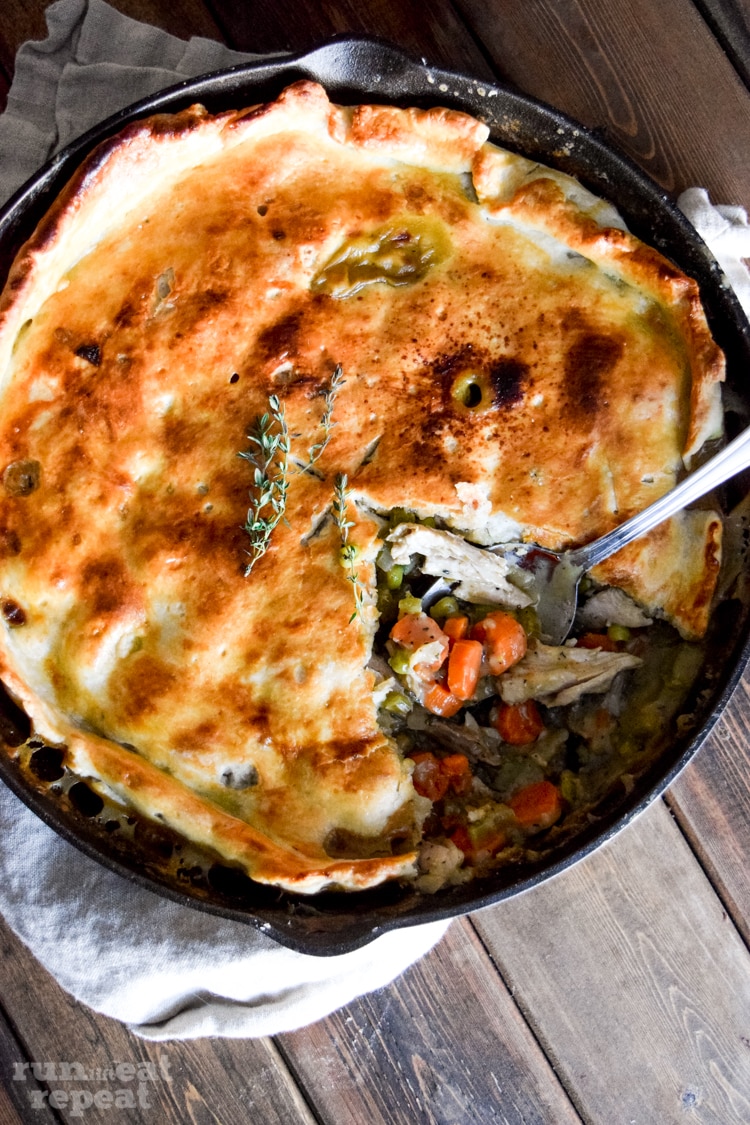 It's not quite the pie that we ate 34 slices of the other day, but it's a darn good pie— and that's all that matters.
If you're current situation is stacks of containers filled with turkey in the fridge then you've come to the right place. Good ol' turkey pot pie is one of my favorites and it's your saving grace today. It's one of those classic recipes that can be easily thrown together, one that the entire family loves, uses up excess in the fridge but one that some stray away from because of the calories.
I don't blame you.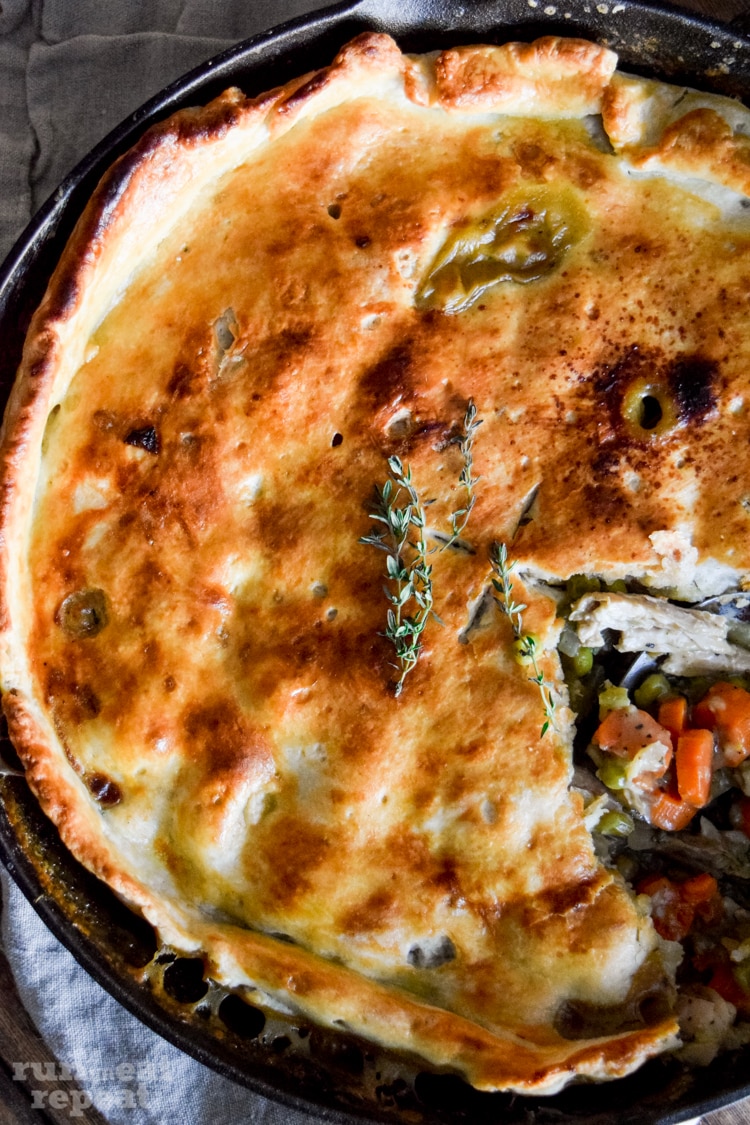 That's why today we're making a lightened-up version so there's no guilt. It's still packed with all the flavor that we're used to so no one will be able to tell the difference. I promise you.
This recipe has very few steps (make that pie dough ahead of time!) and gets rid of that excess turkey and veggies that are hanging out in the fridge.
prepare everything in 1 skillet
cover with pie crust
bake until golden brown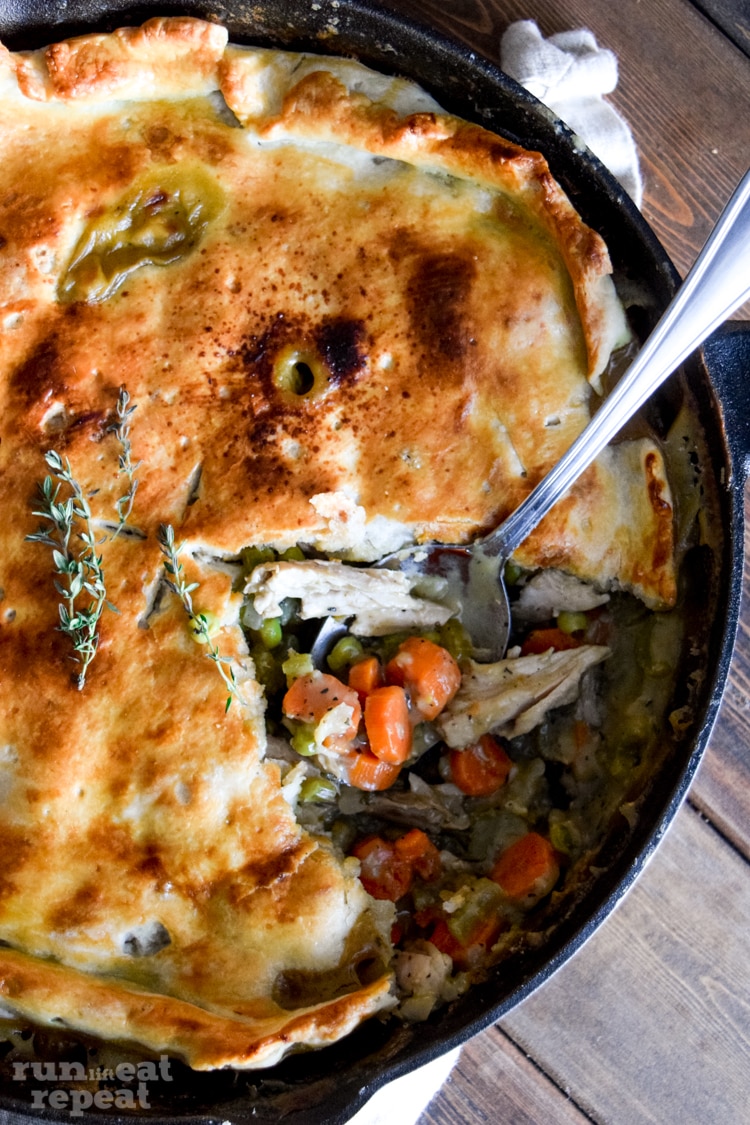 Ah that gravy is perfectly thick and we didn't even use milk! 
So there it is! 1 pan. Lightened-up. Packed with flavor. Much less calories. Your pants will thank me later, especially after that Thanksgiving meal.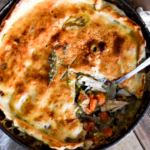 Easy Skillet Turkey Pot Pie.
A lightened-up family favorite and perfect for leftover turkey or chicken!
Total Time
1
hour
20
minutes
Ingredients
Pie Crust
2 and 1/4

cups

all-purpose flour

1

Tablespoon

granulated sugar

1/2

cup

coconut oil, cold

1/3

cup

ice water
Pot Pie
2

Tablespoons

ghee or butter

1/2

cup

yellow onion, chopped

1

cup

sliced celery (about 2-3 stalks)

1

cup

sliced carrots (about 2-3 carrots)

1 and 1/2

teaspoons

salt

2

teaspoons

freshly ground black pepper

2

teaspoons

minced fresh thyme

2

teaspoons

minced fresh sage

2

teaspoons

minced garlic

1/4

cup

all-purpose flour

2 and 1/4

cups

low-sodium chicken stock (or homemade turkey stock)

1/2

cup

unsweetened almond milk

1 and 1/4

cups

frozen peas

2 and 1/2

cups

shredded turkey or chicken

egg wash: 1 large egg beaten with 1 tablespoon unsweetened almond milk
Instructions
For the pie crust: mix the flour and salt together in a large bowl. Add the coconut oil. Using a pastry cutter, or two forks, cut the coconut oil into the mixture until peat-sized bits (a few larger bits are OK). Measure 1/3 cup of water in a cup. Add ice. Let sit for a minute. Drizzle water in, 1 Tablespoon at a time, and stir with rubber spatula or wooden spoon after each. Stop adding water when the dough begins to form large clumps and comes together with your hands. I typically use the 1/3 cup. If the dough doesn't come together after using all the water, add addition 1 Tablespoon at a time, as needed.


Transfer the pie dough to a floured work surface. The dough will start to come together. Using floured hands, fold the dough into itself until the flour is full incorporated. Form into a ball and flatten into a 1-inch thick disc using your hands. Wrap tightly in plastic wrap. Refrigerate while moving through the next steps. See note below for making ahead.

For the pot pie: heat the ghee in a 10-12 inch oven-safe skillet over medium heat. Add the onion, carrots, celery, salt, and pepper. Sauté for about 5 minutes or until the vegetables start to sweat. Add the garlic, thyme, and sage. Stir and cook for 2-3 minutes. Sprinkle in the flour and cook for an additional 2-3 minutes.

Pour in the chicken broth and unsweetened almond milk. Bring to a boil, reduce the heat to low and allow to simmer for 3-5 minutes. Gravy will begin to thicken. Stir in peats and turkey/chicken. Remove from heat and allow to cool for 5-10 minutes (or up to 1 day, covered in refrigerator).


Preheat oven to 375°F. Grab the chilled pie dough and roll out on a floured surface. Turn the dough about a quarter turn after every few rolls until you have a circle about 12-13 inches in diameter. Lay the dough carefully over the filling. Cut slits into the top to form steam vents. Crimp the edges to seal and lightly brush the top of the pie crust with the egg wash.

Bake for 35-45 minutes or until the top of the crust is golden brown. After the first 25 minutes of bake time, keep an eye on the edges so they don't burn. A pie crust shield can be used. Remove from the oven and allow to cool for 5 minutes before serving.
Recipe Notes
Make ahead tip: Filling can be prepared 1 day in advance, cover and chill in the refrigerator as mentioned in step 4. Continue with the recipe and bake the next day as directed above. The pie dough can be made ahead of time and store in the refrigerator for up to 5 days or in the freezer for up to 3 months. Thaw overnight in the refrigerator before using.