The softest of the soft. The chewiest of the chewy. The perfect dairy-free chocolate chip cookie!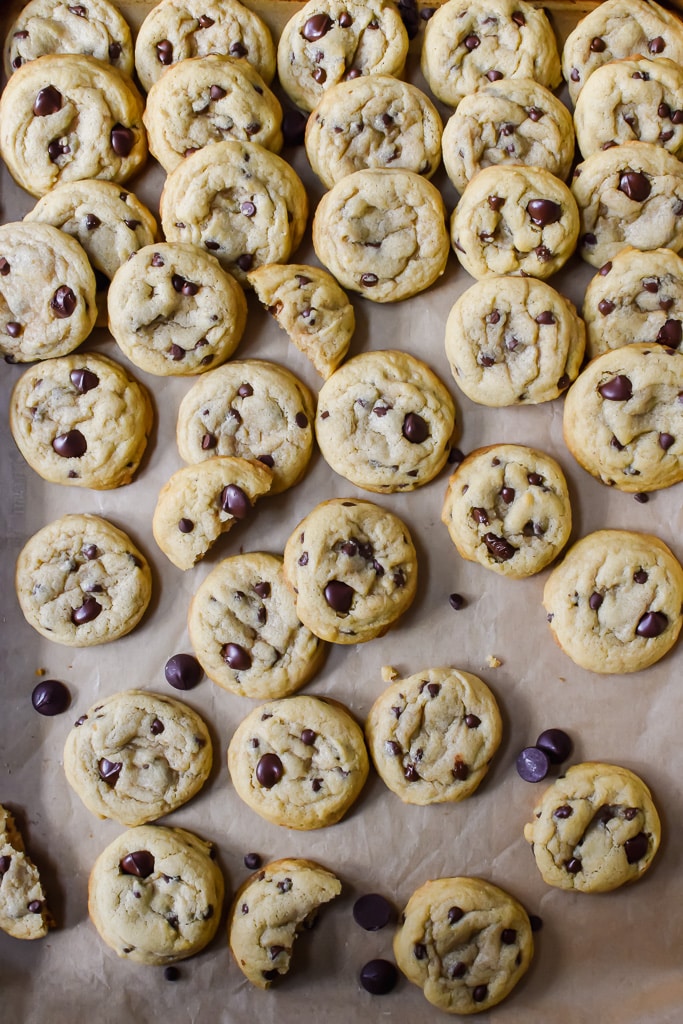 It's Friiiiiday. What are you up to this weekend? We're keeping it low key. There's a few recipes that I want to re-test and photograph then we'll probably head up to the lake to explore a bit.
But before we get to the weekend let's chat about these cookies. It's been my mission for the past few months to find that perfect dairy-free recipe. That recipe that I can bake again and again for years to come – a recipe that I can pass down to my children someday. I've tested and re-tested and then tested again. Needless to say, we've had a lot of cookies in this house.
Neither of us are complaining. 😉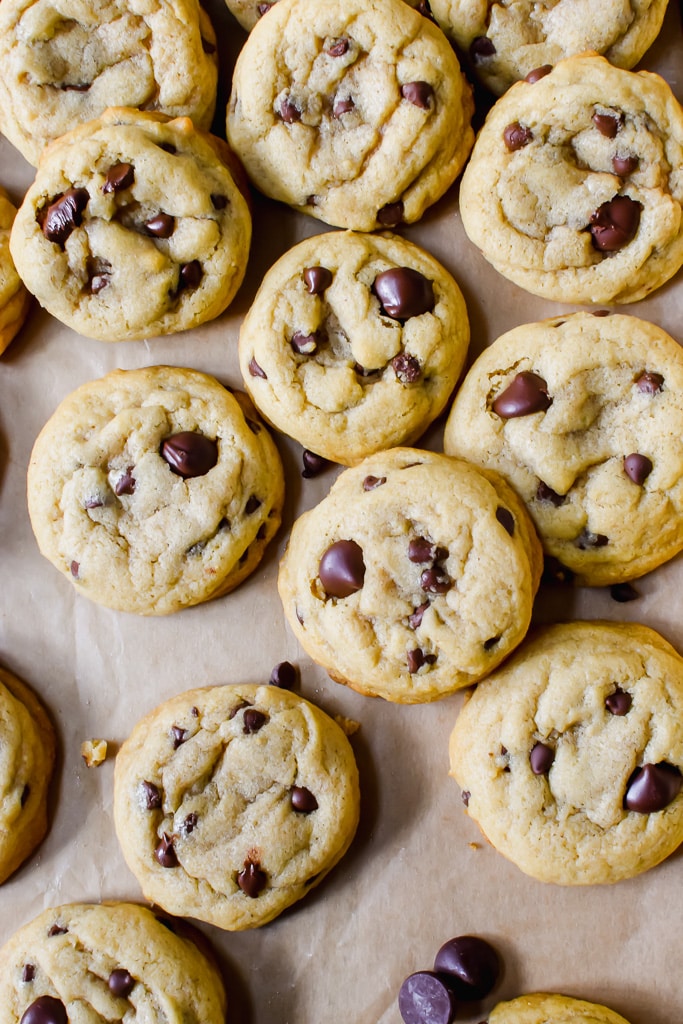 The chocolate chip cookie is an iconic dessert staple and a household favorite. And with National Chocolate Chip Cookie Day next month (May 15th!) this recipe couldn't come at a better time.
These cookies are soft, perfectly thick and chewy, deliciously buttery (even without the butter!) and melt in your mouth. The perfect ratio of chip to dough.
With the 15+ batches I made, I preferred to use more brown sugar than white sugar. It gives the cookies more of that chewy texture, and less of a crisp. I also tossed in an additional egg yolk to help out. Both keep the cookies super soft, even days after making them.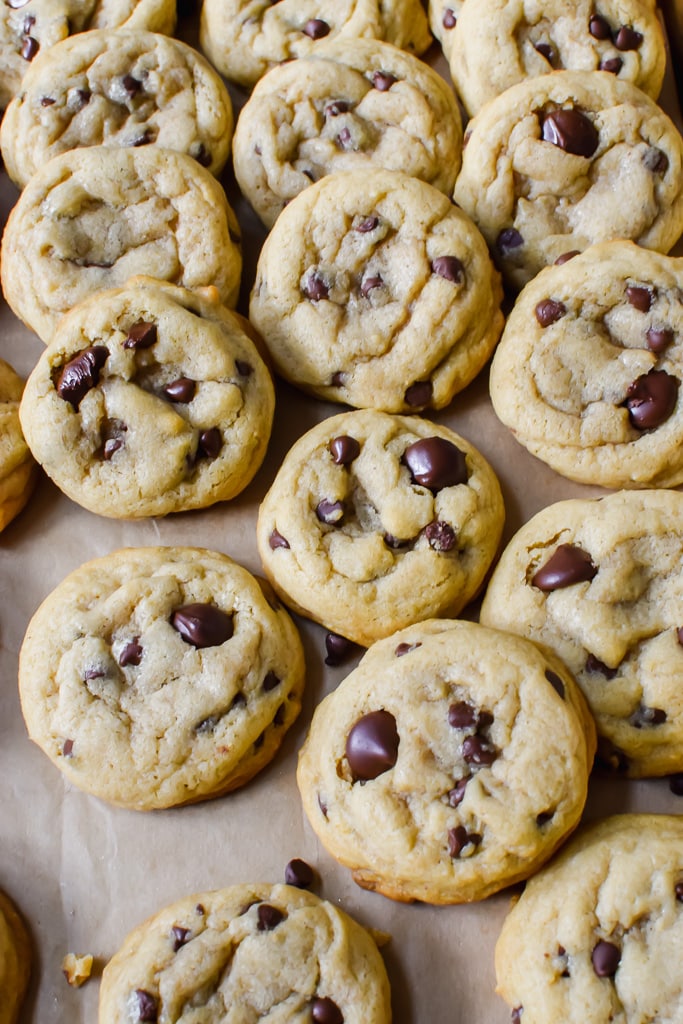 One thing to remember: don't forget to chill the dough! It will allow the coconut oil to set up, give your cookies the best flavor, as well as guarantee thickness. We all want that, right?
PS: You may need to wear sweatpants as these are insanely addicting.
Print
Coconut Oil Chocolate Chip Cookies
The softest of the soft. The chewiest of chewy. The perfect dairy-free chocolate chip cookie!
Ingredients
3

cups

all-purpose flour

3 and 1/4

teaspoons

baking soda

1

teaspoon

cornstarch

1/8

teaspoon

salt

1

cup

refined coconut oil, room temperature

2/3

cup

light brown sugar, packed

1/3

cup

granulated sugar

2

large eggs

2

large egg yolks

1

Tablespoon

vanilla extract

1/2

cup

dairy-free chocolate chips
Instructions
In a medium bowl, combine flour, baking soda and salt. Set aside.

In a large bowl using a hand-held mixer or stand mixer with paddle attachment, beat the coconut oil1 for 1 minute on medium speed until smooth. Add the brown sugar and granulated sugar and mix on medium speed until fluffy and lighter in color. Mix in the eggs, egg yolks, and vanilla. Scrape down the sides and bottom of the bowl as needed – I typically have do this a few times.

On low speed, slowly mix the dry ingredients into the wet ingredients until combined. The cookie dough will be on the thicker side. Add the chocolate chips and mix for about 5-10 seconds until combined. Cover the dough tightly with plastic wrap and chill for at least 1 hour. Chilling is mandatory for this dough to allow the coconut oil to set up.

Remove the cookie dough from the refrigerator and sit at room temperature for 10 minutes. Preheat oven to 350°F. Line 2 large baking sheets with parchment paper or silicone baking mats. Set aside. Roll balls of dough, about 1-1.5 Tablespoons of dough each, into balls. This can be done prior to refrigerating if you prefer – I typically roll into balls and sit them on a baking sheet, cover in plastic wrap, that way it's easier to pop them into the oven.

Bake for 9-10 minutes, until just golden brown around the edges. The cookies will look soft and undone when you remove them from the oven, that's OK. Allow to cool for 5 minutes on the cookie sheet before transferring to a cooling rack to cool completely.
Recipe Notes
1If you don't want any coconut flavor, use extra refined coconut oil. Using regular coconut oil you may have a slight coconut flavor depending on the brand.
The cookies stay fresh for up to 1 week when stored in an air-tight container. Baked cookies can be frozen for up to 3 months. Allow to thaw overnight in the refrigerator.
Make ahead tip: You can make the cookie dough and chill it in the refrigerator for up to 3 days covered. Sit at room temperature for 10 minutes before continuing with step 5. You can also freeze unbaked cookie dough balls for up to 3 months. Bake frozen cookie dough balls for an extra minute.
PIN IT for later!