Buttery, rich, soft, melt-in-your-mouth banana muffins. The best breakfast or snack in all the land!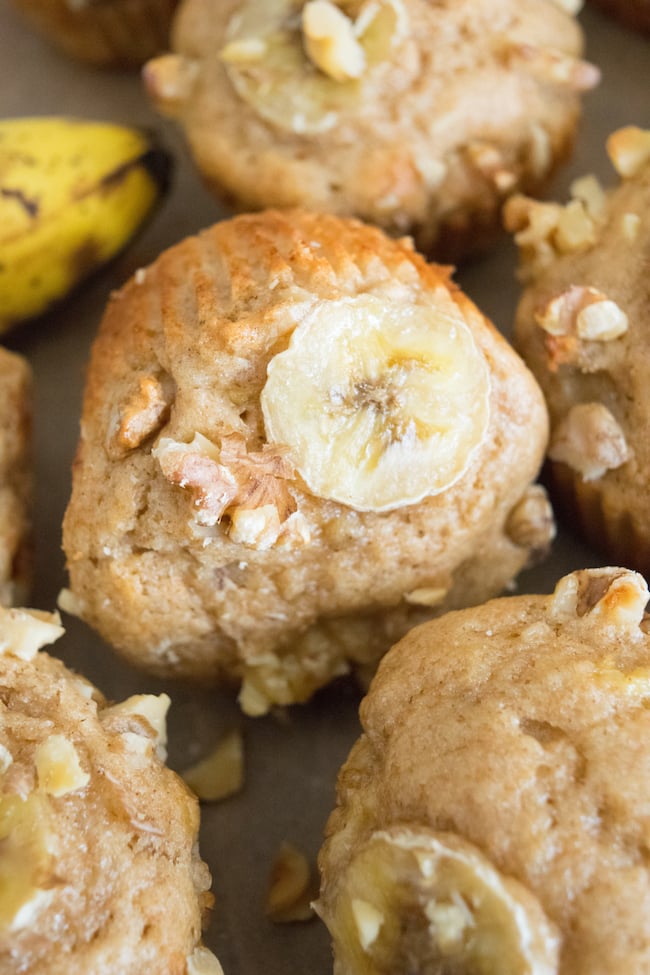 I've got a treat for you today. Meet my latest breakfast. And snack. And after snack. And late night snack.
Or dinner.
(I've had these for dinner before.)
Moving on.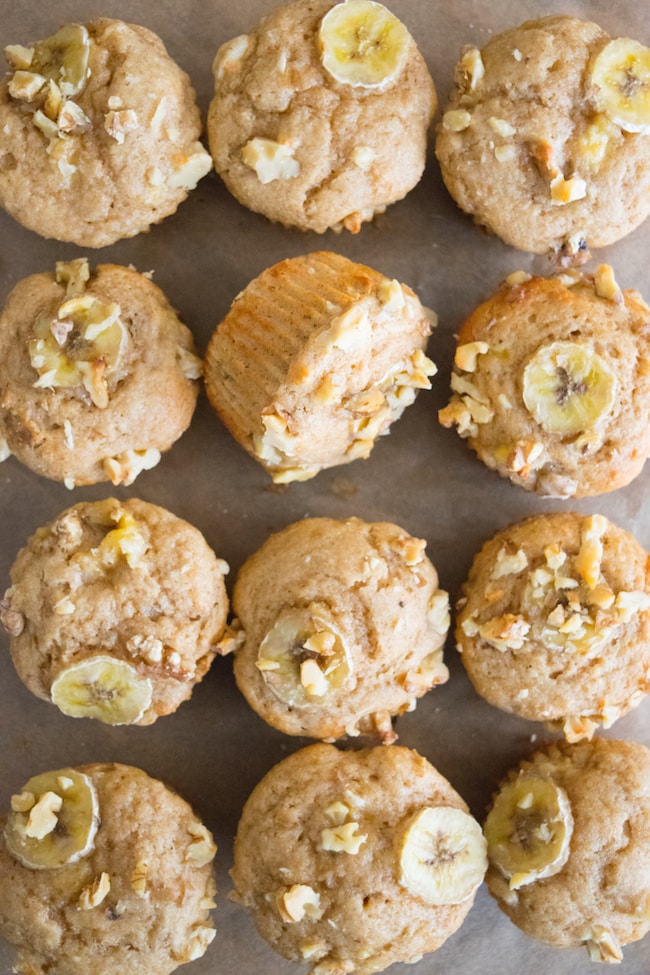 I'm soooooo excited to share this simple muffin recipe with you. It's thrown together in minutes and requires no mixer. You'll need the basics: flour, baking powder, baking soda, cinnamon, salt, sugar, eggs, yogurt, butter, vanilla extract and most importantly, bananas. The best part: all these ingredients are normal and familiar to you, and probably already in your pantry. → LOVE those kind of recipes.
Let's dive into the ingredients a little bit more.↓ 
Dry Ingredients.
In this recipe, I use a combination of whole wheat and all-purpose flour. You can completely use all-purpose flour if you're not a fan of whole wheat. It may seem like a lot of flour and leavening agents in this recipe, but it's needed! Typically too much of a leavener will leave a bitter taste, but 1.75 teaspoons does the trick.
Because we're all about bananas today, adding cinnamon to the batter is a necessity. However, if cinnamon isn't your thing, you can leave it out.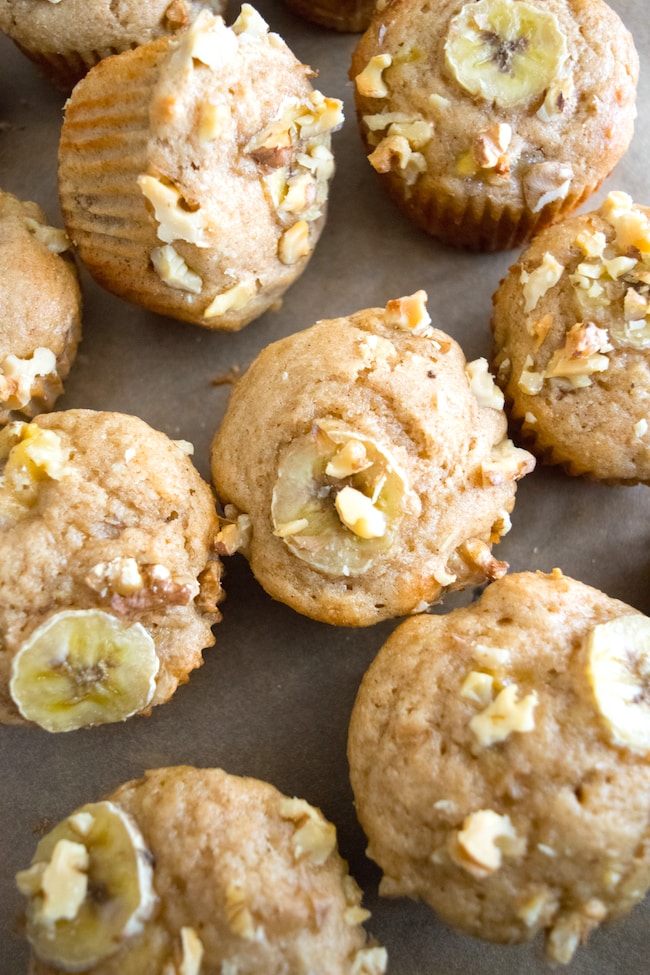 Combination of Sugar.
This muffin recipe requires 1 cup of sugar. I use half brown sugar and half sugar for this recipe since brown sugar + bananas = 100% goodness. But if you don't have brown sugar, you can use granulated sugar.
These were a huge hit. I made a double batch and gave some to friends. "They didn't stand a chance." "They're already gone." "SOOO GOOD!"
I'll take all those.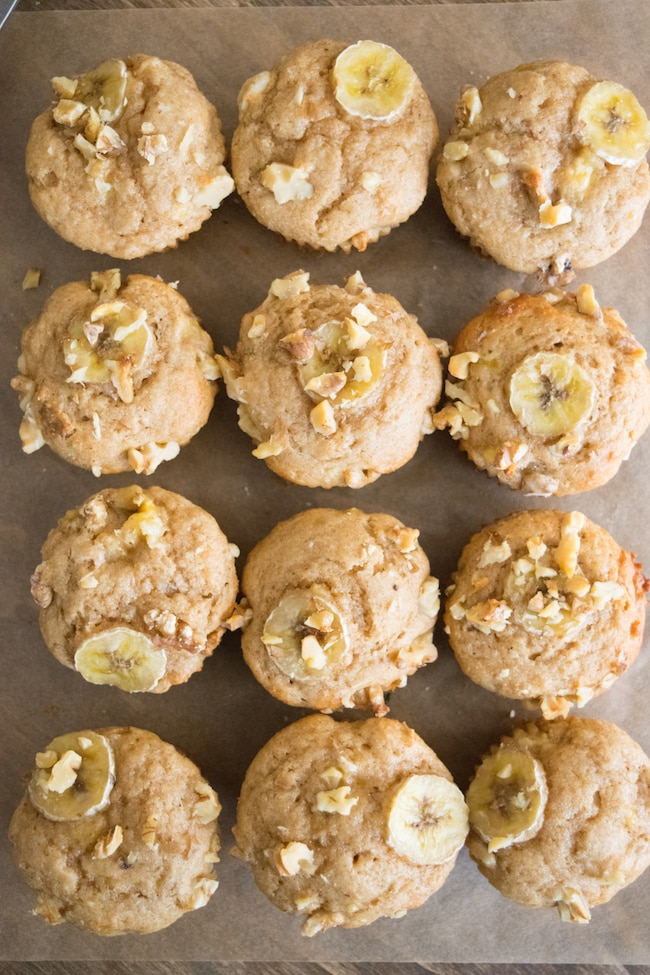 These are so simple, quick and ready in 30 minutes. WHATTT?!?! Eat them while they're warm = the best part.
Get 'em while you can!
Buttery, rich, soft, melt-in-your-mouth banana muffins. The best breakfast or snack in all the land!
Ingredients
1 cup all-purpose flour
1 cup whole wheat flour
1 and 3/4 teaspoon baking powder
1/2 teaspoon baking soda
1/2 teaspoon ground cinnamon
1/2 teaspoon salt
1/2 cup packed light brown sugar
1/2 cup granulated sugar
2 large eggs
1 teaspoon vanilla extract
1 cup Greek yogurt
1/4 cup unsalted butter, melted and slightly cooled
2 medium very ripe bananas, mashed (about 1 cup)
1/4 cup chopped walnuts
Toppings: chopped walnuts and thinly sliced bananas (optional)
Instructions
Preheat the oven to 375F degrees. Line 2 cupcake tins with liners.
In a large mixing bowl, combine the dry ingredients: flours, baking powder, baking soda, cinnamon and salt. Whisk together and set aside.
In a medium mixing bowl, whisk together both sugars and eggs. Add vanilla, yogurt and melted butter. Whisk until smooth (mixture will be gritty.) Pour the wet ingredients into the dry ingredients and gently mix together. Do not over mix, overmixing will produce a dense muffin. Once the mixture starts to come together, add the mashed bananas and chopped walnuts.
Scoop the batter into the cupcake tin and fill 3/4 full. Top each muffin with a slice or two of banana and chopped walnuts. Bake at 375F degrees for 18-20 minutes until a toothpick inserted into the center comes out clean with a few moist crumbs. Allow to cool for 5 minutes in the pan before transferring to a wire rack.
Store muffins in an airtight bag in the refrigerator for up to 5 days. Eat cold, or my favorite: microwave for 30 seconds before eating.