This smooth, creamy, no-bake fudge is full of cake batter flavor and made with just 4 ingredients. Fudge has never been so simple!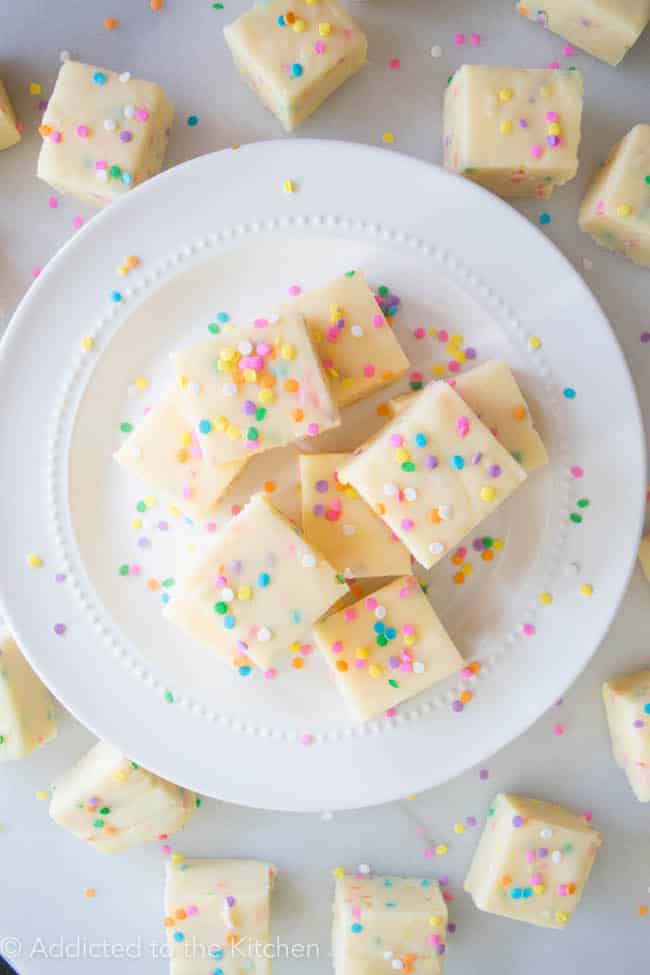 It's FRI-YAY! Let's celebrate with some sprinkles.♥ ♥ ♥
But first, how many sprinkles is too many sprinkles?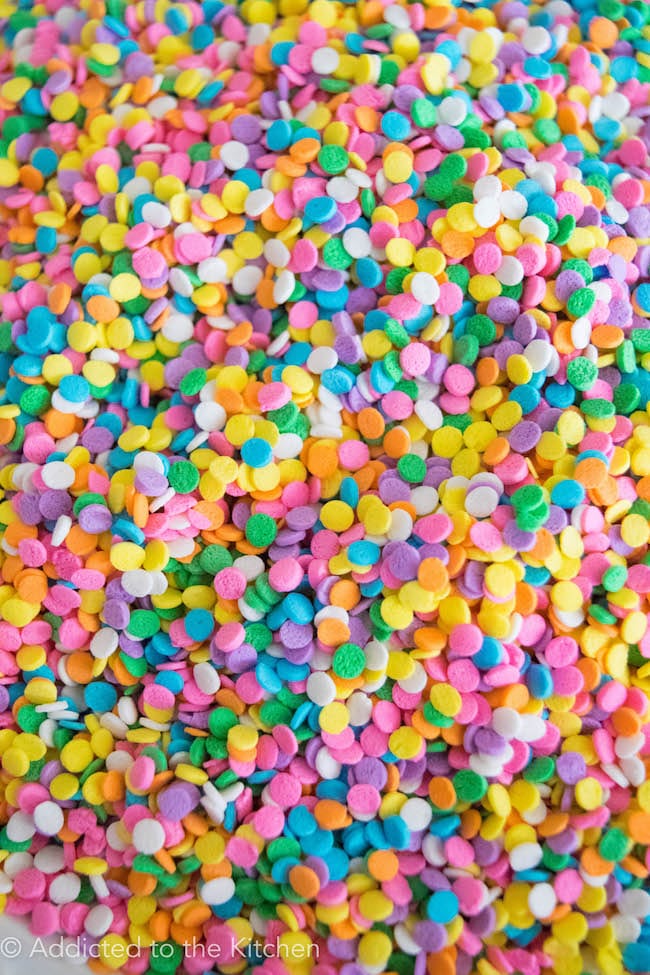 Answer: The limit does not exist. Sprinkles make life worth living.
So… let's talk about this fudge.
I'm not a big fan of making fudge since it can be quite difficult. I am, however, a BIG fan of eating fudge. There's no time for candy thermometers today. I prefer to make shortcut fudge, especially when I need it in a jiffy. I'm talking about minimal effort. Hardly any work. One bowl. Combine stuff and let it chill.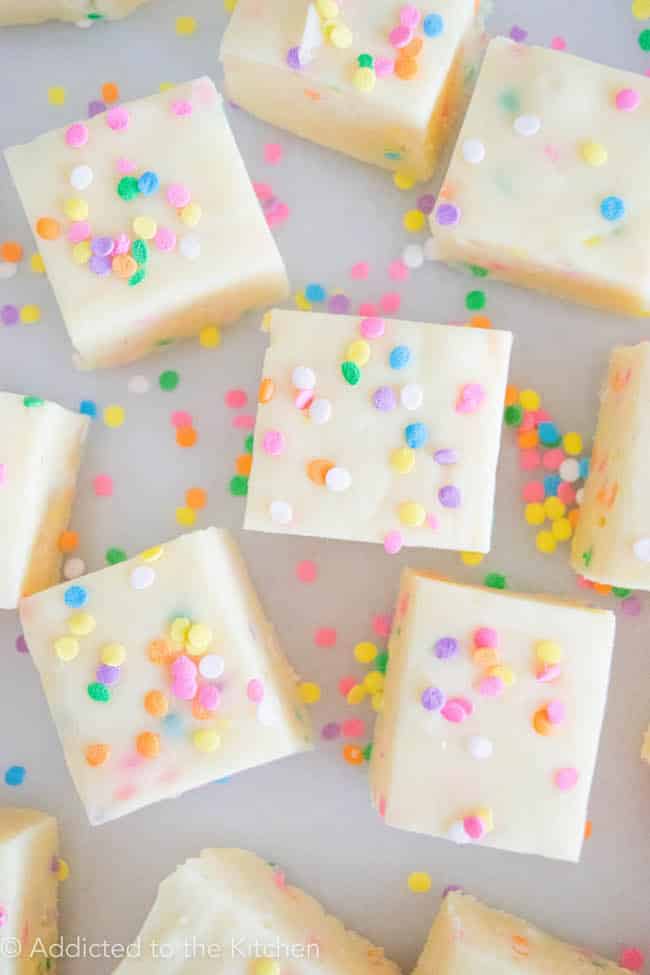 You will only need 3 ingredients to this lip smackin' fudge — 4 if you include the sprinkles. But sprinkles aren't an ingredient, they're a life necessity. Obviously. Sweetened condensed milk and cake mix are mixed together. Then, toss in the white chocolate chips, melt in the microwave, stir that in until smooth and dump in sprinkles.
The fudge needs to chill for a minimum of 1 hour. Ugh — I know, for the impatient, waiting is hard. But if the end result is cake batter funfetti fudge, it's worth every bit of it. Cut the fudge into squares however big or small you like. I tend to stick around 1″ pieces since fudge is pretty darn sweet.
When I asked friends what they thought, I got: "DID YOU PUT CRACK IN THIS FUDGE?!" "IT TASTES JUST LIKE CAKE BATTER." "IT'S SOOO GOOD. I'M ON MY THIRD PIECE."
Minimum effort.
Minimal ingredients.
Lots of sprinkles.
End result: AMAZING FUDGE.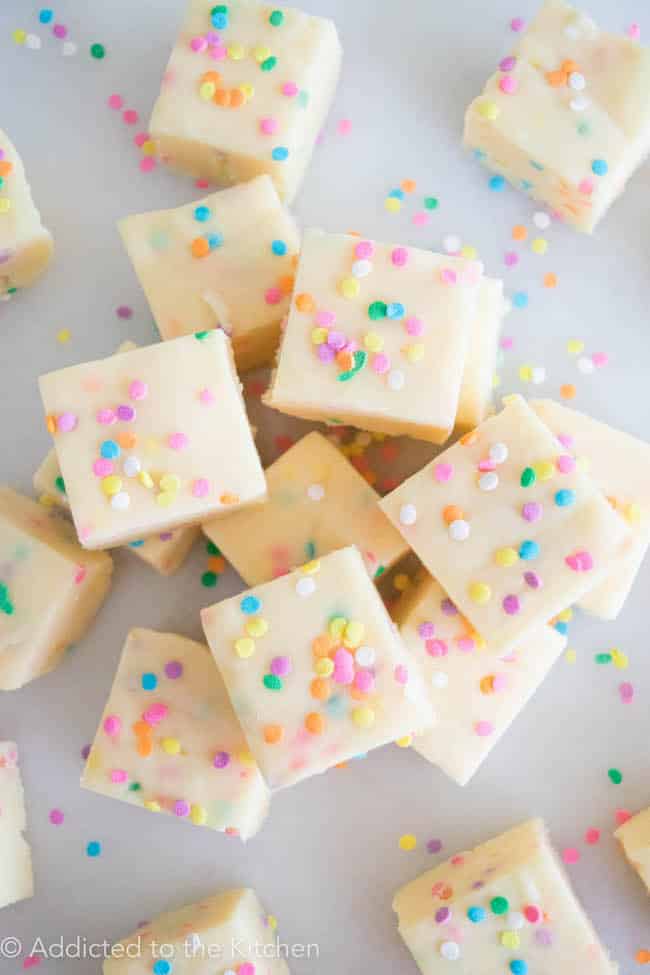 You need to make it.
(You aren't human if you don't like sprinkles or cake batter.)
Follow me on Instagram and tag #addictedtothekitchenblog so I can see the recipes you make. ♥
This no-bake fudge is full of cake batter flavor and made with just 4 ingredients! Fudge has never been so simple!
Ingredients
1 14-oz can sweetened condensed milk
3/4 cup cake mix (I used Pillsbury Yellow mix)
1 12-oz bag white chocolate chips
1/3 cup sprinkles, plus extra for topping
Instructions
Line a 8x8 baking pan with foil and spray with non-stick spray. Set aside.
Pour the sweetened condensed milk and cake mix into a large microwave safe bowl, mix to combine. Add white chocolate chips and microwave in 45-second intervals, stirring in between, until full melted. Gently fold in sprinkles as they can bleed.
Pour batter into the baking pan and top with extra sprinkles (requirement, obviously!) Refrigerate for at least 2 hours or until set. Cut into 1 inch bars.

PS. Even Wesley wanted some!