Enjoy this comforting classic without all the guilt. This lightened-up creamy chicken soup has only 170 calories per serving. Healthier eating can taste good!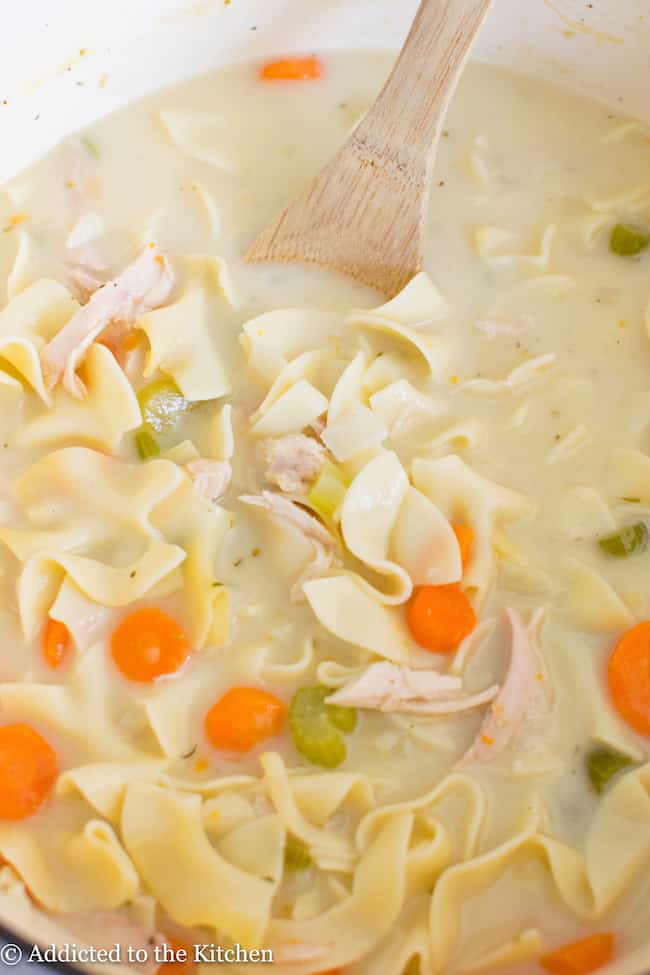 Hello hello! Monday you are here too soon.
First, how was your weekend? My northeast readers – are you digging yourself out of the snow? How much snow did you end up getting where you're at? Tell me! I'll live vicariously through you. We got flurries and then it quickly melted away.
As the snow flurries fell over the weekend, I pulled together a big pot of this creamy deliciousness. Between being sick the other week and it being so cold, I've made this soup a few times over the past couple weeks. It's by far, my all-time favorite lightened-up soup. And, for my non-soup lover husband, one of his!
While we enjoyed a hot bowl of soup by the fire, this snow bunny enjoyed the .25 inch of snow.
With a family of two, making soup leaves plenty of leftovers for the week. And while I love a good creamy chicken noodle soup, it's not the best for you.
If you're looking for a comforting yet lightened-up version of this winter favorite, you've come to the right place. One bowl of this soup left me fully satisfied without feeling like I was going to explode. With a family of two, making soup leaves plenty of leftovers for the rest of the week. I knew I couldn't eat a heavy, creamy soup each day. In came the lightened-up version…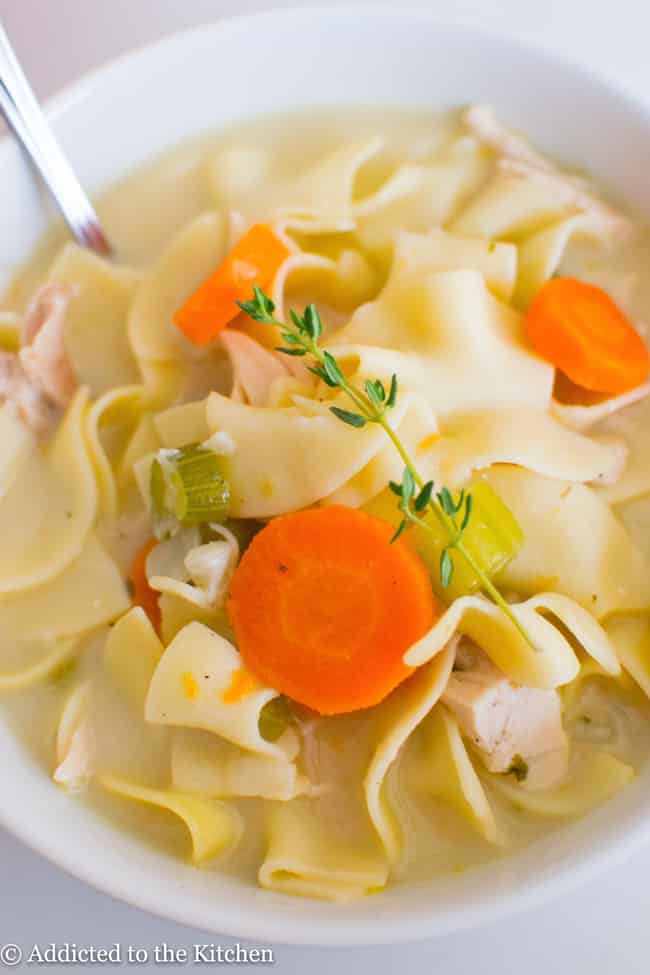 This lightened-up soup is packed with flavor. With soup, you have to pack it with spices or it will be bland. Yuck. I recommend starting with what I have as a base and taste as you move along. If you want more of a kick, add more freshly ground pepper. However, there are a few key ingredients that if you leave out, this soup will not be the same.
Key Ingredients.
The spices. I use a combination of dried oregano, dried parsley, fresh thyme, fresh ground pepper, and salt. I also add in 3 cloves of garlic. With all of this, this chicken noodle soup is packed with flavor.
Skim milk. In order to keep this soup on the healthier side, this is what I always use. You can certainly use another % of fat milk, but I feel that the fat-free milk works just fine. <– Fat-free milk doesn't get enough credit. Today, that shall change!
Chicken. As much as I love to cook, I always grab a rotisserie chicken at the grocery store each week. It's one of those no-stress options — shred it and toss it in the soup. If you have chicken breasts that you want to use up, season with some salt and pepper and roast until cooked through.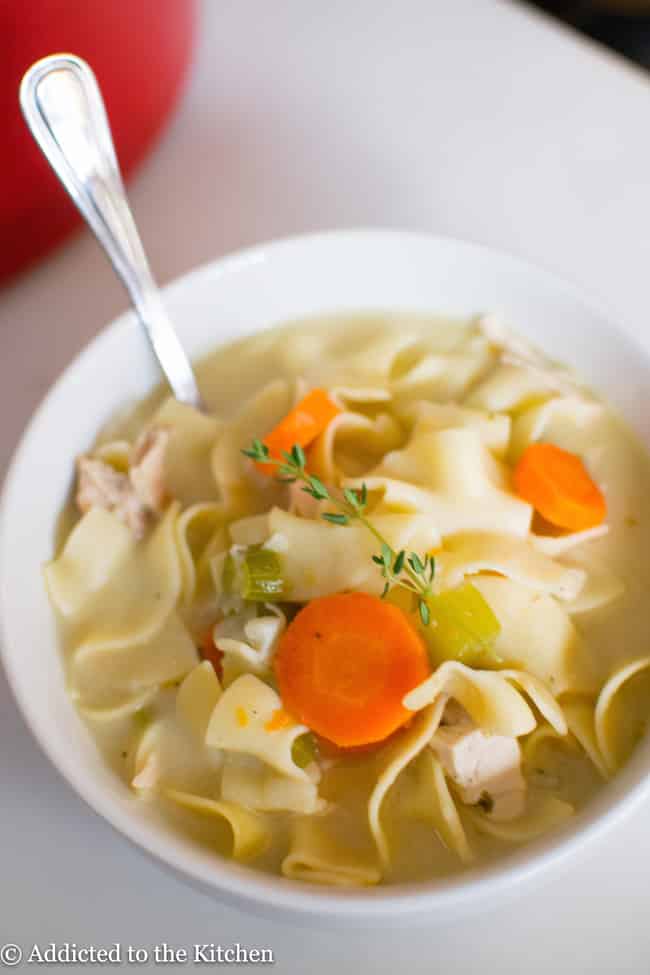 Want to know the best part of this recipe? Using SparkRecipes calculator, a 1 cup serving is only 168 calories! BAM. A hearty meal that will keep you full and satisfied without feeling guilty.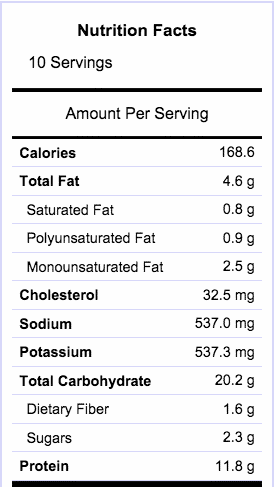 Healthier eating can taste good!
Follow me on Instagram and tag #addictedtothekitchenblog so I can see the recipes you make. ♥
[amd-zlrecipe-recipe:48]
Check out more one pot meals here.