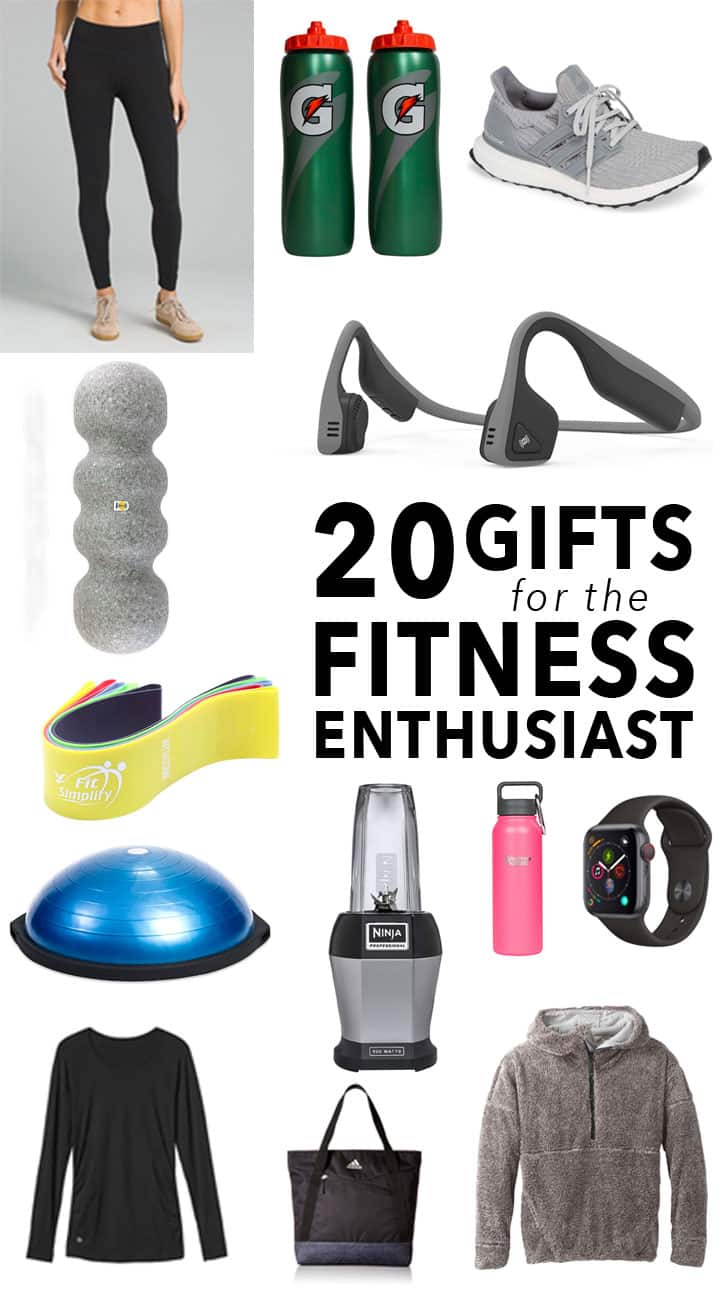 'Tis the season! You loved last year's gift guide so much that this year I split it into two. Last week I shared holiday gifts for the baker and today I'm sharing 20+ holiday gifts for the fitness enthusiast in your life.
And if that fitness enthusiast is you (hiiiiii!) then happy shopping!
1. Quality Workout Leggings are an absolute must. At the end of the day, not everyone will love the same leggings but over the last 3 years I've tried just about every brand. Overall I look for quality, durability, and just enough compression but not too much. Here are my top 4 favorites: 1) prAna Momento 7/8, (Get 30% off through 11/27!), 2) Athleta Elation 7/8, 3) Lululemon Wunder Under 7/8, and 4) Gap Blackout 7/8. The 7/8 length is personal preference since I'm not tall enough for full length but not a fan of capris. However, each some in capri and full length.
2. adidas Squad iii Tote is quite possibly the best bag ever. I use it for everything, not just for the gym! It fits a TON of stuff, it's so versatile and can easily be wiped down.
3. adidas Ultraboost are must have if you want really, really comfortable sneakers. I've been wearing these for a little over a year now and while the price is a bit steep, I stock up when they are on sale. In my opinion (as well as many others I know), these are worth every penny.
4. Gatorade Squeeze 32-ounce Water Bottle — if you want a good water bottle for HIIT workouts or runs, this is it. It's my favorite simply because of how easily you can squeeze it to get water and that it doesn't leak when you toss it in your bag.
5. Rollga Foam Roller — I use this everyday for rolling out tight muscles. And while foam rolling isn't the most fun thing to do, it's important. Right now it's 38% off!
6. AfterShokz Trekz Headphones are some of the most comfortable wireless headphones out there. I love mine. Get these for $89.99 right now!
7. Vital Proteins Collagen Peptides is magic — seriously. I take this daily in tea or coffee for almost a year now and within the first 2 months I saw a notable change in my hair, skin, nails, as well as muscle recovery.
8. Resistance Bands are perfect for at-home or gym workouts. There are a ton of workouts that can be done with just resistance bands. I love this pack because I can toss it in my bag when I'm traveling.
9. Apple Watch — I first got it 3.5 years ago when they first came out and fell in love immediately. It's the best. It holds me accountable. It helps me stay on track for my daily/monthly goals. It shows me my progress over time. It challenges me with my workout buddies. I recently upgraded to the Series 4. I'd recommend getting the Series 3 or 4.
10. High Impact Sports Bra — this is a must for the girls. I love this one specifically because it holds me in but I don't feel like I'm being suffocated.
11. Healthy Human Water Bottles — I bring these with me everywhere. I love how they have a variety of sizes and that it keeps liquids cold or hot for an extended amount of time. Get 10% off at Amazon using RUNLIFT10 through 12/31.
12. Athletic Long Sleeve Top — this is my favorite long sleeve top for not just gym but also outdoor runs and even running errands too! Coming in a closeeee 2nd is this one.
13. Blender Bottles are the best for pre-workout or on-the-go protein shakes. I only have 2 but I have friends with 10+ of them.
14. Compression Running Socks — these ones are my favorite and I own at least 30 pairs (all in black). They provide just enough compression and are no-show which I love.
15. Running Belts may look funny to some but they are the best went running outside or even at the gym.
16. Non Slip Yoga Mat — wether it's an at home workout or bringing it to a yoga class, having your own non-slip mat makes things easier.
17. Bosu Balance Trainer can be pricey but worth it. Not only can you use it for workouts (ab work, burpees, etc.) but it's also great for training your body on balance.
18. Permafrost Half Zip is THE coziest sweatshirt that I have ever worn. I wear it daily to/from the gym. Get 30% off through 11/27!
19. Nutri Ninja Personal Blender is perfect for post-workout smoothies or quick on-the-go smoothies in the morning.
20. Massage Ball Set — these help get into the areas (hips, feet, etc.) that a foam roller can't and help break down tight muscles.