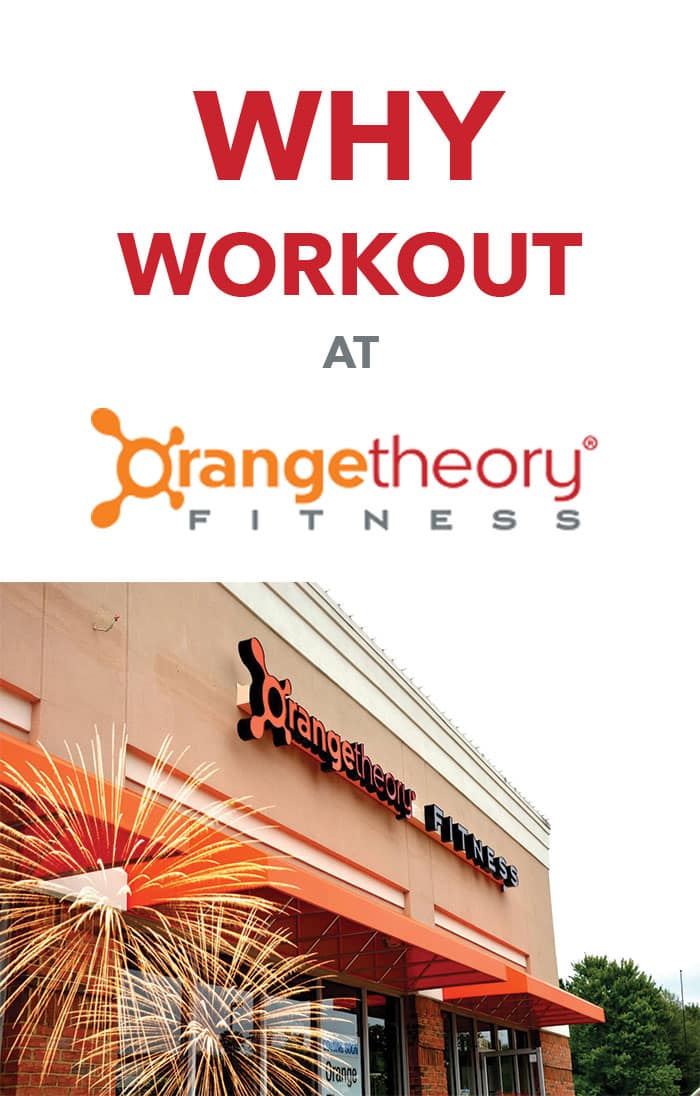 Back when I started my journey, I sunk a lot of money $$$$ into a personal trainer but wasn't seeing results. Total downer. Working my butt off and nothing. I had heard so much hype about OrangeTheory Fitness and figured it's worth a shot. With the first class being free, I wasn't committing myself.
AND I WAS HOOKED.
Fell in love.♥♥
It was every bit of AWESOME: so much energy and the class flew by!
What is OrangeTheory Fitness?
OrangeTheory Fitness is an interval-based workout that uses heart rate monitors to see how hard you're pushing yourself (based on each individual's fitness level) and includes three different areas: treadmill, rowing and weight room.
Let's chat about the heart rate concept for a sec. OrangeTheory is a 5-zone workout. The concept is to get your heart rate into the orange zone (84%+ of your maximum heart rate) for a minimum of 12 minutes during each class. Doing that will give you an increased metabolic rate for the next 24 to 36 hours, meaning that if you go four days per week, your metabolic rate is up seven days per week. During the workout there are TV's that display your name, heart rate, % of max heart rate, calories burned and "splat points."
Typically classes are limited to 24 people. The workouts vary day-to-day and will focus on endurance, strength, power or a combination of each. Because of this it's difficult to hit a plateau.* The trainer will lead the class through the workout in each area and shows proper form. In the weight room the workouts are also on a TV so you can always see the proper form and rep count.
After each class, you will get a workout summary sent directly to your inbox. ↓↓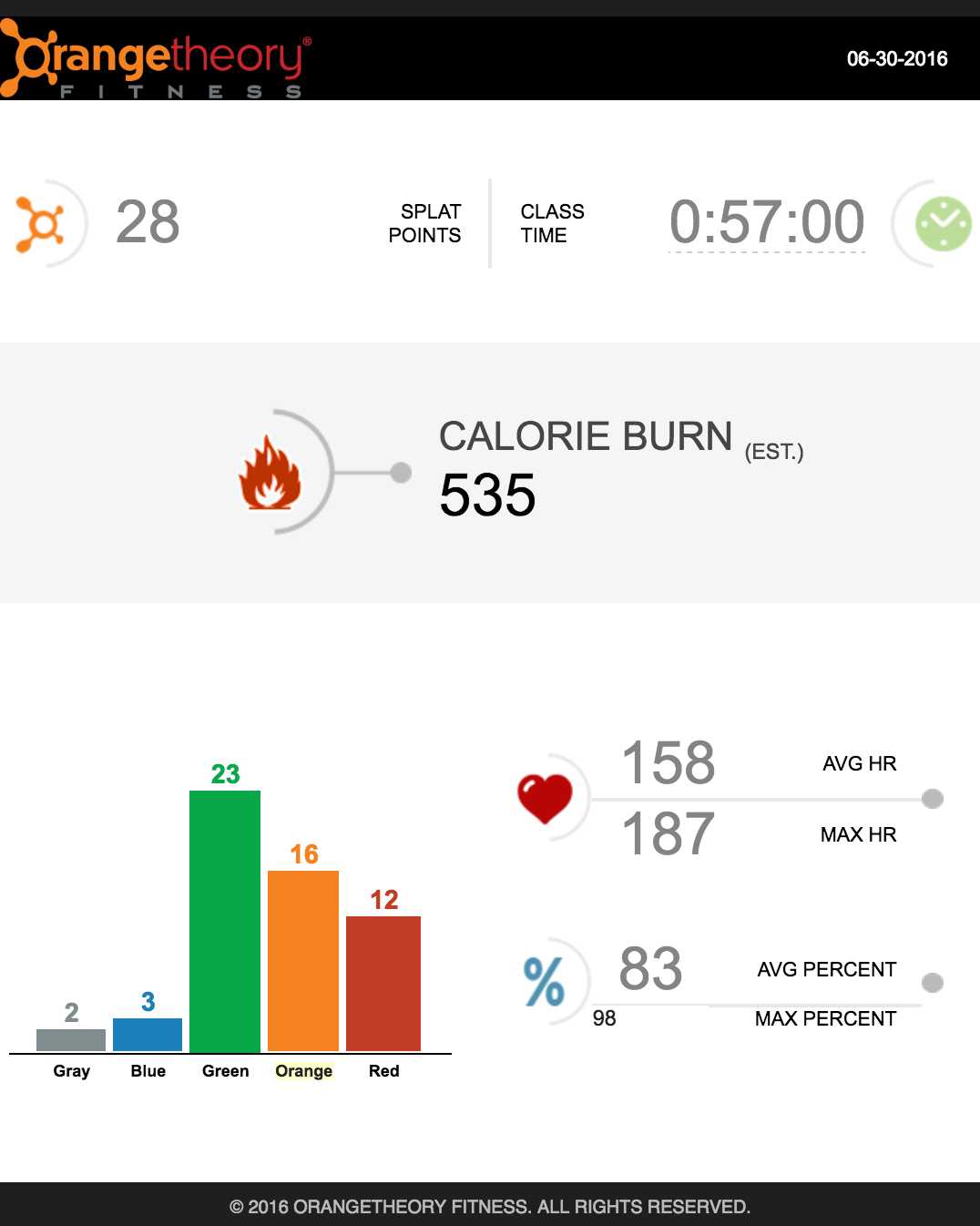 My experience.
When I heard about all the hype I reached out to the new location opening up around the corner. Tyler (awesome human) chatted with me about the workout, had me fill out a form and did a walk through. He when through what OrangeTheory is, how it works, why it works, how to use the equipment, and pricing. I felt pretty good and so comfortable. We scheduled my first class a week later when the studio opened.
It was time to take my first class. To say I was nervous is an understatement. I kept thinking of all the things that could go wrong. That day I also met Krista (awesome human.) She kept me calm and ensured me that I'd be OK and love it. And there I went and took the class….
After class I never felt better. I can't begin to describe it. Sure, my body was drained but I felt good. Jason was the instructor (now, one of my favorites) and was so encouraging and kept me going. I was shocked at some of the things that my body was able to do when I pushed myself.
Fast forward to now. 9 months later. Last month I posted an update.
As of right now I'm 81 pounds down. Numerous inches gone. Half my original pant size. Gaining muscle. I feel the best I ever have. THANK YOU OTF.♥♥
Why I stay.
The people keep bringing me back. I walk in each day and I'm greeted with the best faces; whether it's the front desk or other members. I tend to stick to a few trainers and they have truly become my biggest motivators. Each of them have such huge hearts, incredibly knowledgable and always pushing me to better myself. When I PR, they are the first to jump and down for me. Wilson and Heather (& now Kristian): you each push me to my limits, making me uncomfortable because you know that I CAN do it. You show me how much I can do. You show me how strong I really am.
OrangeTheory has 100% motivated me to live an active and healthy lifestyle. It has changed my life and I am so thankful for it.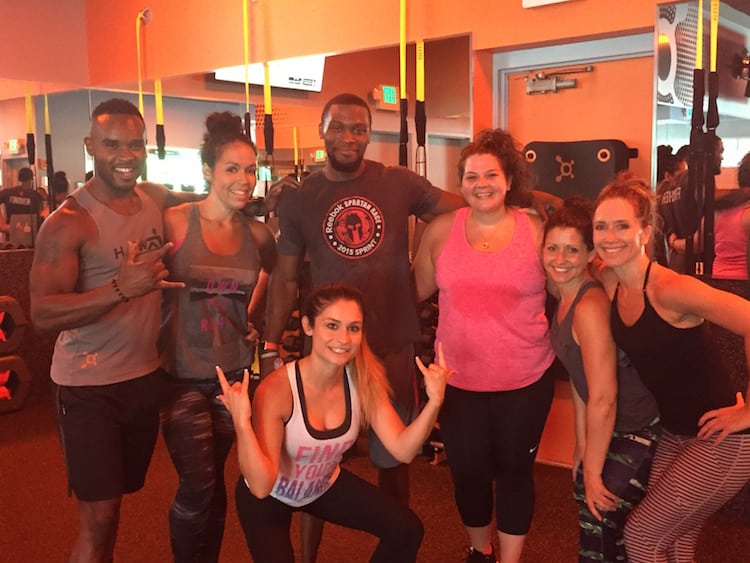 If you're looking to try out one of their classes, start by finding a location near you. Just don't put it off, it will change your life.
*If you notice that you have hit some type of plateau then start upping your base and pushes. I try to up my paces each month to keep my body guessing. You will instantly notice a difference and be back on track.