This shop has been compensated by Collective Bias, Inc. and its advertiser. All opinions are mine. #SweetenTheSeason #CollectiveBias
Soft and chewy brownie bars layered with white chocolate, coconut, semi-sweet chocolate and walnuts. The ultimate brownie bar! The best part: no mixer required!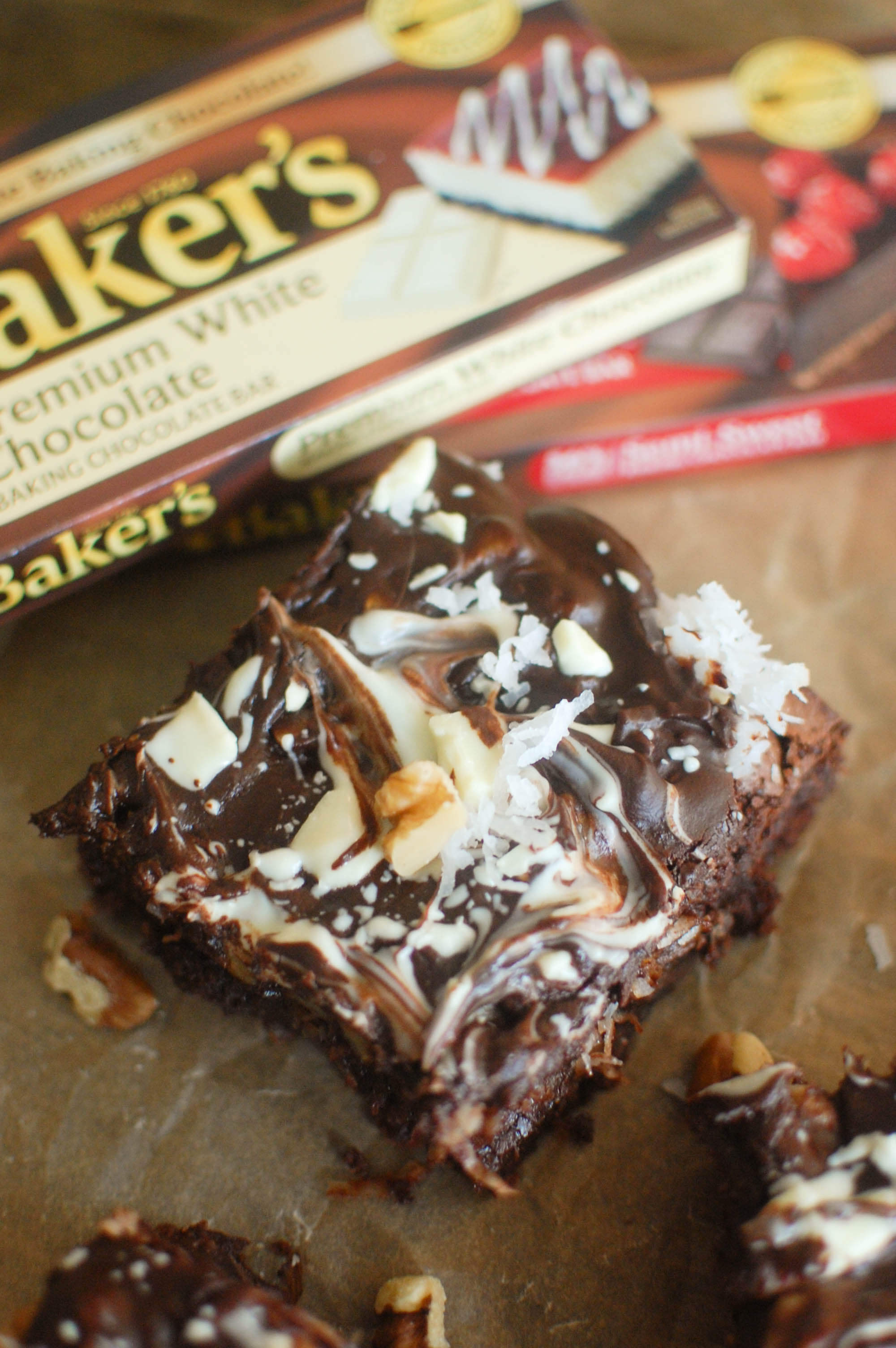 Greetings. Be proud, you've made it half way through the week! What's been going on? Are you ready for the holidays to be in full swing? I AM. This is the best time of the year. Get ready, this year I'll be starting a tradition with you!
Enough jabber. Moving on to why you're really here today… ultimate brownie bars are on the menu for today and you're going to fall in love with them. I've taken your standard brownie and I've kicked it up a notch.
Let's discuss. My all-time favorite chewy fudgy brownie recipe, layered with pure goodness. But, the best part: no mixer required! These are so simple and a perfect holiday treat.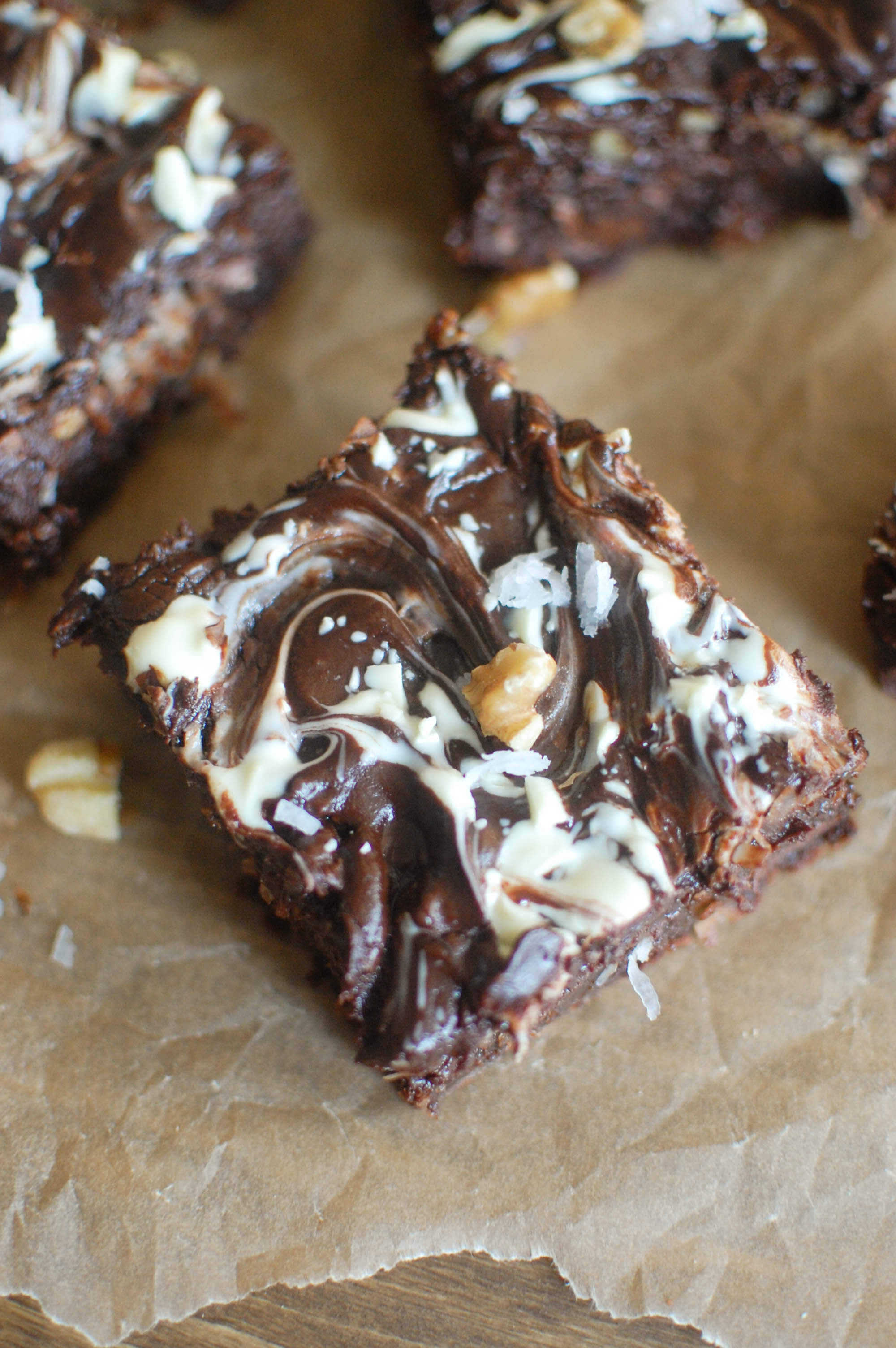 I'll start with the brownie. Everyone has their own favorite brownie recipe and this happens to be mine. This recipe produces a thick, soft and incredibly chewy brownie. Just like brownies should be.
Brownie 101.
A brownie has a few main ingredients: chocolate, flour, sugar and eggs. Depending on the recipe these amounts will vary.
Let's talk about the best part first: chocolate. This recipe calls for a precise measurement of 2/3 cup of cocoa powder. Careful not to over measure. Spoon the cocoa powder into the dry measuring cup and avoid packing it down. At the end, you'll add in chocolate chips to give it more of a chocolate flavor.
Less flour = the more fudginess. That is all.
Alright, the sugar. This recipe calls for 1 cup granulated sugar and 1/4 cup of brown sugar. Just like in these cookies, the brown sugar helps increase the chewy texture. Both sugars are whisked together with the oil and eggs until a gritty but smooth texture.
And last, but not least. The eggs. I use 3 whole eggs to provide an extra level of fudginess.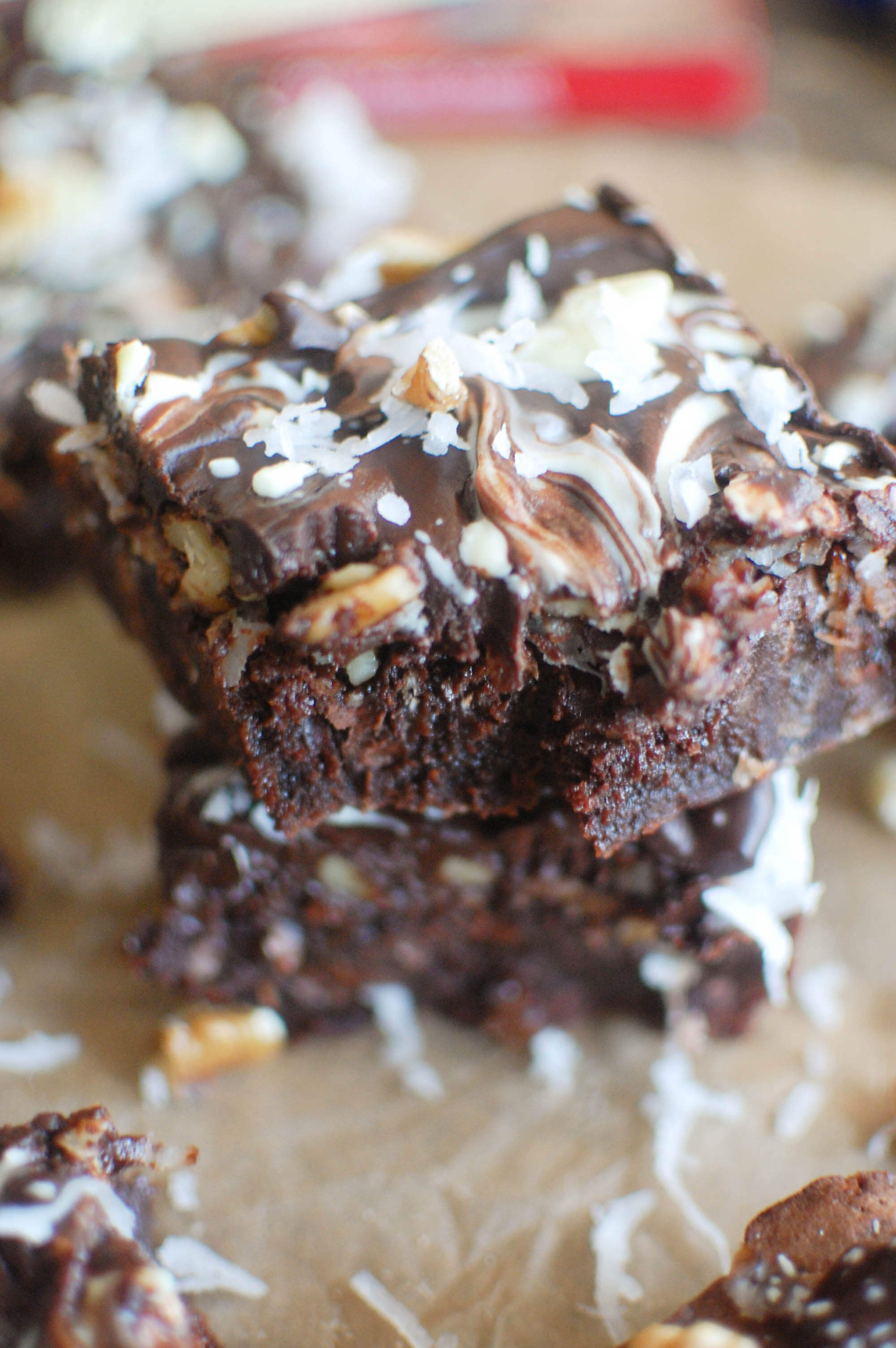 Now the layers.
While I was at Walmart the other day and they had their Bake Center out for the holidays. As we all know, I automatically gravitate to anything baking when I see it. The Bake Center allows for moms to make budget friendly recipes and have a variety of options! I always grab a variety of Baker's baking chocolate (endless possibilities): Baker's White Baking Chocolate and Baker's Semi-Sweet Baking Chocolate are my favorite. I also snagged a few bags of Baker's Sweetened Shredded Coconut. If you haven't used any of these ingredients before, you must. I've been using them all for as long as I can remember because of the quality. The bake center is a great thing for mom's especially — many options and everything is budget friendly! You can stock up for the holiday parties for your children without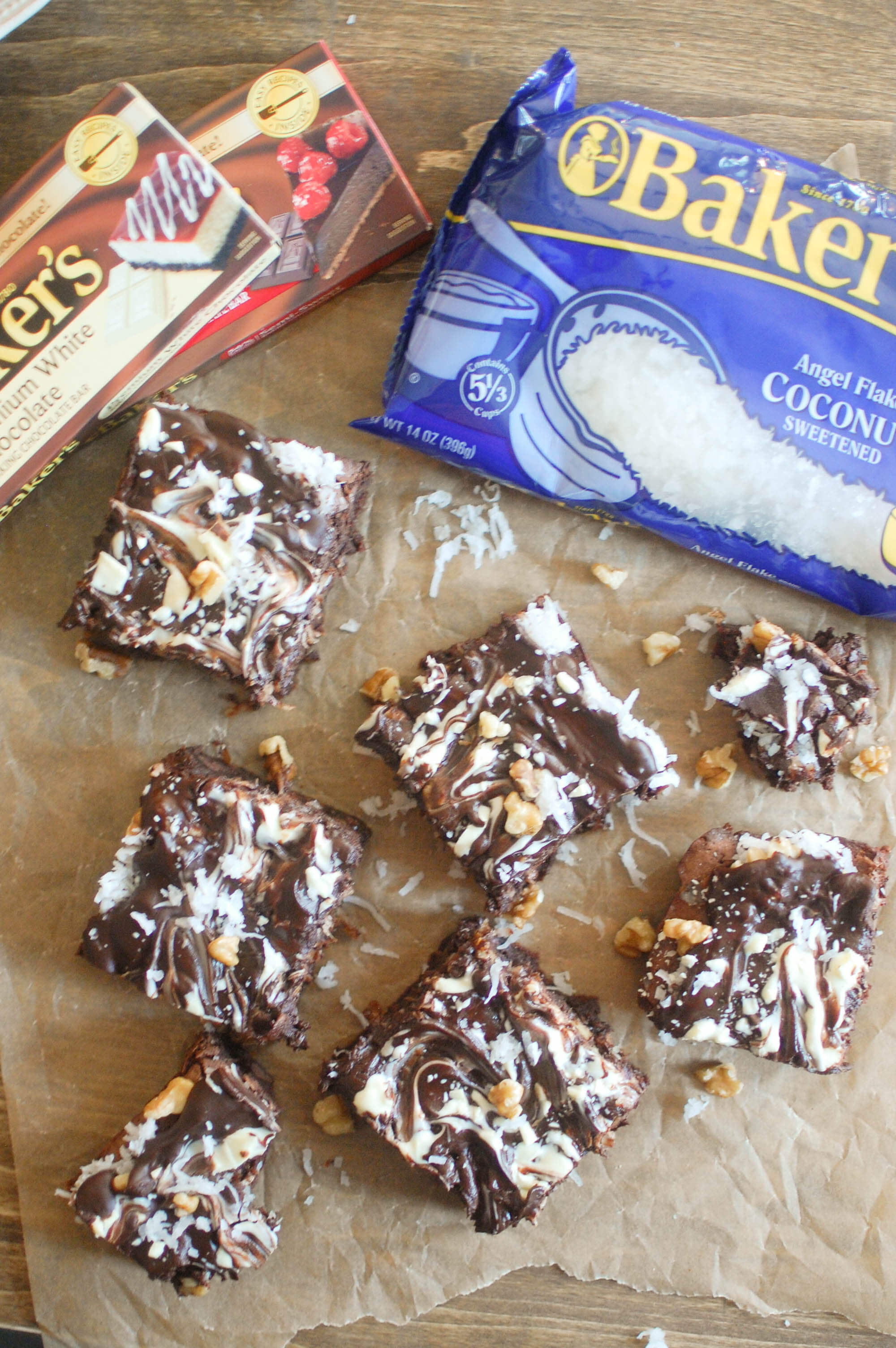 Once the brownies have baked and cooled, let the layer happiness begin! You'll start by melting the white chocolate with the heavy cream in 30 second increments in the microwave. Spread it over top the brownies and sprinkle with the shredded coconut and walnuts. Pop it in the refrigerator for 5 minutes to let the chocolate slightly set. Back to the microwave… melt the semi-sweet chocolate with heavy cream in 30 second increments and then pour it over top. I like to save a few pieces of white chocolate to sprinkle on the top. Since the chocolate is warm it will melt the white chocolate and you can swirl it. Prettttttty!
These brownie bars are thick, fudgy and chewy! The ultimate brownie bars! Now, there are three things that you must do tonight: 1. make these, 2. pour yourself a large glass of milk, 3. Enjoy by yourself or with friends!
Visit me on Instagram or Twitter. And, if you make a recipe, don't forget to use the hashtag #addictedtothekitchenblog
Visit your local Walmart to check out the bake center!