Crunchy granola exploding with vanilla and almond flavors. Ditch store-bought, homemade granola is easier than you think!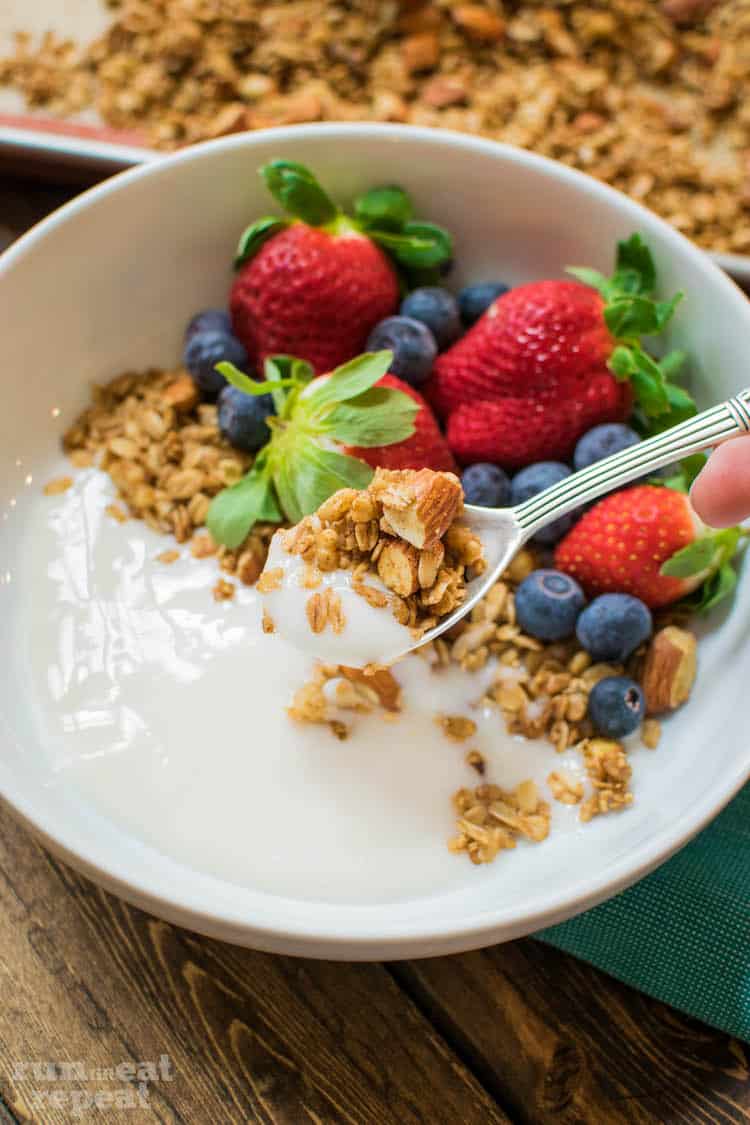 Hi how was your weekend? The past couple months has gotten the best of me. We've had plans each weekend without a break– between work, friends/family visiting, game nights– while each incredibly fun and/or productive, it felt pretty nice to have a weekend with no plans or alarms.
Confession: I'm granola obsessed. Can't get enough of it.
The other day I got back from a 1.5 hour workout (that I didn't eat before hand– don't do that) and craved granola over top yogurt* with a ton of fruit. More like a bowl of granola with a dollop of yogurt on top. I frantically looked in the pantry, grabbed the ingredients and threw it all together. One bowl and one sheet pan later, that granola didn't stand a chance.
Since I'm dairy-free, I eat So Delicious yogurt alternative. I'm not getting paid to say this, but it's better than actual yogurt and addicting!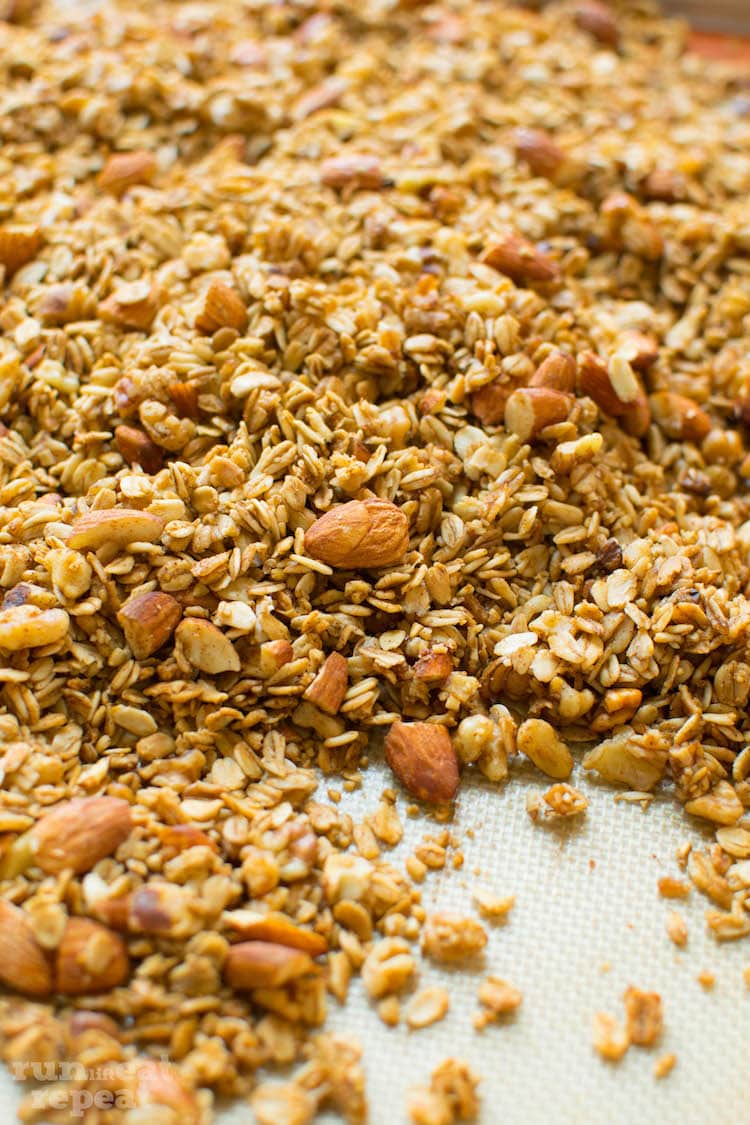 This granola recipe is filled with so much flavor… vanilla, pure maple, almond, and cinnamon are the best combination. This stuff is seriously the best. And it's made with real ingredients. Have you ever read the ingredient list on a bag of store-bought granola? It's scary. What is "soy lecithin" and what is it doing in my granola? Move over. Homemade is where it's at.
Thankyouverymuch♥♥♥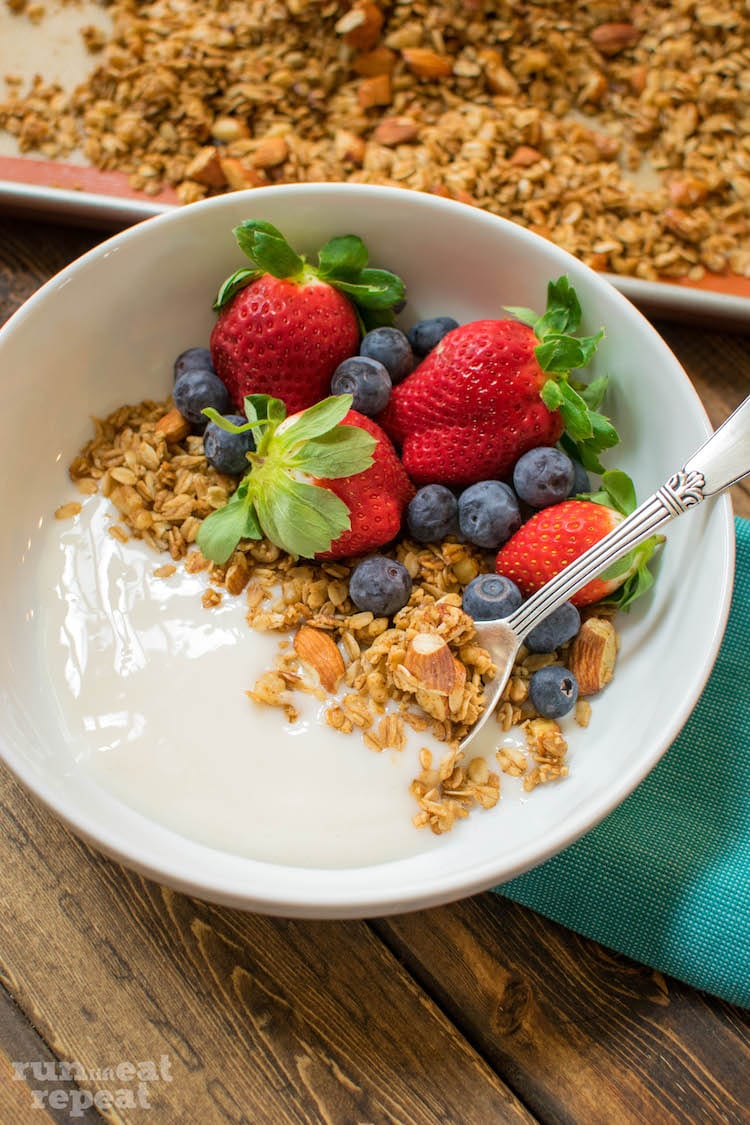 You only need 10 ingredients to make this granola. It may sound like a lot, but I'm sure most are already in your pantry (if not all!)
old-fashioned rolled oats
steel cut oats
almonds
walnuts
cinnamon
pure maple syrup
honey
coconut oil
almond extract
vanilla extract
While I love most, if not all granola, this one has to be my favorite because it's so light taste. Which is a little dangerous since I could eat the entire bag but that's OK, self-control.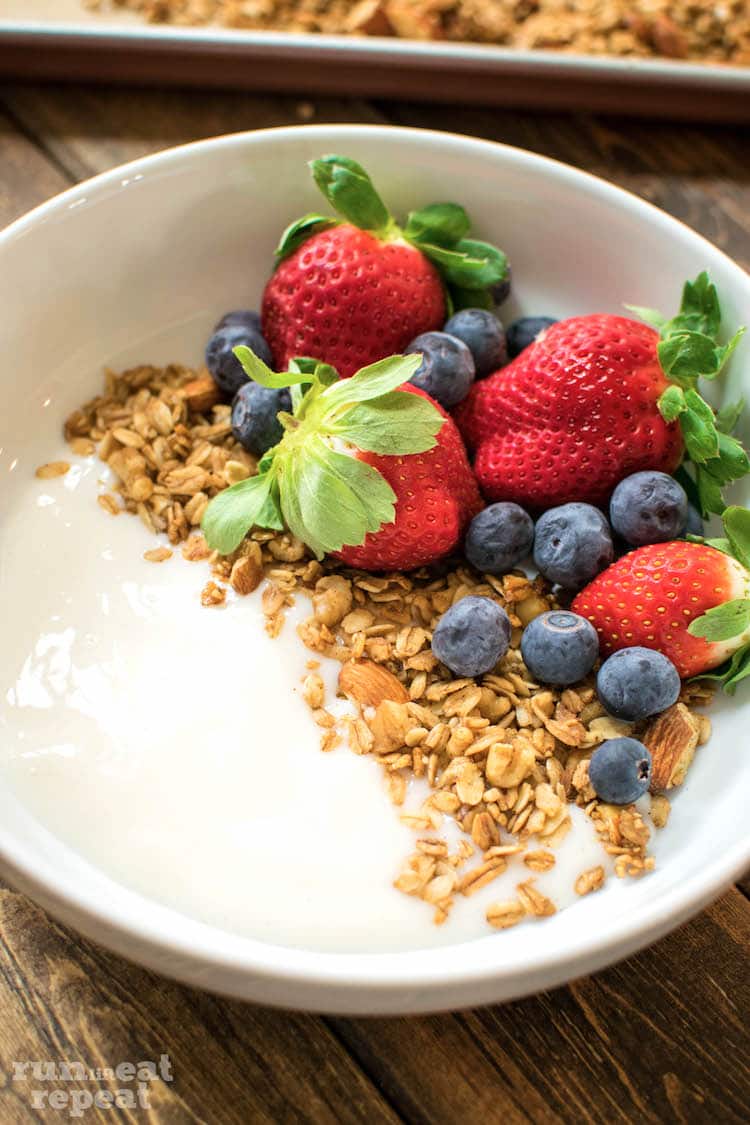 So ditch that pricey, sugar-filled store bought granola and switch to homemade. I promise, you'll be hooked!