No butter, no oil. 100% whole wheat and actually good tasting whole wheat banana bread!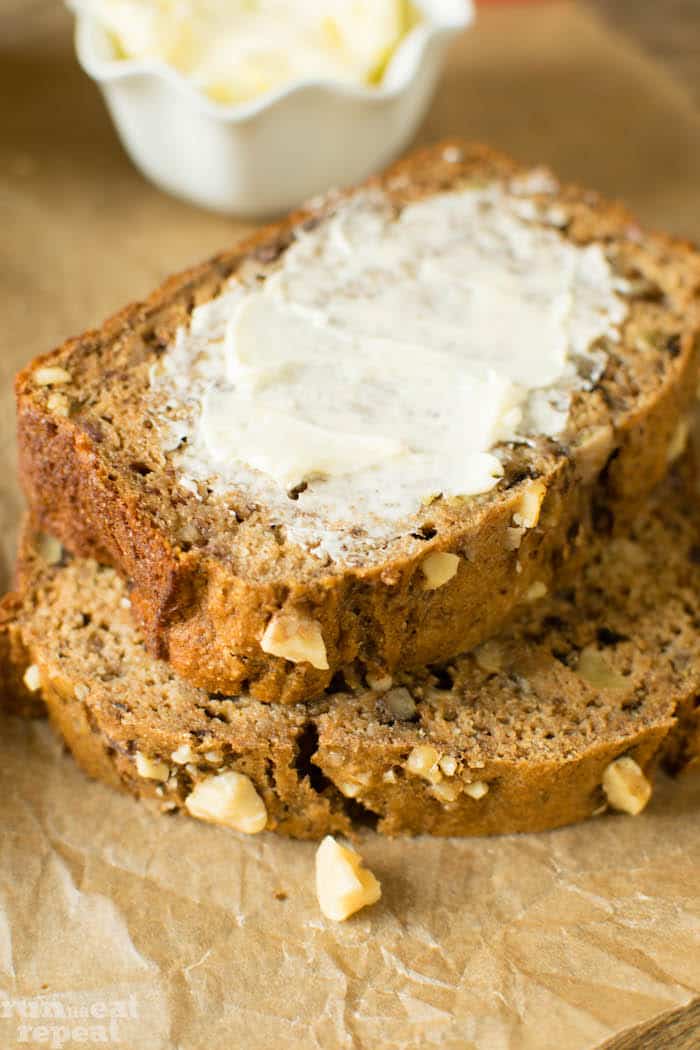 Happy new week to you! How was your weekend? Delicious plans? I sure hope so. We had our monthly game night filled with food, friends and cake batter desserts. It was one of those nights where I went completely off track but hey, worth it.
I'm getting a little personal here on a Monday, but I've had the opportunity to take a step back and relax mentally lately. Forcing myself out of structure and routines has been quite a challenge but enjoyable at the same time. We have a lot going on in our life right now and I'm trying to not stress about it but instead find the joy and sense of accomplishment in it all. Sometimes we lose sight of the little things because we are so busy with life. Later this week we head up north for a week at the beach to see family. It's the first trip back since the passing of my father-in-law in late June. And while we can't wait to see family, it's just a weird feeling. Idk, I'm just feeling all the feels right now.
Ok, enough deep thoughts.
Time to dig in to this↓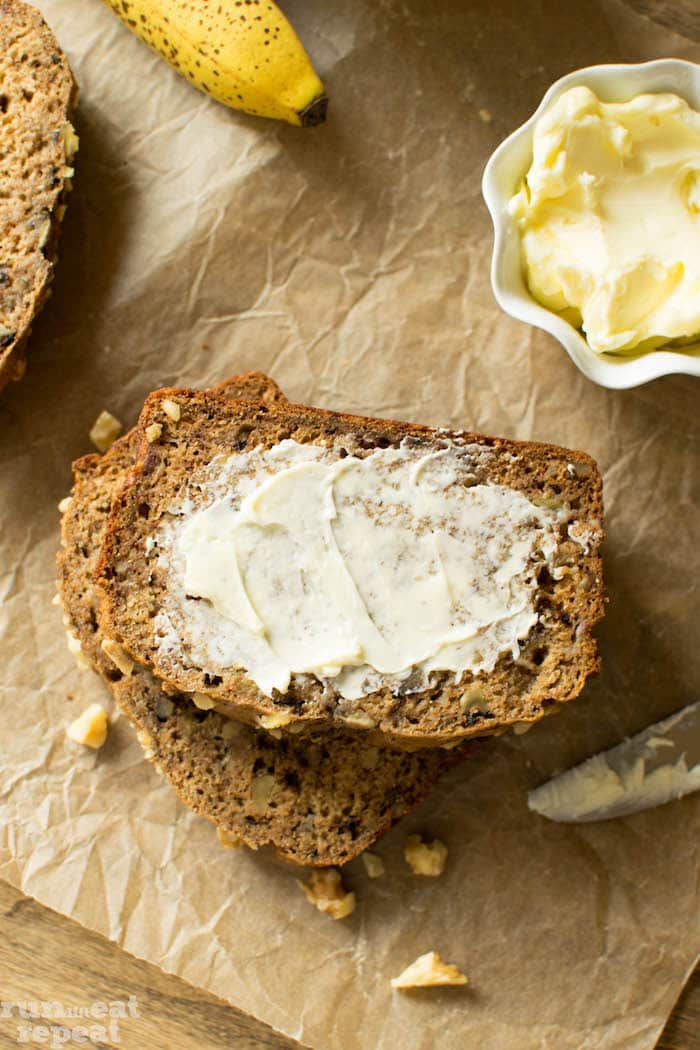 I always say I'm obsessed with my recipes because well, it's food and I like to eat. Duh. But this whole wheat banana bread is no exception. I had zero expectations and was shocked at the end result: so flavorful and moist. Even Chris' co-workers raved about it (<– a bunch of guys I might add)! After 1 bite I was in heaven.
No lie when I tell you I made this break 3x in one week. You read that right. SO MUCH BANANA BREAD.
No butter, no oil, no tricks; just two bowls– one dry, one wet and mix together.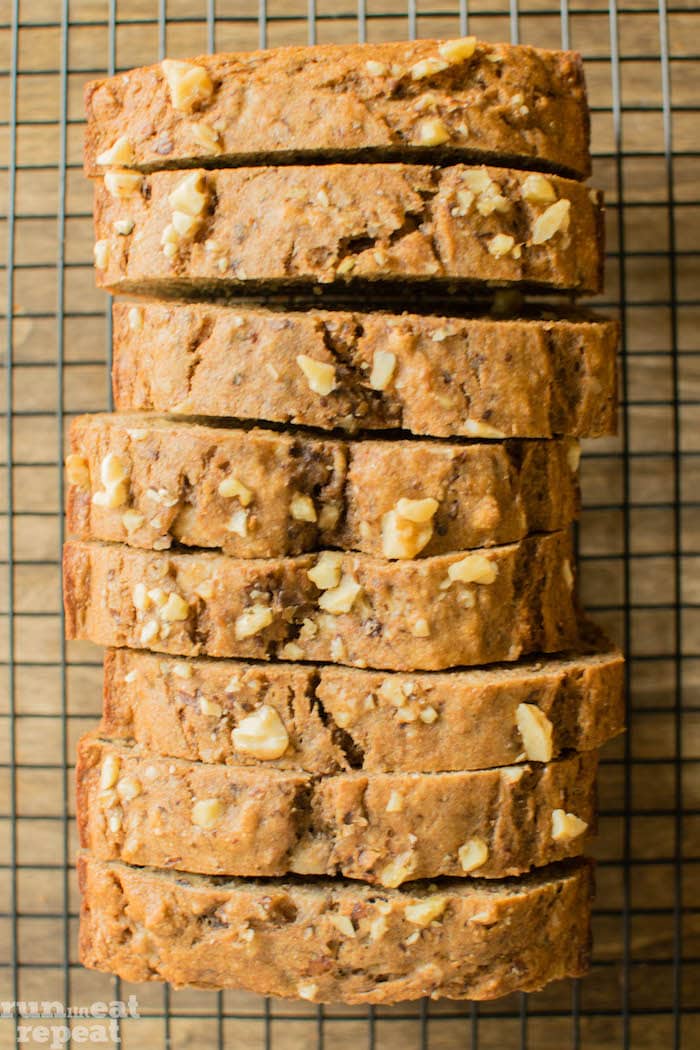 I love banana bread– it's one of those "welcome anywhere" breads. But when it's for dessert you slather on a nice helping of Nutella? I do.
100% actually good tasting whole wheat banana bread.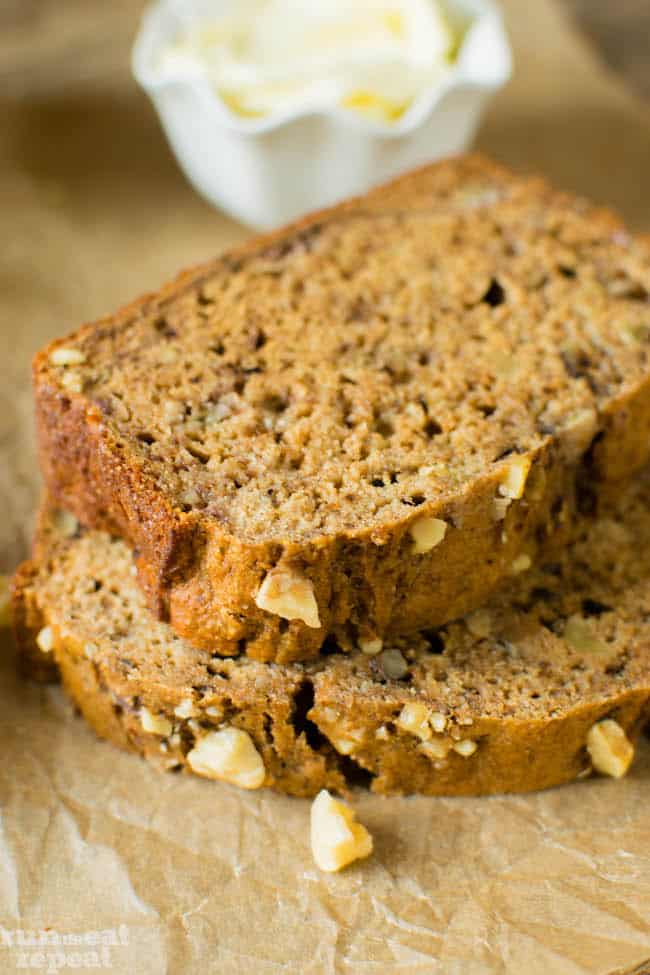 Take THAT full-fat banana bread.
Try my favorite 130 calorie Skinny Pumpkin Chocolate Chip Muffins next!

More breakfast recipes.
More breads & muffins.