Miraculous things happen when peanut butter, dates, and dark chocolate come together!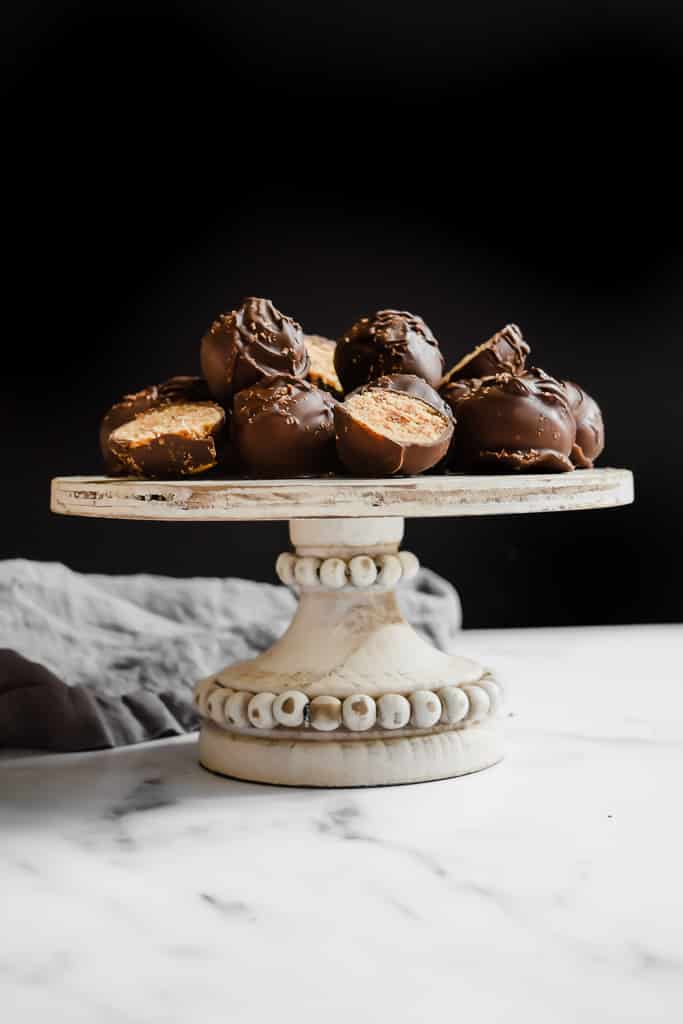 Yup. Only 5!
Made with REAL ingredients: creamy peanut butter, dates, almond flour, dark chocolate and a little pure vanilla extract.
But first, let's get up close and personal on those truffles. ↓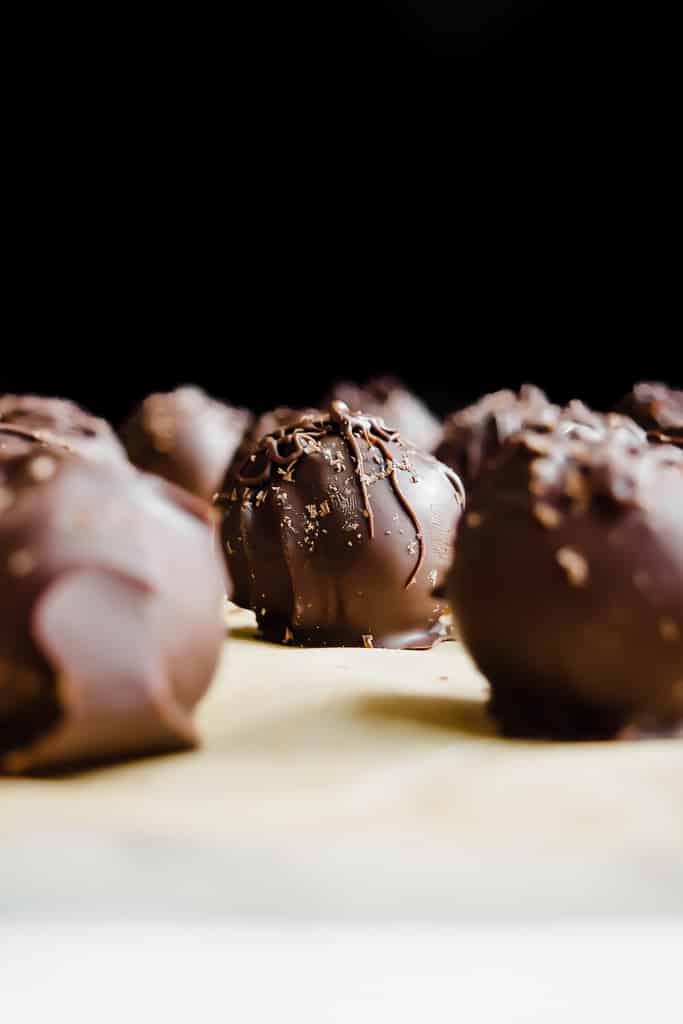 I've been on a maaaajor chocolate, specially chocolate/peanut butter combo kick lately. Since we can't eat chocolate and peanut butter ice cream every night (we can't, right?), I decided it was time to create a healthier treat. It was important to me to use real and pure ingredients without sacrificing flavor and decadence.
When I say these actually taste like a Reese's Peanut Butter Cup, I'm not kidding.
The secret's in the dates. Have you ever made food with dates before? Or even eaten dates before? The Medjool dates are often called the "King of Dates" because of their large and plump size — also called nature's candy.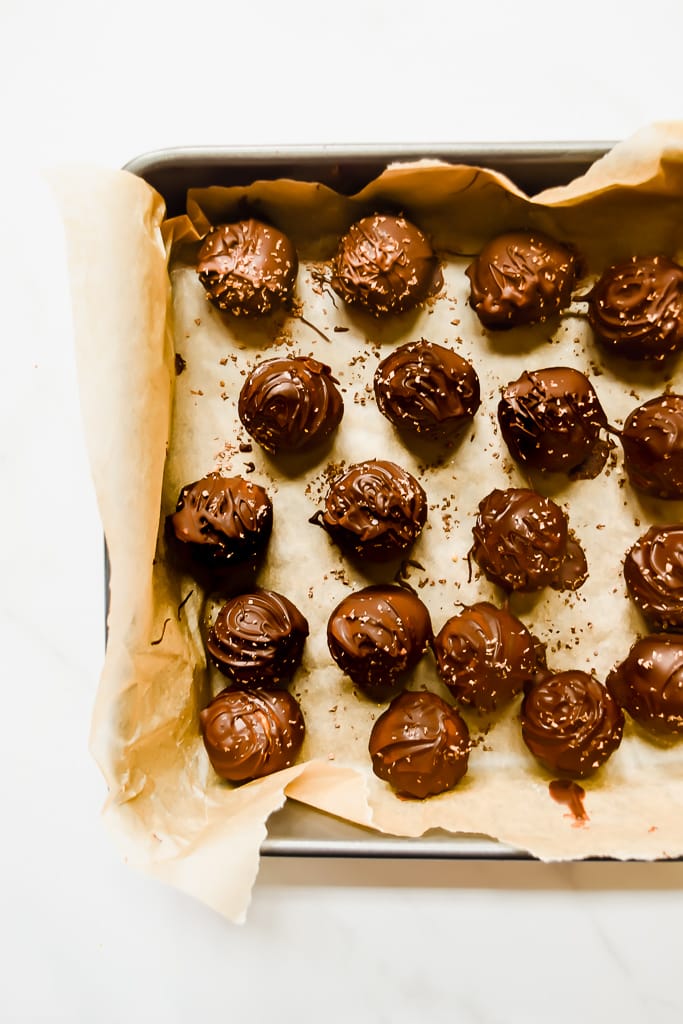 Quick tip: depending on the type of dates you buy (pitted or not), if they are hard or not as plump, soak them in warm water for 10-15 minutes before starting. Soaking them in warm water makes them extra soft and sticky– the texture you want.
I'm not vegan, nor do I follow a gluten-free diet, but I love natural treats like these. I love how simple and decadent tasting these are without processed sugar and ingredients that I can pronounce!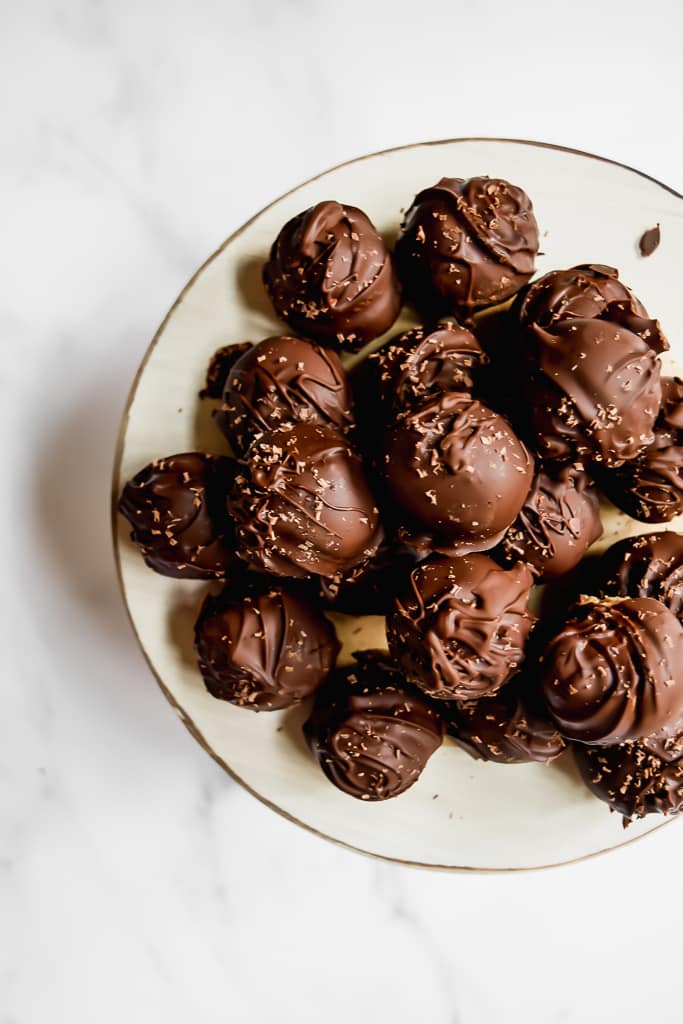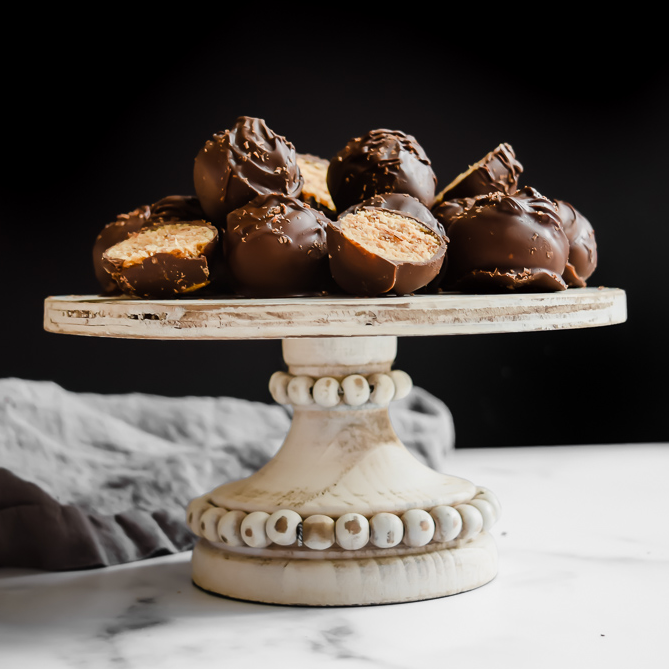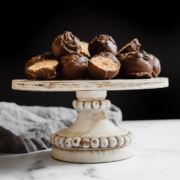 5 Ingredient Vegan Peanut Butter Chocolate Truffles
---
Description
Miraculous things happen when peanut butter, dates, and dark chocolate come together!
---
Ingredients
1

cup

creamy peanut butter

7

Medjool dates, pitted and soaked in warm water for 10 minutes if hard

3/4

cup

almond flour

1/2

teaspoon

vanilla extract

12

ounces

dark chocolate

optional for topping: crushed peanuts, shaved dark chocolate, sea salt, peanut butter drizzle
---
Instructions
First, make sure that your dates are soft. You may soak them in warm water (and then drain) for 10-15 minutes before putting into the food processor or blender. OR you can chop them up into very small pieces so they easily blend. These are my favorite brand of Medjool dates (not pitted, so I remove them) but I find that these always stay plump and fresh.

Line a large baking sheet or baking dish with parchment paper or a silicone baking mat. Set aside.

Scoop the dough (about 1 Tablespoon each), roll into a smooth ball with your hands, and place onto prepared baking sheet. Repeat with remaining dough. Place the truffles in the freezer while you melt the chocolate.

Melt the chocolate in the microwave: place the chocolate in a medium heat-proof bowl. I like to use a liquid measuring cup.

Melt in 30 second increments in the microwave, stirring after each increment until completely melted and smooth. Don't let the chocolate fool you, if there are small chunks, keep stirring to see if it smoothes out before putting back in the microwave. Let the warm chocolate sit for 5 minutes to slightly cool before dipping.

Remove the truffles from the freezer. Dip each ball completely into the chocolate using a dipping tool or a fork. When lifting it out of the chocolate, remember to tap gently on the side of the bowl to allow the excess chocolate to drip off. Place each back on the baking sheet — if adding toppings, sprinkle on after each truffle.

Refrigerate until the chocolate has set, about 20-30 minutes.
---
Notes
Make sure you're using quality dark chocolate. I prefer Enjoy Life or Ghirardelli.
Make ahead tip: Cover truffles tightly in a container (or my favorite, Stasher bag!) and store in the refrigerator for up to 7 days. You can also freeze these truffles for up to 3 months. Thaw overnight in the refrigerator before serving.
PIN IT for later!