These easy to make protein bites are made from just 6 basic ingredients and taste just like cookie dough. Perfect on-the-go or pre-workout snack!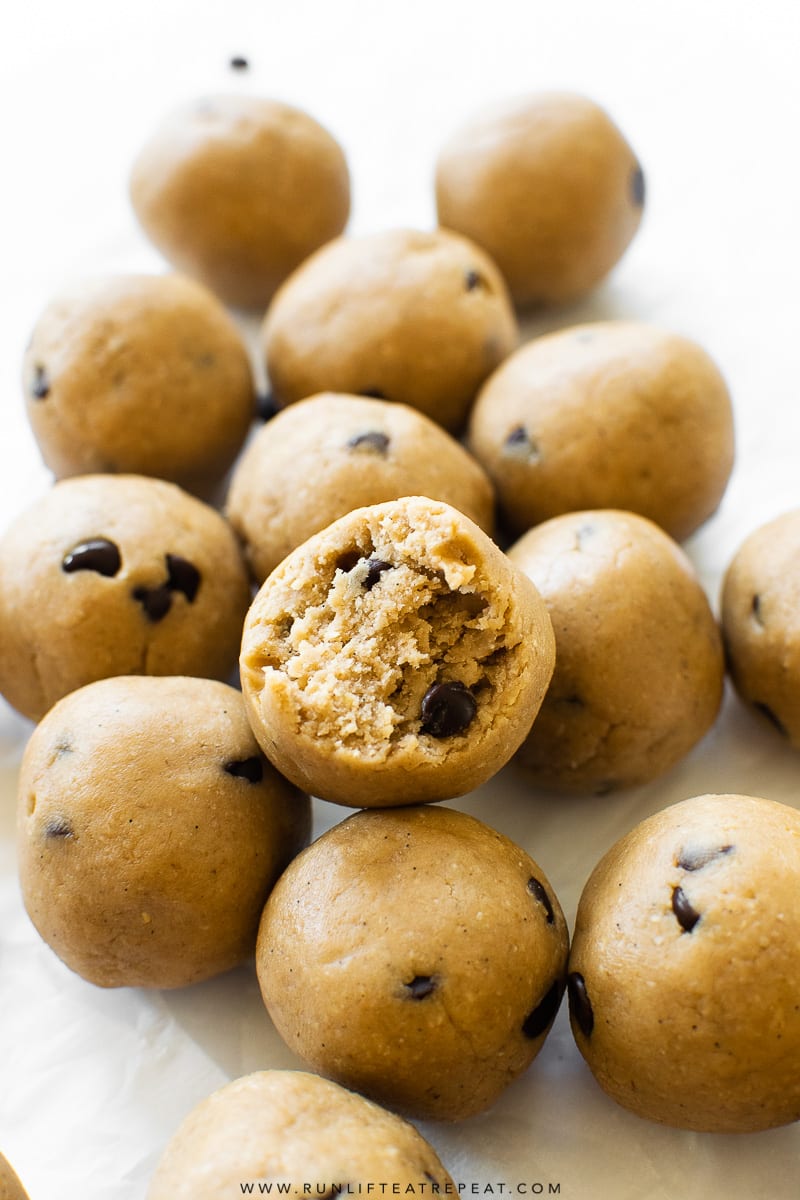 Hi hi hi. Welcome back to 2016. Totally kidding! Today, I'm updating one of my most popular recipes for you. This recipe isn't just your favorite, it's mine too! I find myself making these at least 3 times a month. I can't help it; they literally taste like cookie dough. If you haven't tried these yet, now is the time.
The good news is that these are made from 6 basic ingredients. The even better news is that you don't need to turn on your oven. The great news is that these only take 10-15 minutes to make.
What Makes These Cookie Dough Protein Bites the Best?
These are one of those "feel good snacks" as I like to call it. Whether it's an on-the-go, before a workout, or just to satisfy your sweet tooth without grabbing a slice of cake; these satisfy it all. These can easily be made in bulk; place the excess in the freezer for up to 3 months and thaw overnight in the refrigerator. One of my favorite ways to eat these are crumbled over yogurt.
The cookie dough protein bites are 100% gluten free, dairy free, and vegan. And if that wasn't making them the best already, these are also made in just 1 bowl. I'm all for easy clean up.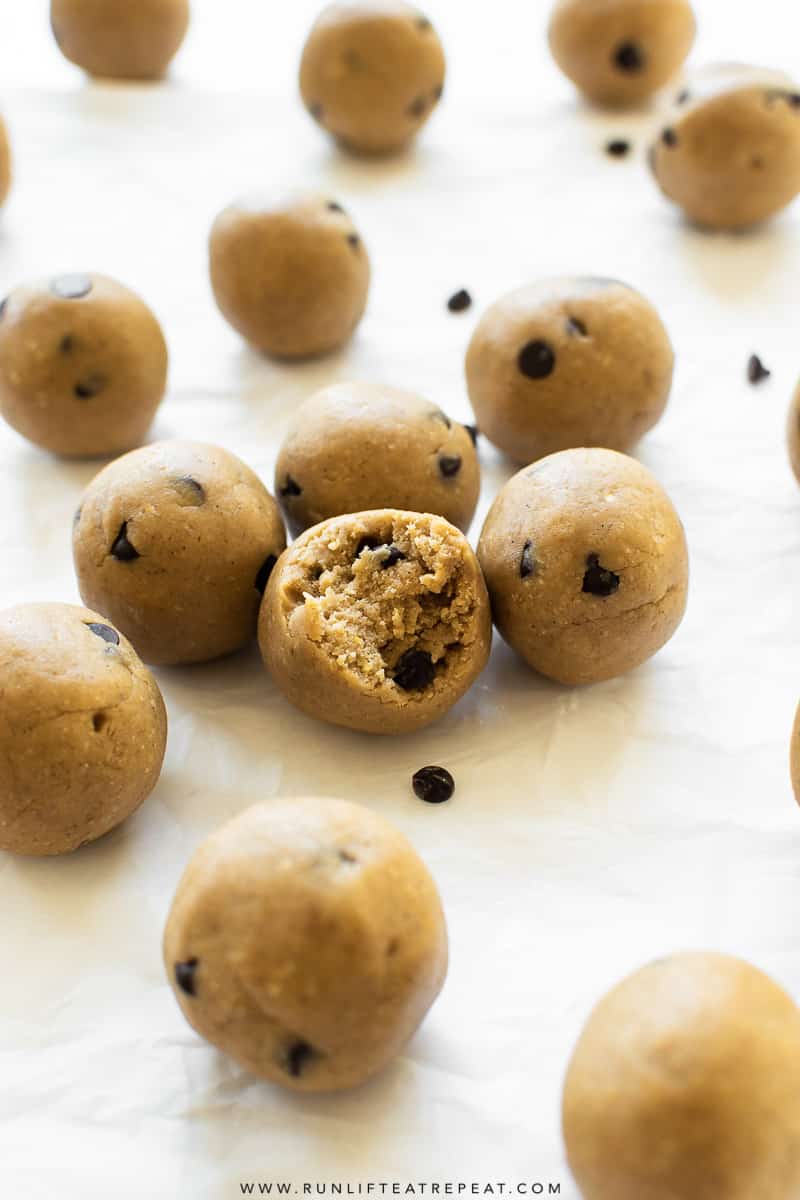 There's Only 6 Basic Ingredients
These cookie dough protein bites combine simple ingredients that can be adapted for any flavor preferences and/or allergies. The ingredients are stirred together in 1 large bowl and then rolled into balls. You'll need:
Oat Flour: You can find this at your local grocery store or you can either make your own. I find that it's cheaper to make my own unless there's a decent salt. If you are gluten free, make sure you choose certified gluten free oats.
Protein Powder: Keep in mind that all protein powders are different, but use what you prefer and love. Depending on the brand you may need to add slightly more milk. This one and this one are my favorite.
Nut Butter: Any nut butter can be used but each kind can alter the taste. For a more mild flavor, I grab cashew butter, but using peanut butter is also a favorite. Just make sure if you're using a natural nut butter to mix it well and you may need slightly less milk.
Maple Syrup: I recommend pure maple syrup, but coconut sugar, agave, or honey work too— though you may need to adjust the amount slightly and/or add more milk.
Vanilla Extract: Adds that classic cookie dough flavor.
Milk: Use the variety of milk that you drink. I've made these with unsweetened almond milk, oat milk, skim milk, and 1% or 2% milk.
For this recipe, I also like to add 1/4-1/3 cup chocolate chips; I prefer the mini chocolate chips to get more in each. Feel free to leave them out completely if you're one of the "pick around the chocolate chips" in cookies. 😉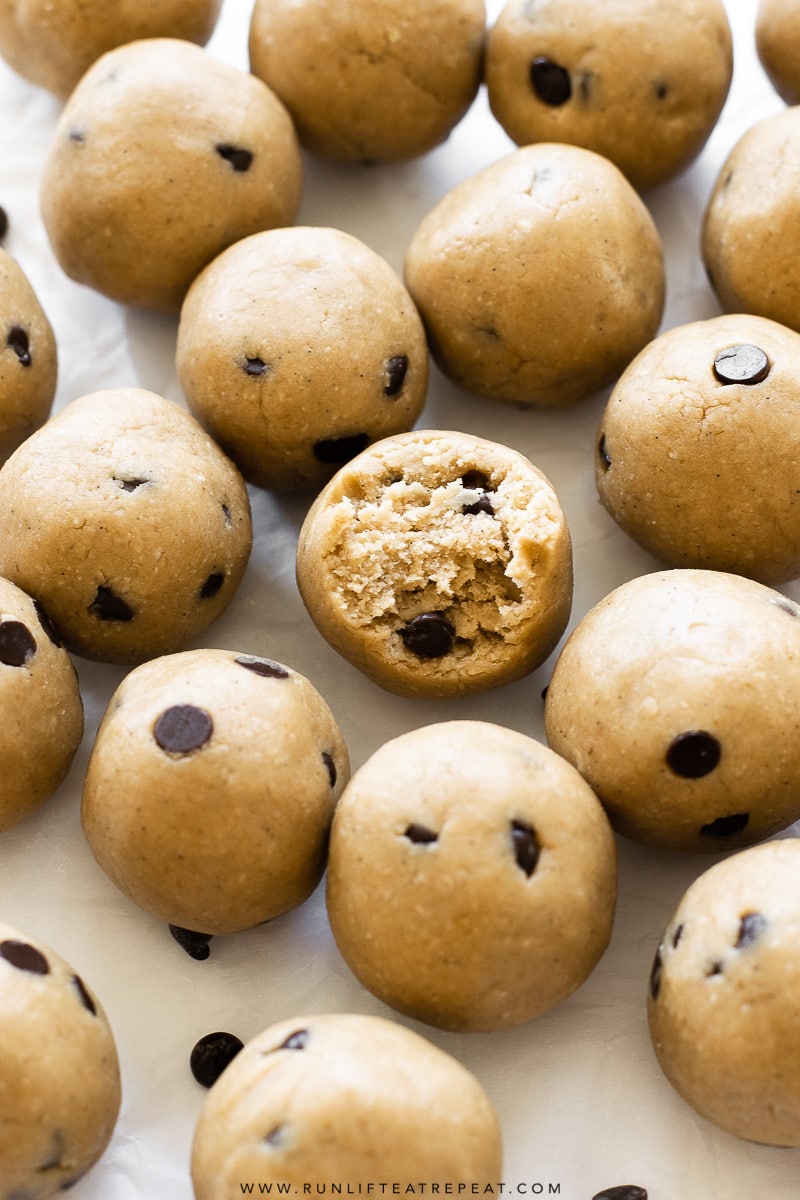 How to Freeze Cookie Dough Protein Bites
I've received a lot of questions about making in bulk and freezing these, so here's how I do it. When making in bulk, you can double or triple this recipe easily.
Make the recipe and roll into balls.
Place a desired amount in small storage bags (about 5-7 balls is the sweet spot for me.)
Place the bags in a large freezer-friendly storage bag or reusable container.
Date the bag and freeze for 3-4 months. Thaw a small bag in the refrigerator overnight.
I like to freeze the cookie dough protein bites in the small bags because they only last 1 week in the refrigerator so having the smaller amount reduces the need to toss if they didn't get eaten. Some weeks I eat more than others so thawing makes it easy!
As you can see, this is a SUPER easy recipe for a quick snack. It not only saves money— store-bought have a hefty price tag! But these are a great healthier alternative. Let me know if you've tried these and/or have made your own variations!
Cookie Dough Protein Bites
These easy to make protein bites are made from just 5 basic ingredients and taste just like cookie dough. Perfect on-the-go or pre-workout snack!
Print
Servings:
24
cookie dough bites
Ingredients
2

cups

oat flour

1/3

cup

protein powder

1/2

cup

nut butter, melted and slightly cooled

4

Tablespoons

maple syrup

2

teaspoons

pure vanilla extract

1/2

cup

milk

optional: 1/4-1/3 cup mini chocolate chips
Instructions
Line a baking sheet or plate with parchment paper or a silicone baking mat. Set aside.

In a large bowl, whisk together the oat flour and protein powder. Using a rubber spatula or wooden spoon, stir in the nut butter, maple syrup, vanilla, and milk. The mixture should be like a cookie dough consistency— come together, but shouldn't be sticky. If it's too dry, add 1 Tablespoon milk. Stir in the chocolate chips, if desired.

Using a cookie scoop or spoon, grab 1.5-2 Tablespoons of dough and roll into balls. Set the rolled balls on the baking sheet or plate as you finish the rest. Store in an airtight container in the refrigerator for up to 1 week.
Recipe Notes
Make ahead tip:
These bites are freezer friendly. Place in an airtight container or bag and freeze for up to 3 months. Thaw overnight in the refrigerator.
Oat Flour:
If you don't have oat flour, not to worry— it's easy to make! Simply add old-fashioned oats to a food processor or blender until a flour texture. Then, measure out 2 cups.
Protein Powder:
Use your preferred protein powder,
this one
and
this one
are my favorite. If you use a vanilla flavor, decrease the vanilla to 1 teaspoon in the recipe. Depending on the protein powder used,
you may
need slightly more milk since some soak up more moisture than others.
Nut Butter:
Any nut butter can be used however depending on the kind can alter the taste. I typically use cashew butter for a more mild taste. If you use a natural butter, be sure to mix it prior and
you may
need slightly less milk.
Milk:
I've made these with unsweetened almond milk, oat milk, skim milk, and 1% milk.
Chocolate Chips: 
These are optional (though 100% recommended)— I always go for
Enjoy Life
brand.
©Run Lift Eat Repeat. All images & content are copyright protected. Please do not use my images without permission. If you want to republish this recipe, it may be re-written in your own words, or you may link back to this post. Some of the links in this post are affiliate links, which pay me a small commission for my referral at no extra cost to you! Thank you for supporting Run Lift Eat Repeat.