These cookies are big, thick, chewy, and slightly crisp around the edges — just how it should be.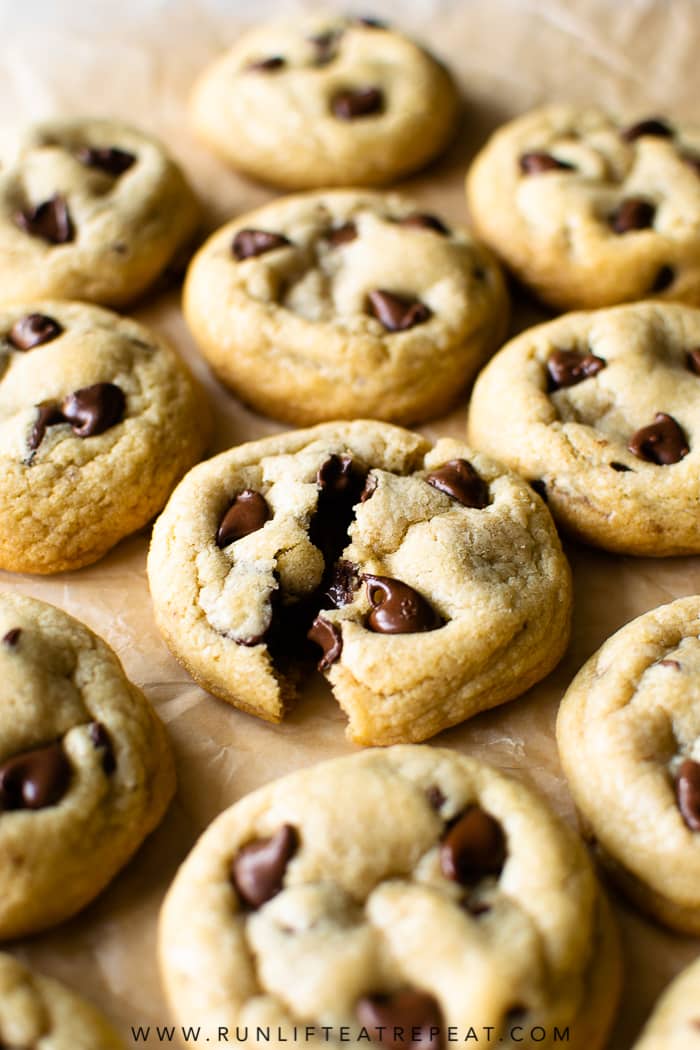 Because it's almost the weekend and it's time for a damn cookie. ??
These are BEST chocolate chip cookies I've ever had. It's quite the post title to live up to, no? But I am confident that you'll agree – just ask the hundreds that have tried them so far. It's the most popular recipe to date on my website since I originally posted it last year. They desperately needed a photo refresh so I whipped up a few batches over the weekend, took a few glamour shots and sent them off to friends.
If you're looking for that perfect cookie to "wow" the crowd this holiday season – or any occasion – these cookies are your answer.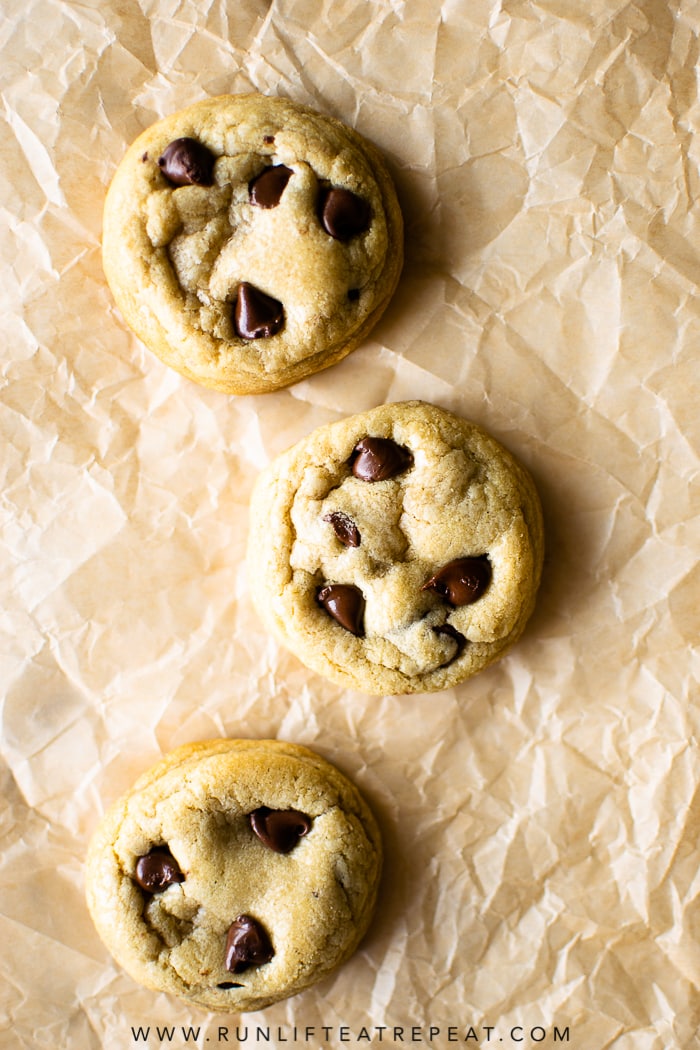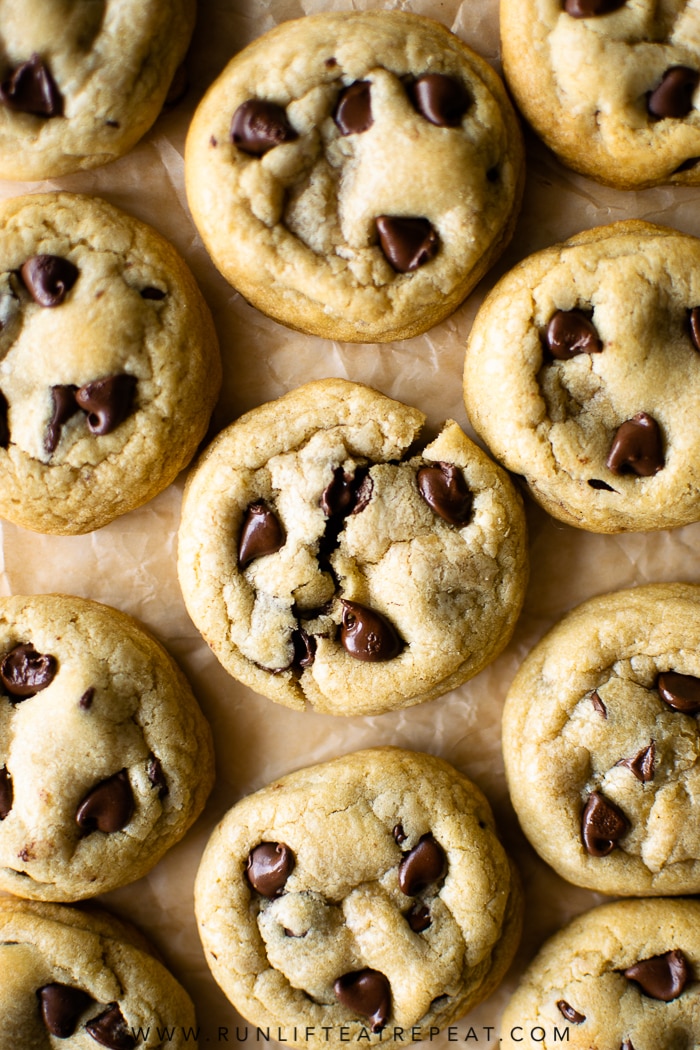 Last year it was my mission to find that perfect dairy-free chocolate chip cookie recipe. The recipe that I can bake again and again for years to come, one that no one would know that there wasn't butter in it, and one that I could rely on. I've tested and re-tested and then tested again. I now have this recipe memorized; it's forever engraved in my brain.
After easily 6 batches, my trusty taste testers preferred the cookies made with more brown sugar than white sugar as it helped increase the chewy factor. I also tossed in egg yolks to assist in keeping them super soft, even after days after making them.
These cookies are soft, big, thick, chewy, and perfectly crisp around the edges. There's the perfect ratio of chips to dough.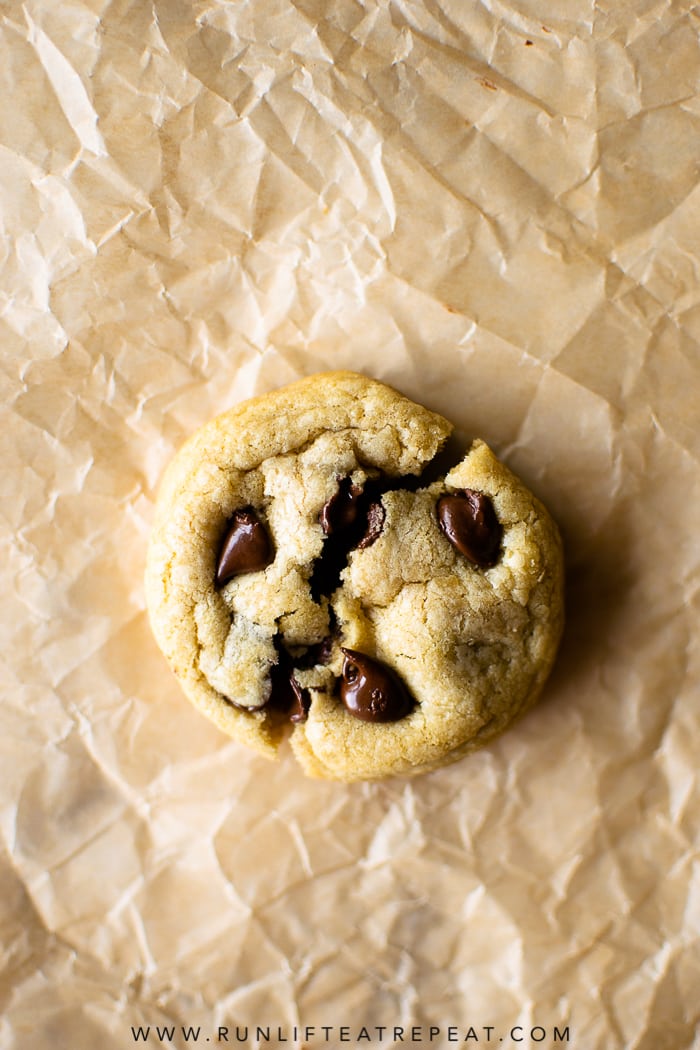 Friends, it's time to start preheating your ovens!
PS: It's acceptable to eat the cookie dough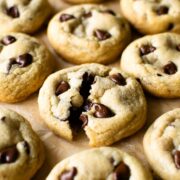 Coconut Oil Chocolate Chip Cookies
---
Description
These are the best chocolate chip cookies that I've ever had. They are big, thick, chewy, and slightly crisp around the edges — just how it should be.

---
Ingredients
3

cups

all-purpose flour

2 and 1/2

teaspoons

baking soda

1

Tablespoon

cornstarch

1/2

teaspoon

salt

1

cup

refined coconut oil, room temperature

2/3

cup

light brown sugar, packed

1/3

cup

granulated sugar

2

large eggs

2

large egg yolks

1

Tablespoon

vanilla extract

1

cup

dairy-free chocolate chips
---
Instructions
Whisk the flour, cornstarch, baking soda, and salt together in a medium bowl. Set aside.

In a large bowl using a hand-held mixer or stand mixer with paddle attachment, beat the coconut oil1 for 2 minutes on medium-high speed until smooth, about 1-2 minutes. Add the brown sugar and granulated sugar and beat on medium-high speed until light and fluffy, about 2 minutes. Add the eggs and egg yolks, and vanilla and beat medium-high speed until combined, about 1 minute. Scrape down the sides and the bottom of the bowl, as needed, and beat again for a few seconds to combine.

With the mixer running on low speed, slowly add the dry ingredients until just combined. To make this easier (and less messy), I use a 1/4 cup measuring scoop. Beat in the chocolate chips2 for 5-10 seconds. The dough will be thick. Cover and chill the dough for at least 30 minutes in the refrigerator (or up to 3 days). If chilling longer than 1 hour, allow the dough to sit at room temperature for 15 minutes before rolling as the dough will be hard.

Scoop balls of dough, about 1.5-2 Tablespoons per cookie, and place on the baking sheets about 3 inches apart. Bake for 10-11 minutes until slightly browned on the sides. The centers will look soft.

Remove from the oven and allow to cool on the baking sheet for 5 minutes before transferring to a wire rack to cool completely. While the cookies are still warm, I like to press a few extra chocolate chips into the tops - just for looks!
---
Notes
The cookies stay fresh for up to 1 week when stored in an air-tight container. Baked cookies can be frozen for up to 3 months. Allow to thaw overnight in the refrigerator.
1If you don't want any coconut flavor, use extra refined coconut oil. Using regular coconut oil you may have a slight coconut flavor depending on the brand.
2To keep these dairy-free, use dairy-free chocolate chips. My favorite brand is Enjoy Life.
Make ahead tip: You can make the cookie dough and chill it in the refrigerator for up to 3 days covered. Sit at room temperature for 15 minutes before continuing with step 4. You can also freeze unbaked cookie dough balls for up to 3 months. Bake frozen cookie dough balls for an extra minute.
Tagged in:
chocolate chip, chocolate chip cookies, cookies
PIN IT for later!