You won't miss the butter, oil or sugar in these easy to make flavorful banana oat muffins, trust me!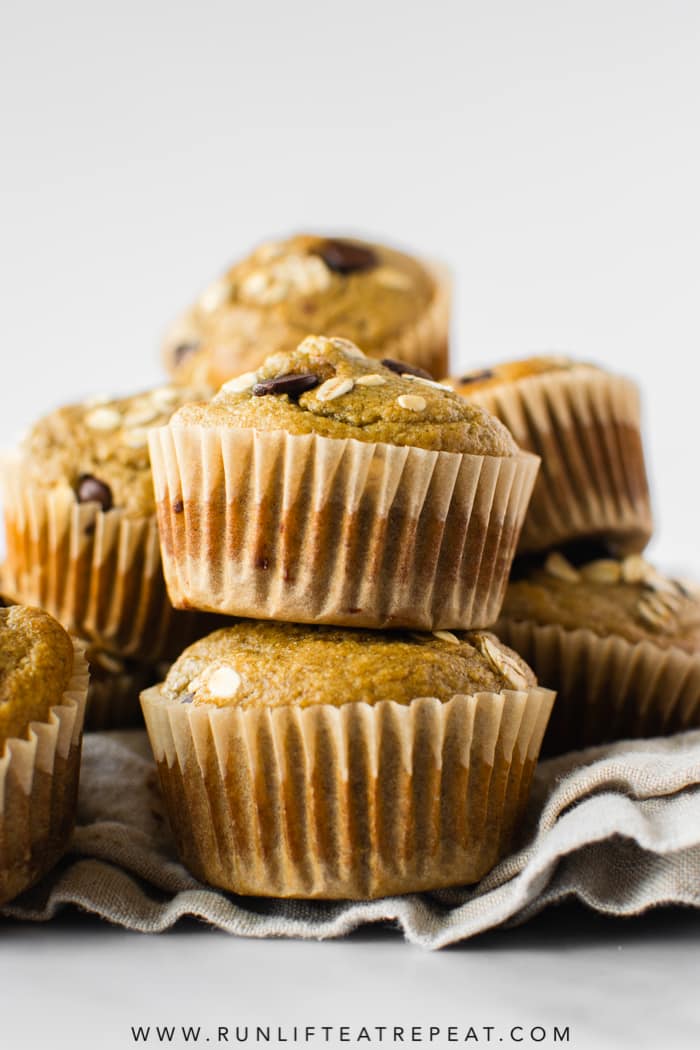 Life is challenging right now; it's been turned completely upside down the past couple months. A few weeks ago, it was confirmed that my mama has an aggressive rare form of cancer and last week we found out that it has spread to her lungs. It's unfortunate that something like this can put life into perspective, but we're trying to move forward the best we can with what life has handed us. I'm not going to say much about it, but I firmly believe in the power of positive thoughts and prayer so please send it all. ❤❤
Rather than letting this news consume me in a negative way, I'm trying to focus what helps soothes my soul. Recipe creation. That's where these muffins come in...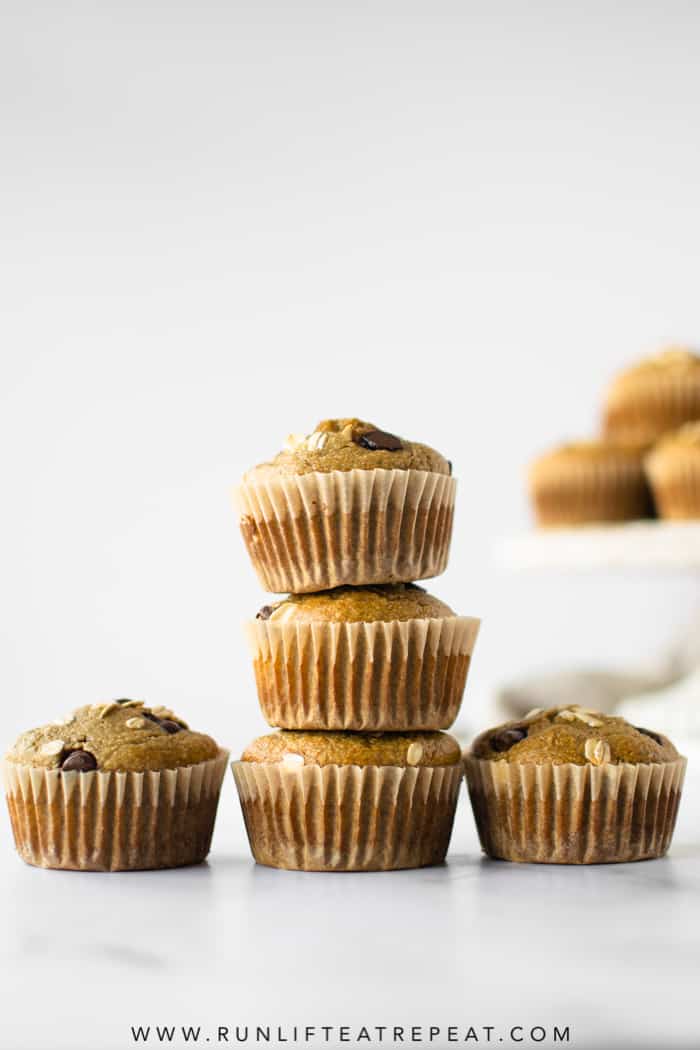 Over the weekend I found myself on auto-pilot in the kitchen without the intention of sharing the recipe on my blog, just throwing ingredients together and making a mess. That is until batch #1 of these muffins. Then after not believing how good they were, batch #2 was made. Then I made batch #3 for good measure and after realizing that it's been far too long since I've shared a muffin recipe with you (3 weeks is forever, ok?) and a photoshoot needed to happen.
Lookout world! It's time to introduce you to my newest muffin obsession. While there's no crumb topping or sprinkles, these banana oat muffins steal my heart.
Why You'll Love These Banana Oat Muffins
easy to make (made in a blender, whaaaaat?!!)
satisfying
real ingredients (nothing weird that you can't pronounce)
made with oats instead of flour (no gluten, no prob)
no refined sugar
chocolate chips because we love ourselves
I made 2 batches the other day when I saw a pile of speckled bananas on the counter. Now I have a freezer stocked with muffins that I can heat up or thaw whenever I want one! → LOVE a good muffin stash.
(muffin cravings are a thing for me.)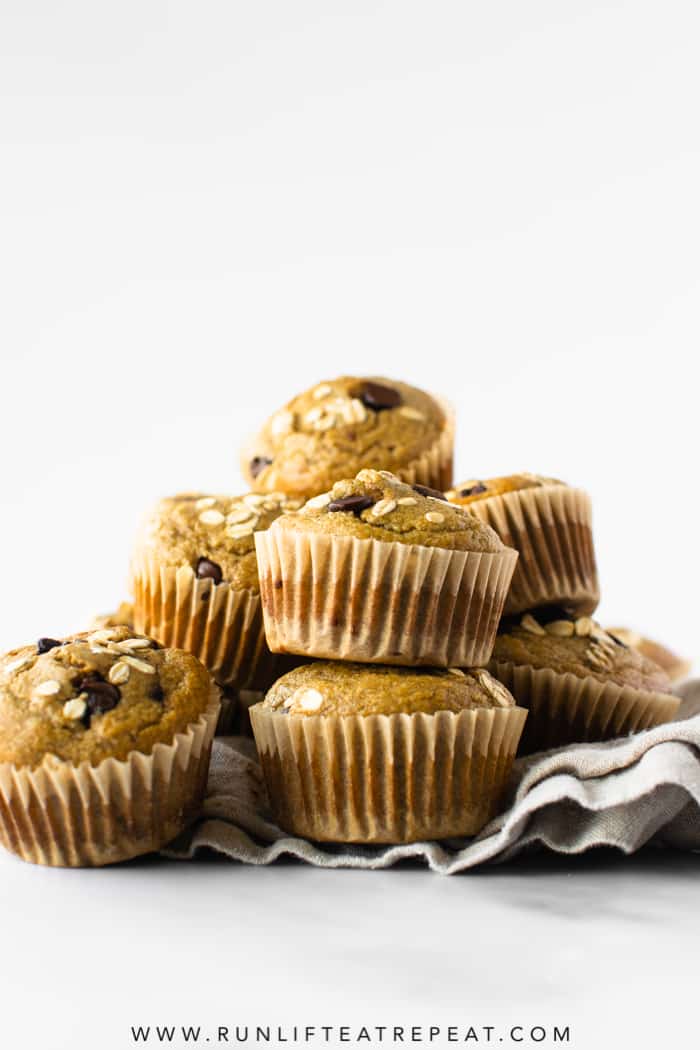 These couldn't be easier and more delicious! Let me know if you try them!
Enjoy, banana lovers!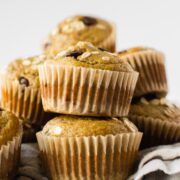 Banana Oat Muffins
---
Description
You won't miss the butter, oil or sugar in these easy-to-make flavorful banana muffins, trust me!
---
Ingredients
2 and 1/2

cups

old fashioned rolled oats, plus extra for topping*

2

teaspoons

baking soda

1 and 1/2

teaspoons

ground cinnamon

1/8

teaspoon

salt

3

large ripe bananas

2

large eggs

1/2

cup

pure maple syrup

1

teaspoon

pure vanilla extract

1/2

cup

plain Greek yogurt*

3/4

cup

total optional add-ins: chocolate chips, chopped nuts, etc.*
---
Instructions
Preheat the oven to 425°F. Spray a 12-count muffin pan with nonstick spray or use muffin liners. This recipe makes about 15 muffins, so prepare a second muffin pan the same way.

Place the oats1 in a blender or food processor. Blend or process until powdery and flour-like. Then, add the rest of the ingredients, in the order listed, except for the 3/4 cup of add-ins. Blend or process until combined, scraping down the sides or bottom as needed. Stir in the add-ins.

Pour the batter into the prepared muffin pans, filling them all the way to the top. Top with a few oats, if desired.

Bake for 5 minutes at 425°F then, keeping the muffins in the oven, reduce the temperature to 350°F. Bake for an additional 6-8 minutes or until a toothpick inserted into the center comes out clean— these took 7 additional minutes. The total baking time for these muffins is 12-13 minutes, give or take.

Allow the muffins to cool for 5 minutes in the muffin pan, then transfer to a wire rack to finish cooling.

Muffins stay fresh covered at room temperature for up to 2 days or in the refrigerator for up to 1 week.
---
Notes
Make ahead tip: These muffins freeze well. Store in air-tight bag or container and freeze up to 3 months. Allow to thaw on the counter or defrost in the microwave.
Make these vegan: Use 2 chia seed eggs (1 chia seed egg = 1 Tablespoon chia seeds + 2.5 Tablespoon water + let sit for a few minutes) with dairy-free yogurt mentioned below.
1To make these gluten-free, use certified gluten-free old fashioned oats. I prefer the Bob's Red Mill brand.
2Any fat % of Greek yogurt can be used for these. To make this dairy-free, you can use dairy-free yogurt. I prefer Kite Hill plain unsweetened since it has a very plain flavor.
3The total add-ins for these muffins are 3/4 cup— use whatever you prefer (chocolate chips, chopped walnuts, etc.)
PIN IT for later!