These fluffy and light gluten-free pancakes are super filling and packed with fresh bananas!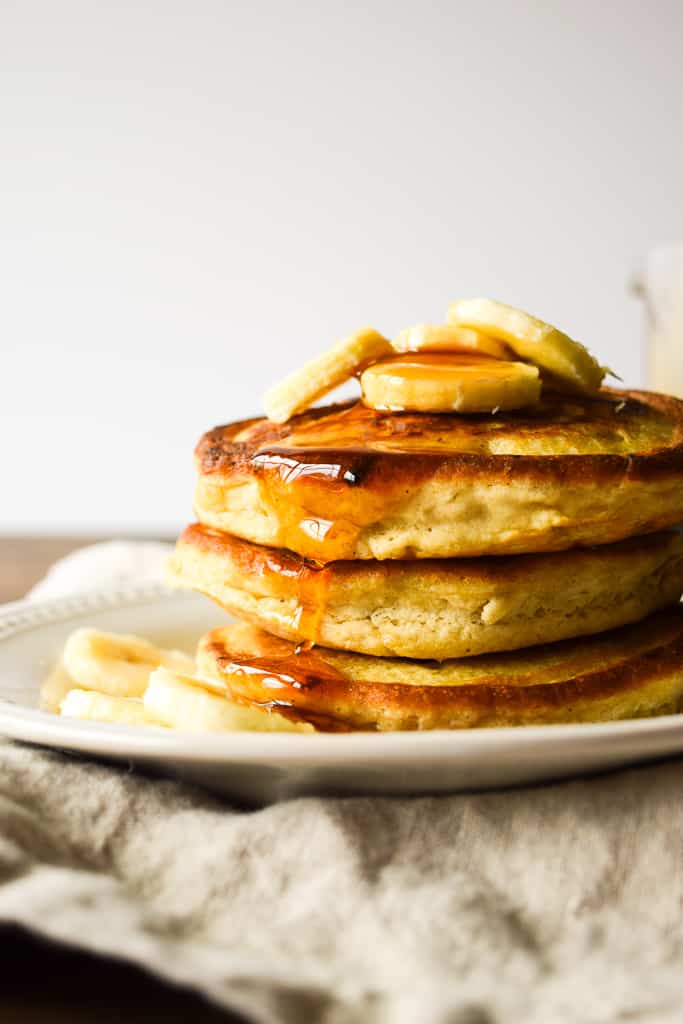 This is called a happy stack. ↑
I've made these four times in the past 2 weeks. Once because the bananas sitting on the counter were looking a bit sad, twice because breakfast for dinner is a regular occurrence, and finally to capture these photos which meant brinner once again. Let's just say that the freezer is full of banana pancakes — nothing wrong with that.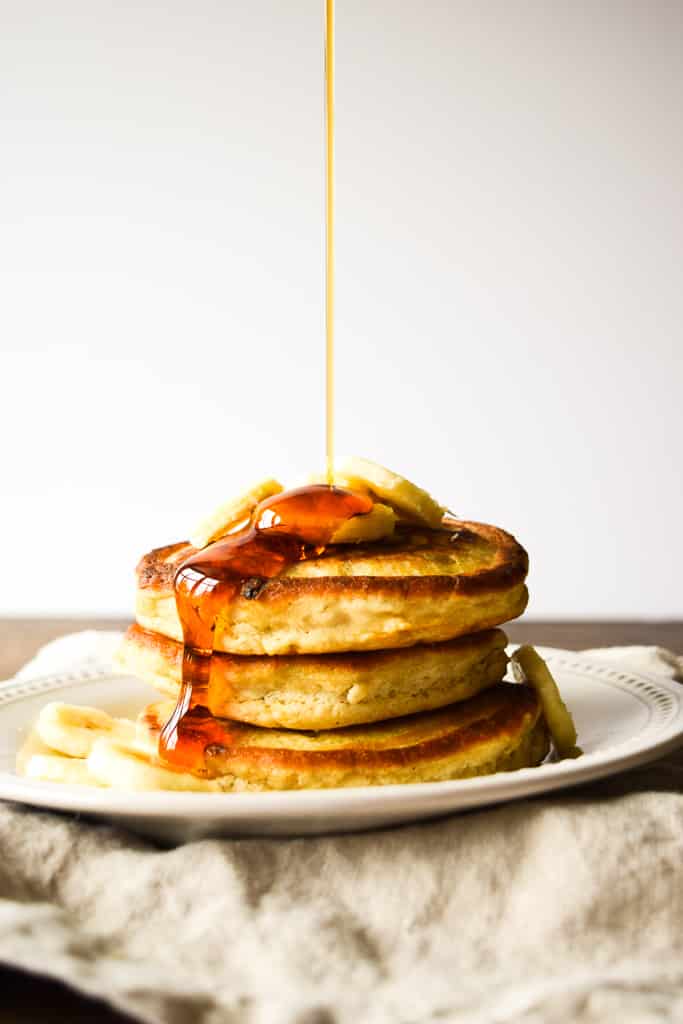 What I love most about these pancakes is that they don't taste dense or dry like some gluten-free/dairy-free pancakes out there. For this recipe, I used my go-to pancake recipe. It's the one I make all the time when I crave a big stack of pancakes. This recipe produces the fluffiest, the softest and most tender pancakes.
Now for the banana version. I changed the recipe slightly by adding a touch of cinnamon, swapped the regular sugar for brown sugar and let's not forget the mashed banana.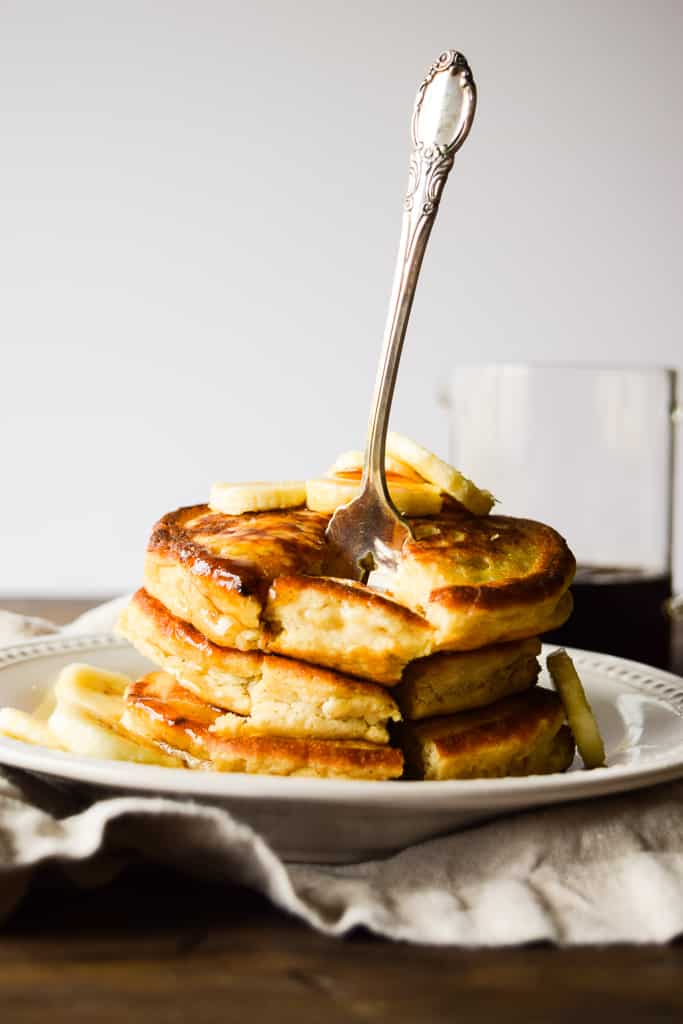 I have a feeling today's recipe will be enjoyed this weekend. Or heck. Don't wait. Tomorrow will be breakfast for dinner!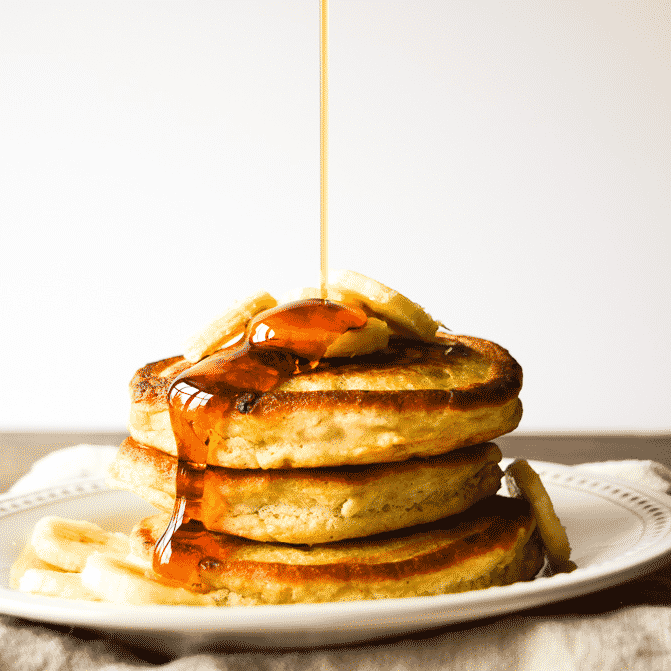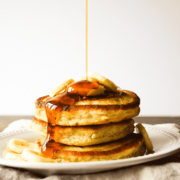 Gluten-Free & Dairy-Free Banana Pancakes
---
Description
These fluffy and light gluten-free pancakes are super filling and packed with fresh bananas!
---
Ingredients
1 and 1/2

cups

Bob's Red Mill Gluten Free 1-to-1 Baking Flour

1/4

teaspoon

ground cinnamon

2 and 1/2

teaspoons

baking powder

1

large egg

2

large bananas, mashed

1

teaspoon

vanilla extract

1/4

cup

light brown sugar, packed

1 and 1/4

cups

unsweetend almond milk

1/3

cup

total optional add-ins: chocolate chips, walnuts, etc.
---
Instructions
Toss the flour1, salt, and baking powder together in a large bowl. Set aside. In a separate medium bowl, whisk the egg, mashed banana, sugar2, vanilla and milk together.


Make a well in the dry ingredients and pour in the wet ingredients. Whisk gently until just combined. Do not overmix the batter or the pancakes will become dense. If adding any mix-in, gently fold in to avoid overmixing.

Heat a griddle3 or skillet over medium heat — if using cast iron, medium low heat. Coat generously with ghee or oil. Once very got, drop 1/4 cup of batter on the the griddle. Cook until the edges start to look dry and bubbles begin to form on the center and sides, about 1-2 minutes. Flip and cook on the other side until cooked through, about 2 more minutes. Coat griddle/skillet again for each batch of pancakes.

To keep pancakes warm while cooking other batches, place in a 200°F oven until all pancakes are cooked. Serve immediately.

Pancakes can be refrigerated for up to 2 days and frozen for up to 2 months. Thaw overnight, or place frozen pancake in toaster until heated through.
---
Notes
1Bob's Red Mill Gluten Free 1-to-1 Baking Flour is a favorite of mine, but any gluten-free 1-to-1 flour will work just fine. I typically order it from Amazon since it's normally the cheapest.
2Any sugar works— I've tried coconut sugar, granulated sugar, and maple syrup.
3This is the griddle I own and love— it's the best!
PIN IT for later!