This creamy green bean casserole is made completely from scratch — it's the side dish that your guests will rave about!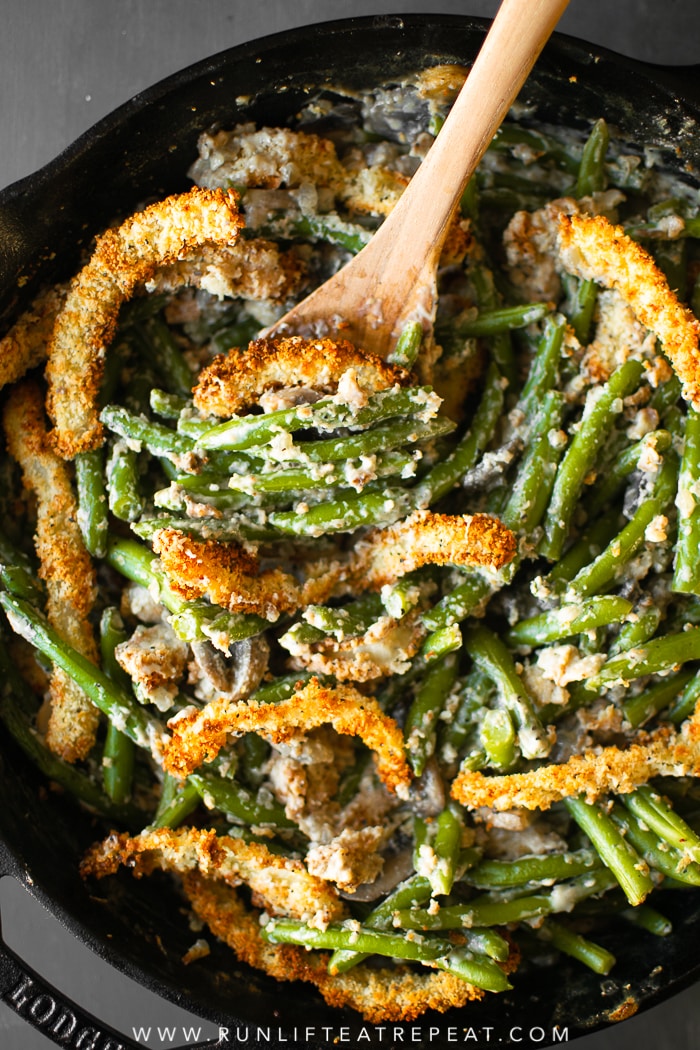 It's the first week of November— which means the holiday season is almost here.
Turkey's great and all, but Thanksgiving sides are the star of the show. I personally can't remember a time where the side dishes don't take over the entire table. And you absolutely NEED to make room for this green bean casserole this year! This is absolutely incredible.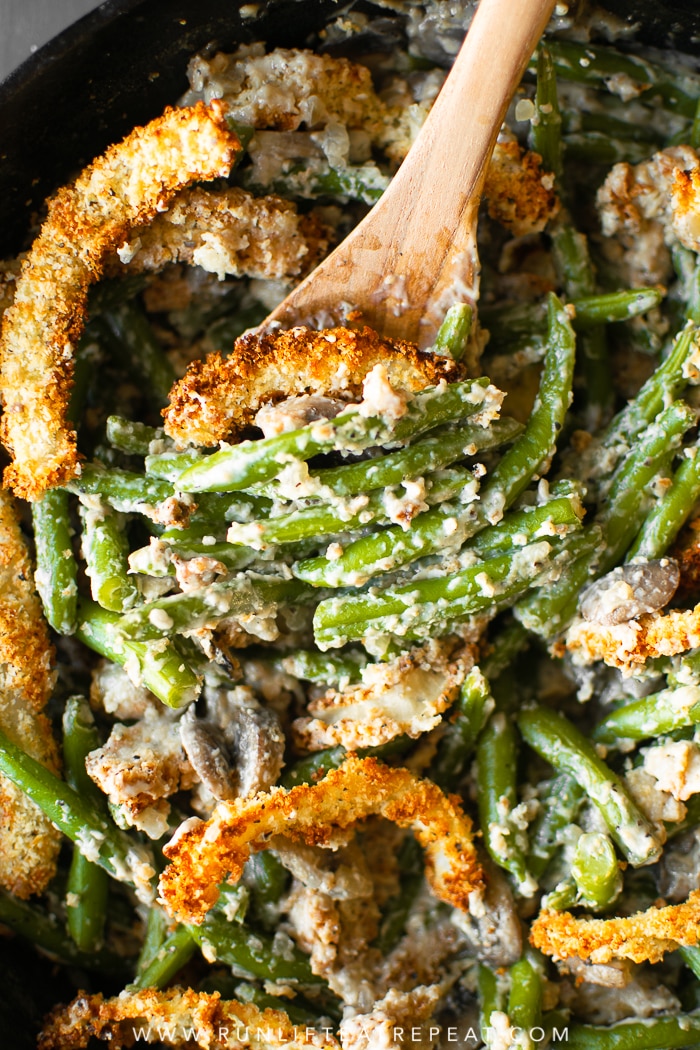 I first made it last month to test out and, as a green bean loving freak, I devoured it in 2 days. There I went to make another batch– giving a tupperware full to neighbors. They said it was gone in less than a day. Some didn't even know it was actually healthier!
We all know that green bean casserole is pretty heavy. Rich, buttery, classic comfort food. It's certainly not something that is eaten all the time– that is, until this recipe came along. This is completely from scratch using fresh ingredients– none of that canned stuff– without sacrificing an ounce of flavor.
I'll leave you with the recipe, a quick run down so you know what you're doing. PS: it's easy.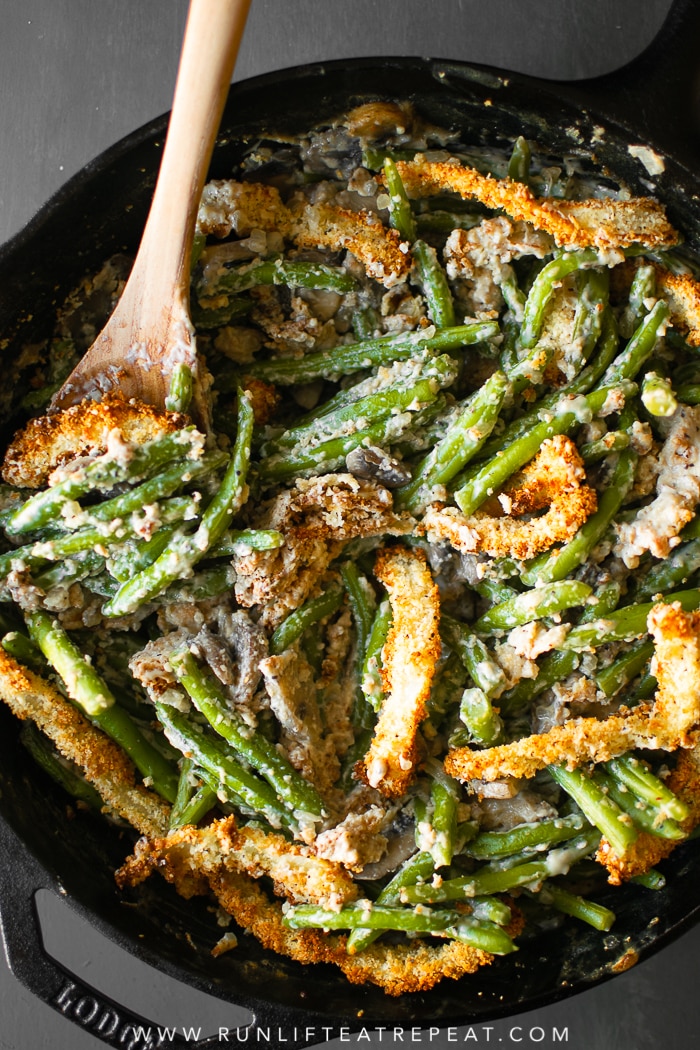 How to Make Green Bean Casserole
Onions: Coat sliced onions in some flour, beaten egg + milk, then Panko. Bake.
Green beans: Rinse, trim, halve, and blanch them.
Creamy sauce: Melt butter or ghee with mushrooms, onion, and garlic on medium-high heat. Add some salt and pepper. Add chicken broth and milk, and watch the sauce slowly thicken.
Stir it together: Add some baked onions, the green beans, the creamy sauce, and give it a big stir.
Bake: Top with the remaining baked onions and bake for 10 minutes until bubbly.
See. It's easy enough. It's from scratch.
This casserole is ridiculous.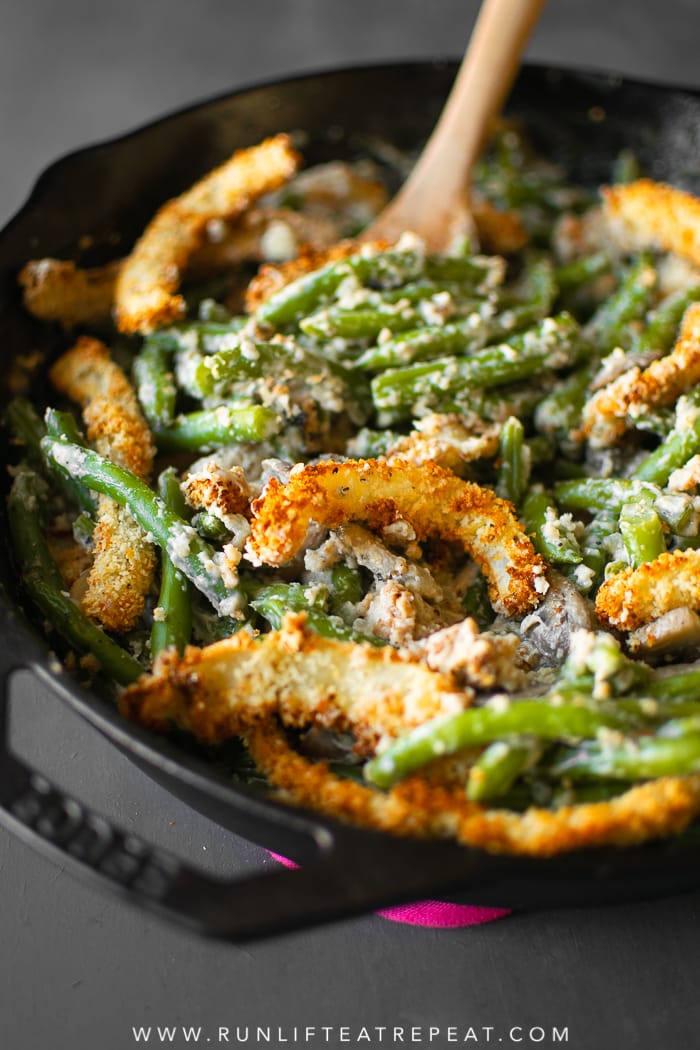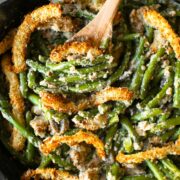 Healthier Green Bean Casserole from Scratch.
---
Description
This creamy green bean casserole is made completely from scratch — it's the side dish that your guests will rave about!
---
Ingredients
Baked Onions
1

large sweet onion

1/3

cup

all-purpose flour

1 and 1/4

cup

Panko

1

teaspoon

salt

3/4

teaspoon

freshly ground black pepper

2

large eggs

2

Tablespoons

unsweetened almond milk*
Casserole
2

Tablespoons

+ 1 teaspoon salt, divided

1 and 1/2

pounds

fresh green beans, rinsed, trimmed and halved

3

Tablespoons

unsalted butter or ghee*

12

ounces

mushrooms, sliced in halves or quarters

1/2

small onion, diced (about 3/4 cup)

2

garlic cloves, minced

1

teaspoon

freshly ground black pepper

1

cup

vegetable or chicken broth

1 and 1/4

cups

unsweetened almond milk

5

Tablespoons

cornstarch
Equipment needed
---
Instructions
Preheat the oven to 450°F. Line a large baking sheet with parchment paper or a silicone baking mat. Set aside.

For the baked onions: (You can start step 3— the green beans— while the onions bake.) Cut the onion in half, then thinly slice. Add the flour into a large zip top bag. Pour the Panko, salt, and pepper into a medium bowl, and whisk the egg and milk together in another medium bowl. To make things a bit easier, use one hand for wet and the other for dry. First, seal the bag and shake until all the onion slices are coated evenly. Then, dunk a few onion slices into the egg mixture. And then, give them a dunk into the Panko, coating them well, pressing to ensure it sticks. Place onto the prepared baking sheet. Repeat with the rest of the onions. Bake the onions until golden brown, about 25 minutes. Flip them twice during this time. Set aside. Reduce the oven to 425°F.

Bring a pot of water and 2 Tablespoons of salt to a boil. Add the green beans and blanch for 3 minutes. Drain and immediately place into a large bowl filled with ice water to stop the cooking process— this helps the green beans stay a vibrate color. Drain again and set aside.

For the casserole: Over medium-high heat, melt the ghee in a large 10-12 inch ovenproof skillet. Add the mushrooms, onion, garlic, 1 teaspoon salt, and pepper. Cook, stirring occasionally, until the mushrooms begin to give off some moisture and the onions soften— about 5 minutes. Add the chicken broth and simmer for 3 minutes. Lower the heat to medium-low.

Combine the milk and cornstarch by stirring until no lumps remain. The best way to do this: add the cornstarch to a large measuring cup or bowl, then add the milk slowly while stirring. Add the milk/constarch mixture to the skillet. Stirring occasionally, cook until the mixture is thick— about 10 minutes or longer if you prefer a thicker sauce.

Remove from the heat and add the green beans and 1/4 of the baked onions. Give it a stir, then top with the remaining onions and bake until bubbly, about 10 minutes. Remove from the oven and enjoy!

Leftovers keep well in an airtight container in the refrigerator for up to 4 days. Reheat as desired.
---
Notes
Make ahead tip: Can be prepared up to 1 day in advance. Prepare through step 5, except turn off the oven after the onions are done. Allow the baked onions to cool completely, place in an airtight container or bag and refrigerate overnight. After the sauce is finished, combine the casserole but leave out the baked onions (this will prevent them from getting soggy.) Cover tightly at refrigerate overnight. The next day, stir in 1/3 of the baked onions to the casserole and top with the remaining. Bake at 425°F for 15-20 minutes until bubbly.
1. For those that want to make this without unsweetened almond milk, use 1 cup half-and-half and 4 Tablespoons of cornstarch.
2. To make this paleo, omit the baked onions and use ghee.
3. If gluten-free you can, omit the baked onions or sub the all-purpose flour with gluten-free flour all-purpose flour and use gluten-free bread crumbs.
PIN IT for later!