These sloppy joes are not only delicious but also quick and easy to make using real ingredients. There's no need to use store-bought sauce when you can make it even better from scratch!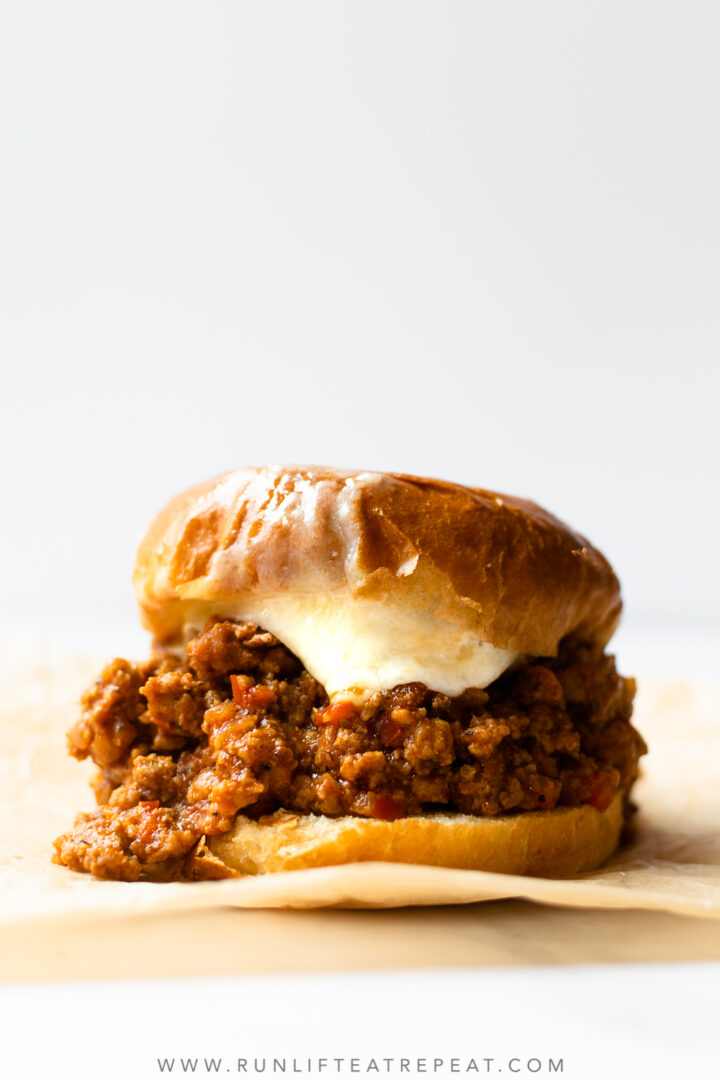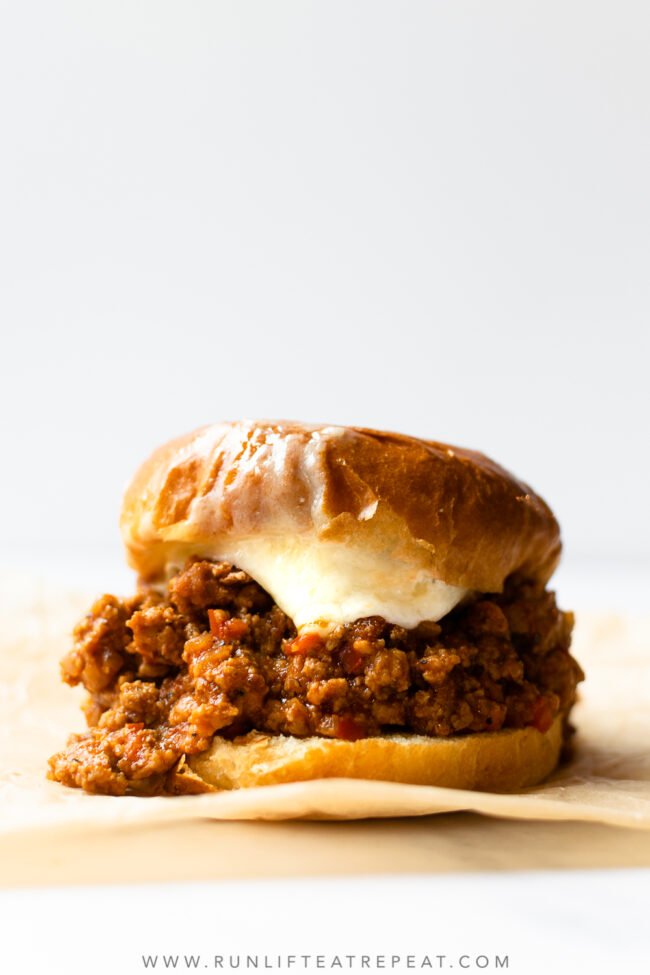 Hello! Welcome back to 2018 when I initially published this recipe. Now with updated pictures, more straight forward instructions and success tips— there's really now no excuse not to try the ONLY SLOPPY JOES RECIPE THAT YOU NEED IN YOUR LIFE. Quite the bold statement, but true.
In the last 6 months this recipe has climbed its way to the top of the most-loved dinner recipes— along with spicy chili garlic noodles and this chili recipe.
Why You'll Love This Sloppy Joes Recipe
Made from real ingredients
Easy to make
Made in just 1 pan
Wonderfully versatile
Perfect for leftovers
Since having Elle, I've been gravitating towards one pan meals. These types of recipes not only save the day for us, they make life easy. There's almost no clean up which gives us more time to spend with each other rather than doing dishes. Plus, it helps me feel like I have my act together by having a home cooked meal that tastes like it took hours to make.
Ingredients For Sloppy Joes
If you've never had sloppy joes before, the best way to describe it is that it has many layers of flavor. Each ingredient provides a key component.
Ground Beef (or Turkey): This recipe works with either ground beef or turkey. If I want a healthier option, I choose 93%+ ground turkey.
Onion: The onion adds just enough flavor. You don't need much.
Red Bell Pepper: Using red pepper adds a touch of sweetness.
Tomato Paste: The tomato paste adds a deep tomato flavor without being too overpowering.
Worcestershire Sauce: This sauce is tangy, savory, sweet, and salty. It adds wonderful flavor to the sauce.
Vinegar: It seems odd to be adding vinegar but this helps balance out the flavors.
Ketchup: The ketchup helps add a touch of sweetness.
Mustard: This adds a bit of tang.
Chicken Broth: While adding flavor, the chicken broth helps thin out the mixture.
BBQ Sauce: Just a little bit of BBQ sauce goes a long way in this recipe.
Garlic, Salt & Pepper: Key for flavor.
Olive Oil: Just a little goes a long way.
This recipe makes quite a bit for a small family so we enjoy leftovers throughout the week. Whether it's tossing it over a baked sweet potato, by itself with avocado or tossed with spaghetti squash— it's fantastically versatile so it's hard to get bored of it.
Overview: How To Make Sloppy Joes
The recipe below provides detailed steps but here's a quick overview.
Sauté the Beef, Pepper & Onion: Sautéing these together in a large skillet starts the flavor base for the sloppy joes. Break apart the beef as it cooks— you want it in small pieces. The beef should be cooked through and the peppers/onions should be soft. Once cooked, stir in the spices.
Add the Tomato Paste: Adding in the tomato paste helps give the sauce a deep tomato flavor.
Stir in the Worcestershire Sauce, Vinegar, Ketchup & Mustard: You want to make sure these are all well combined before adding in the broth and BBQ sauce.
Stir in the Chicken Broth & BBQ Sauce: Here's where the "sauce" texture is made. Once you add these in, you want this to simmer to let all the flavors develop.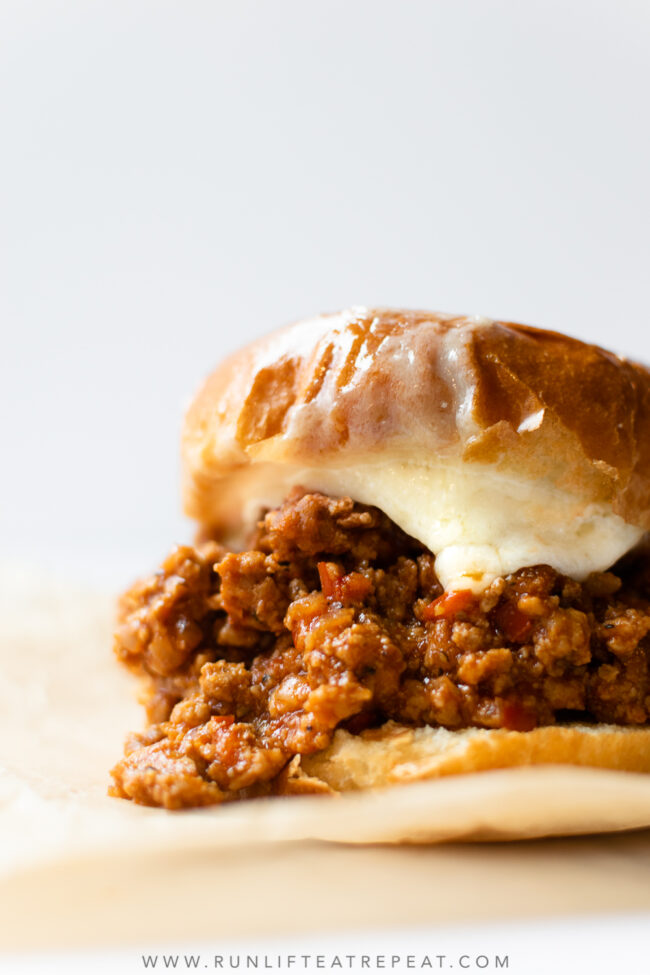 These sloppy joes are so easy, so savory, so comforting and SO darn good! I promise, you will love this recipe!♥♥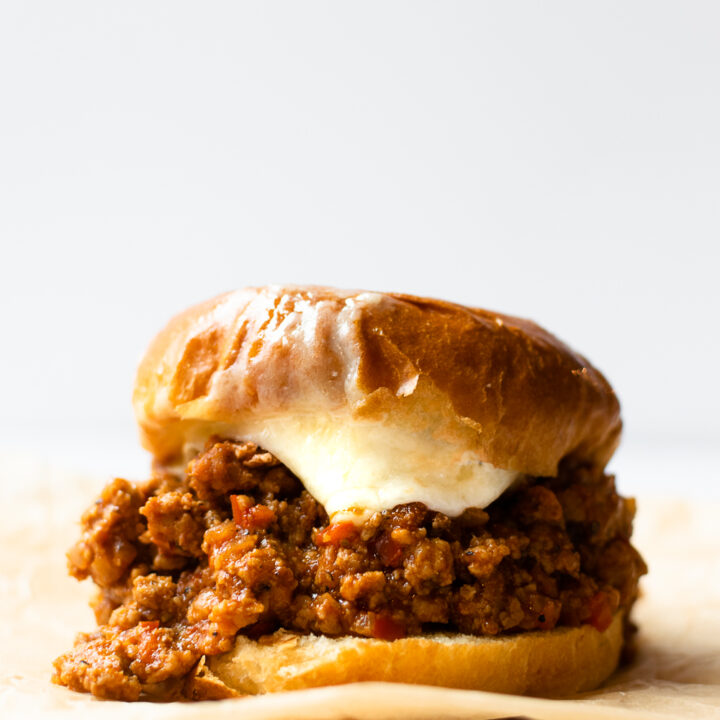 The Best Sloppy Joes That I've Ever Had
Yield:
6
(1/2 cup) servings
---
Description
These sloppy joes are not only delicious but also quick and easy to make using real ingredients. There's no need to use store-bought sauce when you can make it even better from scratch!
---
Ingredients
1

Tablespoon

olive oil

1

pound

85% ground beef

1/2

cup

onion, finely diced (about 1/2 small onion)

1

red bell pepper, finely diced

2

clove garlic, minced (about 2 teaspoons)

1 and 1/2

teaspoons

salt

1

teaspoon

freshly ground black pepper

2

Tablespoons

tomato paste

2

teaspoons

white or red vinegar

2

teaspoons

Worcestershire sauce

1/3

cup

ketchup

1

Tablespoon

mustard

1/4

cup

BBQ sauce

1

cup

low-sodium chicken broth

6-8

brioche buns, toasted

optional: sliced cheddar cheese
---
Instructions
In a large skillet, like this one, over medium heat, heat the oil for 1 minute. Add the ground beef, peppers, and onions. Break apart the ground beef as it cooks— you want it in smaller pieces. Sauté the meat until browned and cooked through and the peppers/onions are soft, about 7-8 minutes. Then, stir in the garlic, salt, and pepper.

Stir in the tomato paste and allow it cook with the ground beef for 1 minute. Then, stir in the worchestershire sauce, vinegar, ketchup and mustard. Give it a big stir and let it cook for 2-3 minutes.

Stir in the chicken broth and BBQ sauce and let it simmer for 10 minutes. Give it a taste and see if it needs additional salt and pepper.

Serve warm on a toasted brioche bun. Leftovers stay fresh in the refrigerator for up to 5 days.
---
Notes
Make Ahead & Freezing Instructions: This stays fresh for up to 1 week in the refrigerator. It can also be frozen for up to 3 months. Thaw overnight in the refrigerator and head as desired.
Meat: You can use any fat % of ground beef. To make this healthier, you can use ground turkey.
Chicken Broth: I find that using low-sodium chicken broth works best for this recipe.
Tagged in:
dinner, sloppy joes