These brownie cookies are fudgy, thick, and chewy with big chunk of chocolate and walnuts studded throughout!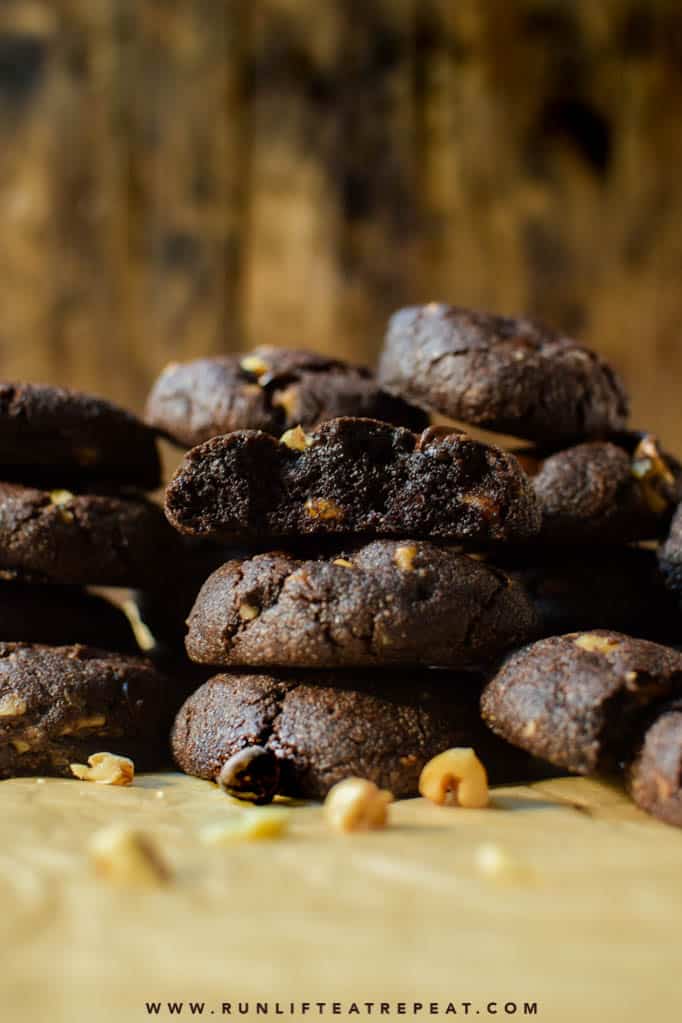 To really kick Friday into high gear, we're taking a walk on the dark side today! The chocolate dark side that is. This recipe is dedicated to all of you chocoholics out there. These brownie walnut cookies are the most decadent and seriously fudgy cookies that have come out of my kitchen.
But wait.
Brownies are not cookies.
No they are not. HOWEVER, when a cookie is THIS decadent, , fudgy, thick, and chewy... it's worthy to be in the brownie family. And are REALLY DARN GOOD.
(The all caps what totally necessary for that.)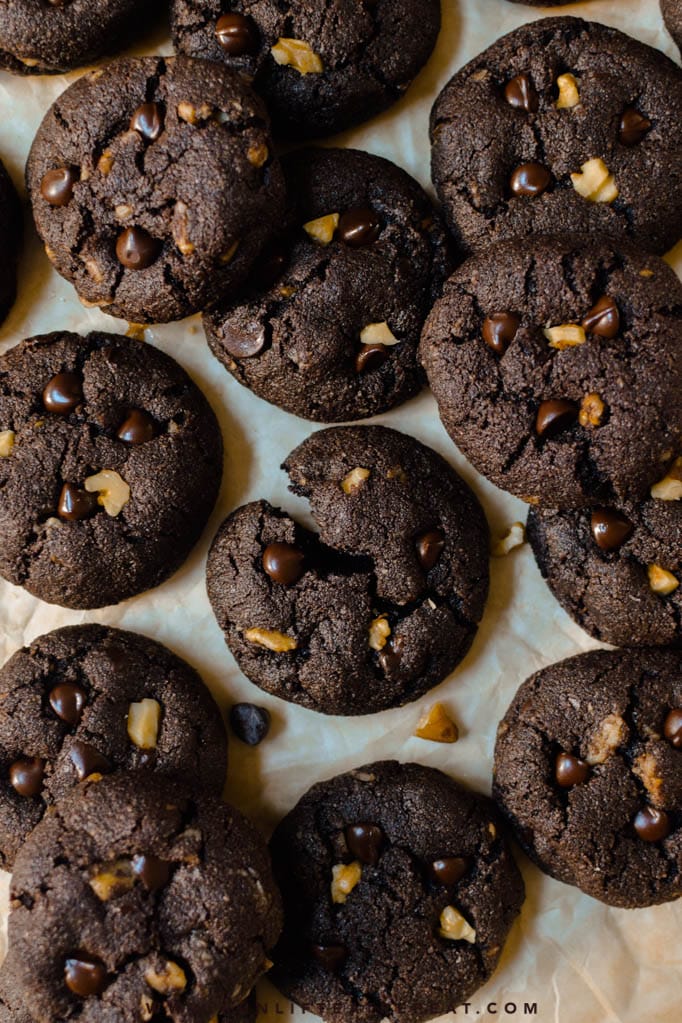 They took a few tries, but the result was worth it. Let's talk about that for a second. The base of this recipe is almond flour— not to be mistaken for almond meal. Almond flour can be a bit tricky and there is no 1:1 ratio for using it instead of another flour.* Think about it, almond flour is basically ground nuts, full of fat, entirely without gluten (aka: structure) and no where near as powdery as the typical flour. It also differs significantly in weight from a cup of regular or whole wheat flour which weighs down any baked good so adding significantly more leavening agents are often needed. So basically what I'm saying is, almond flour is a bit more to work with to get it just right. With that being said, I highly suggest following the exact measurements before you made any modifications.
*If a recipe mentions that almond flour can be substituted as a 1:1 ratio for the recipe, more often then not you will be disappointed with the result.
Enough of that. Let's get back to the good stuff.
One Bowl, No Mixer.
↑↑ only the best kind of recipes, right?
Yep. They're made in just 1 bowl. And in a matter of minutes. You start by whisking together the eggs, maple syrup, vanilla, and coconut oil (aka the wet ingredients.) To that you'll add the almond flour, cocoa powder, baking soda and salt and fold it together— it's a bit thick and sticky but that's what we want. Then we'll add in the extras: chopped walnuts and dark chocolate chips.
To guarantee even cookies, I use the this 1.25 ounce cookie scoop for these. I roll each into a ball and slightly press down to flatten them a bit. These will bake for about 9-10 minutes and will look like they aren't done but that's OK. They will continue to bake and set while cooling on the baking sheet.
(For those wondering, my favorite brand for chocolate chips is Enjoy Life. It's not sponsored but HEYYYY Enjoy Life, I'm a total fan girl!)
I'm not kidding when I say these may be the best brownie cookie to exist.
TGIF.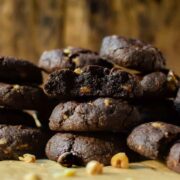 Paleo Brownie Walnut Cookies
---
Description
These brownie cookies are fudgy, thick, and chewy with big chunk of chocolate and walnuts studded throughout!
---
Ingredients
2

large

eggs

1

large

egg yolk

1/2

cup

+ 2 Tablespoons pure maple syrup

1 and 1/2

teaspoons

vanilla extract

2/3

cup

coconut oil, melted & slightly cooled1

2 and 1/4

cup

almond flour

1/2

cup

unsweetened cocoa powder

2 and 1/4

teaspoons

baking soda

1/8

teaspoon

salt

1

cup

chopped walnuts

1/2

cup

dairy-free dark chocolate chips2
---
Instructions
In a large mixing bowl, whisk together the eggs, maple syrup, and vanilla until combined. Then, slowly whisk in the coconut oil. It may take a minute to get the coconut oil to combine with the other wet ingredients.

Add the almond flour, cocoa powder, baking soda, and salt to the bowl and fold together using a rubber spatula until just about combined - do not overmix. Stir in the dark chocolate chips. Cover the dough tightly with aluminum foil or plastic wrap and chill for at least 20 minutes or up to 2 days. Chilling is mandatory for this cookie dough.

Preheat the oven to 350°F. Line 2 large baking sheets with parchment paper or a silicone baking mat. Set aside. Roll balls of dough, about 2.5-3 Tablespoons of dough each, into balls. I typically use this 1.25 oz cookie scoop.3 The dough will be slightly sticky - that's OK! Press down slightly on the baking sheet into a flatter round disc.

Bake for 8-10 minutes (depending on size), until the edges are just set. These took exactly 9 minutes. They will look extremely soft when you remove from the oven. Allow to cool for 5 minutes on the cookie sheet - this is important as they can fall apart if transferred too soon. Transfer to cooling rack to finish cooling completely.
---
Notes
Make Ahead & Freezing Instructions: Cookies stay fresh at room temperature for up to 1 week. Cookie dough can be made up to 2 days in advance— allow to sit at room temperature for 10 minutes before baking. Baked cookies can be frozen for up to 3 months. Cookie dough balls can be frozen for up to 3 months. Bake an extra minute, no need to thaw.
Coconut Oil: I prefer to use refined coconut oil so that there's no coconut flavor in the cookies. Feel free to use unrefined, but keep in mind the coconut flavor will be present.
Chocolate Chips: Enjoy Life brand is my favorite dairy-free chocolate chips. You can get them at any grocery store now, though I prefer to order them from Amazon.
Cookie Scoop: I prefer to use a cookie scoop when making cookies to ensure they are all the same size. This 1.25 oz spring-loaded scoop from Sur La Table is BY FAR my favorite— I have multiple in each size. They are strong, durable and I've had them for 3 years now while others that I've purchased break almost immediately. 100% worth the investment.
Tagged in:
cookies, paleo
PIN IT for later!