One skillet and 35 minutes is all it takes to make this easy chicken parmesan!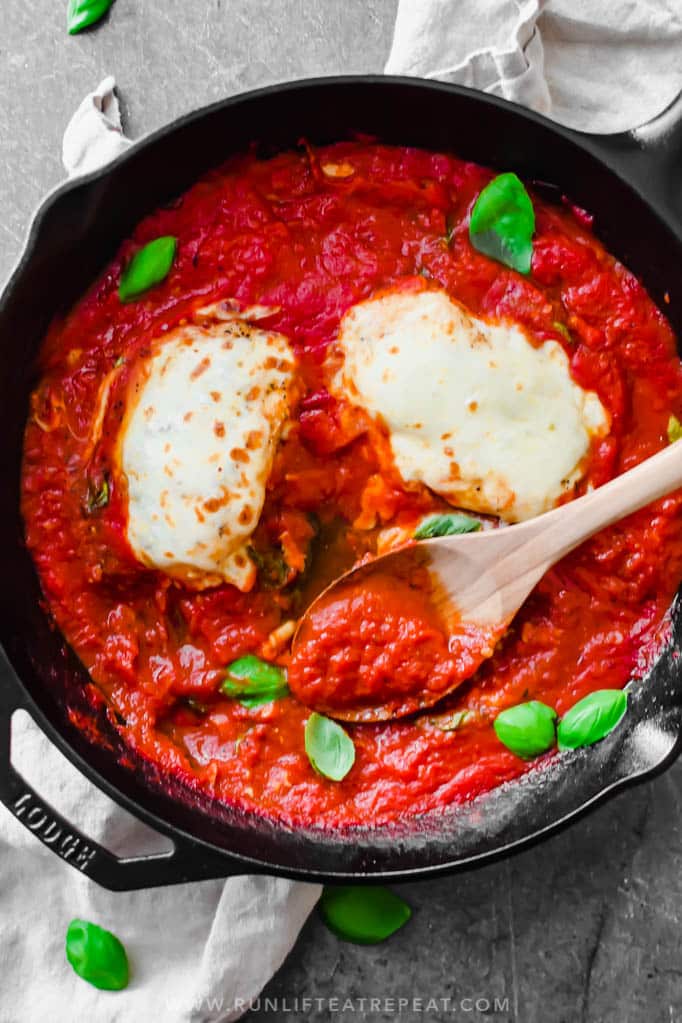 It's a new day, new week!
We're back to the grind after a weekend of football which included nachos, queso, mac & cheese, and cookies. Time to eat all the healthy things! I've been working on a variety of recipes – healthier desserts (!!!), creative combinations, and fresh flavors – to bring you over the coming weeks. There are a few that I can't wait to share!
While I enjoy being in the kitchen whether it's baking desserts or making dinner, seeing how many of you love these skillet turkey meatballs inspires me to share more of my dinner favorites. With dinner being an everyday adventure, there are those days where quick n' easy meals save the day. And if you're looking for one, you've come to the right place.
Today we have another healthier dinner recipe right here, right now.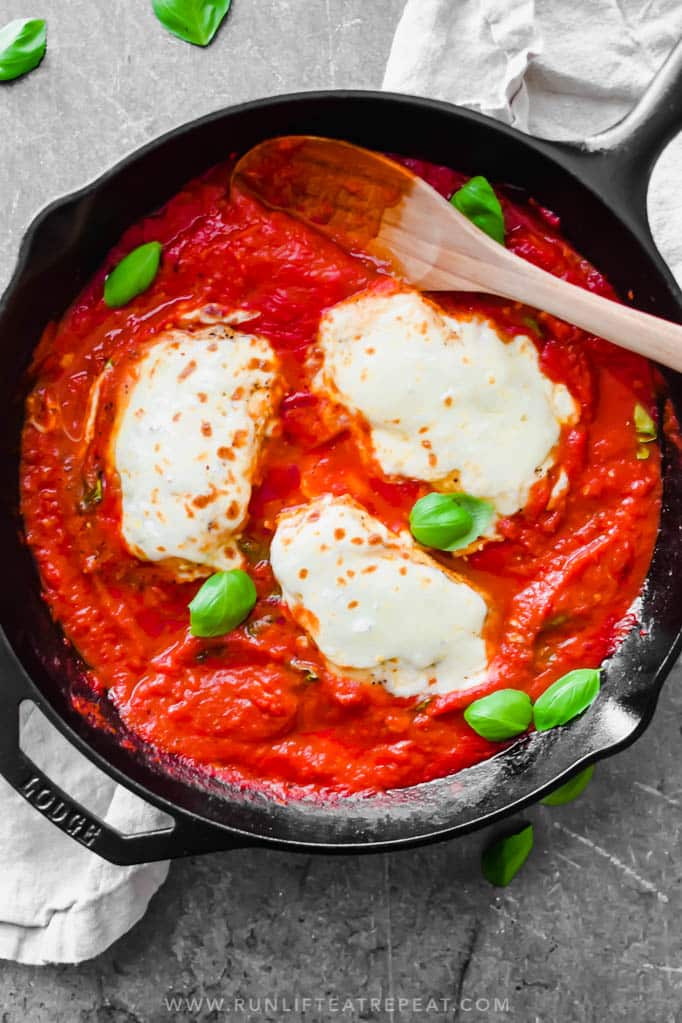 This healthier meal is a three step process made in just one pan. (1) brown the chicken. (2) add the sauce. (3) add the chicken and cook. That's it. Alongside this meal, I made garlic bread to help soak up all the extra sauce. Mmm x2,000.
Let's discuss the sauce real quick. Very simple stuff here. I'm not a huge fan of store-bought marinara sauce because it's usually filled with excess sodium, sugar, and ingredients that really aren't needed– making it at home allows me (and you!) to control the ingredients to only what is necessary. The ingredients: crushed tomatoes, lottssss of fresh garlic, tons of basil, and a few spices.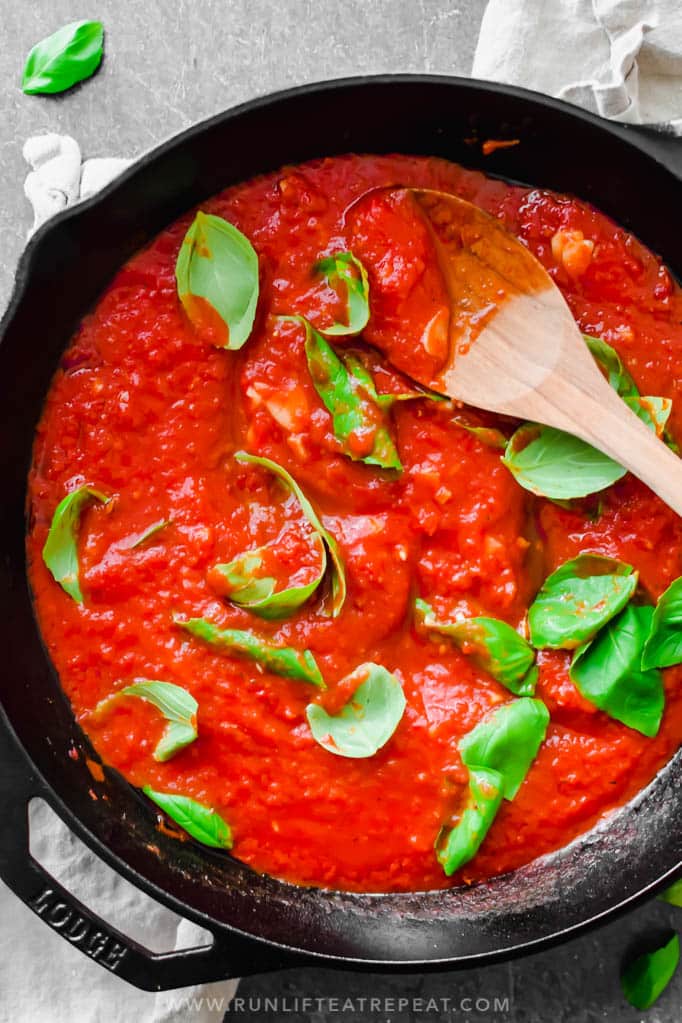 I'm so excited for you to make this. It was gobbled up prettyyy fast over here. It's time to add this rave-worthy meal to your dinner rotation.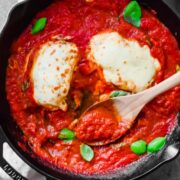 Easy Dinner: Skillet Chicken Parmesan
---
Description
One skillet and 35 minutes is all it takes to make this easy chicken parmesan!
---
Ingredients
4

boneless skinless chicken breasts (about 1.5 pounds)

2

teaspoons

salt, divided

2

teaspoons

freshly ground black pepper, divided

1

Tablespoon

extra virgin olive oil

1

(28 ounce) can crushed tomatoes

2

garlic cloves, thinly sliced

1/2

cup

fresh basil leaves

1/2

teaspoon

dried oregano

1/2

teaspoons

dried parsley

1

teaspoon

red pepper flakes

1

cup

fresh or shredded mozzarella cheese
---
Instructions
If the chicken breasts are uneven in thickness, pound them down so they're all even. This will allow all the breasts to cook through evenly. Sprinkle the chicken on both sides with half of the salt and pepper.

In a large 12-inch skillet, heat the olive oil over medium-high heat. Add the chicken and cook for 6-7 minutes, turning once. You want the chicken nice and browned on the outside. (It doesn't have to be cooked all the way through yet.) Set the chicken on a plate.

Reduce the heat to medium. To the skillet, add the crushed tomatoes, garlic, basil, oregano, parsley, red pepper flakes1, and remaining salt2 and pepper. Stir a few times and allow to simmer for 2 minutes. Add the chicken to the sauce and cover with a lid for 3-5 minutes until the chicken is almost done — about 150-155°F. Top each piece of chicken with mozzarella cheese, place the lid back on, and cook for an additional 1-2 minutes until the cheese is melted and the internal temperature of the chicken reaches 160-165°F.2

Serve the chicken with sauce over pasta, crusty garlic bread, a big salad, or even by itself. Leftovers keep well in the refrigerator for up to 4 days. Reheat to your liking.
---
Notes
Make ahead tip: The chicken breasts can be pounded and pre-seasoned for up to 2 days before you're ready to cook it. 1Adjust the red pepper flakes to your liking or omit all together. Our house looooves a spicier marinara sauce so I tend to add an additional 1/4-1/2 teaspoon. 2Depending on the crushed tomatoes used, additional salt may be needed. Add in 1/4 teaspoon increments. 3I typically turn off the heat when the internal temperature of the chicken reaches 160°F and allow the chicken to sit in the skillet for a few minutes to allow it to reach 165°F. This ensures that the chicken won't be over done.
PIN IT for later!