Just when you think french toast can't get any better – try it like this. It truly makes it unbelievably delicious!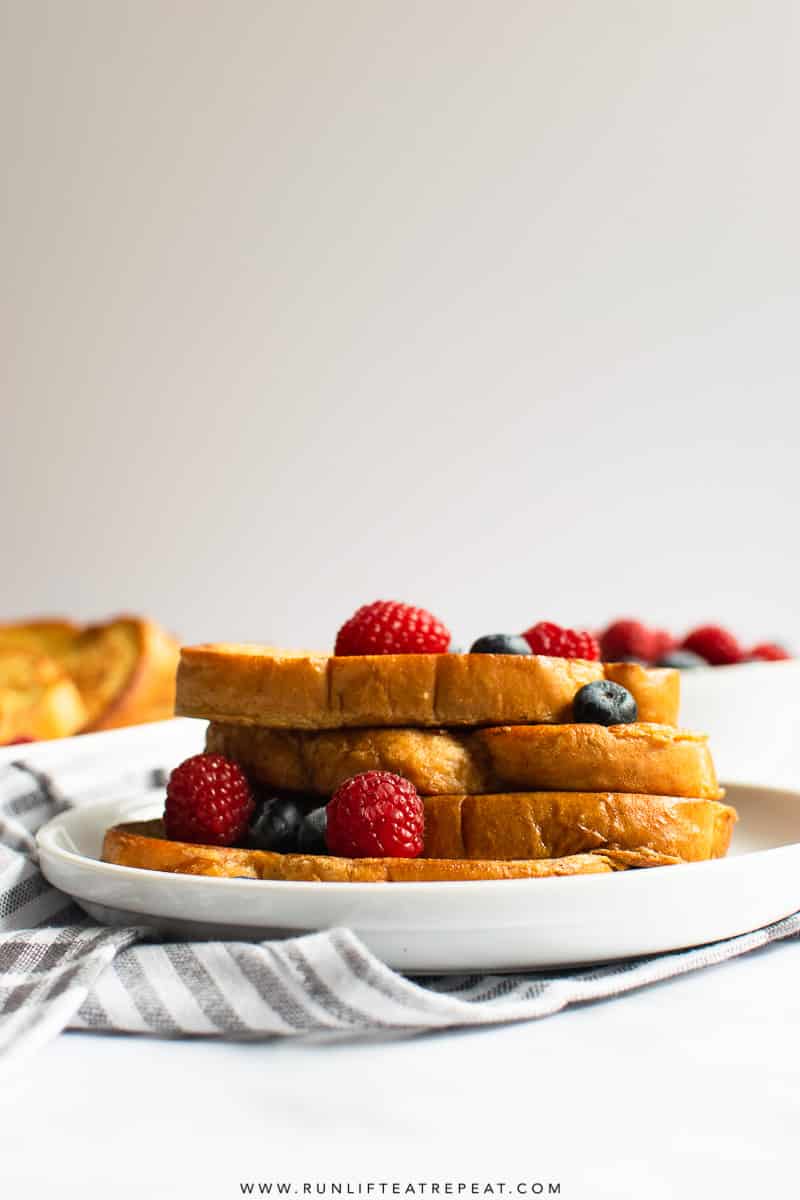 The definition of breakfast comfort food: a stack of french toast.
I feel like french toast doesn't get the credit that it deserves. It's not anything new, but when you have a recipe like this – it makes it a favorite again.
The History of French Toast
Traces of the recipe had been found in the 15th century where it was called the "lost bread." It was a way to use stale bread rather than throwing it away. It wasn't until the 17th century that the name "french toast" came about. Contrary to what most think, it did not originate in France rather it's in reference to the verb "to french" which means "to slice." So there you have it: french toast = sliced toast.
French Toast Requires Good Quality Bread
The most important ingredient in any french toast recipe is the bread. Do yourself a favor and don't skimp on it– that flimsy white bread will only give you a soggy, mushy, and texture-less french toast. We don't want any of that. Grab the french bread, the sourdough bread, or brioche from the store. Using one of those types of breads will make your french toast 1000% better.
Now that you have the bread, make sure it's a little stale. The less moisture the bread has the more egg custard it can soak up. The more egg custard the bread can absorb, the less soggy the french toast will be. Here's what I do: I buy a loaf from the grocery store 2 days before I need it and then let it sit out on the counter the day before. Then, the next morning it's at the perfect texture.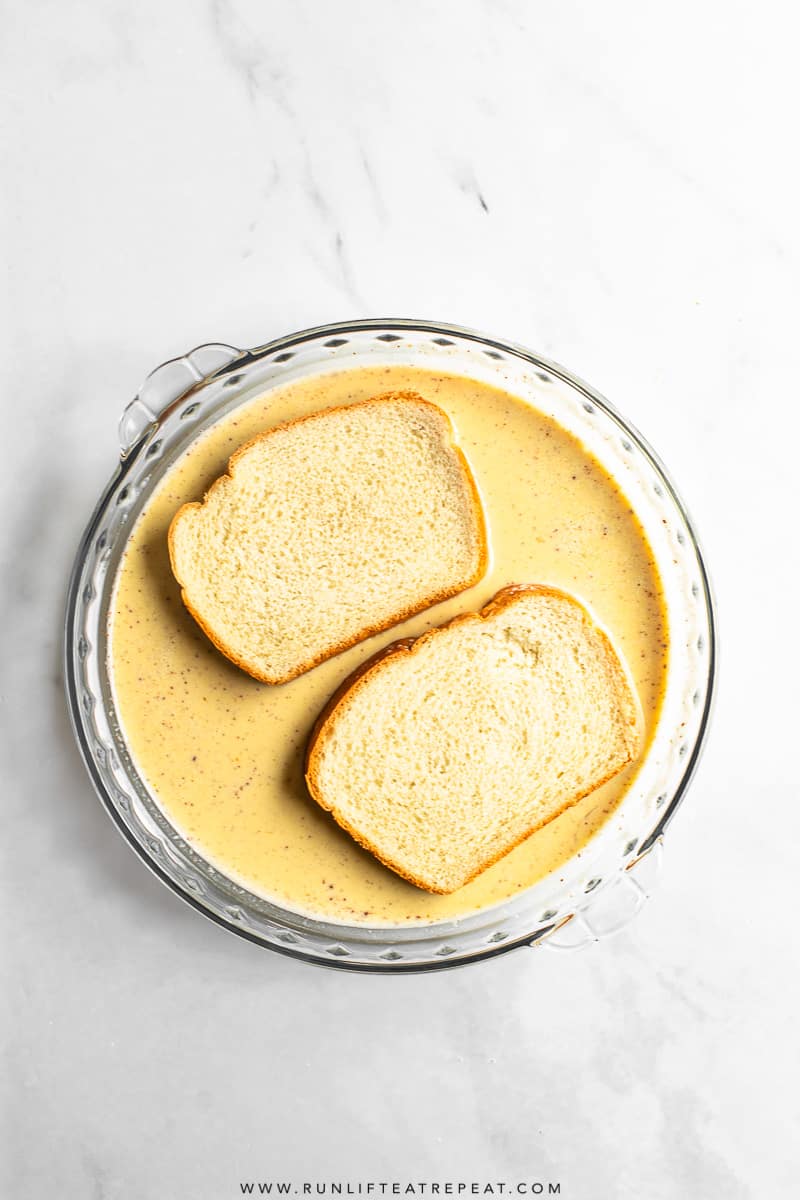 Now Let's Make French Toast
There's 3 steps:
make the egg custard
soak the bread slices
cook 3-4 minutes each side
Really. That's it! It's almost laughably simple. It's a basic, quick, no frills recipes.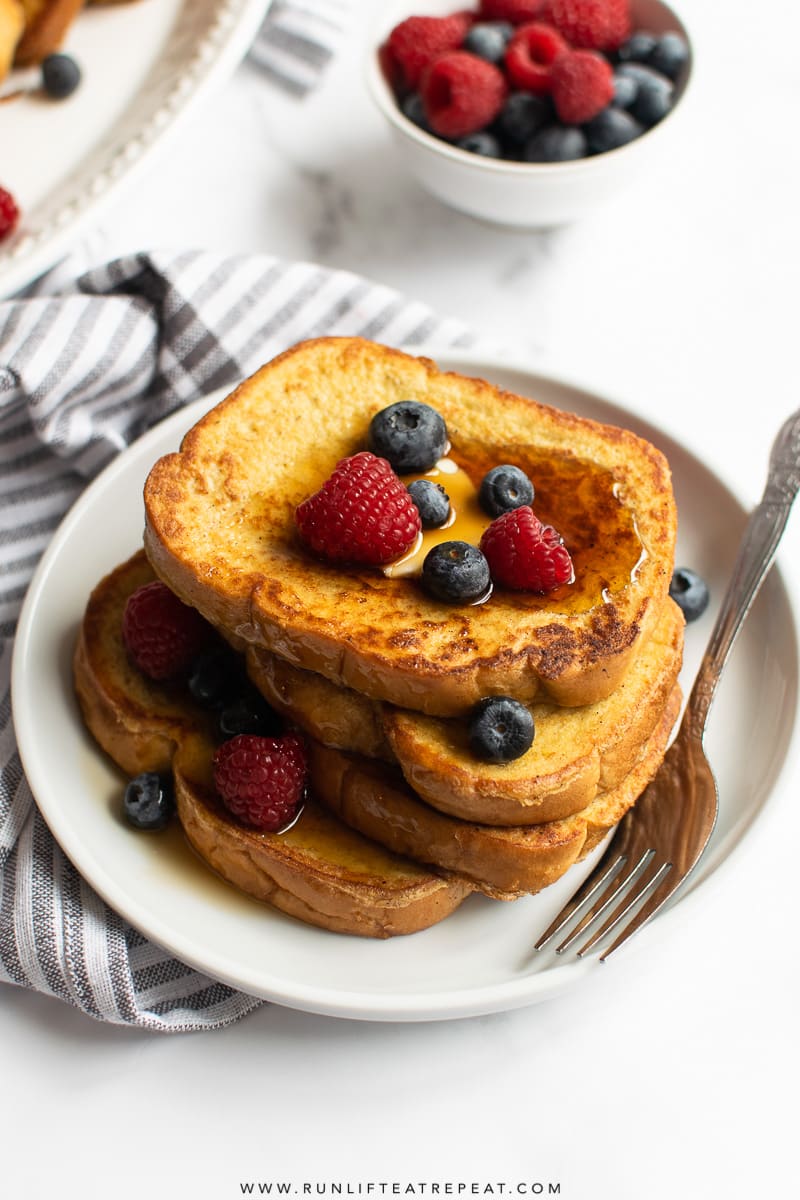 Now it's time to make this for the family. Dig in!
Unbelievable French Toast
Just when you think french toast can't get any better – try it like this. It truly makes it unbelievably delicious!
Print
Ingredients
1

loaf french bread, sourdough bread, or brioche bread

5

large eggs, room temperature

2

large egg yolk

2 and 1/4

cups

milk

3/4

teaspoon

ground cinnamon

1

teaspoon

pure vanilla extract

2-3

Tablespoons

unsalted butter (or ghee), for greasing the pan
Instructions
Remove the bread slices from the packaging. I set the bread on a large plate. Set aside.

In large bowl, whisk the eggs, egg yolks, milk, cinnamon, and vanilla together until combined. The mixture will be thick and creamy. Pour in a shallow dish, like a pie dish or baking pan, whatever you have on hand.

Soak the bread slices in the mixture for about 1 minute on each side. Meanwhile, over medium-low heat, melt 1 Tablespoon of butter in a skillet. Depending on the size of the pan will depending on how many slices can fit— for a 10-inch skillet I can fit 3 slices. Cook until golden brown on each side, about 3-4 minutes per side. Melt more butter in the skillet for each batch.

Serve with butter, maple syrup, and/or fruit.

Recipe Notes
Make ahead tip:
Make the recipe through step 1, cover the mixture tightly and refrigerate overnight. The next morning, whisk the mixture before continuing with step 2. For best results, let the loaf of bread go stale for 1-2 days before making. I typically buy the loaf on Wednesday/Thursday for a weekend breakfast. If you're unable to allow the bread to go stale, bake the bread slices at 400°F for a few minutes until slightly toasted. Allow the slices to cool completely before making the recipe. Any milk fat % can be used for this recipe, even unsweetened almond milk! I typically use almond milk (
Elmhurst
is my favorite since it's a bit thicker) when making it and no one can tell the difference.
To keep warm:
 If doubling the recipe, preheat the oven to 200°F, or the lowest temperature of your oven. Place the cooked french toast on an oven-safe pan (baking sheet, pan, etc.) and sit in the oven until all batches are cooked.
©Run Lift Eat Repeat. All images & content are copyright protected. Please do not use my images without permission. If you want to republish this recipe, it may be re-written in your own words, or you may link back to this post. Some of the links in this post are affiliate links, which pay me a small commission for my referral at no extra cost to you! Thank you for supporting Run Lift Eat Repeat.