Healthy whole wheat muffins filled with shredded apples, tons of cinnamon spice and zero refined sugar!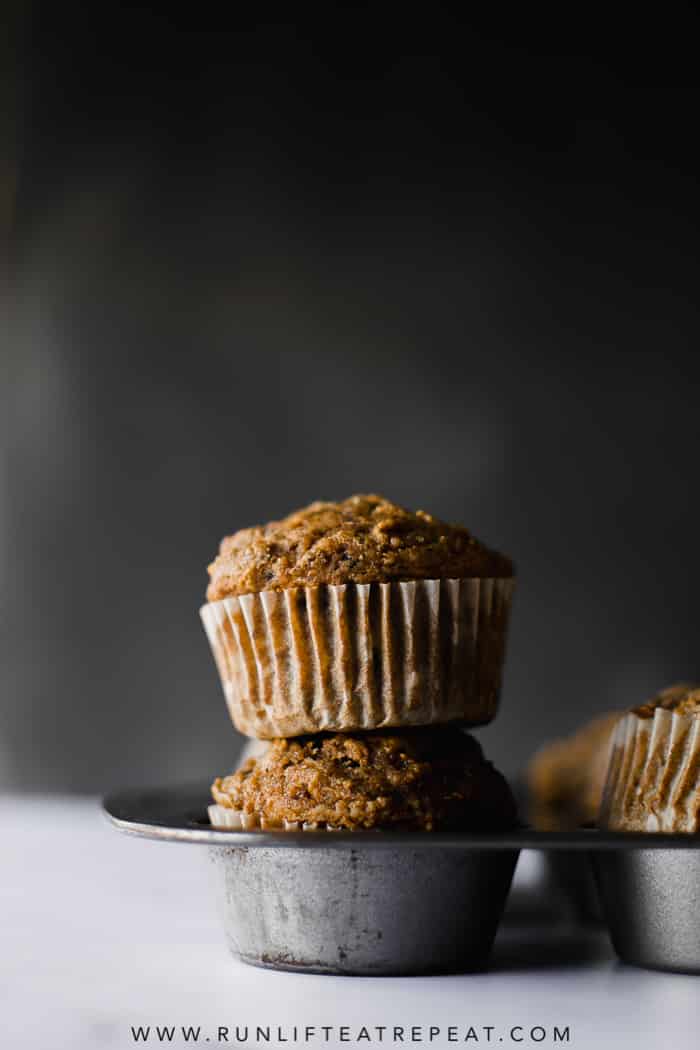 I have a very serious question.
Does the world really need one more muffin recipe? When it's apple cinnamon, the answer is YES. 🙂
If you don't know already, I don't mess around when it comes to healthier muffins. These ones are made in a blender, these taste like a brownie, and these have a shockingly low calorie count.
What's so fabulous about today's muffins? Well, lots. First– these are simple. The base is hearty whole wheat flour. They also have no butter or oil, have pure maple syrup rather than white or brown sugar, have protein packed greek yogurt, and filled with seasonal shredded apples throughout. There's no doubt that these muffins will be a HUGE hit.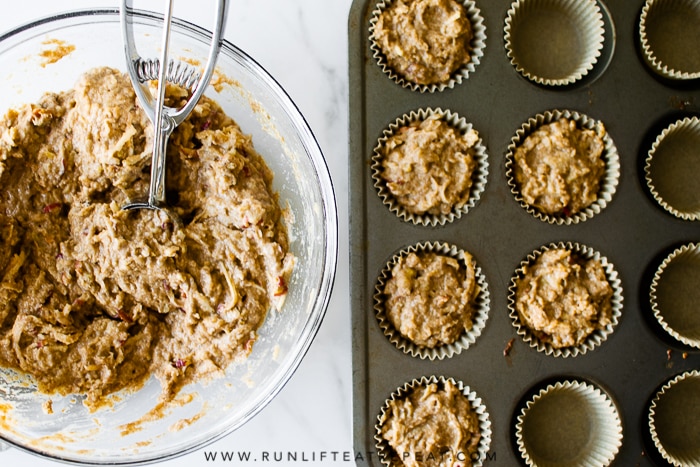 About the dry ingredients
For this recipe we're using whole wheat flour. It's a bit heavier than all-purpose flour, but I have some tricks for that! Between using plenty of leavener, shifting the dry ingredients together to add air, and gently folding in the dry ingredients— it will produce light and fluffy muffin. For the spices, we're adding in cinnamon and allspice to help bring out the apple.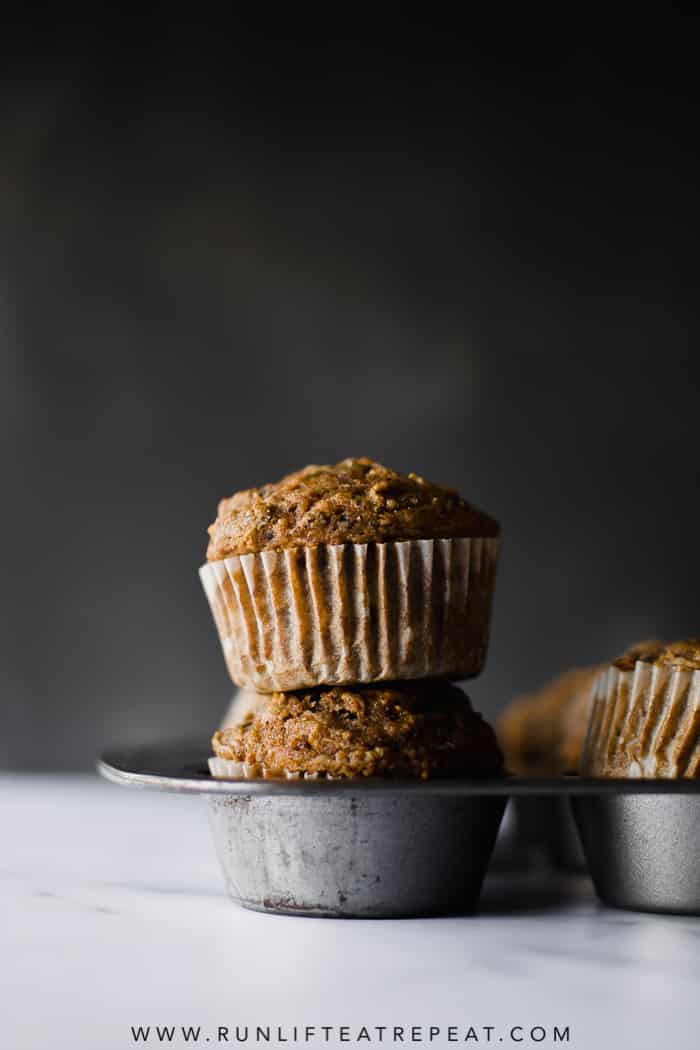 These are a feel-good muffin:
Real, whole ingredients.
No refined sugar.
No butter or oil.
Serving of fruit.
Hearty + satisfying.
Last week I made a few batches to give to friends and stocked the freezer. Let's just say my freezer is filled with muffins and these breakfast cookies. Whether it's grabbing one for a quick on-the-go breakfast, a snack, or just wanting something not too sweet— these are good no matter the time of day.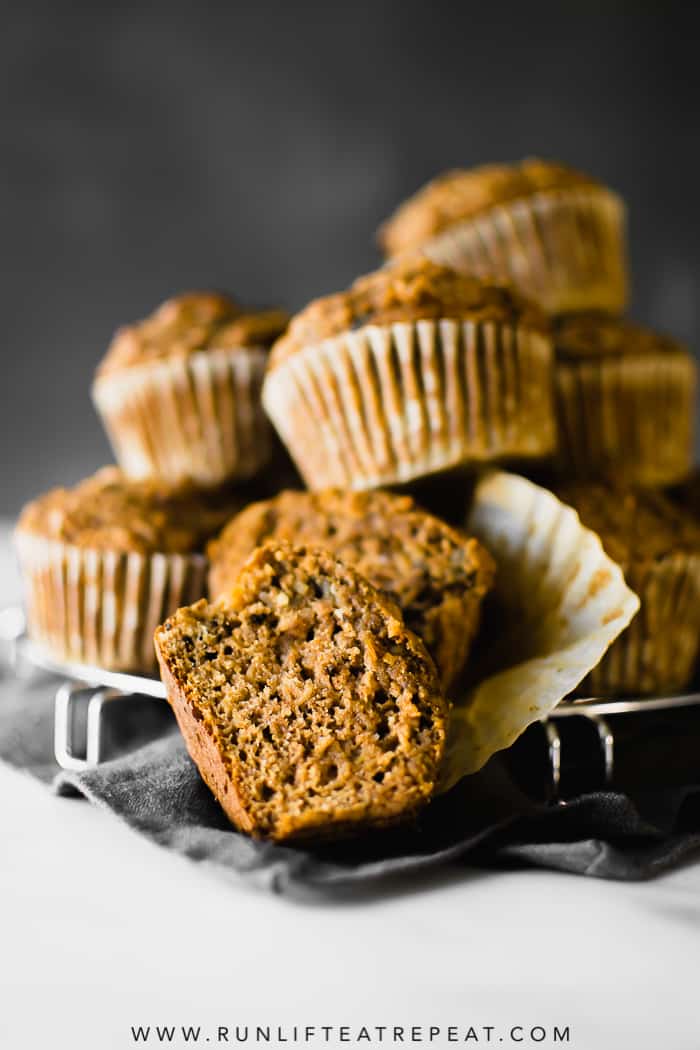 I loved these muffins. Chris loved these muffins. Friends loved these muffins. They certainly were a hit!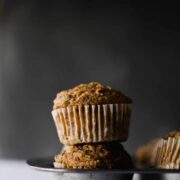 Whole Wheat Apple Cinnamon Muffins
---
Description
Healthy whole wheat muffins filled with shredded apples, tons of cinnamon spice and zero refined sugar!
---
Ingredients
2

cups

whole wheat flour

2

teaspoons

baking soda

2

teaspoons

ground cinnamon

1/2

teaspoon

salt

2

large eggs

3/4

cup

pure maple syrup

1/4

cup

plain Greek yogurt

1/3

cup

unsweetened applesauce

1/4

cup

milk

1 and 1/2

teaspoons

pure vanilla extract

2 and 1/4

cups

shredded/grated apple (about 3 apples)

2/3

cup

chopped walnuts
Equipment Needed
---
Instructions
Preheat the oven to 425°F. Line a 12-count muffin pan with cupcake liners or spray with nonstick spray. The recipe makes 15-16 muffins, so prepare a second muffin pan in the same way.

In a large bowl, shift together the flour, baking soda, cinnamon, and salt. Set aside. In a medium bowl, whisk the eggs, maple syrup, yogurt, applesauce, milk, and vanilla together until combined. Pour the wet ingredients into the dry ingredients, stir a few times, then add the grated apple and walnuts. Fold everything together gently until just combined and no flour pockets remain. Avoid overmixing— whole wheat flour is more dense so to keep it lighter we not only sift it but also need to be more gentle with the batter.

Spoon the batter into the liners, fulling them all the way to the top. Bake for 5 minutes at 425°F then, keeping the muffins in the oven, reduce the oven to 350°F. Bake for an additional 13-15 minutes or until a toothpick inserted into the center comes out clean. The total time for the muffins is about 18-20 minutes. Allow the muffins to cool for 5 minutes in the muffin pan, then transfer to a wire rack to continue finish cooling.

Muffins stay fresh covered at room temperature for up to 3 days, then transfer to the refrigerator for up to 1 week.
---
Notes
Make ahead tip: The muffins can be frozen for up to 3 months. Allow to thaw overnight in the refrigerator, then bring to room temperature or warm up in the microwave if desired.
1. Any fat % of yogurt can be used for these. To make this dairy-free, use dairy-free yogurt. I prefer using Kite Hill plain unsweetened since it has a plain flavor.
2. Any milk fat % or dairy-free milk can be used— I typically use unsweetened almond milk.
3. Avoid overmixing— whole wheat flour is a more dense flour so to keep it lighter we will not only sift it but also need to be more gentle with the batter to keep air in it.
4. Use any variety of apple that you prefer. However, if using a sweeter apple, you may need to reduce the maple syrup slightly.
Make these vegan: Use 1 chia seed eggs (1 chia seed egg = 1 Tablespoon chia seeds + 2.5 Tablespoons water + let sit for 5 minutes) with dairy-free yogurt, and any dairy-free milk.
PIN IT for later!