Here's my favorite healthier recipe for a breakfast favorite! It's moist, flavor packed and satisfying.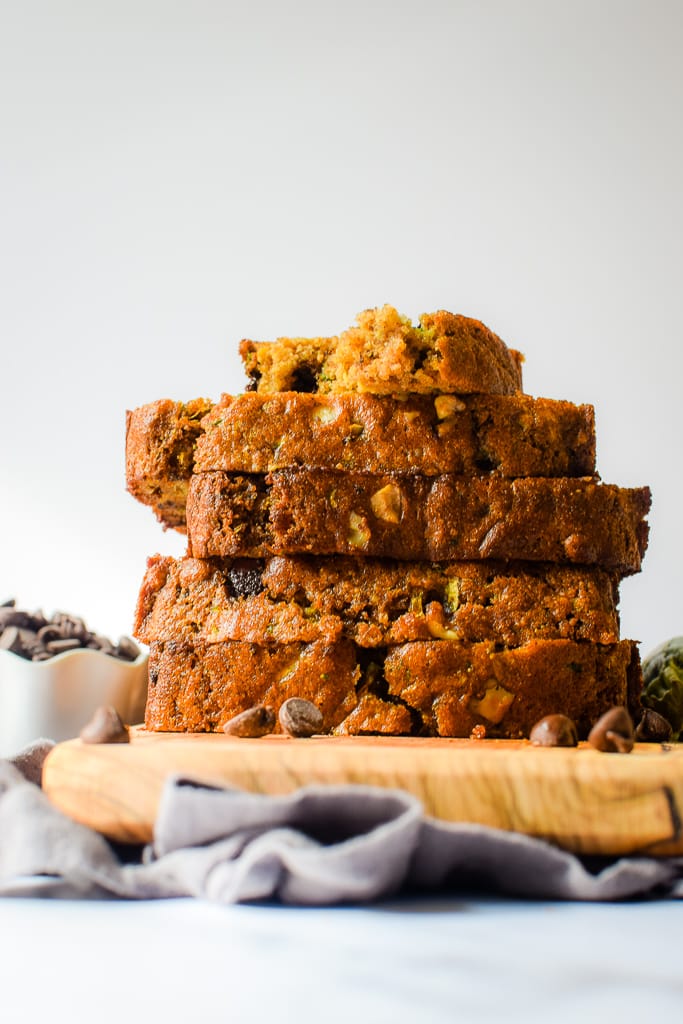 As promised, here is my favorite zucchini bread recipe aka theeee most addicting bread that you will ever make. Sorry in advance.
I baked this without the intention of sharing the recipe on my blog, but that quickly changed after loaf #1. Then loaf #2 the next day. And loaf #3 shortly after that. Between the 2 of us, family and a few friends, each were gone within 48 hours. What started as a way to use a couple lonely zucchini up after cleaning out the refrigerator, turned into a recipe that we loooooooooved and are obsessed with.
(I'm making another loaf this weekend.)
This recipe is:
simple to make
made with whole wheat flour
sweetened with zero refined sugar (!!!)
moist
bursting with flavor
insanely satisfying
and I'm SO excited to share the recipe with you today!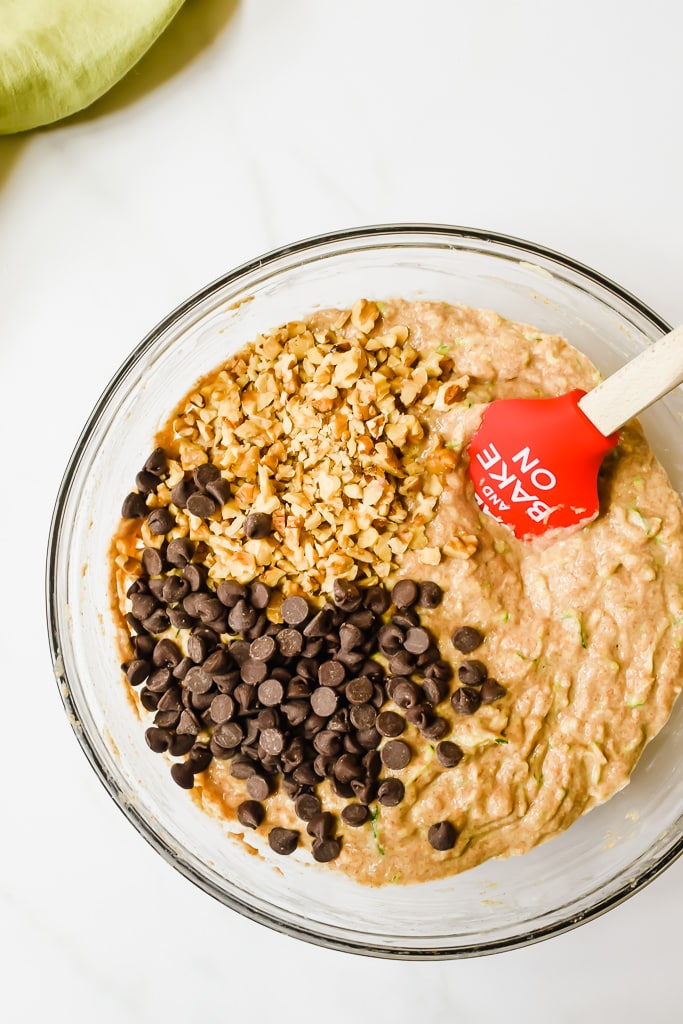 Having pre-made breakfast/snack options during the week is a must in this house. It's why I love zucchini bread so much– it's a breakfast favorite or a delicious mid-morning/afternoon snack. And it's one of those things that is great to have around when you want something a little sweet for dessert but not overloaded with butter and sugar. → Plus it has vegetables in it sooooo.
Before zucchini season is over, I plan on making a few (or 10) loaves to freeze for the coming months. Let it thaw overnight in the refrigerator and enjoy a big ol' slice of it whenever you want!
Get those ovens preheated!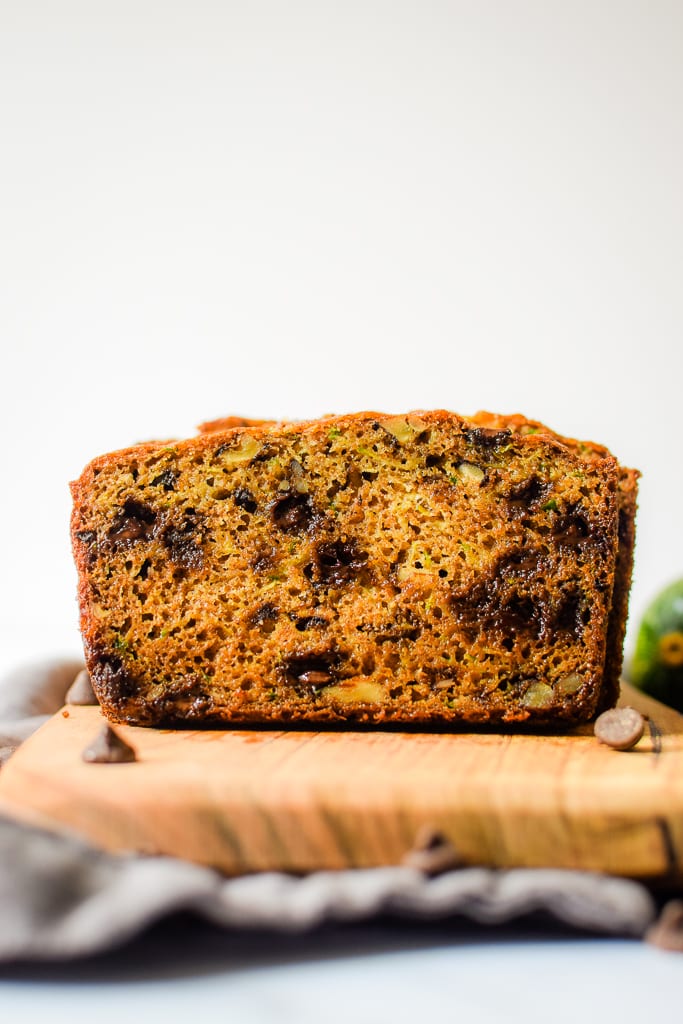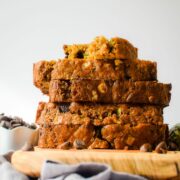 Whole Wheat Zucchini Bread
---
Description
Here's my favorite healthier recipe for a breakfast favorite! It's moist, flavor packed and every bit satisfying.
---
Ingredients
1 and 3/4

cups

whole wheat flour, sifted

1 and 3/4

teaspoons

baking powder

1 and 3/4

teaspoons

baking soda

2

teaspoons

ground cinnamon

1/4

teaspoon

salt

1/3

cup

unrefined coconut oil, melted & slightly cooled

1/2

cup

honey

3

Tablespoons

pure maple syrup

3/4

cup

plain Greek yogurt

2

large eggs, room temperature

1/4

cup

unsweetened almond milk

2

teaspoons

vanilla extract

2

cups

shredded zucchini (about 2 medium)

optional: 3/4 cup total chopped walnuts or chocolate chips
---
Instructions
In a large bowl, sift the flour, baking powder, baking soda, salt, and cinnamon together. Set aside. Whisk the coconut oil, honey, maple syrup, yogurt1, eggs, milk2, and vanilla in a medium bowl until combined. Pour the wet ingredients into the dry ingredients and fold together with a rubber spatula or wooden spoon until combined. Avoid overmixing. Fold in the zucchini and any add-ins of your choice.

Spread the batter into the prepared loaf pan. Bake for 50-55 minutes. Baking times vary, so keep an eye on yours. The bread is done when a toothpick inserted into the center comes out clean or with a few moist crumbs. If the bread is browning too quick, loosely cover with aluminum foil.

Remove the bread from the oven and set on a wire rack. Allow to cool completely before slicing and serving. Cover and store leftover bread at room temperature for up to a week.
---
Notes
Make ahead tip: This bread freezes well for up to 3 months. Thaw overnight in the refrigerator and allow to come to room temperature before serving. 1Any kind of Greek yogurt works. I've also used dairy-free yogurt. 2Any milk fat can be used, as well as any dairy-free milk.
PIN IT for later!