Start your mornings right with these banana oat pancakes. Made with ingredients in most kitchens and in a blender. The flavor and texture is out of this world!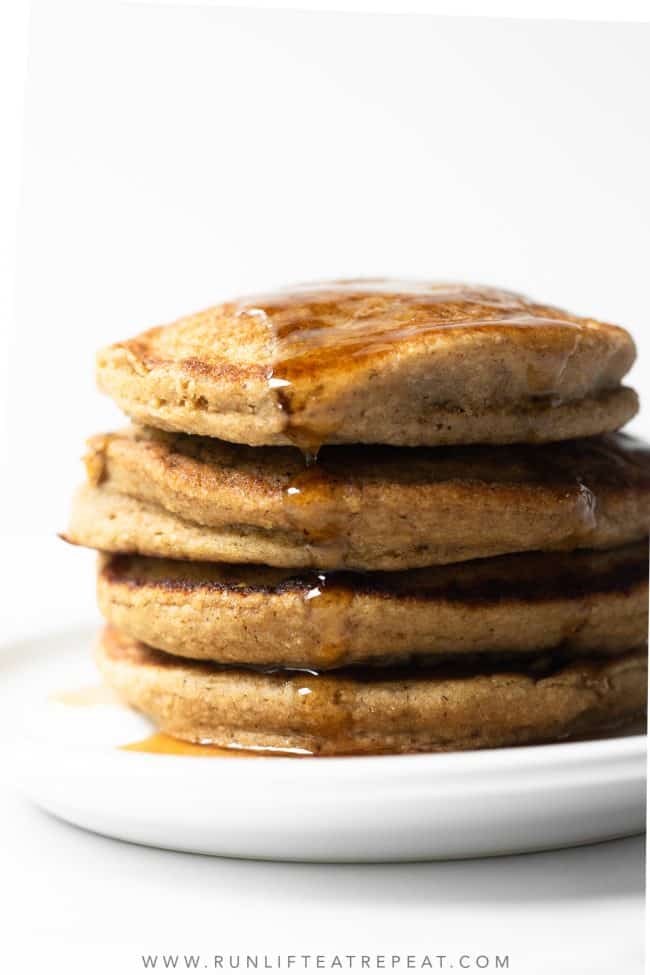 I never met a pancake that I didn't like.
I've made these four times in the past 2 weeks. Once because breakfast for dinner is a regular occurrence, twice for "recipe testing", third to capture these photos and brinner again, and finally a forth because I wanted pancakes again.
Let's just say that I currently have a freezer full of banana oat pancakes and banana bread and a pantry full of granola (have you make it yet?!) Who wants to come over for breakfast? Pancakes are on the menu.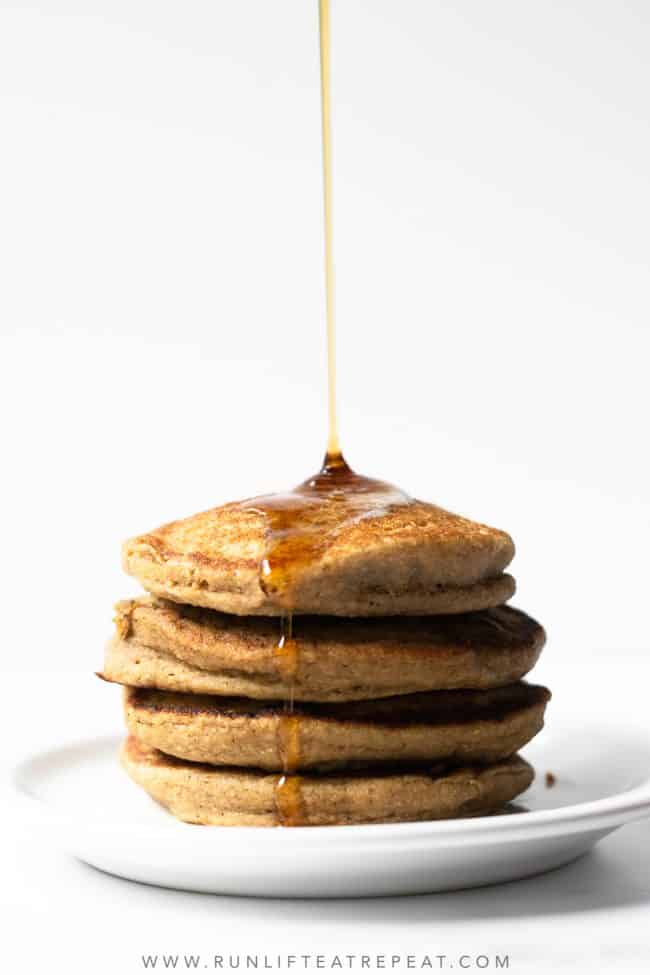 What I love most about these pancakes is that they don't taste dense or dry like some other pancakes can. The key is to find the right balance of ingredients to make them soft and fluffy. And those ingredients are plain everyday ingredients.
Blender Banana Oat Pancakes Ingredients
Bananas: What are banana pancakes without them? Make sure they are ripe (the more ripe, the better!)
Milk: Gives the pancakes a lighter, less dense, texture.
Egg: These add richness and stability.
Honey: A touch of sweetness.
Vanilla extract: Flavor.
Oats: Adds a hearty and satisfying texture.
Cinnamon/Salt: Adds a nice spice and flavor.
Baking powder: Helps lifts the pancakes up.
Take a look at how thick these pancakes are.↓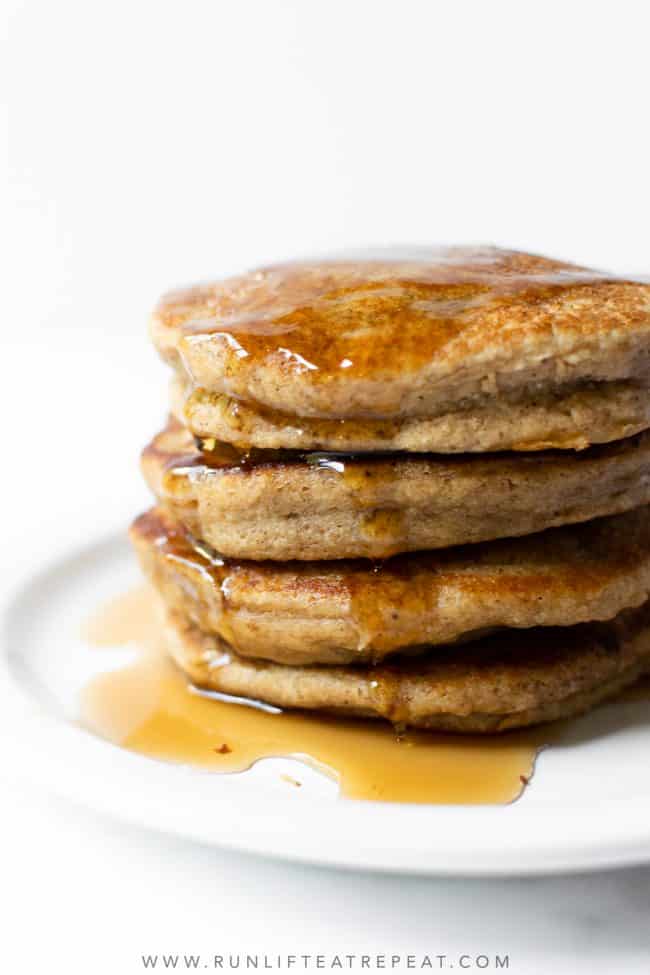 Making these pancakes is actually really simple. The name says it all: blender banana oat pancakes! Yup that's right, they are made in the blender.
Success Tips for Banana Pancakes
While these pancakes are incredibly simple, there are a few important notes to help guarantee the BEST texture.
Mixing: Make sure you don't over-mix the pancake batter. Let the blender do it's job and that's it— no need to do anything else. See notes in recipe for add-ins.
Batter: After the blender does it's job, let the batter sit for a few minutes to come together (it's what helps to make them thick!)
Griddle Temperature: Make sure the griddle is HOT before adding the pancake batter. You want the batter to start cooking the pancakes immediately and it helps them spread less which means thicker pancakes!
In Between Batches: Spray the pan/griddle before each batch of pancakes, it helps!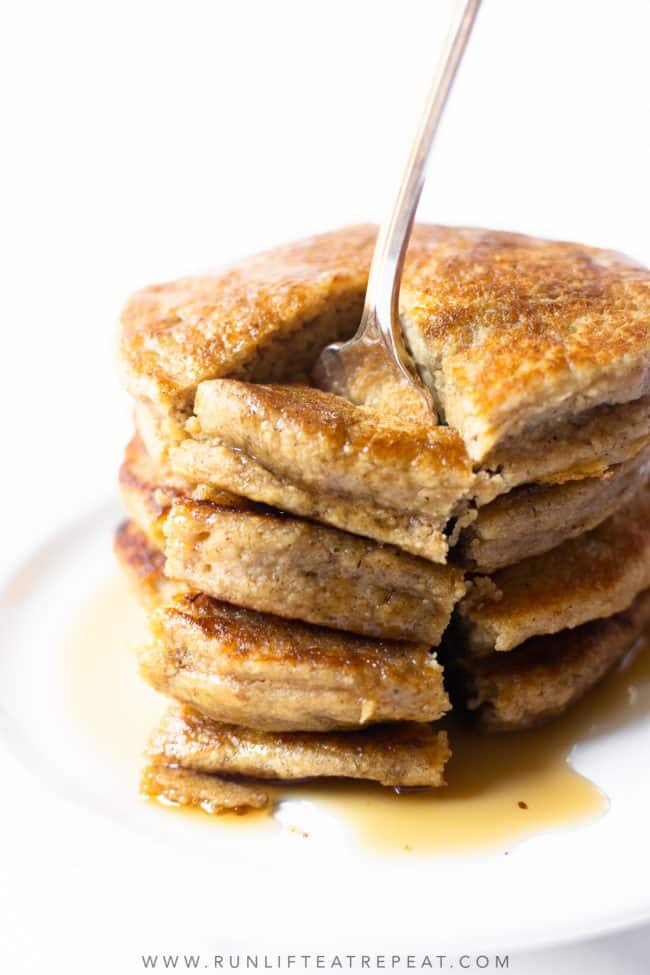 I love these pancakes. They're fluffy and light, extremely filling (thanks to those oats!) and tons of banana flavor. Plus, they're not bad for ya!
Also how GOOD would this strawberry sauce be on top of these?
Let's dig in, shall we?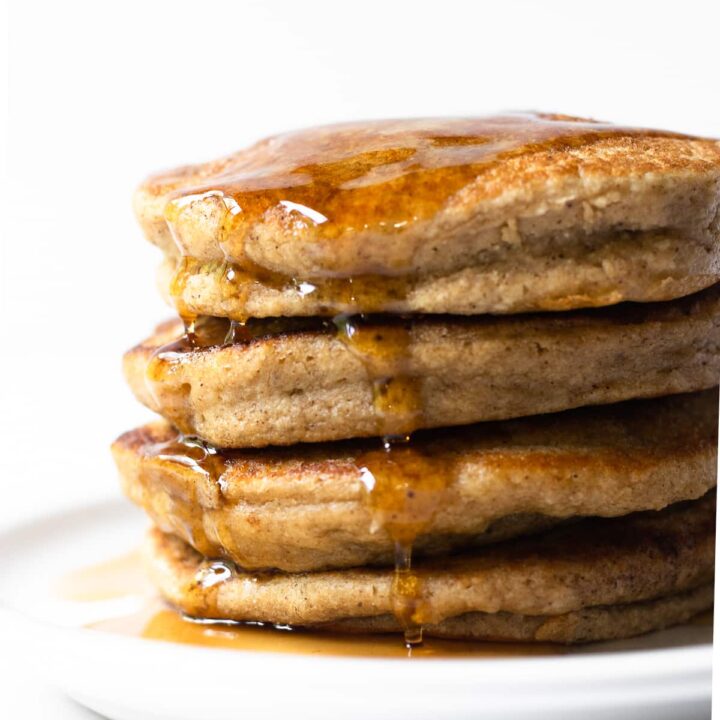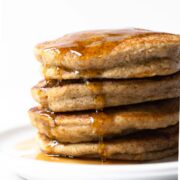 Blender Banana Oat Pancakes
---
Description
Start your mornings right with these banana oat pancakes. Made with ingredients in most kitchens and in a blender. The flavor and texture is out of this world!
---
Ingredients
3

large

ripe bananas

1 and 1/4

cups

milk

1

large

egg

2

Tablespoons

honey

1

teaspoon

vanilla extract

3

cups

old-fashioned oats

1

teaspoon

ground cinnamon

4

teaspoons

baking powder

pinch of salt
---
Instructions
Add the bananas, milk, egg, honey, vanilla, oats, cinnamon, baking powder, and salt into the blender in that order— you want to make sure the dry ingredients are on top. Blender together on high until smooth, about a minute. If adding add-ins (notes below), gently stir in. Allow the batter to sit while the griddle heats.

Meanwhile, heat a griddle or skillet over medium heat. Coat generously with cooking spray, oil, or butter. Once hot, drop about 1/3 cup of batter onto the griddle. Cook until the edges look dry and set, and bubbles form on the center or sides, about 1-2 minutes. Flip and cook on the other side until cooked through, about 2 more minutes. Coat the griddle or skillet with nonstick spray for each batch of pancakes.

Keep pancakes warm in a pre-heated 200°F oven until all pancakes are cooked. Serve immediately.
---
Notes
Make Ahead Instructions: Pancakes can be stored in the refrigerator for up to 1 week. To re-heat, microwave or place in the toaster. Pancakes can be frozen for up to 3 months. Wrap pancakes in plastic wrap then place in a zip-top bag. Thaw overnight in the refrigerator.
Oats: Be sure to use certified GF oats if needing this recipe to be gluten-free.
Milk: Any milk % or dairy-free milk can be used. I normally use almond or oat milk.
Honey: This adds a touch of sweetness. Feel free to use agave as a substitute, or 1-2 Tablespoons of coconut, brown, or granulated sugar.
Add-ins: Any type of add-ins can be used such as 1/2 cup of nuts or chocolate chips.
Tagged in:
bananas, blender, oats, pancakes