Fudgy brownie-like cookies rolled in pecans and topped with a drizzle of homemade caramel.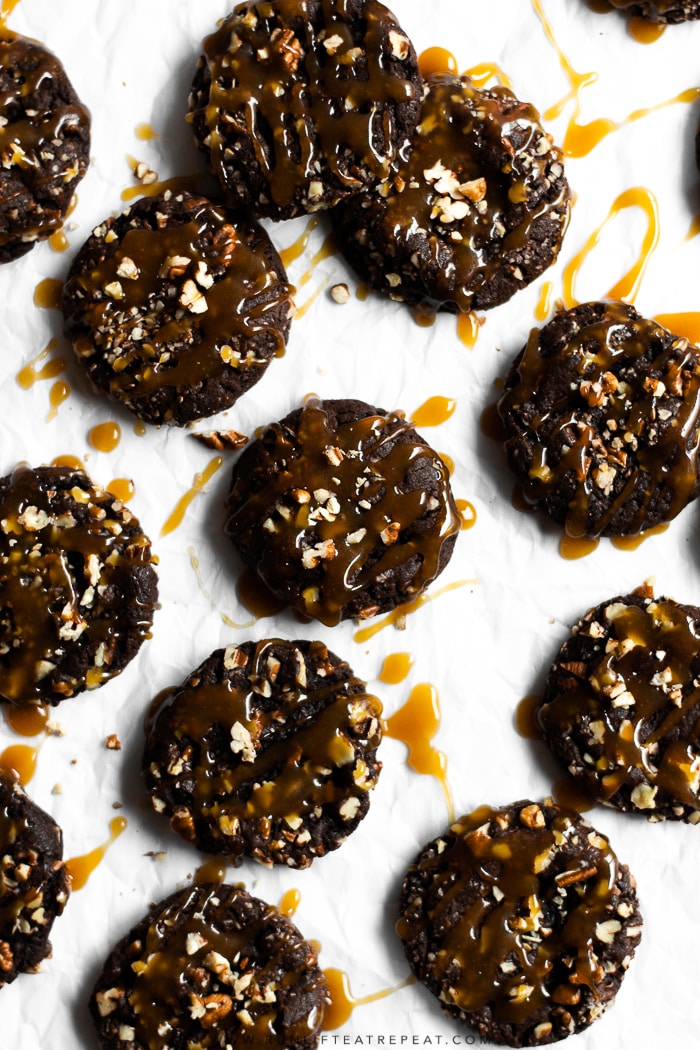 Welcome to the first annual Cookie Week!
Over the next week I will be sharing a new cookie recipe each day. That's 7 (!!!!) new recipes just in time for Christmas! I've been baking like a crazy person for the past couple weeks in preparation. The local grocery store employees have seen me make numerous trips to buy pounds of butter + endless cartons of eggs, the ovens have been non-stop, all 3 stand mixers have been hard at work, and I've washed more dishes than I can count. I'm 100% certain that there's a cookie for everyone.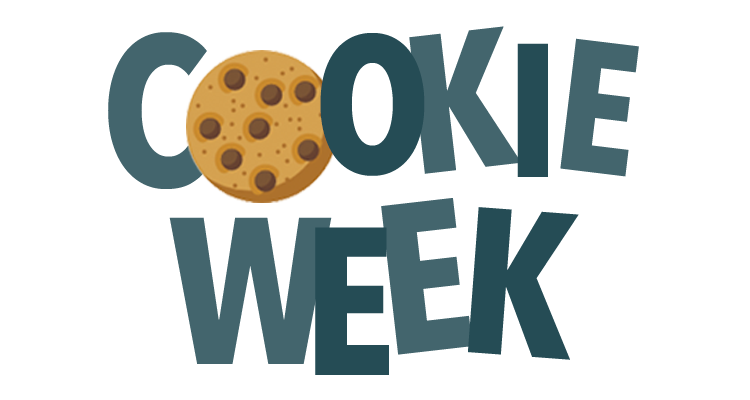 Are you ready for cookie #1? 🙂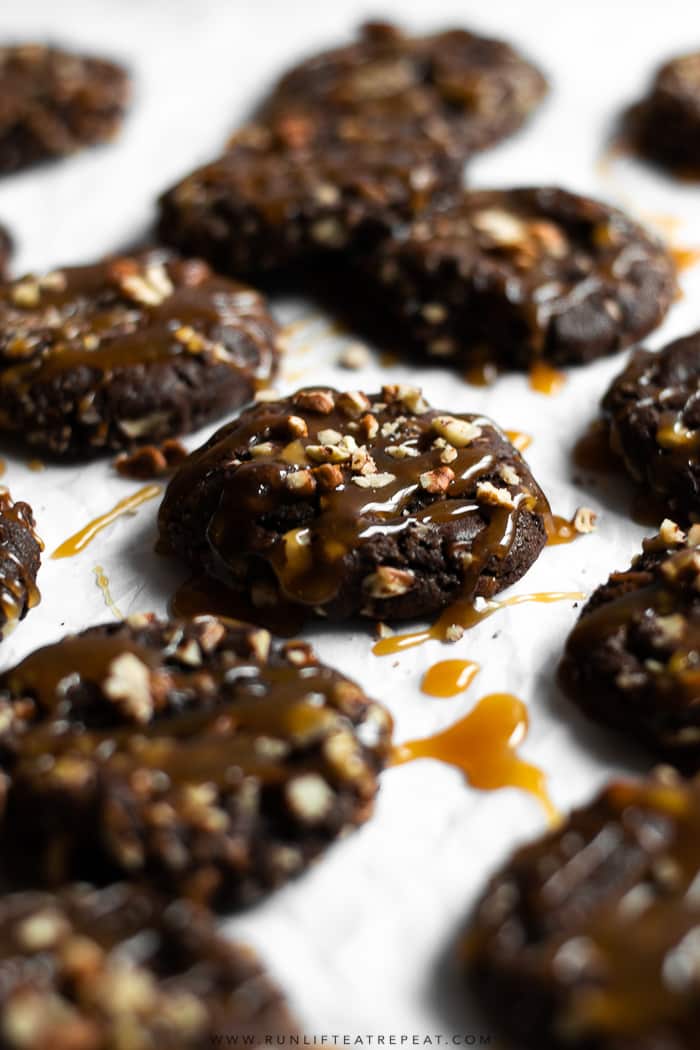 I swear that you are not seeing things — these cookies are, indeed, as good as they look.
You see, each year I give cookie platters out to family, friends, and co-workers for the holiday. I make a big variety of cookies but there's always a few "staple" cookies that are never left out like chocolate chip cookies and biscotti. For the last few years I've been adding these chocolate turtle cookies and from the rave reviews, it looks like they're here to stay. Give it up for CHOCOLATE TURTLE COOKIES!
Between the brownie-like cookie and the crunch from the pecans, these are a texture lover's dream. But that caramel drizzle is what makes this an incredible cookie. The more the better. Or is that just me?
Give me that spoonful of caramel. ↓ ↓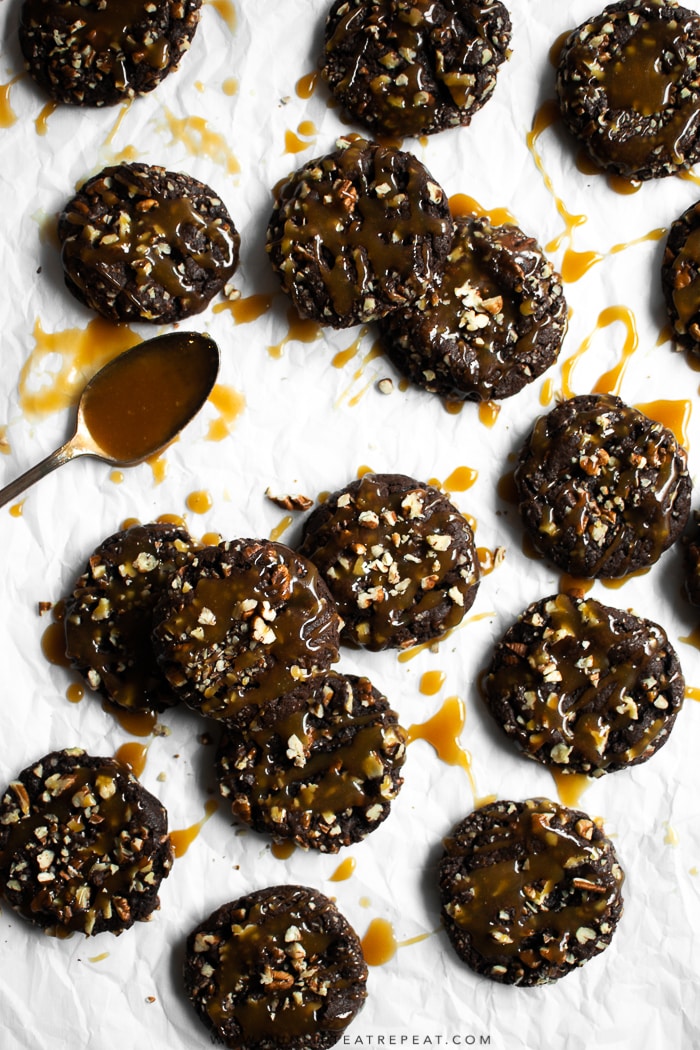 What is Cookie Week?
This year is the first annual cookie week! Every December I will share 7 brand new cookies recipes in a row just in time for Christmas! And don't worry, there's cookies for everyone– from sprinkles, to peanut butter, to the classics, and even gluten-free. Sign up for free email alerts whenever I publish a new cookie recipe.
See the recipes for Cookie Week so far!
Grab 'em fast! These are first to go on that cookie platter!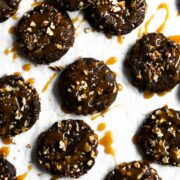 Chocolate Turtle Cookies
---
Description
Fudgy brownie-like cookies rolled in pecans and topped with a drizzle of homemade caramel.
---
Ingredients
Cookies
2 and 3/4

cups

+ 2 Tablespoons all-purpose flour

1/2

cup

unsweetened cocoa powder

2

teaspoons

baking soda

1/2

teaspoon

salt

1

cup

(2 sticks) unsalted butter, softened to room temperature

1 and 1/3

cup

packed light brown sugar

2

large eggs

2

teaspoons

vanilla extract

1/4

cup

chocolate chips

1

teaspoon

milk*

1 and 1/2

cups

chopped pecans
Caramel Sauce
1/2

cup

(1 stick) unsalted butter, cut into 8 slices

1

cup

packed light brown sugar

packed

1/3

cup

heavy cream*

1

teaspoon

vanilla extract
Equipment Needed
---
Instructions
Make the cookies: Whisk the flour, cocoa powder, baking soda, and salt together in a large mixing bowl. Set aside.

Add the chocolate chips and milk to a microwave-safe bowl. Microwave in 15 second increments, stirring in between until melted. It should only take about 15-30 seconds total. Set aside to allow to cool.

Using a handheld or stand mixer with the paddle attachment, beat the butter on high speed until creamy, about 1 minute. Scrape down the sides and bottom of the bowl as needed. Reduce the mixer to medium speed and add the brown sugar until combined. Beat in the eggs and vanilla extract, scraping down the sides and bottom of the bowl as needed. With the mixer on low speed, slowly add the dry ingredients. I find it's easiest to use a 1/4 cup dry measuring cup or spoon for this. Add in the melted chocolate and beat until just combined. The dough will be very sticky. Cover the dough tightly, or place in an airtight container and chill for at least 2 hours. Chilling is required.

Remove the cookie dough from the refrigerator and allow to sit at room temperature for 5 minutes. If refrigerated for more than 4 hours, let it sit at room temperature for 15 minutes. Preheat the oven to 350°F. Line two large baking sheets with parchment paper or silicone baking mats (preferred). Set aside.

Scoop 1 Tablespoon of dough, form into a ball, and roll in the pecans. Repeat for each cookie. Place 8-10 balls onto each baking sheet. Bake for 10-11 minutes. Remove from the oven and allow to cool on the baking sheet for 5 minutes before transferring to a wire rack to cool completely.

Make the caramel: In a medium sauce pan over medium-high heat, melt the better. Once the butter is melted, add the brown sugar and whisk continuously until the sugar is completely dissolved.

Whisk in the heavy cream and bring to a boil for 2-3 minutes. Remove from the heat and whisk in the vanilla extract. The mixture will bubble up a bit due to the temperature difference. Allow the caramel to cool before storing in a jar.

Drizzle warm caramel over the cookies and allow to set for at least 10-15 minutes.

Store cookies at room temperature for up to 5 days in an airtight container. The caramel stays fresh in the refrigerator for up to 2 weeks.
---
Notes
Make ahead tip: Cookies (without caramel) can be frozen for up to 3 months. Unbaked, unrolled cookie dough balls can be frozen for up to 3 months. Let them sit at room temperature for 15 minutes, pre-heat the oven, then roll in chopped pecans. The caramel can be made up to 2 weeks in advance. Warm the caramel up for a few seconds in the microwave before using. 1Any milk fat % can be used. I typically use 1% or 2%. 2Heavy cream or half-and-half work best for producing the best tasting caramel. Whole milk may work but I can guarantee results.
PIN IT for later!