Hearty and satisfying whole wheat muffins filled with bananas and tons of cinnamon!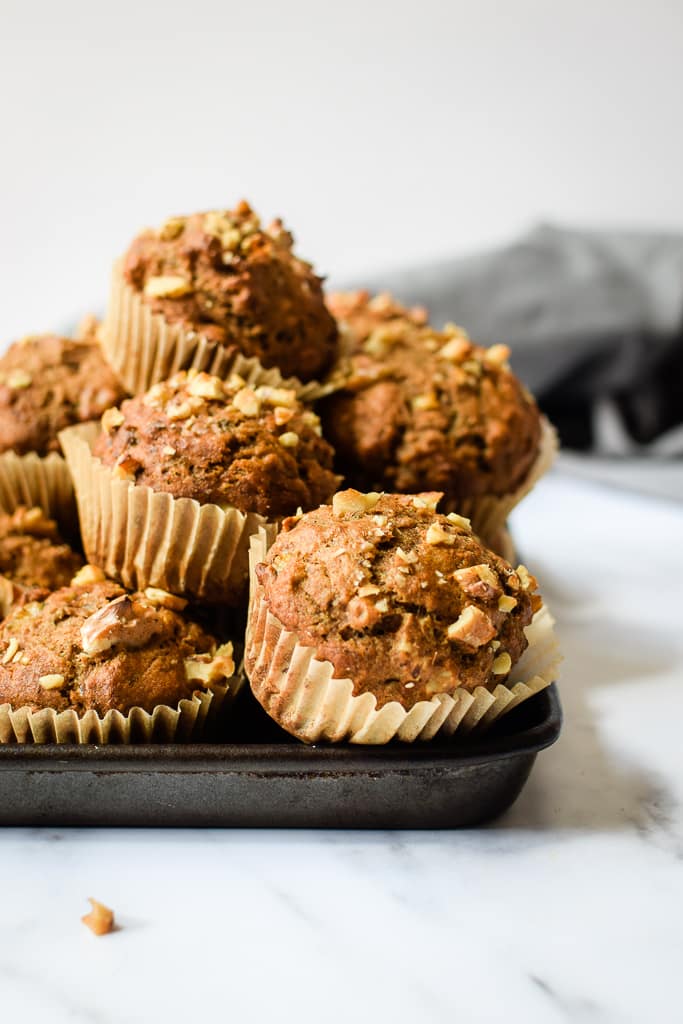 Today will be a FUN day. Filled with a mountain of muffins. Look at 'em.
After last weeks recipe (which is now a top recipe!), I figure now is a good time to introduce you to my newest muffin obsession. Plus, we all might need a healthy option as we ease into that time of year where candy corn takes over. These are (1) easy to make, (2) quick to pull together, (3) on-the-go, (4) can be eaten no matter the time of day, (5) no refined sugar !!! and (6) perfect for freezing.
Today's muffins are an upgrade from this. I made 2 trial batches last week for my trusty taste testers (even kid approved!) and then another 2 batches this weekend to use up the rest of the bananas, photograph, and stash in the freezer.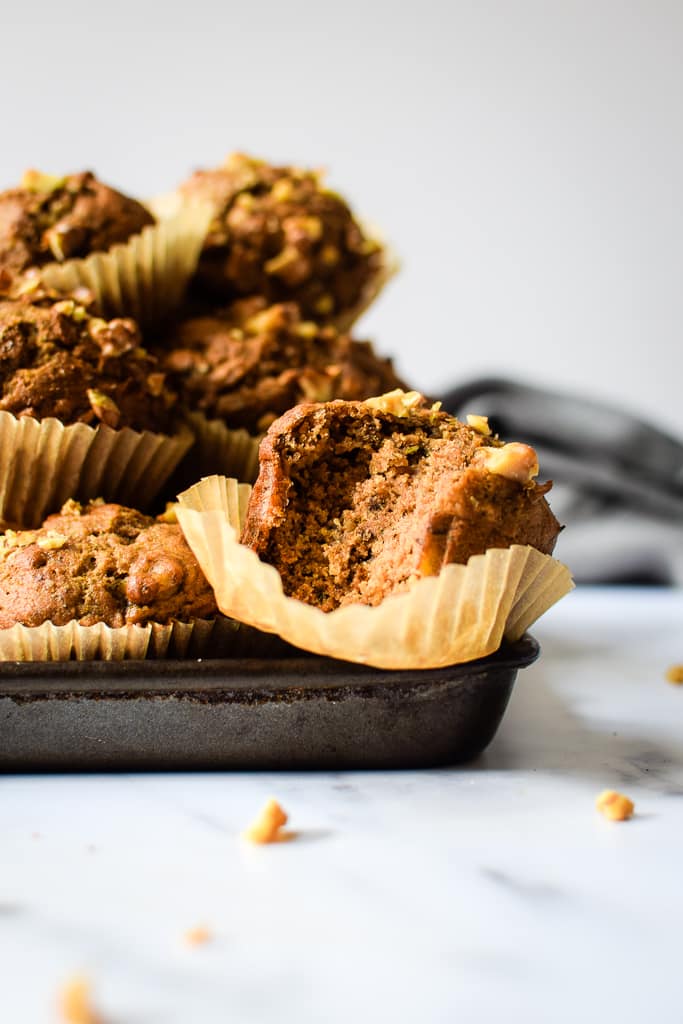 These are made from real ingredients– nothing you can't pronounce. What most people don't realize is that simple and healthier ingredients can produce a delicious tasting baked goods if used the right way. For example: whole wheat flour has a tendency to dry baked goods out because it needs more moisture. But if we pair it with key ingredients like bananas, eggs, coconut oil, and applesauce we get a winner.
Bananas naturally sweeten the muffins. That's why we're using a whopping 2 cups in this recipe. Make sure that you're using super brown speckled bananas– the riper, the better the muffins will taste. In addition, we're using a small amount of pure maple syrup and honey to replace the refined sugar. These aren't super sweet muffins but I'm OK with it when they taste this good. ♥♥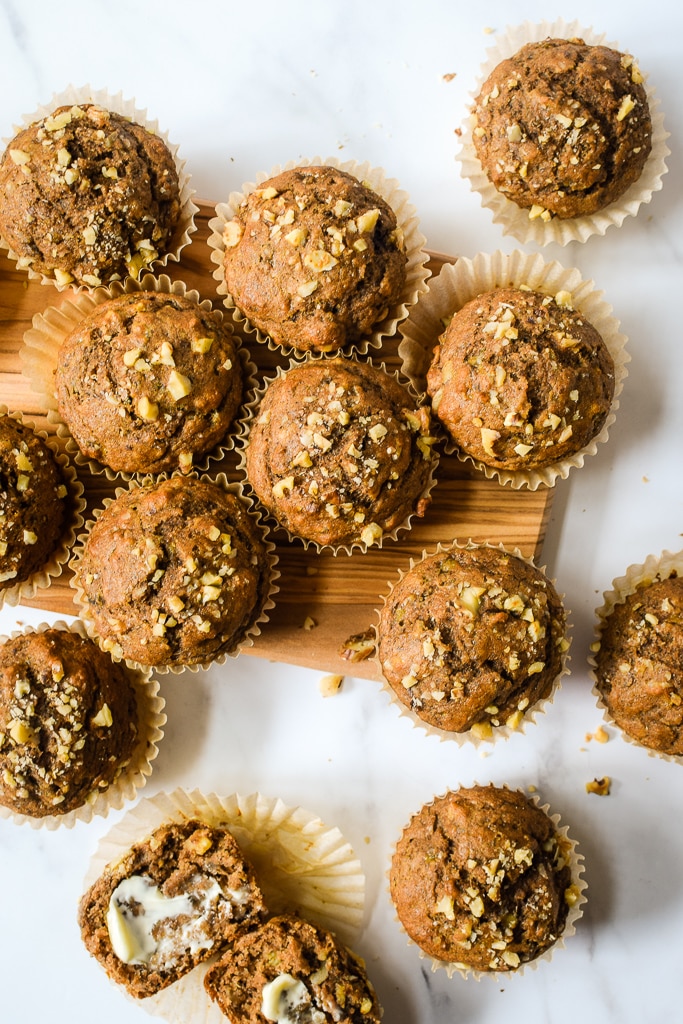 Make these muffins this week. I won't take no for an answer! And make a double batch because no doubt they'll be gone in a matter of days!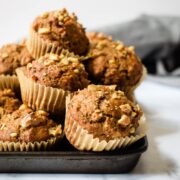 Whole Wheat Banana Nut Muffins
---
Description
Hearty and satisfying whole wheat muffins filled with bananas and tons of cinnamon!
---
Ingredients
2 and 1/2

cups

whole wheat flour, sifted

2 and 1/2

teaspoons

baking soda

2

teaspoons

ground cinnamon

2

cups

mashed banana (about 5 regular bananas)

2

large eggs

1/3

cup

unrefined coconut oil

3/4

cup

unsweetened applesauce

1/2

cup

+ 2 Tablespoons pure maple syrup

2

Tablespoons

honey

2

teaspoons

vanilla extract

1

heaping cup chopped nuts (I used walnuts)
---
Instructions
Preheat the oven to 425°F. Spray a 12-count muffin pan with nonstick spray or use cupcake liners. This recipe make 20 muffins, so prepare a second muffin pan with 8 liners.

Sift together the flour, cinnamon, and baking soda together in a large bowl. Set aside. In a medium bowl, mash the bananas— I find it's easiest to either use a pastry cutter or a stand mixer for this. Then, whisk in the eggs, oil, applesauce, maple syrup, honey, and vanilla until combined. Pour the wet ingredients into the dry ingredients, stir a few times, then add the nuts1. Fold together gently until just combined.

Spoon the batter into the liners, filling them all the way to the top. If desired, sprinkle some chopped nuts on top. Bake for 5 minutes at 425°F then, keeping the muffins in the oven, reduce the temperature to 350°F. Bake for an additional 11-12 minutes or until a toothpick inserted in the center comes out clean. The total time for these muffins take 16-18 minutes, give or take. Allow muffins to cool for 5 minutes in the muffin pan, then transfer to a wire rack to finish cooling.

Muffins stay fresh covered at room temperature for a few days or in the fridge for up to 1 week.
---
Notes
Make ahead tip: These muffins can be frozen for up to 3 months. Allow to thaw overnight in the refrigerator. 1Don't like walnuts? Use what you like or don't use any nuts at all. It's completely optional!
PIN IT for later!