These baked maple frosted donuts are cake-style donuts with a thick, sweet maple frosting. Homemade donuts are a lot easier than you think!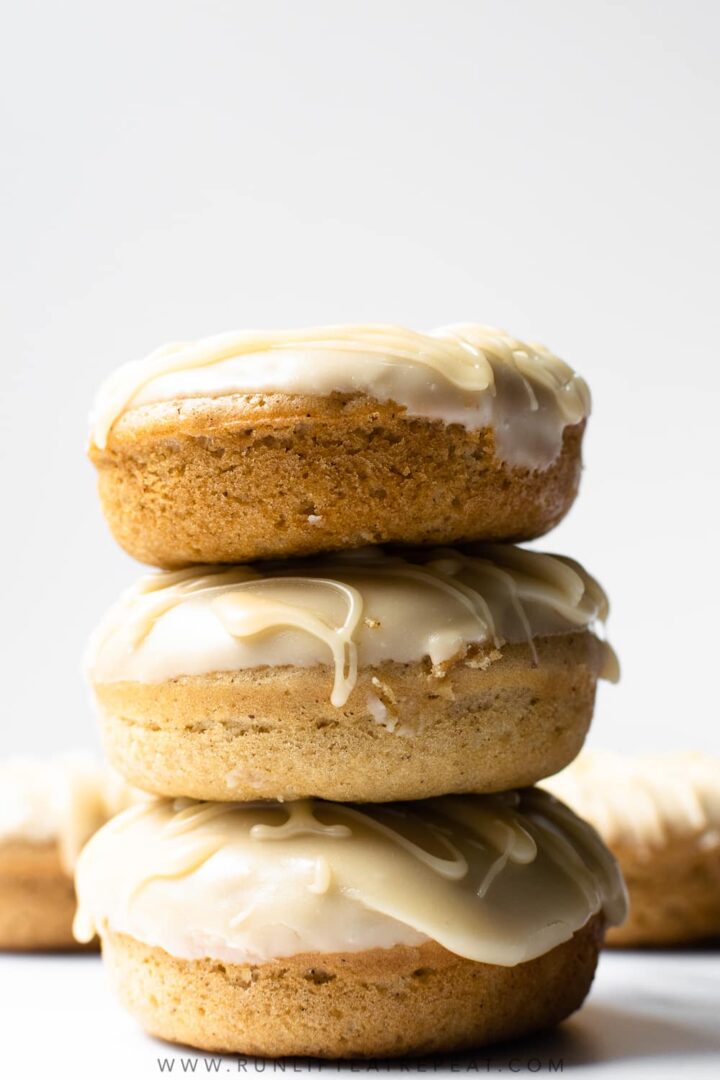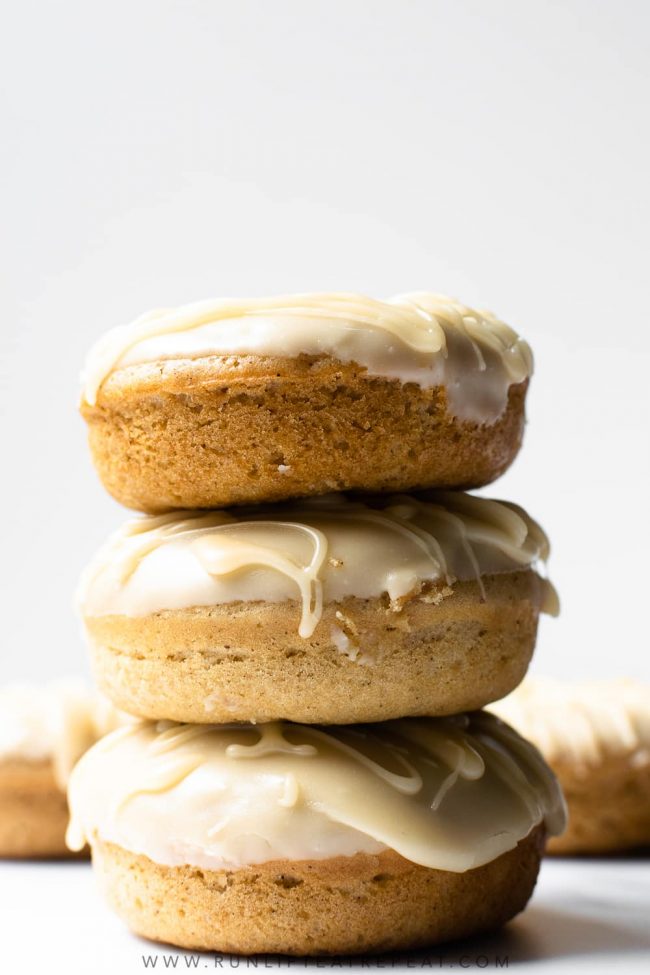 While brainstorming new recipes, my brain kept going to donuts. I don't know why, but I have a feeling my love for donuts is the reason. I used it as inspiration for a new recipe while incorporating the change in seasons. The official date of Fall may not be for another couple weeks, but it's already Fall in my mind.
It's been a minute since I shared a donut recipe with you. I'm sorry about that— I promise I will do better.
Enter: Baked Maple Frosted Donuts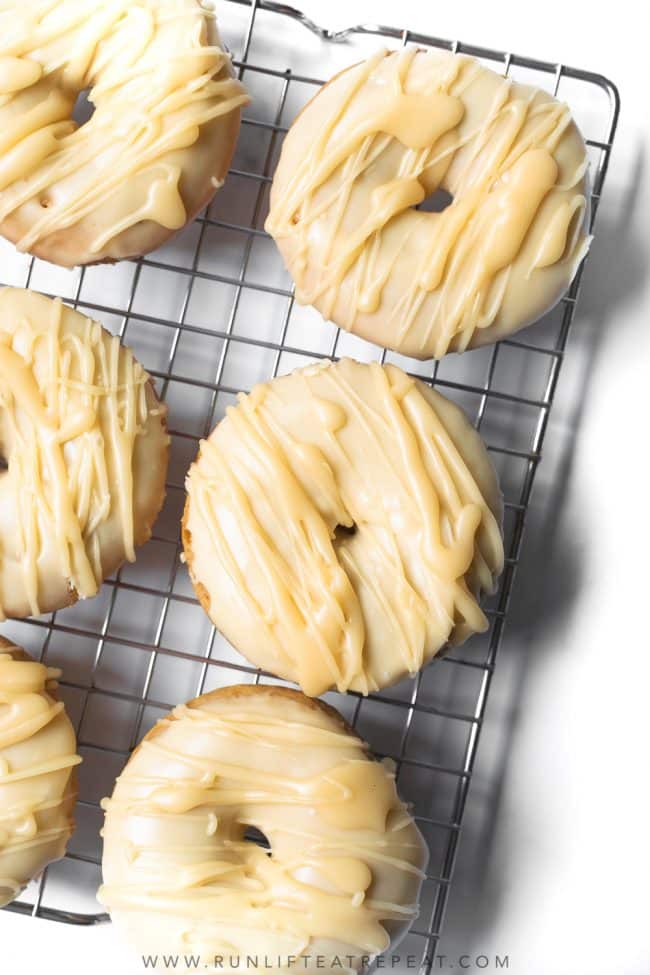 Maple Frosted Donuts Ingredients
There's basic pantry ingredients most of which you probably have already!
Flour: All-purpose flour provides structure. You'll be tempted to add less flour as you mix the batter, but don't. This is meant to be a thicker batter.
Leavening Agents: Helps lift the donuts.
Spices & Vanilla Extract: The combination of nutmeg, cinnamon, cloves, and vanilla add flavor.
Milk: There's just enough to thin out the batter to allow the leavening agents to do their job.
Butter: The melted butter provides extra flavor and moisture.
Yogurt: Provides moisture.
Egg: Eggs provide structure and flavor.
Brown Sugar: Sugar helps sweeten the donuts but using brown sugar adds a touch of molasses flavor.
Why You'll Love These Maple Frosted Donuts
Baked, not fried
Cake-like texture
Spiced with cinnamon, nutmeg, and cloves
Easy— no mixer required
Ready in 45 minutes
Generously dunked (double dunked) in maple icing
Two Parts to Baked Maple Frosted Donuts
Donuts: We're using my standard baked donut recipe as the base with a few small tweaks. It's a thicker batter that produced a tight-crumb, more dense, donuts. It's made with basic ingredients like flour, egg, leaveners, milk, and some yogurt for moisture. To sweeten it, we're using brown sugar (that molasses flavor is key) and tossing in a few spices like nutmeg, cinnamon, and cloves.
Maple Frosting: This frosting is creamy, sweet, and sets quickly. I usually dunk the donuts once, let the frosting set a bit and then drizzle a little more frosting for decoration.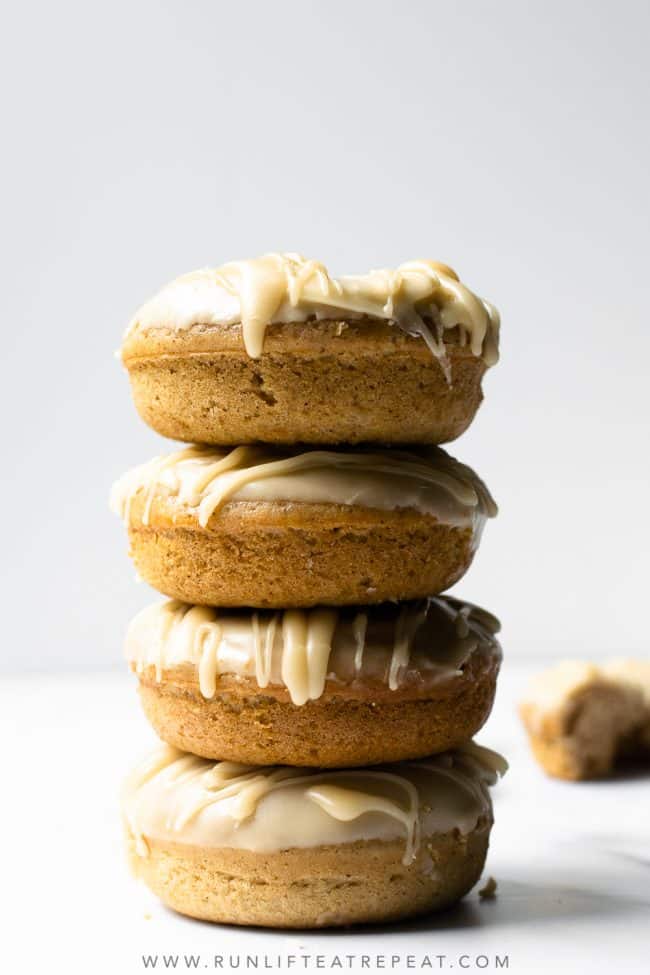 How to Make Maple Frosted Donuts
Making donuts is easier than you think. Your mixer can take the day off for this recipe, there's no need for it here!
Make the donut batter. You'll combine the dry ingredients in one bowl and the wet ingredients into another. Then, whisk to combine both. Simple enough.
Fill the donut pans. Rather than using a spoon, though it can be done (but messy), it's best to place the batter in a zipped-top bag to pipe the batter into the pans. Just spoon the batter into the bag and trim off the bottom corner.
Bake. They bake QUICK— done in 10-11 minutes!
Making the frosting. I making the frosting while the donuts bake. Warm butter and maple syrup together, then add powdered sugar, maple extract, vanilla extract, and salt to taste.
Dip into frosting. Allow the donuts to cool for a couple minutes so you can handle them. Dip the warm donuts into the frosting, then place on a cooling rack to let the excess frosting drip down. Don't be afraid to double dip or add patterns!
More Recipes To Try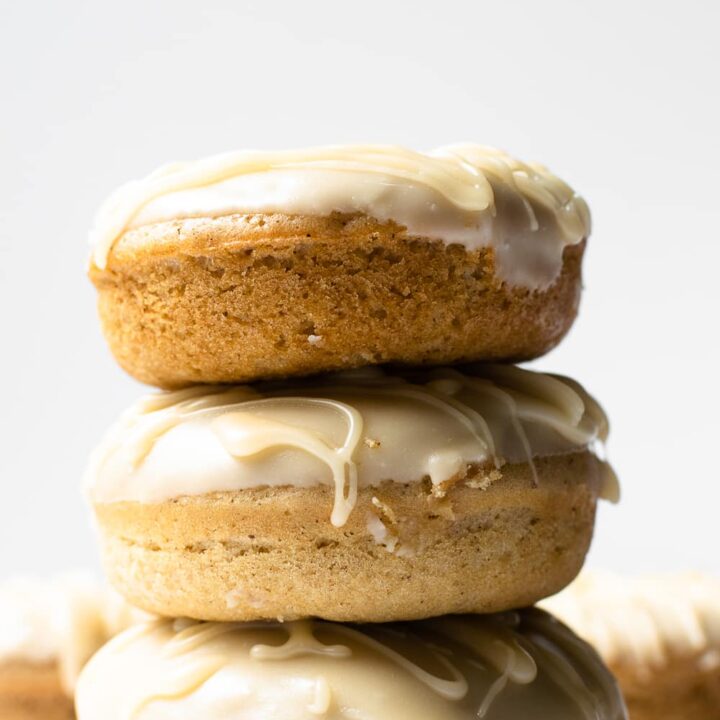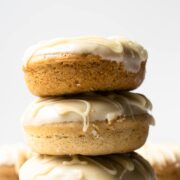 Baked Maple Frosted Donuts
---
Description
These baked maple frosted donuts are cake-style donuts with a thick, sweet maple frosting. Homemade donuts are a lot easier than you think!
---
Ingredients
1 and 1/2

cups

all-purpose flour

1 and 1/2

teaspoons

baking powder

1/2

teaspoon

baking soda

1/4

teaspoon

salt

1/2

teaspoon

ground cinnamon

1/4

teaspoon

ground nutmeg

1/4

teaspoon

ground cloves

1/3

cup

milk

4

Tablespoons

unsalted butter, melted

1/3

cup

yogurt

1

large

egg, room temperature

1/2

cup

packed light brown sugar

2

teaspoons

vanilla extract
Maple Frosting
1/4

cup

unsalted butter

4

Tablespoons

pure maple syrup

1

Tablespoon

heavy whipping cream

1 and 1/2

cups

powdered sugar, sifted

1/2

teaspoon

maple extract

1/2

teaspoon

vanilla extract

if needed: pinch of salt
---
Instructions
Preheat the oven to 350°F. Spray a donut pan with non-stick spray. Set aside.

Make the donuts: Whisk the flour, baking powder, baking soda, salt, cinnamon, nutmeg , and cloves together in a large bowl until combined. Set aside. In a medium bowl, whisk the milk, butter, yogurt, egg, egg, sugar, and vanilla together until combined. Pour the wet ingredients into the dry ingredients, then fold everything together until no flour pockets remain.

Using a large zipped-top bag, fill the bag with batter and cut a corner off the bottom of the bag. Pipe the batter into each donut but, filling about 3/4 of the way. Bake for 10-11 minutes or until the edges and tops are lightly browned. To test, push the donut gently with your finger, if the donut bounces back, they are done. Allow the donuts to cool in the pan for 2-3 minutes, then transfer to a wire rack. Re-grease the pan for each new batch.

Make the icing: In a small saucepan over low heat, melt the butter, maple syrup, and heavy whipping cream together, whisking occasionally. Once the butter has melted, remove from heat and whisk in the powdered sugar, vanilla and maple extract. Add a pinch of salt, if needed. Allow the icing to cool for 2-3 minutes.

Frost the donuts: Dip each donut into the icing. The icing thickens quickly, so you may need to re-heat the icing as you dip. Place the dipped donuts back onto the cooling rack. Feel free to double dip the donuts (I often do!)

Donuts are best served immediately. Leftovers keep well covered tightly at room temperature or in the refrigerator for 2 days.
---
Notes
Freezing Instructions: Freeze the un-iced baked donuts for up to 3 months. Thaw overnight in the refrigerator. Dip into icing after thawing if you froze them plain.
Milk: I've used a variety of milk fats and also dairy-free options to make these donuts.
Yogurt: I've used a regular, Greek, and dairy-free yogurts.
Maple Syrup: For the best flavor, use pure maple syrup.
Tagged in:
baked donuts, breakfast, donuts, fall, maple donuts