When you're craving donuts but want to make them at home without all the work— these glazed donuts save the day! This glazed donut recipe is incredibly simple, 35 minutes start to finish, and are baked, not fried. Perfect for the weekend or even during the week!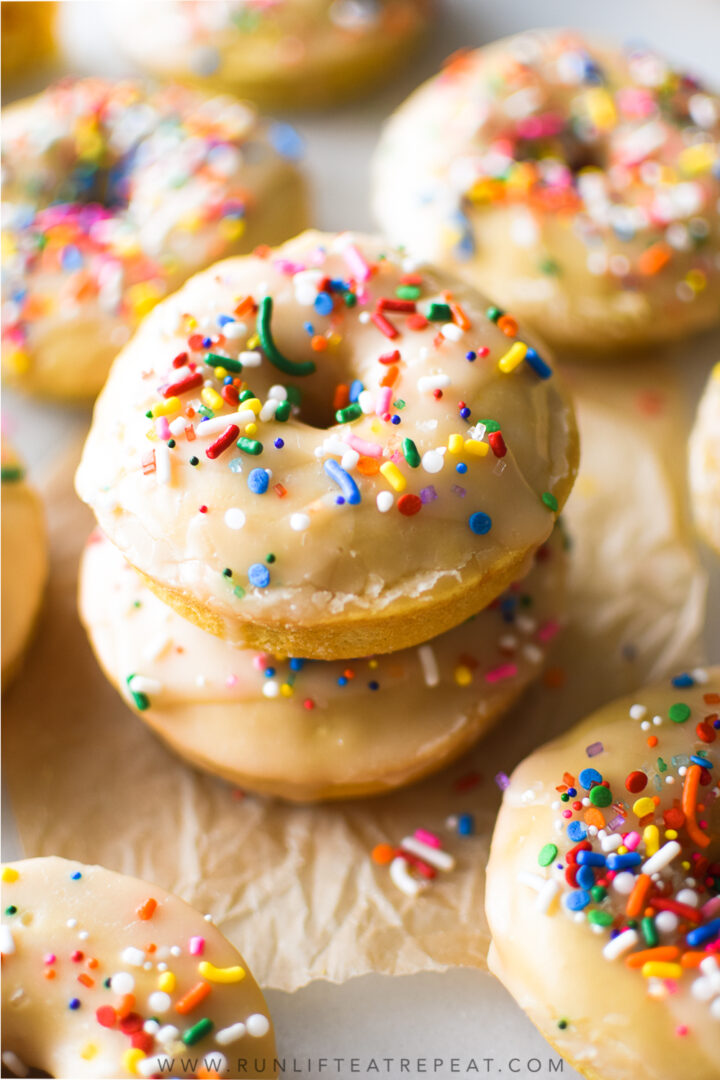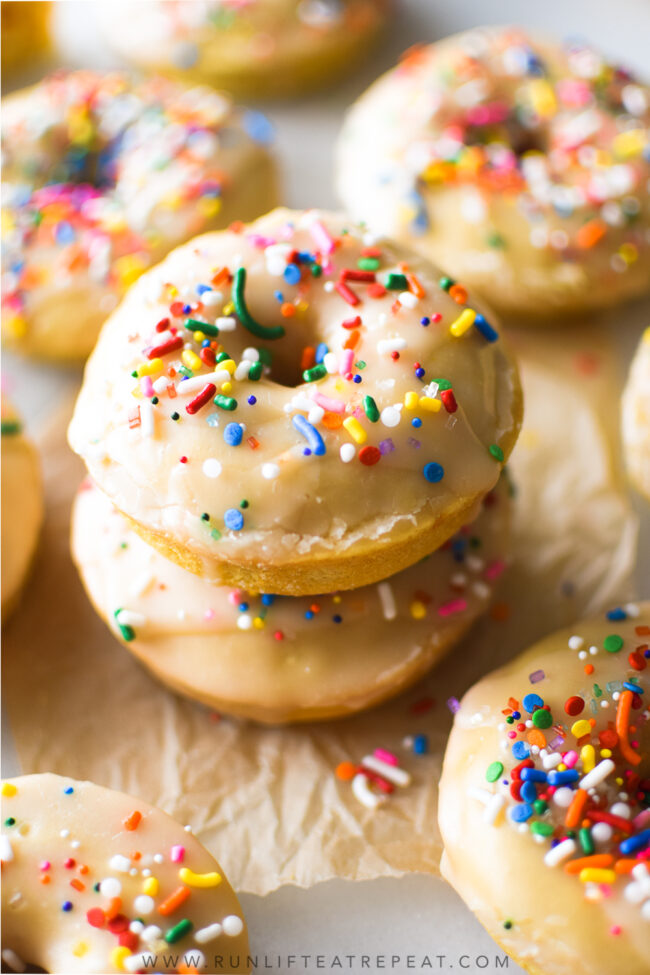 Post updated in 2021 with new photos, clearer instructions and updated recipe notes.
This was one of the first recipes ever published on my website. It's always been a favorite of mine and lately, yours too! Whether you're looking for a lighter (dare I say, healthier) donut recipe or looking learn how to make a less intimidating donut recipe— this baked glazed donut recipe is for you.
If you're someone that hasn't tried these baked donuts yet, here's your remind to or, if you're new to my website, here's a little encouragement to try them!
Why You'll Love these Baked Glazed Donuts
Quick recipe— done in 35 minutes!
Way less intimidating than a regular donut recipe
Easy to make
Baked, not fried!
Fluffy & light
Can easily be made gluten free & dairy free
Tell Me All About This Baked Glazed Donut Recipe
Texture: Think about the texture of a light and fluffy cake— this donut recipe is just that. These baked donuts have the same tender, fluffy and light texture but in donut form. Of course then topped with a thick glaze and sprinkles.
Flavor: We're keeping things basic here. You have the classic donut flavor from the vanilla and hint of nutmeg with also a bit of molasses flavor from the addition of the brown sugar.
Ease: When I say this is an easy donut recipe, I mean it's an easy donut recipe. It's a pretty straightforward donut recipe here. After combining the ingredients into a large bowl, you'll fill the donut cavities, then bake. Then, a quick dunk in the glaze (I highly recommend a double dunk and sprinkles because why not?)
Time: Start to finish it takes about 35 minutes if you have all the ingredients out and ready to go. Not too bad for homemade donuts, right?
Baked Glazed Donuts – Key Ingredients
There's not many ingredients for this easy donut recipe, most of which you probably already have on hand! In the recipe notes (at the bottom of the recipe) I also take a deeper dive into ingredient substitutions.
Flour: This donut recipe doesn't require much flour, just 1 and 1/4 cups. It's just enough to soak up the liquid (from the yogurt, butter, milk & eggs) without the donuts drying out when they bake.
Granulated & Brown Sugar: The sugar does more than sweeten the donuts. While the granulated sugar helps sweeten them, the brown sugar also helps keep the donuts soft while also providing extra flavor from the molasses.
Yogurt: The addition of yogurt helps keep the donuts moist while also activating the baking soda.
Egg: We just need 1 large egg for these baked donuts. It helps bind the ingredients together while also assisting in keeping the donut moist.
Milk: The milk has one job— add moisture.
Butter (or Coconut Oil): The addition of this fat helps not only keep the donut moist but also provides flavor.
Vanilla Extract & Nutmeg: These both add so much flavor. If you're not a fan of nutmeg, don't worry— we're adding just a smidge to help with that classic donut flavor.
Baking Powder & Baking Soda: The combination of these help lift the donuts up while they bake. Nerd Alert: The baking soda will react to the acidity from the yogurt to create a nice lift.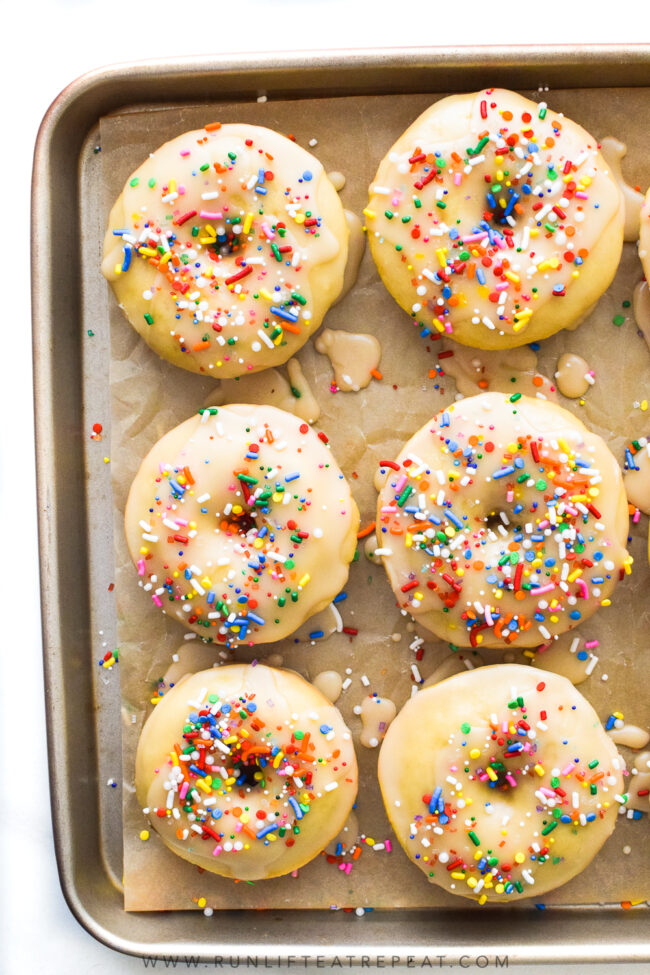 Required – Donut Pan
Prior to making donuts at home I had never owned a donut pan. Though you can make these in a mini muffin pan (see recipe notes), I highly recommend investing in a donut pan— they aren't much but allow you to also try my other donut recipes!
Do The Double Dunk!
Before I send you off to the recipe, I highly recommend double dunking the donuts in the glaze. The more, the better! Not only is the glaze delicious, it will also add the perfect amount of thickness to the glaze for the donuts.
BE RIGHT BACK— I'll take 5 of these and then go into donut coma.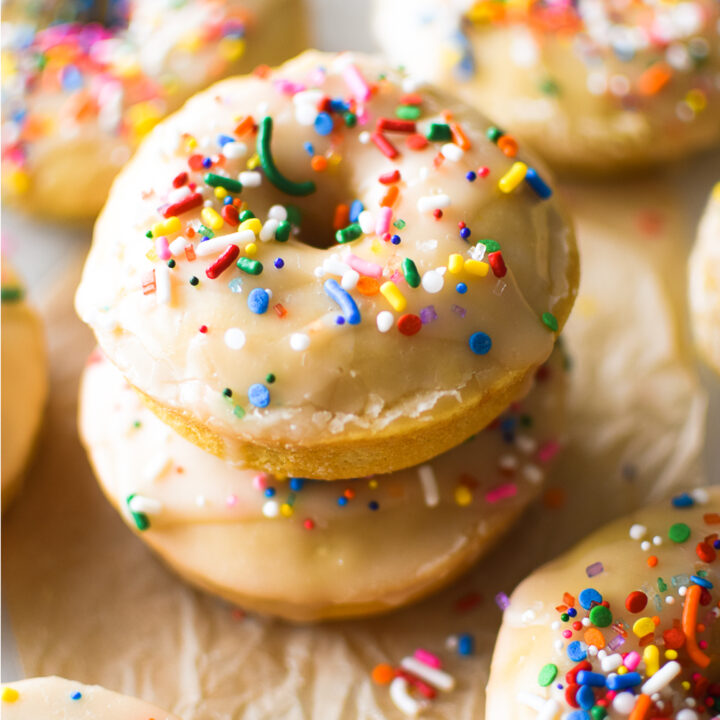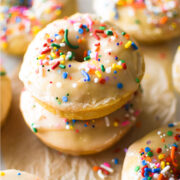 Classic Baked Glazed Donuts
---
Description
When you're craving donuts but want to make them at home without all the work— these glazed donuts save the day! This glazed donut recipe is incredibly simple, 35 minutes start to finish, and are baked, not fried. Perfect for the weekend or even during the week!
---
Ingredients
Donuts
1 and 1/4

cups

all-purpose flour

1 and 1/4

teaspoon

baking powder

1/2

teaspoon

baking soda

1/8

teaspoon

(tiny pinch) nutmeg

1/3

cup

granulated sugar

2

Tablespoons

light or dark brown sugar

1/4

cup

yogurt

1

large

egg, room temperature

1/4

cup

milk

3

Tablespoons

unsalted butter, melted

1 and 1/2

teaspoons

vanilla extract
Vanilla Glaze
1/3

cup

milk

2 and 1/4

cup

powdered sugar

1

teaspoons

vanilla extract
---
Instructions
Preheat the oven to 350°F degrees. Spray a donut pan with non-stick spray or coconut oil. Set aside.

For the donuts: whisk the flour, baking powder, baking soda, and nutmeg together in a large bowl. Set aside. Whisk the sugars, yogurt, and egg together until smooth in a medium bowl — it will be gritty from the sugar. Add the melted coconut oil, milk, and vanilla, whisking until combined. Pour the wet ingredients into the dry ingredients and whisk together until just combined with no lumps. Do not overmix. The batter will be thick.

Spoon the batter into a large zipped-top bag. Cut a corner off the bottom and the bag and big the batter into each, filling about 3/4 of the way full.

Bake for 9-10 minutes or until the edges are lightly browned — mine took exactly 10 minutes. Allow the donuts to cool slighty so you can hold onto them for the glaze. 

For the glaze: place a wire rack over a baking sheet to catch the glaze. Set aside. Combine the ingredients into a medium sauce pan over low heat. Whisk until the glaze is smooth. Remove from heat and immediately begin dunking the donuts into the glaze. I dropped each donut into the saucepan, moved it around gently, and placed on the wire rack. If you have additional glaze left over, you can dunk again or spoon over the donuts. Top with sprinkles if you're feeling festive.
---
Notes
Freezing Instructions: I don't recommend storing baked and glazed donuts for more than 2 days at room temperature. Baked (not glazed) donuts can be frozen for up to 3 months. Thaw overnight in the refrigerator. The glaze won't set as well on cold donuts so you can bring them to room temperature or microwave them for 10-12 seconds and then dunk them into the glaze.
Yogurt: You want to use a plain or vanilla flavor yogurt. It can be regular, Greek or even dairy free yogurt.
Milk: Any type of milk works for this recipe— I've used 1%, 2%, whole milk and a variety of dairy free milks such as oat and unsweetened almond milk.
Butter: While using butter will provide more flavor, you can also use refined coconut oil too! Make sure it's refined, otherwise the donuts will have a more coconut flavor to them.
Gluten Free: I've made these donuts with Bob's Red Mill 1 to 1 Gluten Free Baking Flour. This recipe has not been tested with any other gluten free flours.
No Donut Pan? If you don't have a donut pan, you can also baked these into "donut hole" like donuts using a mini muffin pan. Fill the donuts about 1/2-3/4 of the way and bake for 6-10 minutes. If you press the donuts, it should bounce back. If it doesn't, it needs a little more time.
Tagged in:
baked donuts, baked glazed donut recipe, breakfast, donut recipe, donuts, easy baked donuts, easy donut recipe, easy donuts, glazed donuts