This carrot cake recipe is incredibly moist, bursting with spice flavor, and frosted with a smooth and creamy cream cheese frosting. It's a recipe that you'll be making over and over again.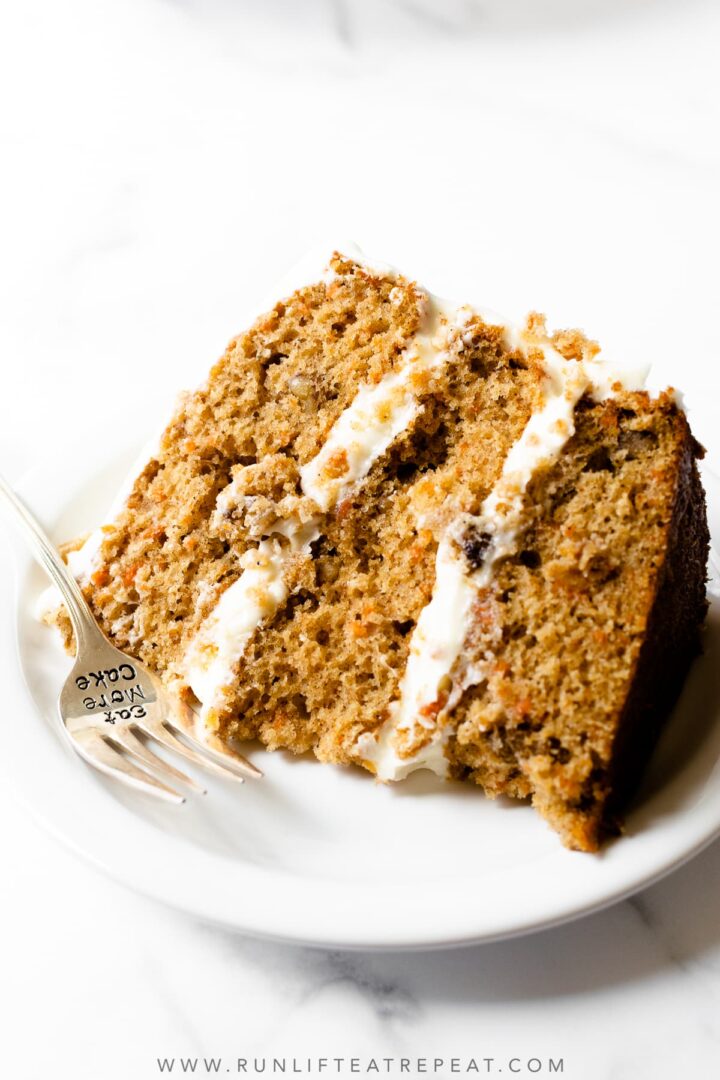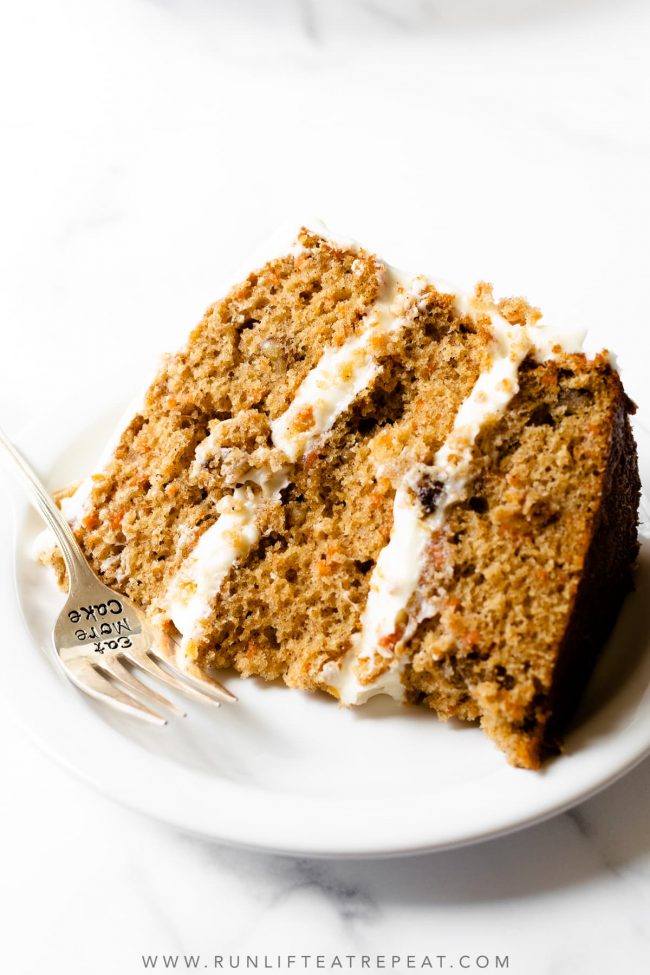 Up close and personal. ↑ ↑
Maybe it's just me but when I think of cake, it's always carrot cake. It's #1 in my eyes. I'm in total freak out move over this recipe— it's that good.
I'm here to tell you that you don't need an excuse to make this carrot cake. Especially when it's three layers and slathered with cream cheese frosting. Your life will be better with this carrot cake.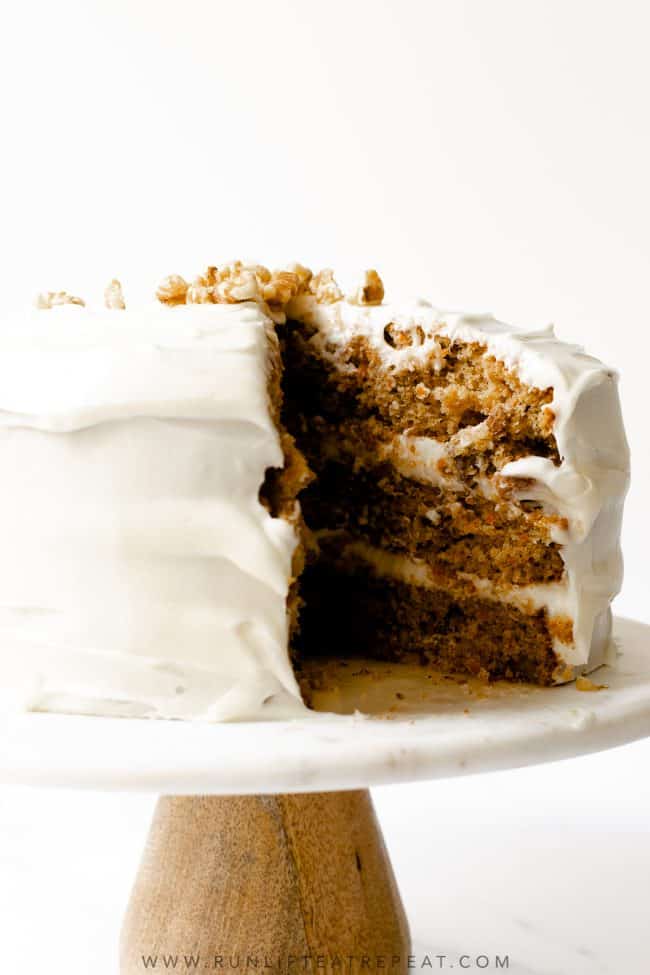 What Makes a Good Carrot Cake?
Let's be honest. Carrot cake is only good if it's spiced just right and if it's moist. An under-spiced carrot cake tastes like cardboard while a dry cake is not appetizing.
This carrot cake sets the bar high— so high that I'm making it as my sister's wedding cake. No pressure, no pressure. It's incredibly moist and flavorful. Most of the flavor comes from the brown sugar, cinnamon, cloves, allspice, nutmeg, and carrots. While ginger adds a little something extra to it.bIf made ahead (highly recommend!) the flavors intensify.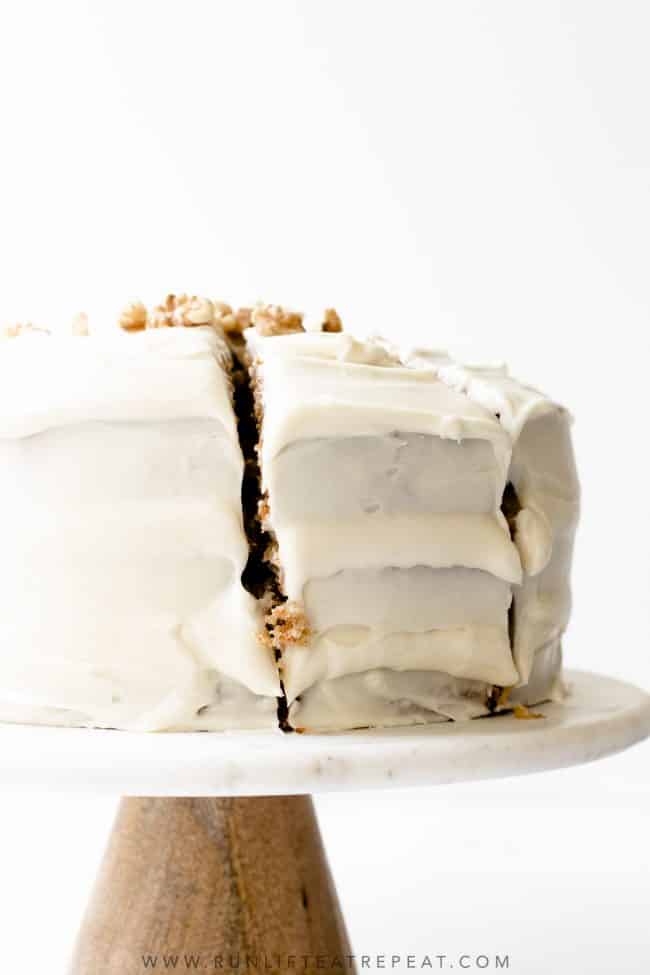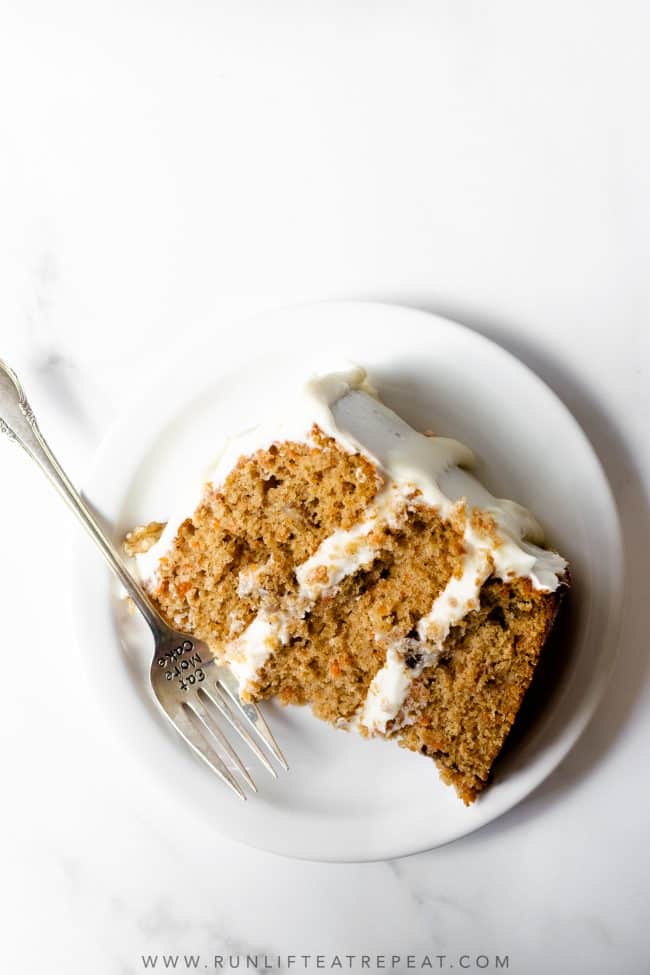 How to Make Carrot Cake Moist
This is one cake that should be moist otherwise it's not worth it. Don't adjust or skimp on these ingredients.
Brown Sugar: I find that many recipes use only granulated sugar which sweetens it but that's all it does. Using brown sugar adds another level of flavor while also moistening it.
Applesauce: This helps moisten the cake without making it to oily.
Eggs: Using 5 eggs may seem like a lot, but it's not. After all, it is a three layer cake. The eggs help bind the ingredients together while also keeping it tender.
Freshly Shredded Carrots: That's right, shred your own carrots. Do not use packaged pre-shredded carrots because they are hard and dry.
Let's Make Carrot Cake!
This carrot cake is relatively easy, but let's walk through the process together.
For the batter, begin with 2 mixing bowls.
Whisk the dry ingredients together in 1 bowl, then the wet ingredients in another bowl.
Combine them both, along with the carrots and nuts. (That's right, you don't need a mixer for the cake batter!)
Bake for 20-22 minutes.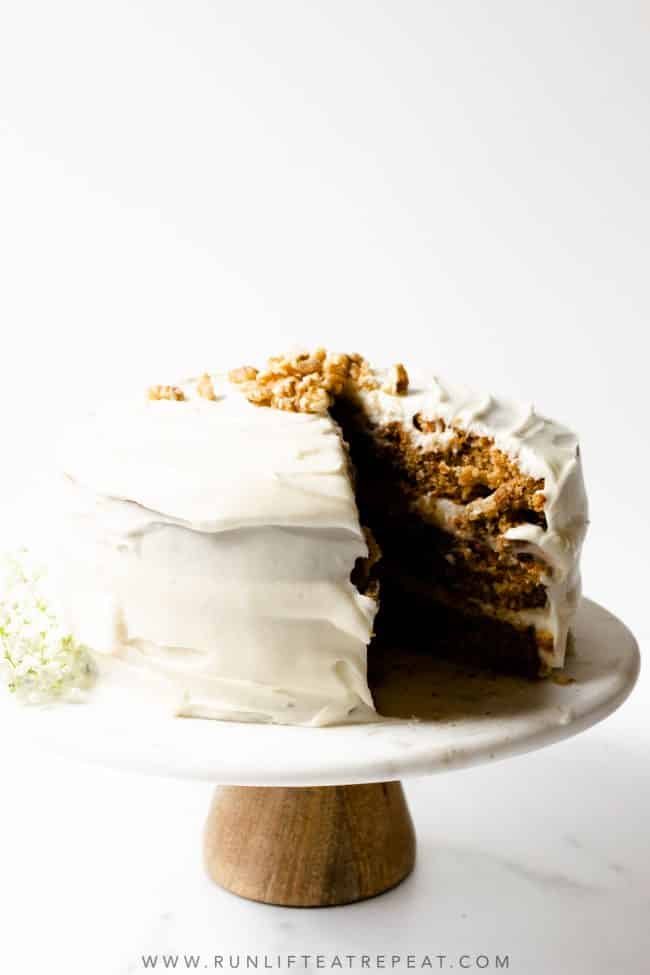 More Recipes To Try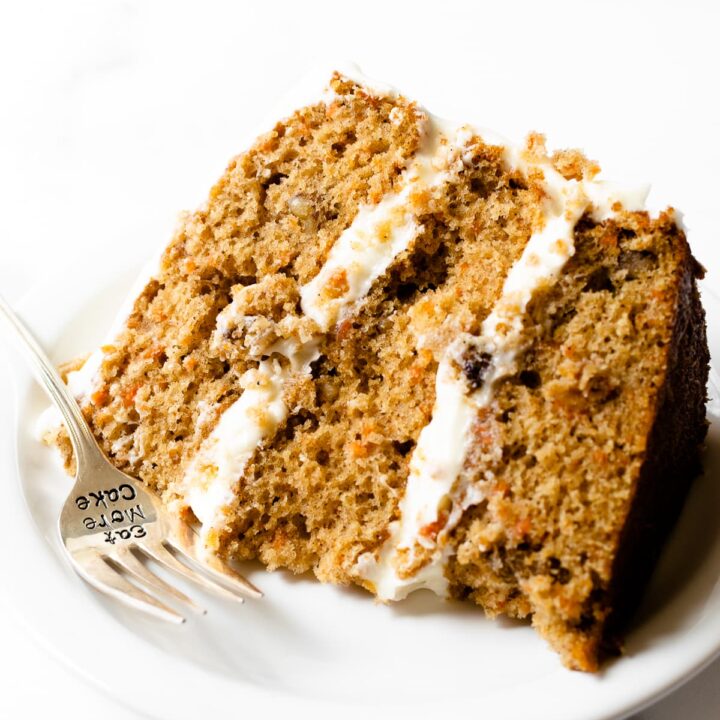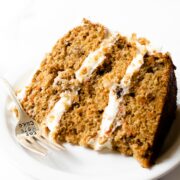 My Favorite Carrot Cake Recipe
---
Description
This carrot cake recipe is incredibly moist, bursting with spice flavor, and frosted with a smooth and creamy cream cheese frosting. It's a recipe that you'll be making over and over again.
---
Ingredients
Carrot Cake
2 and 3/4

cups

all-purpose flour

2 and 1/4

teaspoons

baking powder

1 and 1/4

teaspoons

baking soda

1/2

teaspoon

salt

2

teaspoons

ground cinnamon

1

teaspoon

ground ginger

1/2

teaspoon

ground cloves

1/2

teaspoon

allspice

1/4

teaspoon

nutmeg

1 and 3/4

cups

light or dark brown sugar

1/4

cup

granulated sugar

5

large

eggs

3/4

cup

unsweetened applesauce

1 and 1/2

teaspoons

vanilla extract

2 and 1/4

cups

grated carrots (about 4-5 large)

1 and 1/2

cups

chopped walnuts or pecans (1 cup for cake, 1/2 cup for topping)
Cream Cheese Frosting
8

ounces

full-fat block cream cheese, softened to room temperature

1/4

cup

unsalted butter, softened to room temperature

3

cups

powdered sugar

1

Tablespoon

heavy whipping cream

1

teaspoon

vanilla extract

1/8

teaspoon

salt
---
Instructions
Make the cake: Preheat the oven to 350°F. Grease three 9-inch cake pans, line with parchment paper, then great the parchment paper as well.

Whisk together the brown sugar, granulated sugar, applesauce, eggs, and vanilla in a large bowl until combined and no lumps remain. In another large bowl, whisk together the flour, baking powder, baking soda, salt, cinnamon, ginger, cloves, allspice, and nutmeg. Pour the wet ingredients into the dry ingredients and using a rubber spatula, fold the ingredients together until just combined. Fold in the carrots and the walnuts.

Pour the batter evenly into the cake pans— I normally use a dry measuring cup to scoop. Bake for 20-22 minutes. Test the center with a toothpick. if it comes out clean, the cakes are done. If not, bake until cooked through in 2-3 minute increments. Allow the cakes to cool completely in the pans on a wire rack. The cakes must be completely cooled before frosting.

Make the frosting: In a large bowl using a handheld or stand mixer fitted with a paddle attachment, beat the cream cheese and butter together on high until smooth and creamy. Add the heavy cream, vanilla, and salt. Then, turning the mixer to low, slowly add the powdered sugar. Then switch back to high speed and beat for 2 minutes. Scrape down the sides and bottom, then beat together for another 30 seconds.

Assemble and frost: Using a large serrated knife or cake leveler, layer off the tops of the cakes to create a flat surface. Place 1 cake layer on your cake stand and evenly cover the top with frosting. Top with 2nd layer, more frosting, and then top with the 3rd layer. Spread remaining frosting all over the top and sides. Decorate the top of the cake with the remaining walnuts. Refrigerate cake for at least 20-30 minutes before slicing. This helps the cake hold its shape when cutting. Cover the leftover frosted cake tightly and store in the refrigerator for up to 5 days.
---
Notes
Make Ahead & Freezing Instructions: The cake layers can be baked, cooled, and covered tightly at room temperature overnight. The cake layers can be frozen for up to 2-3 months. Thaw overnight in the refrigerator and bring to room temperature before decorating and serving.
Nuts: Feel free to substitute with pecans or omit completely.
Carrots: Make sure you grate the carrots yourself, do not use pre-shredded carrots.
Cream Cheese: Use blocks of cream cheese, not spread.
Tagged in:
cake, carrot cake, easter