Making homemade bakery-style bread has never been easier. This extra crusty no knead bread is baked in a dutch oven and requires almost no hands-on work!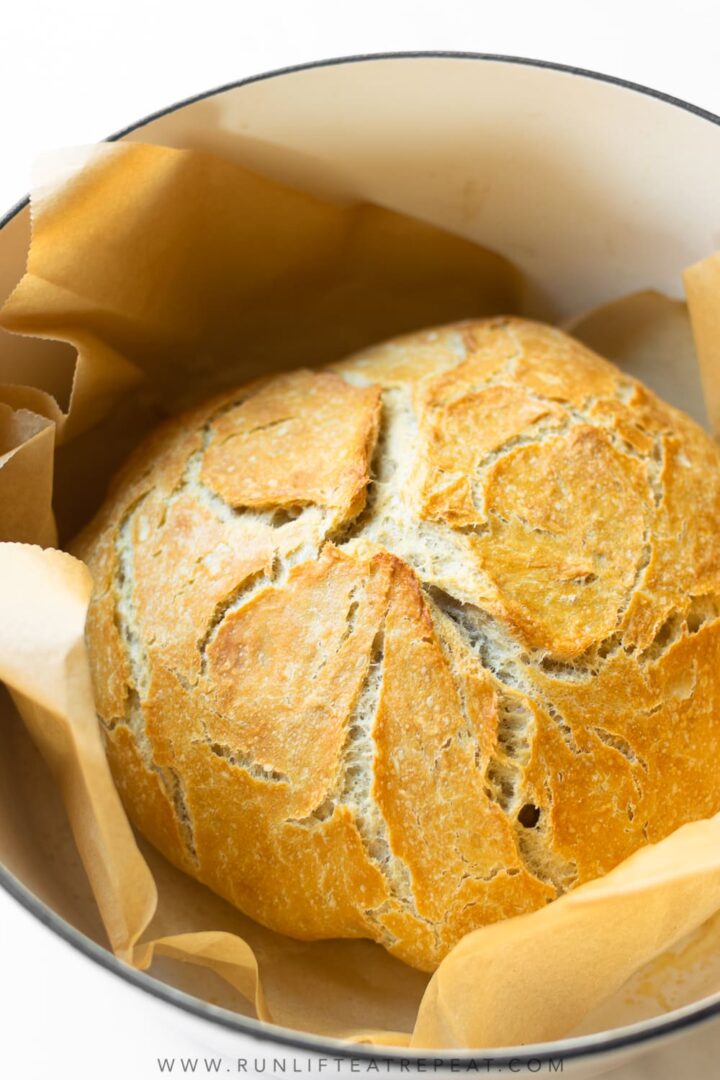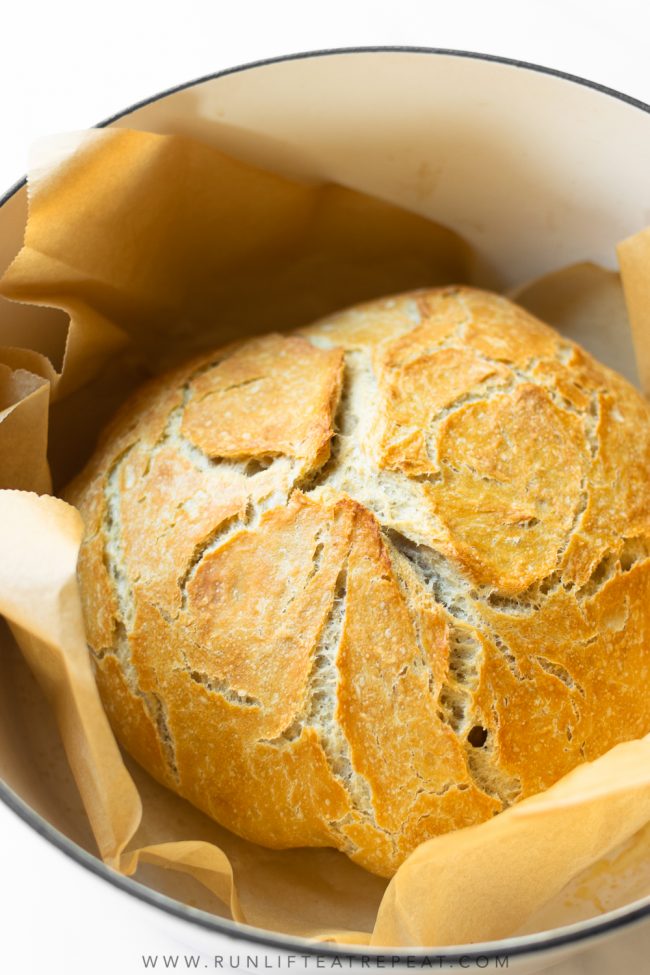 Have you ever wanted to master homemade bread? You know, the real crusty, chewy bakery-style bread that pairs with soups and sauces? This is the recipe to start with without feeling overwhelmed.
I've made this no knead bread 3x in the last 2 weeks and I'm normally not even a bread making person. But it MADE ME A BREAD MAKING PERSON.
Why You'll Love This No Knead Bread
Made from only 5 ingredients
No special pans needed
Much easier than you think
Minimal hands-on work
Extra crusty
Easily add in herbs, cheeses, and spices for variety
Only 5 Ingredients
Most prefer a crustier bread which means there's less fat in the dough– also known as a "lean dough." Because of that, we end up with only 5 ingredients.
Flour: You can use all-purpose or bread flour in this recipe, however, I highly recommend using bread flour if you have it in the pantry. If you don't, not a big deal, just use all-purpose (I swap between the two often!)
Instant Yeast: This recipe requires yeast. You can use either instant or active dry yeast— use what you have on hand. This bread rises for 12-16 hours (overnight) so there's plenty of time for the yeast kick in.
Salt: You simply can't make a good bread without salt.
Olive Oil: I find that adding in a small amount of olive oil adds a bit more flavor.
Water: Make sure the water is on the warmer side, about 95°F. The warm water helps the yeast work quicker.
Bread Beginners– Start Here
This is THE bread recipe for bread beginners, but even master bread makers will appreciate it. It's simple enough for make for any holiday or just to have on hand. It basically makes itself! 😉
How To Make No Knead Dough
Let me walk you through the few simple steps.
Stir Together Ingredients: Combine the flour, yeast, salt, olive oil, and water together in a large bowl. No mixer required!
Shape: Shape the dough into a ball and let it sit for 12-16+ hours. I typically sit it in the corner of my counter.
Bake: Score an X on top of the dough and bake.
What to Expect with This No Knead Dough Recipe
Bubbles: Since the dough will rise for 12-16+ hours it will be very bubbly when it's done.
Strands: As you pull the risen dough off the sides of the bowl, you'll notice a ton of strands forming. These strands are a good thing and means that it will produce a chewy bread.
Stickiness: This bread dough will be super sticky. DO NOT be tempted to add more flour.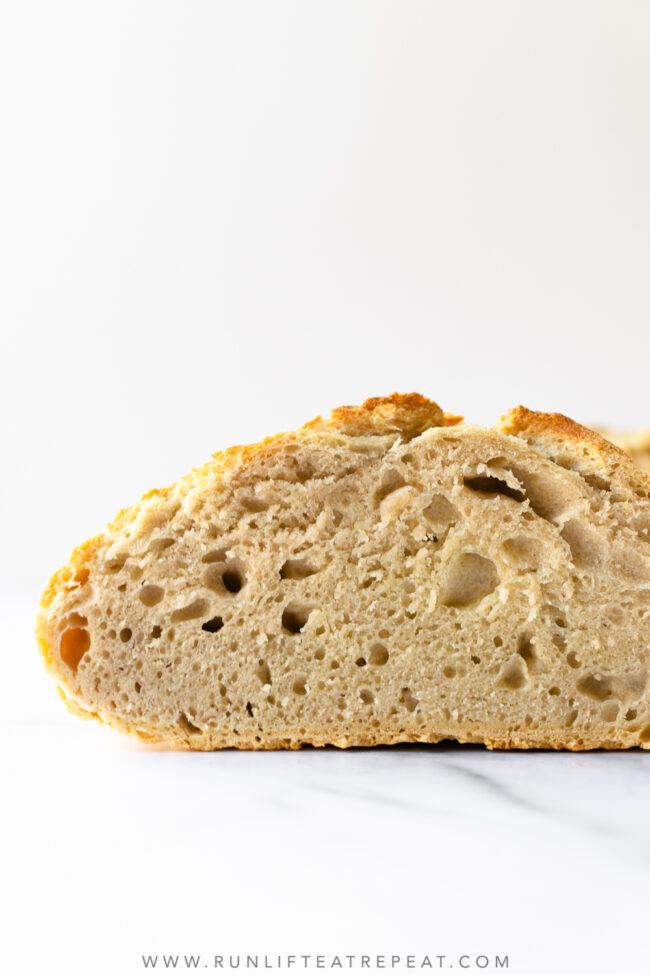 I have no doubt that this bread recipe will be on repeat in your kitchen. It's one of those recipes that you will memorize after making it just once.
Recipes To Try
This no knead bread pairs wonderfully with these recipes.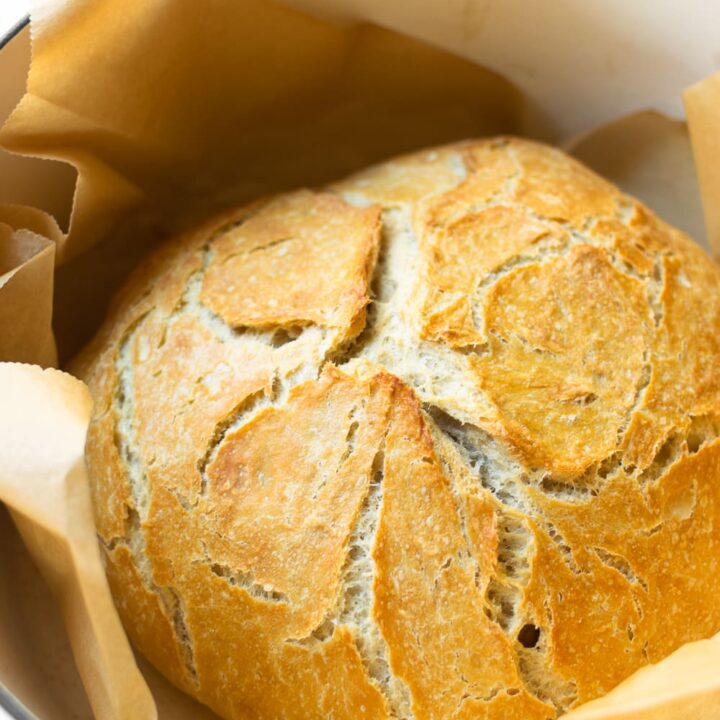 Classic No Knead Bread
---
Description
Making homemade bakery-style bread has never been easier. This extra crusty no knead bread is baked in a dutch oven and requires almost no hands-on work!
---
Ingredients
4 and 1/2

cups

all-purpose flour

2

teaspoons

instant yeast

1

teaspoon

salt

2

teaspoons

olive oil

2

cups

warm water
---
Instructions
In a large bowl, stir together the flour, yeast, salt, olive oil, and warm water. The dough will be sticky– don't be tempted to add more flour, you want this dough sticky. Gently shape the dough into a ball as best as you can. Cover tightly with plastic wrap or aluminum flour. Set on the counter at room temperature and allow to rise for 12-16 hours. The dough will double in size, stick to the sides, and have lots of air bubbles.

Turn the dough onto a very lightly floured surface and shape into a ball as best as you can– it doesn't have to be perfect. Transfer the dough onto a large piece of parchment paper (one that is safe for high oven heat.) Place the ball of dough with the parchment paper inside a bowl so the dough doesn't spread as it rests. Using a sharpe knife, score an X into the top. Let it set for 30 minutes.

While the dough rests, preheat the oven to  475°F. Place the dutch oven with the lid into the oven while it preheats so it's VERY hot when the dough is placed inside.

Remove the dutch oven from the oven and carefully place the dough with the parchment paper inside the pot. Cover with the lid. Bake for 25 minutes with the lid on. Remove the lid and bake for an additional 10-14 minutes until the bread is golden brown.

Remove the pot from the oven and allow it to cool on the counter for about 30 minutes before serving. Cover and store leftover bread at room temperature for up to 2-3 days. Make sure the bread is completely cooled prior to storing.
---
Notes
Make Ahead Instructions: This dough takes 12-16 hours to rise so this is a make ahead recipe. You can also bake the bread, allow it to cool completely and freeze for up to 3 months. Thaw overnight in the refrigerator and allow to come to room temperature before serving.
Dutch Oven: You need a 6-quart or larger dutch oven or any large oven-safe pot with a lid. If your pot is smaller than 6-quarts, you can make the recipe and then shape into 2 balls. Then, bake them one at a time. While the 2nd dough waits, lightly cover and allow it to sit at room temperature.
Tagged in:
bread, no knead bread