From turkey burgers to black bean burgers to banana pudding pie to classic chocolate chip cookies, find inspiration with this collection of Memorial Day recipes.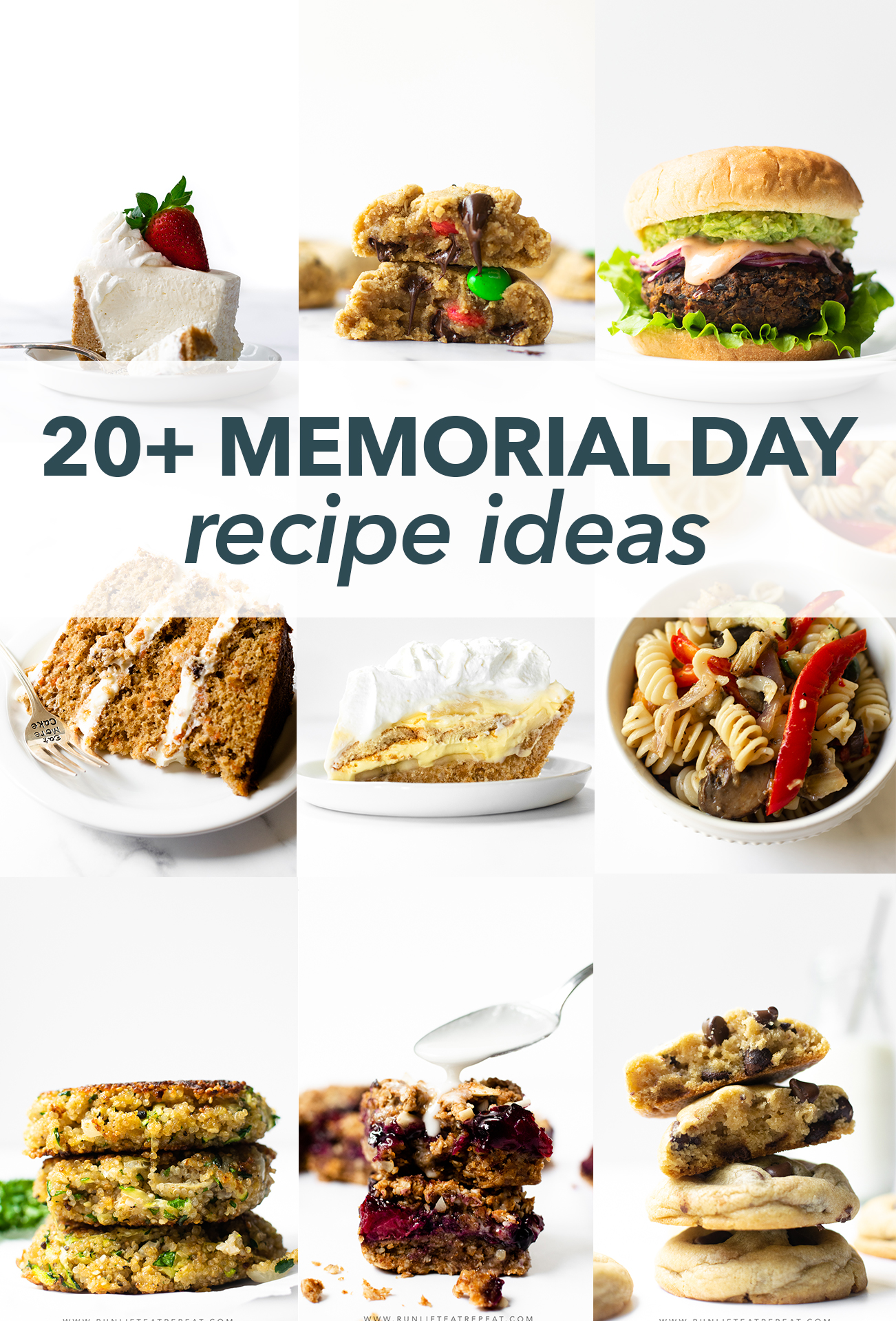 If you're looking for ideas to complete your Memorial Day BBQ menu, I have you covered with dozens of recipes. No matter what your plans are, a small get together or a large gathering, we know that planning your menu is a lot so I want to make it easier for you to find dependable recipes that taste delicious. The following list includes recipes from not only right here but other food bloggers that I trust. Cheers to a delicious Memorial Day menu!
Favorite Memorial Day Recipes
Main Course
1. Turkey Burgers
This turkey burger recipe proves that it is possible to make a delicious burger out of ground turkey that is not only incredibly flavorful, but remains extra juicy and moist.
2. Black Bean Burgers
These black bean burgers have 5 star reviews from taste testers, I'm certain that you'll love this black bean burger recipe just as much as I do!
3. Roasted Vegetable Pasta Salad
This roasted vegetable pasta salad is absolutely delicious and features seasonal vegetables. It's not only easy to make, but it's bursting with flavor from the homemade dressing and feeds a crowd.
4. Bacon Burgers
These juicy bacon burgers are loaded with bacon and the perfect seasoning blends. They're so good they put popular hamburger joints to shame.
5. Raspberry Chipotle BBQ Pork Ribs
These pork ribs are seasoned with a dry rub, topped with a raspberry chipotle sauce and fork tender.
6. Lighter Homemade Macaroni Salad
Made with lighter ingredients, this macaroni salad is perfect for picnics, tailgating, pot lucks and more!
7. Classic Italian Pasta Salad
This pasta salad is simple, easy to customize and is always a hit at potlucks, barbecues, or parties. It also make a great make-ahead lunch for weekdays.
8. Black Bean & Corn Salsa
This black bean and corn salsa comes together fast, is so simple to make and is delicious for any BBQ.
9. Grilled Skirt Steak
This skirt steak is a super versatile recipe can be used in so many different ways like wrapped up in tacos or topped with a flavor-packed chimichurri sauce. Fire up the grill and get ready for perfectly cooked steak in less than 30 minutes!
10. Crispy Quinoa Patties
These simple crispy quinoa patties are so versatile and a great meatless option that even meat eaters will love!
Dessert
1. Banana Pudding Pie
This banana pudding pie recipe sets the standard for banana pudding pies everywhere. It's not only a no-bake recipe but it's easy to make. It combines a cookie crust, smooth and sweet vanilla pudding, thick slices of bananas, layers of Nilla Wafers, and a mountain of homemade whipped cream.
2. Carrot Cake
This carrot cake recipe is incredibly moist, bursting with spice flavor, and frosted with a smooth and creamy cream cheese frosting.
3. No-Bake Cheesecake
This is truly the most perfect and easy no-bake cheesecake. The recipe produces an ultra smooth and creamy dessert that sets overnight in the refrigerator.
4. No-Bake Vegan Cheesecake Jars
These show-stopping no-bake vegan cheesecake jars need to come with a warning label. This recipe is light and refreshing, layered with fruit and loved by everyone who's tried it.
5. Soft & Thick Monster Cookies
These monster cookies are filled with peanut butter, oats, chocolate chips, and M&Ms. This recipe produces a soft and thick cookie and there's no dough chilling!
6. Soft-Baked Chocolate Chip Cookies
These big fat soft-baked chocolate chip cookies are thick and slightly crispy around the edges. You can't have a BBQ without these!
7. Mixed Berry Streusel Bars
These mixed berry streusel bars are made with wholesome ingredients like oats, nut butter, and pure maple syrup. The crust and crumble topping are made from the same mixture so there's less bowls to clean! And the lemon glaze takes them up a notch!
8. Texas Sheet Cake
This chocolate sheet cake is fluffy and moist and the frosting is super chocolatey with a smooth and luscious texture. It's easy to make and you'll experience the amazing melt-in-your-mouth sensation that can only be achieved with this recipe.
9. Oreo Brownies
These brownies are made from scratch so they truly are fudgy, chewy and chocolatey!
10. Funfetti Sheet Cake
This fluffy and moist homemade funfetti cake is easy to make in a 9×13 inch pan, perfect for a BBQ! The cake is full of sprinkles and topped with funfetti vanilla frosting.
11. Double Chocolate Chip Cookies
These double chocolate chip cookies are fudgy, chewy, and easy to make with 10 ingredients. Plus, you don't need to chill the dough so they are ready in 20 minutes.