Fluffy 'n light pancakes loaded with the add-ins of your choice! They don't even taste gluten-free or dairy-free!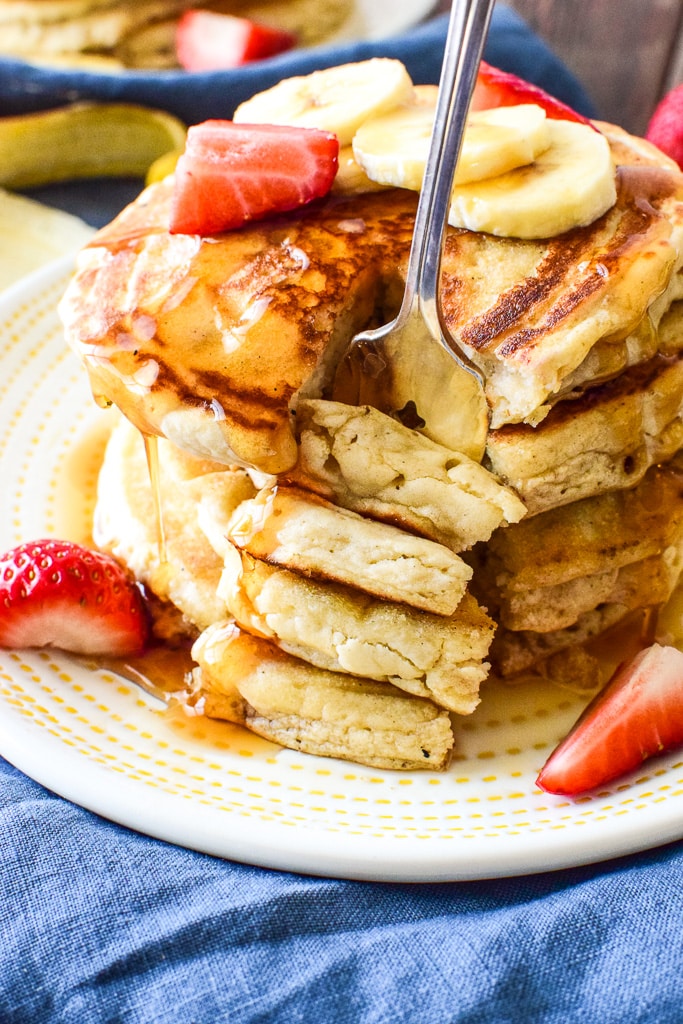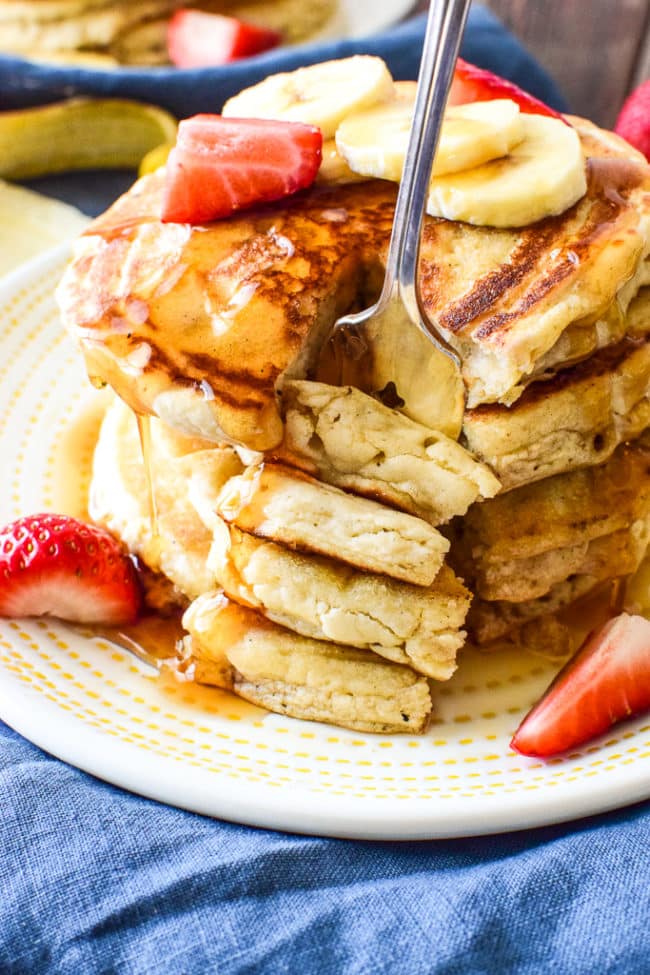 Oh hey good lookin'. ?
Welcome to a new week. A fresh start. And a giant stack of pancakes. There's no better way to start off the week, right?
Over the weekend I had a hankering for pancakes– it's all I kept thinking about. On Saturday I realized I had some waffles so I made them instead. But waffles will never be pancakes. Team pancake, always!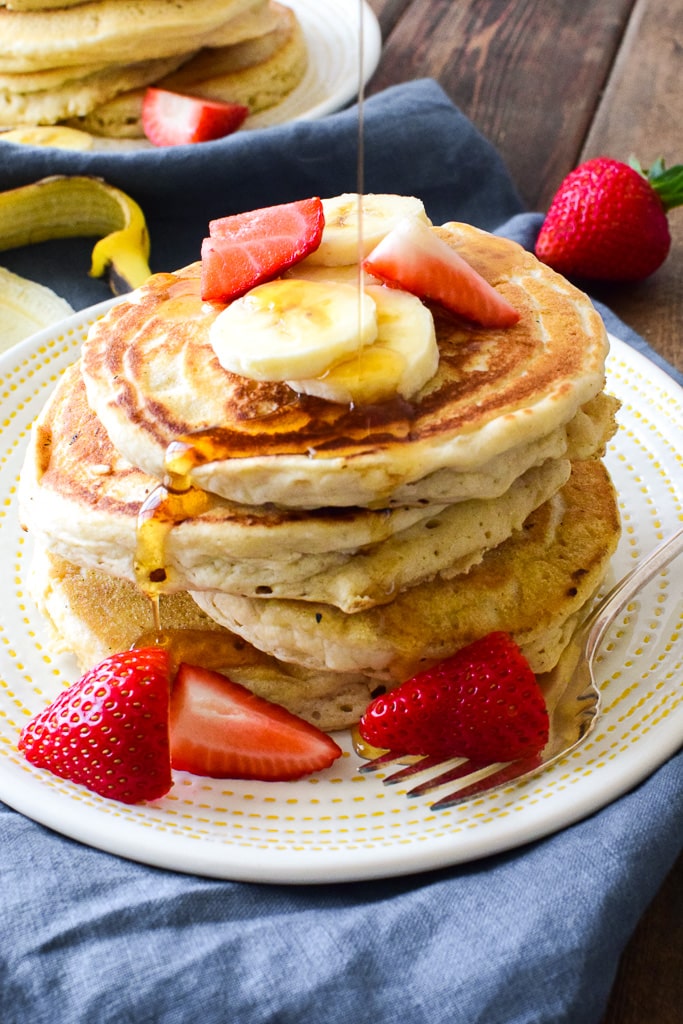 Since we had no plans yesterday (Easter!) for the first time since I can remember into the kitchen I went. Determined, starving since it was 11AM, and ready for some good 'ole comforting pancakes.
I actually have made these a few times over the past month to get the recipe just right. Each time they got better but I still wasn't happy. I really hate being a perfectionist. And they needed to be husband approved. But let's just say that breakfast for dinner was a regular occurrence (not that I'm complaining!) Breakfast for dinner is a favorite in this household. Sometimes the schedule gets a bit hectic so having healthier options in the freezer gives us a quick dinner without having to grab take-out that I'd regret immediately after.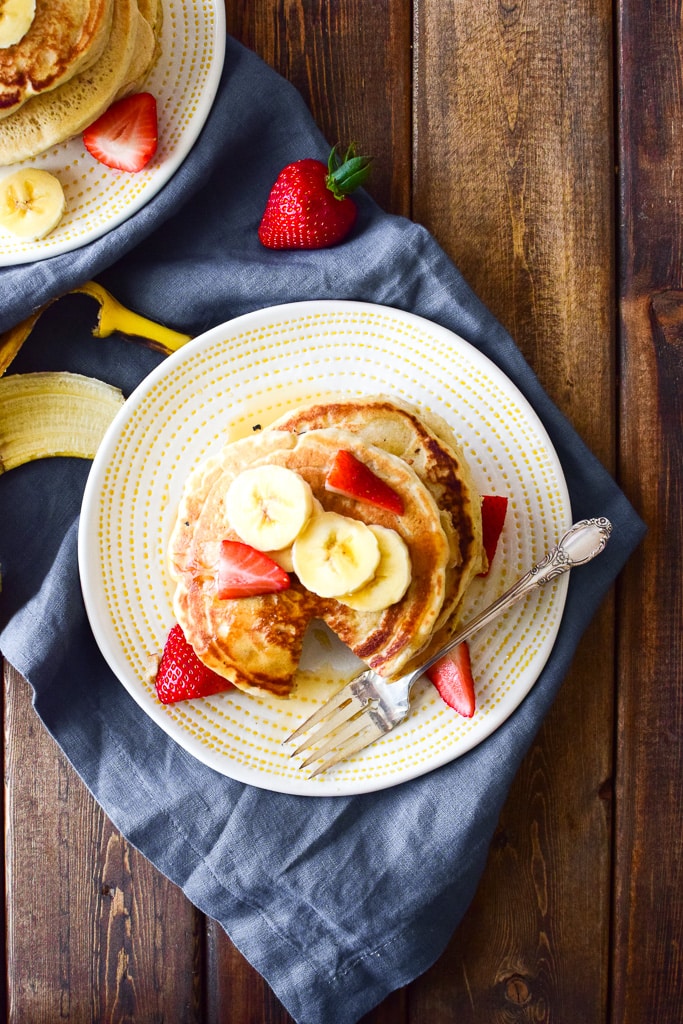 Besides being an awesome breakfast for dinner option, these pancakes scream a healthy spring breakfast. Load it up with fresh fruit and a drizzle of maple syrup, or a drizzle of peanut butter. <- I totally need to do that this week.
By the way, spending 40 minutes shooting these pancakes before actually sitting down to eat them was quite painful.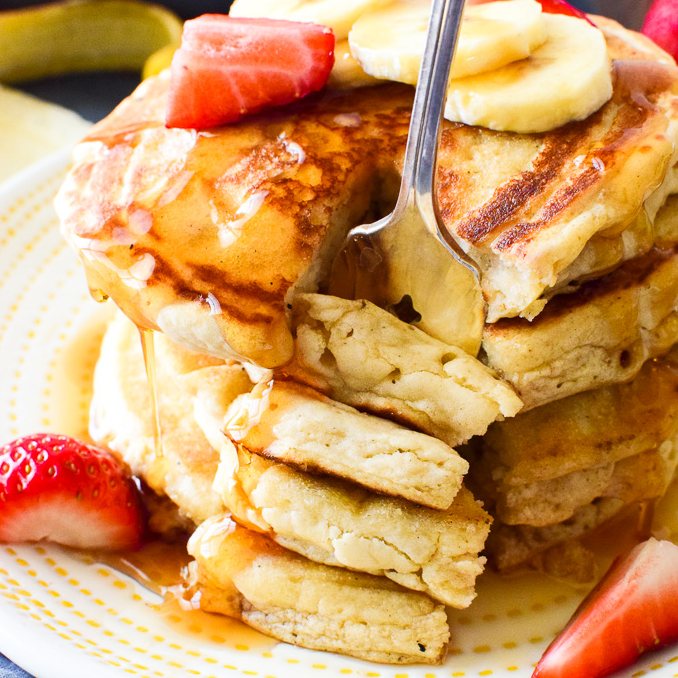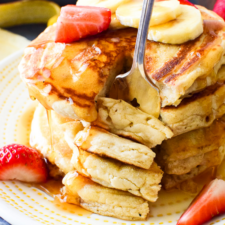 Gluten-Free & Dairy-Free Fluffy Pancakes
---
Description
Fluffly 'n light pancakes loaded with the add-ins of your choice! They don't even taste gluten-free or dairy-free! Recipe may be easily doubled.
---
Ingredients
1 and 1/2

cups

Bob's Red Mill Gluten Free 1-to-1 Baking Flour

2 and 1/2

teaspoons

baking powder

1/8

teaspoon

salt

1

large

egg

1 and 1/2

teaspoons

vanilla extract

1/4

cup

granulated sugar

1 and 1/4

cups

unsweetend almond milk
---
Instructions
Toss the flour1, salt, and baking powder together in a large bowl. Set aside. In a separate medium bowl, whisk the egg, milk, sugar2 and vanilla together.

Make a well in the dry ingredients and pour in the wet ingredients. Stir gently until just combined. Do not overmix the batter or the pancakes will become dense. If adding any mix-in, gently fold in to avoid overmixing.

Heat a griddle3 or skillet over medium heat — if using cast iron, medium low heat. Coat generously with ghee or oil. Once very got, drop 1/4 cup of batter on the the griddle. Cook until the edges start to look dry and bubbles begin to form on the center and sides, about 1-2 minutes. Flip and cook on the other side until cooked through, about 2 more minutes. Coat griddle/skillet again for each batch of pancakes.

To keep pancakes warm while cooking other batches, place in a 200°F oven until all pancakes are cooked. Serve immediately.

Pancakes can be refrigerated for up to 2 days and frozen for up to 2 months. Thaw overnight, or place frozen pancake in toaster until heated through.

---
Notes
1Bob's Red Mill Gluten Free 1-to-1 Baking Flour is a favorite of mine, but any gluten-free 1-to-1 flour will work just fine. I typically order it from Amazon since it's normally the cheapest.
2Any sugar works— I've tried coconut sugar, brown sugar, and maple syrup.
3This is the griddle I own and love— it's the best!
PIN IT for later!