A soft, tender, easy-to-make crumb cake, topped with cinnamon apples and heavy on the crumbs!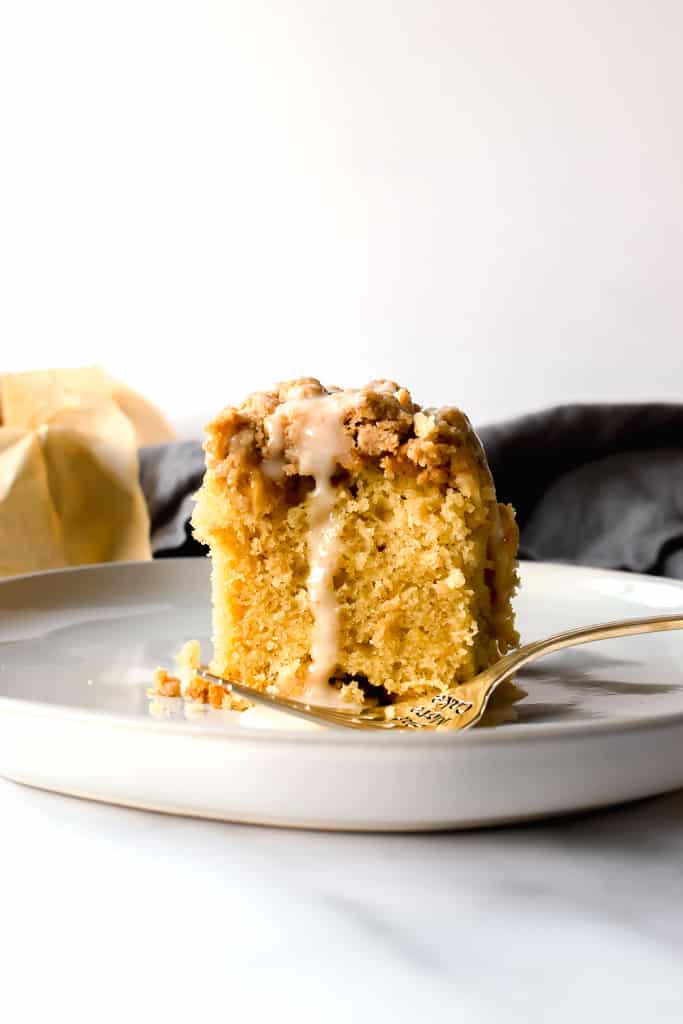 Happy Labor Day weekend! It's the unofficial end of summer. It's still a a scorcher here – the sauna-like temperatures have me craving the Fall weather.
I am so excited to dig into this. ↓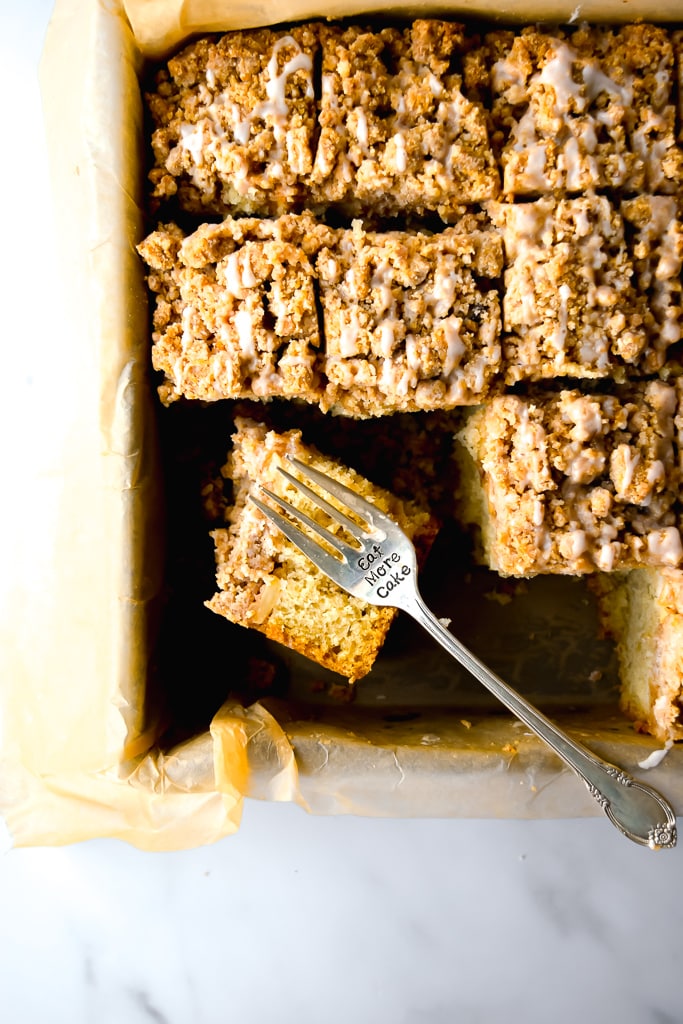 Because today we're saying MOVE OVER SUMMER and indulging in apple crumb cake. I made and shot this 3 weeks ago and have made it 2 more times since. It's THAT good.
This show-stopping crumb cake pairs perfectly with your morning coffee. But let's not limit this to just the morning. No matter the time of day, I could happily gobble this entire crumb cake up.
This apple crumb cake is simple to make: simple ingredients, no mixer. A few steps and it's ready for the oven. First, make the cake batter – nothing fancy about it, just the usual ingredients. Next, the apples. Tons and tons and tons of 'em. Use your favorite variety. I prefer to use Gala, more-so because it's what I always have on hand.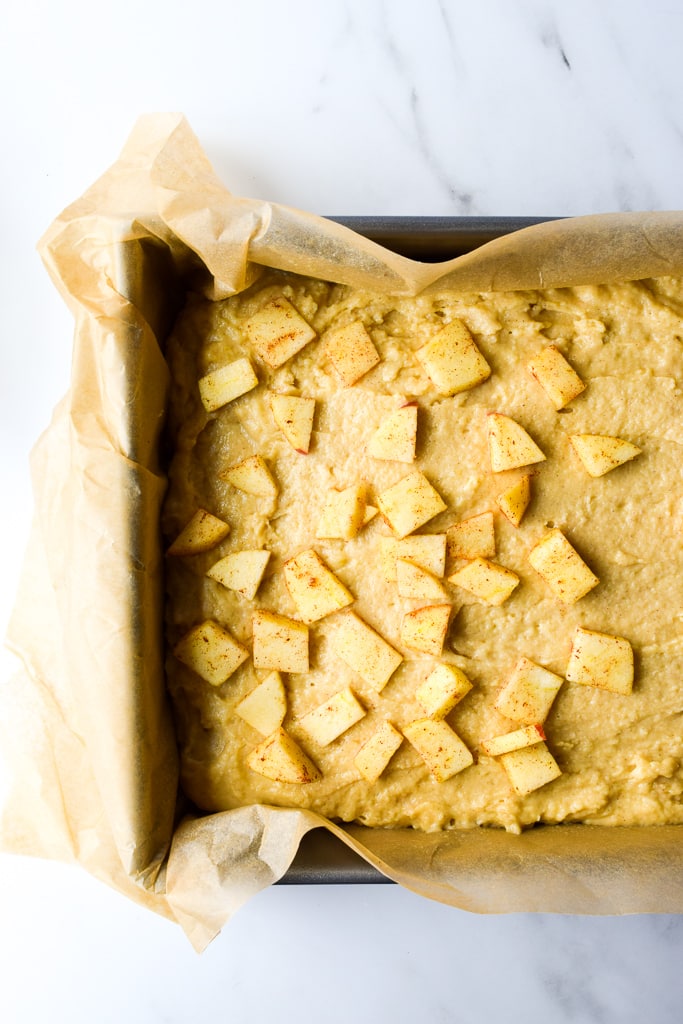 Onto the best part: the crumb topping. The more, the better. It's THEEE best part. The key is to really press the crumbs down into the cake batter to get that crumb topping to stick.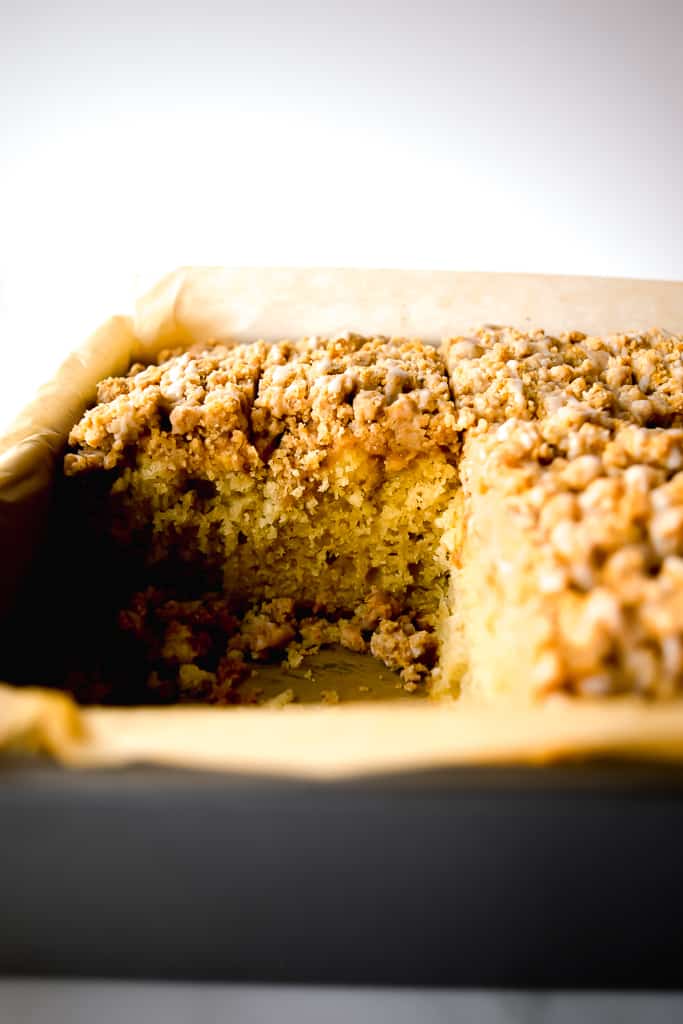 Helpful tip: leave some large chunks of that crumb topping and then steal those pieces for yourself.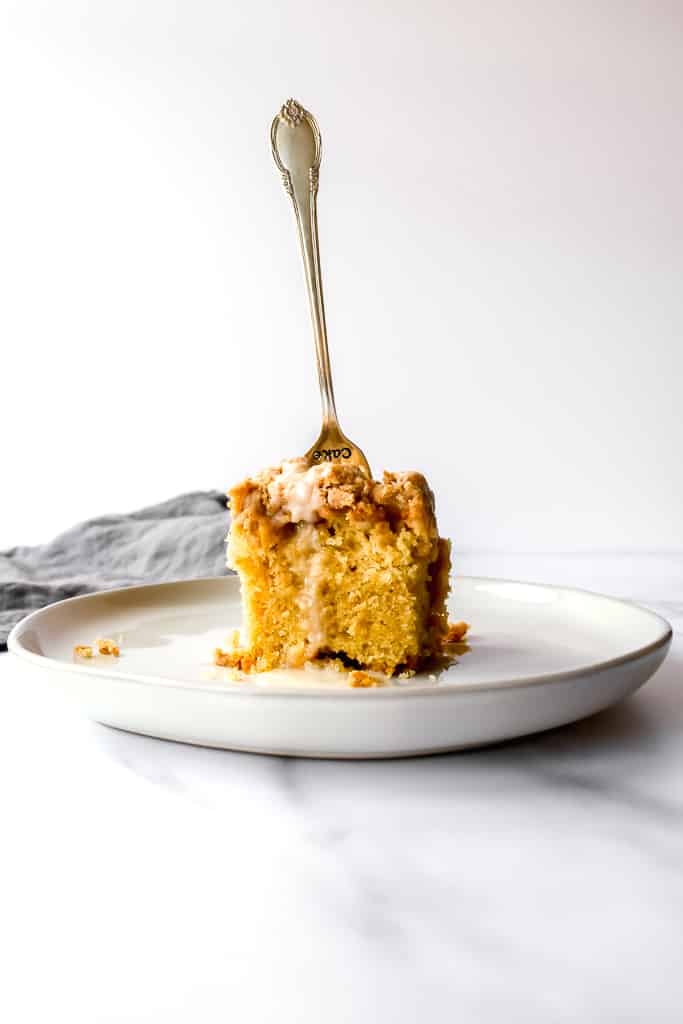 Now go ahead, indulge. I promise that you'll be craving Fall just as much a I am right now.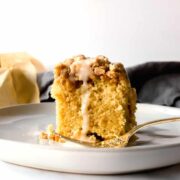 Apple Crumb Cake
---
Description
A soft, tender, easy-to-make crumb cake, topped with cinnamon apples and heavy on the crumbs!
---
Ingredients
CAKE
4

cups

all-purpose flour

4

teaspoons

baking powder

2

teaspoon

baking soda

3

teaspoon

ground cinnamon, divided in half

1/8

teaspoon

salt

5

large eggs

1 and 1/2

cup

dairy-free yogurt*

1/2

cup

light brown sugar, packed

1

cup

granulated sugar

1 and 1/2

cup

refined coconut oil, melted*

2 teaspoons

teaspoons

vanilla extract

3

large apples (gala, granny smiith etc.)

1

teaspoon

lemon juice
CRUMB TOPPING
2 and 1/4

cup

all-purpose flour

1 and 1/4

cup

packed light brown sugar

3/4

cup

refined coconut oil, melted*

1/4

teaspoon

ground cinnmon
VANILLA ICING
1

cup

powdered sugar

1 and 1/2

teaspoons

vanilla extract

2-3

Tablespoons

unsweetened almond milk
---
Instructions
Preheat the oven to 350°F. Line a 9x13 baking pan with parchment paper or foil and spray with non-stick baking spray.

Make the cake: Whisk together the flour, baking powder, baking soda, 1/2 teaspoon cinnamon, and salt. Set aside.

In a large mixing bowl, whisk together the sugar, eggs, yogurt, and vanilla until creamy. While whisking, slowly add in the coconut oil until combined. Add the dry ingredients to the wet ingredients and whisk together — the batter will be thick. Do not overmix. Spread batter into the prepared pan. Set aside.

For the apples: In a small bowl, add the chopped apples. Stir in the lemon juice and the remaining 1/2 teaspoon of ground cinnamon until combined.

Make the crumb topping:

Using a fork, mix the flour, brown sugar, and cinnamon together in a small bowl. Stir in the coconut oil until crumbs form.

Sprinkle the apples evenly over the top of the batter. Then, sprinkle on the crumb topping. Slightly press the crumb topping into the cake.

Bake for 50-55 minutes. Baking times can vary, so keep an eye on it. The cake is done when a toothpick inserted in the center comes out clean, or with a few moist crumbs. Remove the cake from the oven and allow to cool on a wire rack. After the cake cools for a 10 minutes.

Make the icing: While the cake cools, whisk together the powdered sugar, vanilla, and almond milk in a small bowl. If too thick, add Tablespoon more of almond milk. Drizzle as much, or as little, over the cake.

The cake is best served within a few days. However, it can be stored in the refrigerator for up to 5 days when covered tightly.
---
Notes
1When using coconut oil, I preferred refined coconut oil as there is no coconut flavor or smell.
PIN IT for later!