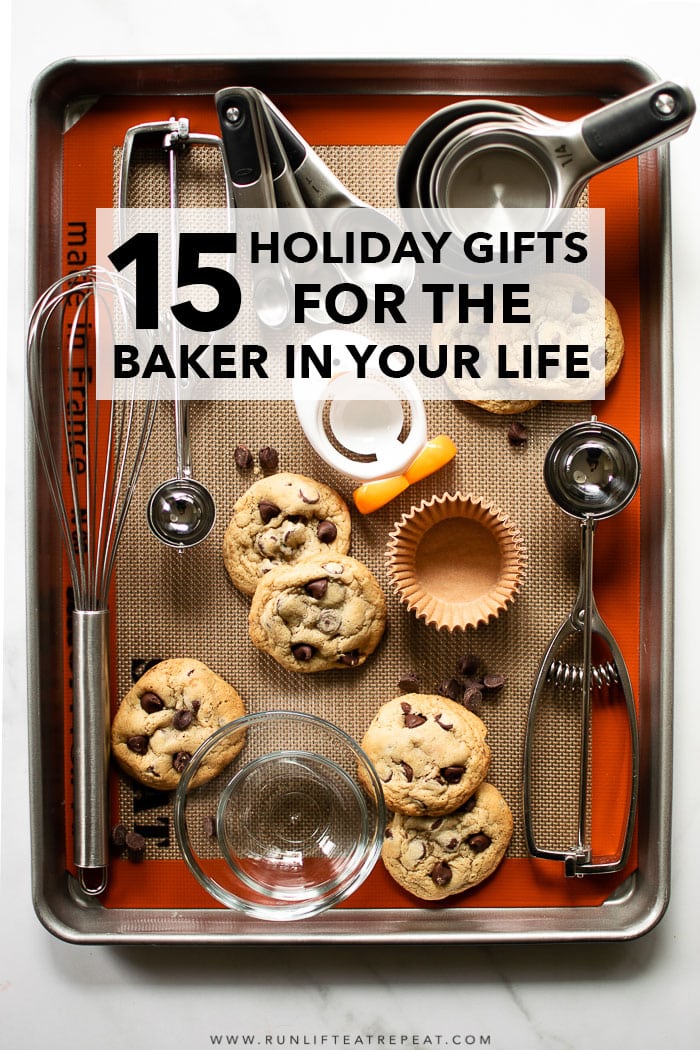 As we shift into holiday mode, our shopping is just getting started. You loved the gift guide from last year so here's the Bakers Gift Guide 2.0!
I've been in the kitchen for as long as I can remember. I've gone through my fair share of kitchen tools and brands to know what works best and what is really needed— so today I'll show you my most-loved kitchen tools. If you're a new baker or cook looking to stock your kitchen, a bride looking to get ideas for your registry (btw, congrats!), an experienced baker or cook looking to try new items, or for you! My hope is that you find these kitchen tools just as helpful and end up loving them just as much as I do.
1) Stand Mixer. My love for stand mixers runs deep. When I'm working with a large amount of dough/batter, making something that required several mixing of mixing like pizza dough, or wanting to quickly shred any type of meat a stand mixer is key– I have ONE of this one and TWO of these (one is from 1988 and still works like a charm!) To celebrate KitchenAid® turning 100 years old next year, there's a special-edition retro stand mixer that I'm dying to get my hands on.
2) Large Dutch Oven. I know most of you thought I'd list a Le Crueset here, but I'm not. To best honest, there are plenty of other brands that are just as good quality (if not better) for a reasonable price. Over the years I've built a collection in a variety of sizes and use them all. If you can afford a few sizes, definitely do it. But for a beginner or someone wanting get their first dutch oven, a 7 quart is perfect. I recommend this one or this one. <-- for Staub: normally there are large sales especially around the holidays– typically 20-30% off at retailers.
3) Durable Stackable Clear Mixing Bowls. I really like the whole Duralex line. While these aren't anything fancy, I really like the mixing bowls– I have two sets (including this set with lids). They get used daily and go through the dishwasher practically everyday. The company takes pride in the extreme durability of their products and I'm on board. Mine are still in PERFECT shape after almost 3.5 years!
4) Cookie Scoops. Sur La Table stainless steel scoops are the best out there. Purchase all 4 sizes if you can. I use the .5 ounce for mini cookies or truffles. I use the 1.25 ounce for cookies (like these here). I use the 2.6 ounce for larger cookies or smaller meatballs. And I use the 3.25 ounce for regular size meatballs. I've bought pretty much every scoop out there and each have either broke or rusted from the dishwasher. I've had these for 3 years, use them daily, end up in the dishwasher, and they are still in GREAT shape.
5) 7 Speed Hand Mixer. A hand mixer is one of my favorite baking tools– I don't know what I'd do without it. I recommend this 7 speed hand mixer. It's affordable and fantastic quality. I've had mine for 5 years and still works like a charm!
6) Blendtec Blender. This is my favorite blender– a bit pricey but worth every penny. I use it daily for a variety of things: soups, to make flour, truffles, energy bites, smoothies, or my favorite muffins.
7) Cast Iron Skillet. I firmly believe that everyone should own a cast iron skillet. What most people don't know is that a well-seasoned cast iron skillet is non-stick. Here's the one that I've had for 8 years and it only gets better with age. I use it for meatballs, sloppy joes, green bean casserole, skillet chicken pot pie, and more.
8) Quality Measuring Cups + Spoons. It's almost embarrassing how many sets of measuring cups and spoons I own. But I have one favorite. I absolutely love this set because of the quality (stainless steel– very durable!) and the soft easy-grip handles. These also have a magnetic handle so they stay together for storage but can be easily separated for easy use.
9) Durable Baking Sheets. First, a set of good quality baking sheets are a MUST. I have tested numerous brands but the USA Bakeware Half Sheet Pan is my easily my favorite. I have 8! I have no idea what I would do without them – incredibly durable and warp resistant. I use them daily for baking cookies, sheet cakes, roasting vegetables, sheet pan dinners, you name it. It's why I have a huge stack and some days, I even run out! I recommend having at least 2.
I also own 2 of these Calphalon Half Sheet Baking Pans which are great "starter" baking sheets as the price is a bit cheaper. You can also almost always find them at Home Goods for even cheaper!
*Remember, no matter the baking sheet always use parchment paper or a silicone baking mat when baking cookies.
10) Silicone Baking Mats. These changed my life 3 years ago. And it may sound crazy, but it's 100% true. While parchment paper is great, it's better to use something that is reusable and something that actually lays flat on the cookie sheet without moving. It doesn't matter what I'm using my baking sheet for, it always has a silicone baking mat. I own 6 of these in the half sheet size – about 11-12 x 16-17 inches (to fit that baking sheet). Cleaning is a breeze as they are super easy to hand wash and also dishwasher safe!
11) Flour/Sugar Storage Containers. These aren't winning any beauty contests, but they are functional. They're very large so they are perfect for those that bake a lot. They snap shut and are air tight, so ingredients stay fresh (especially that brown sugar!) These also come in a variety of sizes so you can choose what works best for you!
12) An Army of Spatulas + Whisks. Nothing beats a jar of spatulas and whisks, especially if they are well-made. For spatulas, I own more then I'd like to admit, but my favorite are these. It doesn't matter if I'm mixing, scraping the bowl, scooping frosting, cooking, etc. these are used daily. For whisks, it's a no-brainer! I highly recommend owning at least 2 of these. I love these because of the quality and the grip handle.
13) Parchment Muffin/Cupcake Liners. I'm asked often what liners I use for muffins and cupcakes. These are it. I started using these 2 years ago and have never been disappointed. Hands down, the best! I have a bin stocked to the rim in my pantry.
14) Egg Separator. I ordered this about 3 months ago with no real intention of actually using it – it was just too cute! Since then, I've used it a bunch. I'm not really big into gadgets but when you need to separate a TON of eggs, this is is convenient.
15) Durable Oven Mitts. When you're in and out of the oven often, it's important to have a few sets that are not only durable but also super cute. Obviously. I have these Polka Dot Oven Mitts, these Cupcake Oven Mitts, and these Kate Spade Oven Mitts.