Healthy eating doesn't have to be bland! Fresh, bright flavors are mixed together for the perfect light dinner or lunch!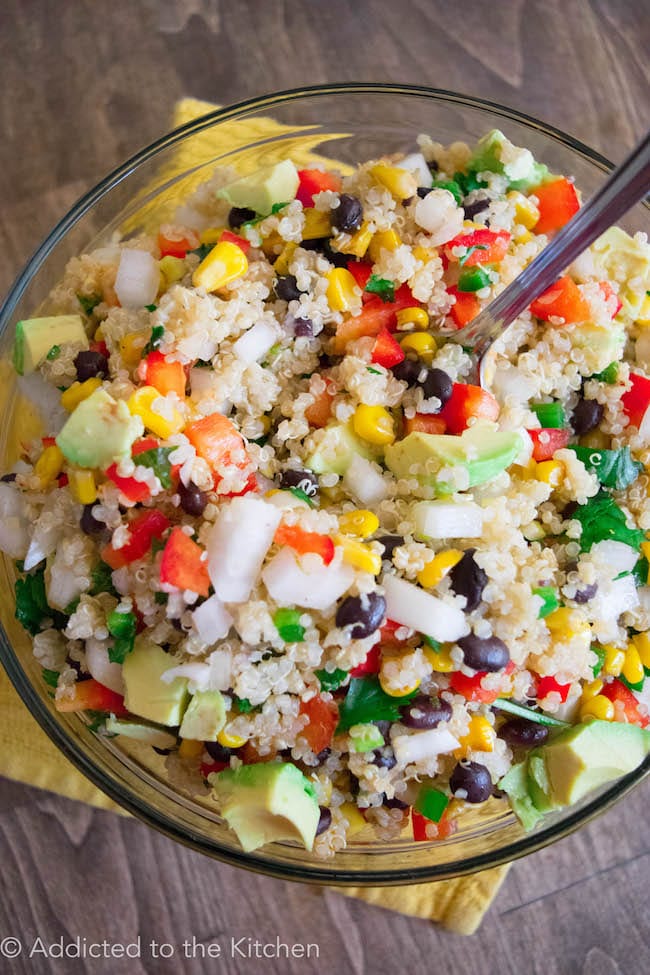 Happiest of Mondays to you! I bring you my new favorite meal. It's protein packed and filled with flavor.
I pulled this salad together over the weekend and enjoyed leftovers for lunch the next day (plus more for today!) It kept me full for hours after the gym; I cleaned the house, started a backlog of recipes and took the boys for a walk.
This hearty salad has so much going on; each bite you get a little something different! The base for this salad is the super-healthy quinoa. I'm a BIG fan of quinoa because it's incredibly simple to make and extremely versatile. Stay tuned for more recipes in the coming weeks!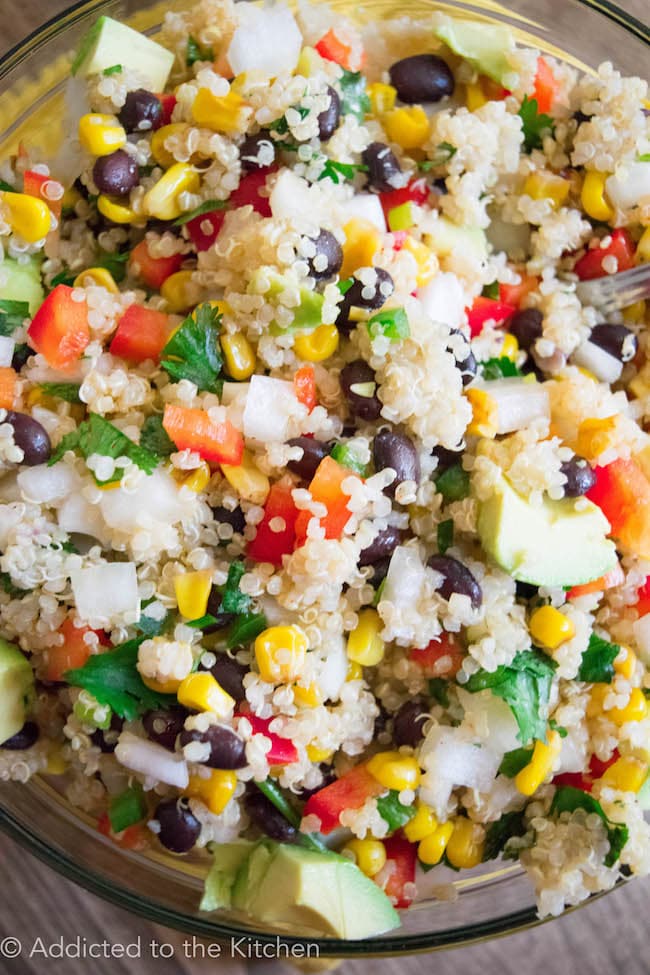 You'll need about 2 cups of cooked quinoa. If you've never cooked it before, don't get nervous, I have a step-by-step post that will so you just how simple it really is!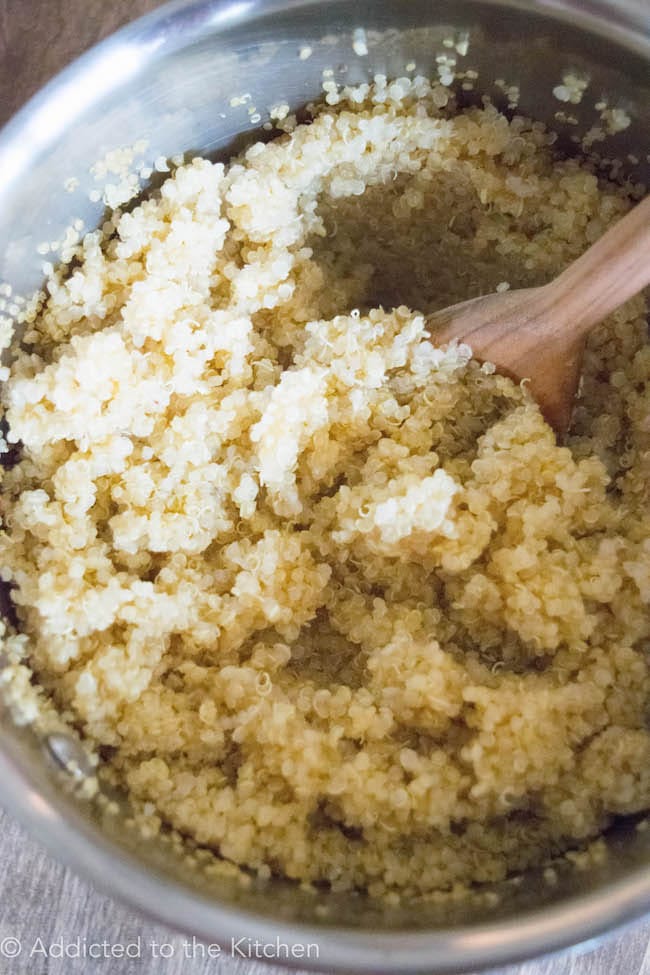 Toss together all the fixings (am I the only one that says that?), whisk together the dressing, gently mix. That's it! So many bright flavors! You can even toss in some grilled chicken for more protein!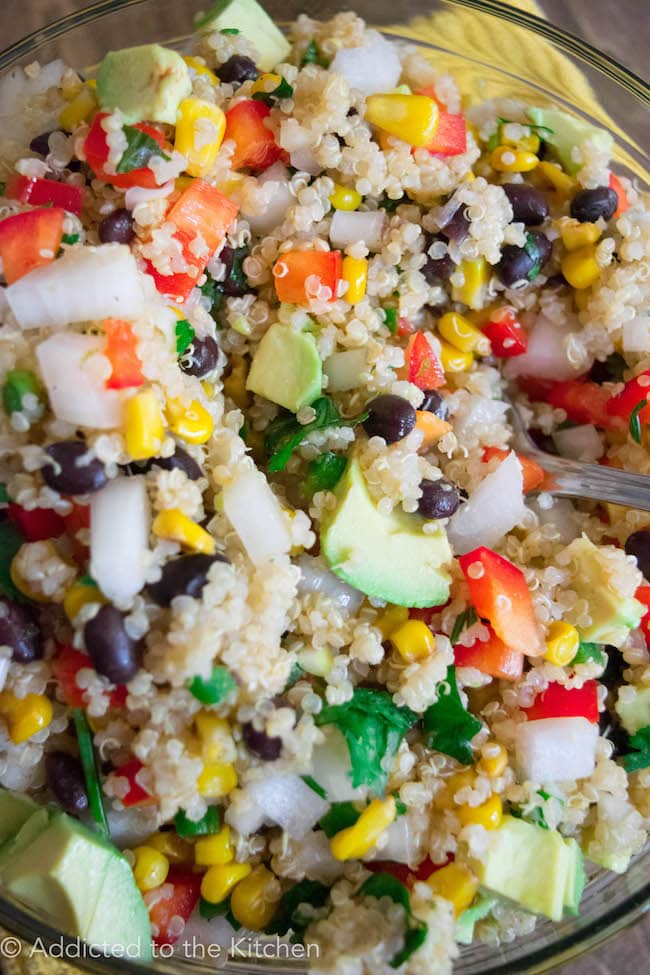 This recipes made enough for me to enjoy for a few days. You can either eat it alone, add it in a salad or serve it up with some roasted veggies. I love it right out of the refrigerator cold! The quinoa soaks up the dressing making the flavor more pronounced. (YESSS!) It's the perfect made-ahead meal.
Enjoy this loaded quinoa salad as a wonderful, gluten free option in your dinner rotation.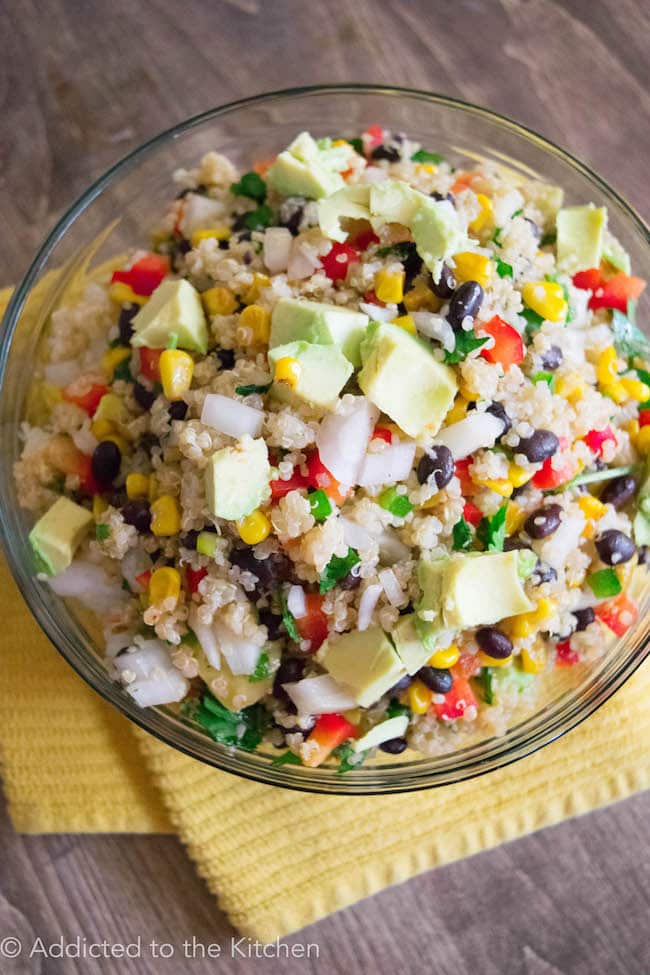 Now for some cake batter funfetti fudge for dessert!
Follow me on Instagram and tag #addictedtothekitchenblog so I can see the recipes you make. ♥
Healthy eating doesn't have to be bland! Fresh, bright flavors are mixed together for the perfect light dinner or lunch!
Ingredients
2 cups cooked quinoa
1 Tablespoon olive oil
1 frozen bag corn
1 15-oz low-sodium black beans, well-rinsed
1 small yellow onion, diced
1 red bell pepper, diced
1 jalapeño, de-veined and de-seeded, diced
1 avocado, chopped
1/4 cup fresh cilantro, chopped
DRESSING

1/4 cup fresh lime juice (4 limes)
zest of 1 lime
1/4 cup olive oil
1/2 teaspoon paprika
1/4 teaspoon cumin
1/2 teaspoon salt
1/4 teaspoon pepper
Instructions
Cook quinoa according to package directions or use my recipe. If using my recipe, you will have a cup or so left over. Transfer cooked quinoa to a large bowl and let cool.
Pour olive oil into a large skillet over high heat. Add the frozen corn and let sit for a few minutes until charred. Stir and allow the other side to get charred. Remove from heat.
To the bowl of quinoa, add the corn, black beans, pepper, onion, jalapeño, avocado and cilantro. Gently stir together.
For the dressing: whisk all the dressing ingredients together. Pour over the salad and gently toss to coat evenly. Serve immediately.
Leftovers keep in the refrigerator in an airtight container for 4-5 days.