My favorite homemade paleo chocolate cake recipe. It's the richest, the fudgiest and a crowd pleaser!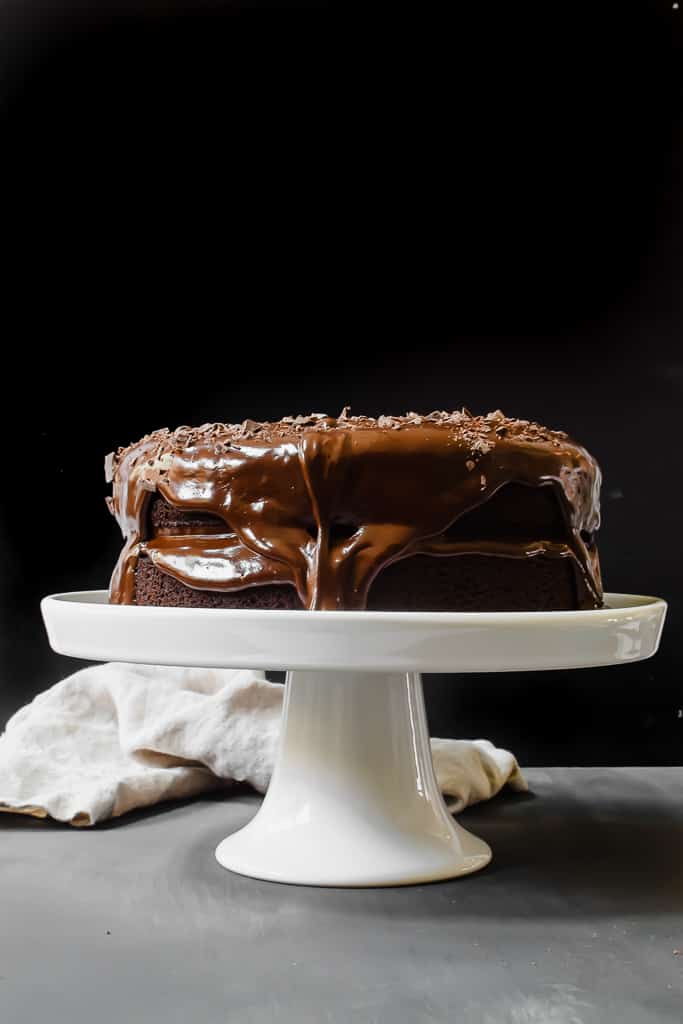 I never imagined loving a cake this much. But look at this beauty. ↑
This recipe is weeks in the making– to say I'm excited is an understatement. Like we're talking birthday excited, omg I get to lick the cake batter from the bowl excited, cookie dough excited, never ending chips, guac and salsa excited, tacos for dinner excited, uhhh you get the point.
Today is about to get awesome.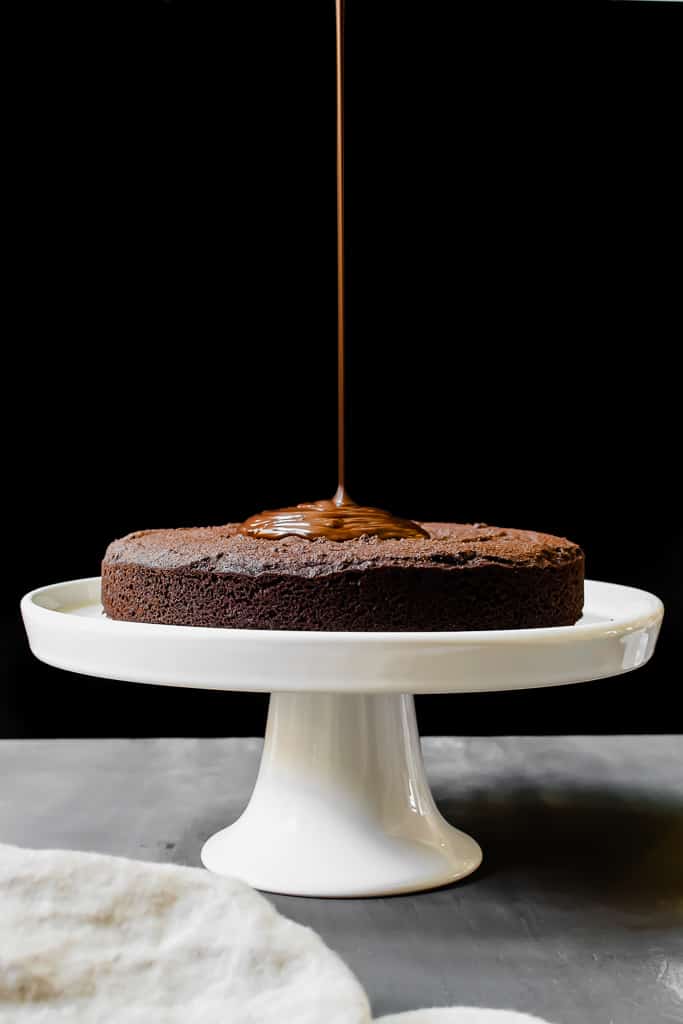 Let's discuss how this cake came to be: Last month I had the itch to make a gluten-free/dairy-free chocolate cake. You see, chocolate cake is not something you mess around with. It should be extra moist (I said it), rich, and decadent– most assuming that it's not possible when gluten-free/dairy-free. But today's recipe is all of that and then some.
And as if the cake isn't good enough, there's chocolate ganache.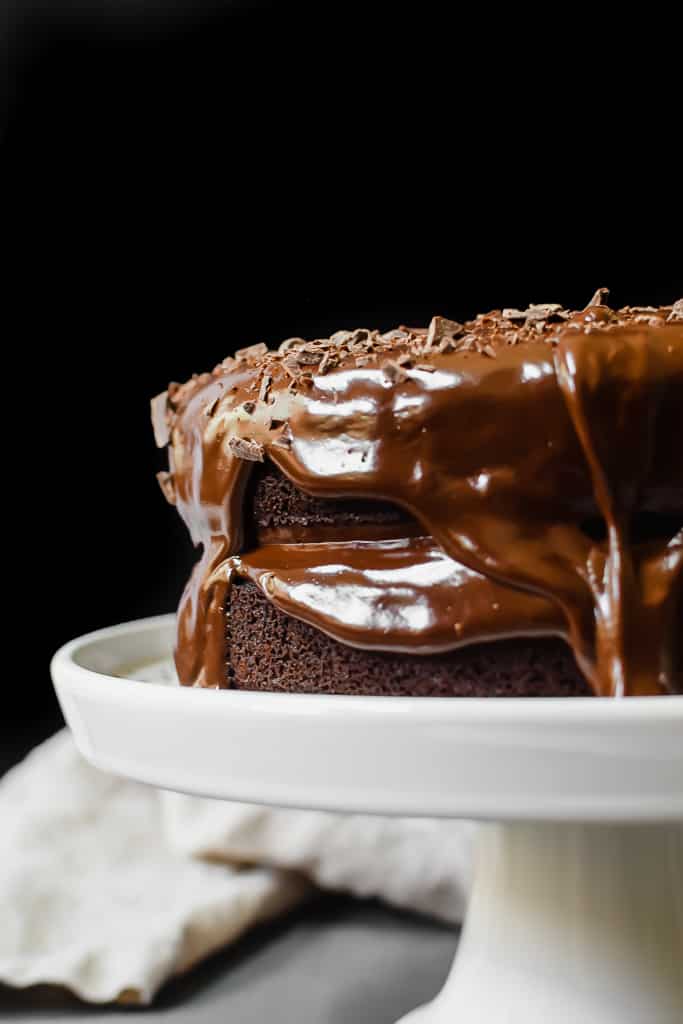 I made this cake the other day to re-shoot and share with friends to get their final opinion. The responses were, "omg this is amazing", "I'm eating this FOR dinner", "what just happened in my mouth?", "THIS IS SO GOOD" and one of my friends sat on their floor at ate it (similar to cheesecake episode on Friends.)
But the best part about this cake? It's towering magnificence. Just look at it. And your tastebuds will dance after that first bite.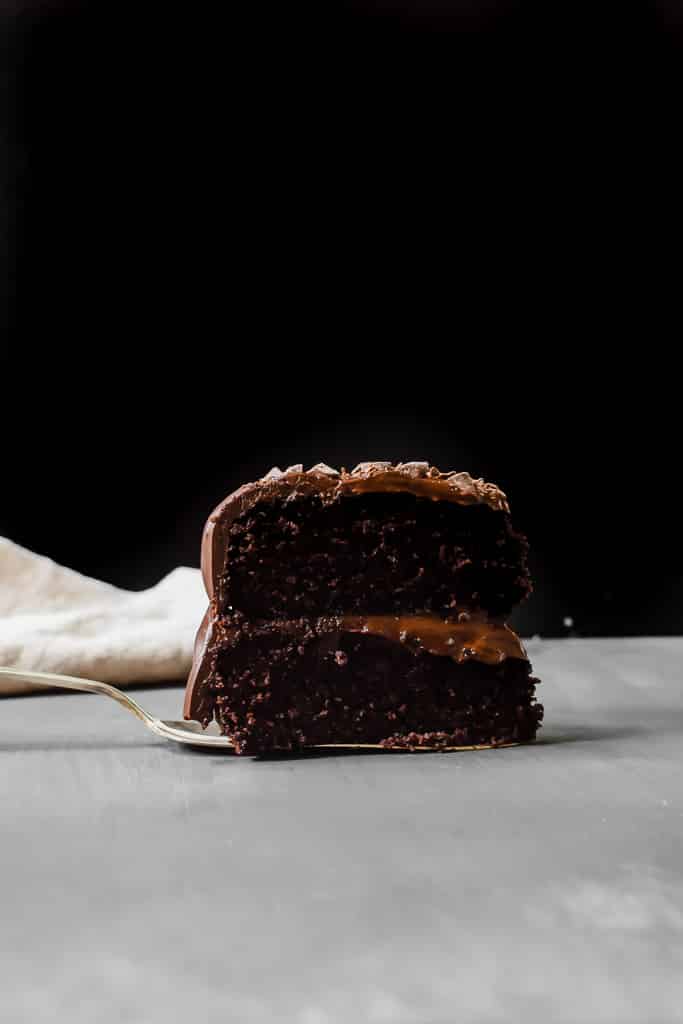 One last thing: Straying from the recipe below will yield in different results. There's a reason why this cake took me so long to perfect... it's all in the ratio of specific ingredients. I've included plenty of notes for you in case you have questions.
Enjoy this beauty!♥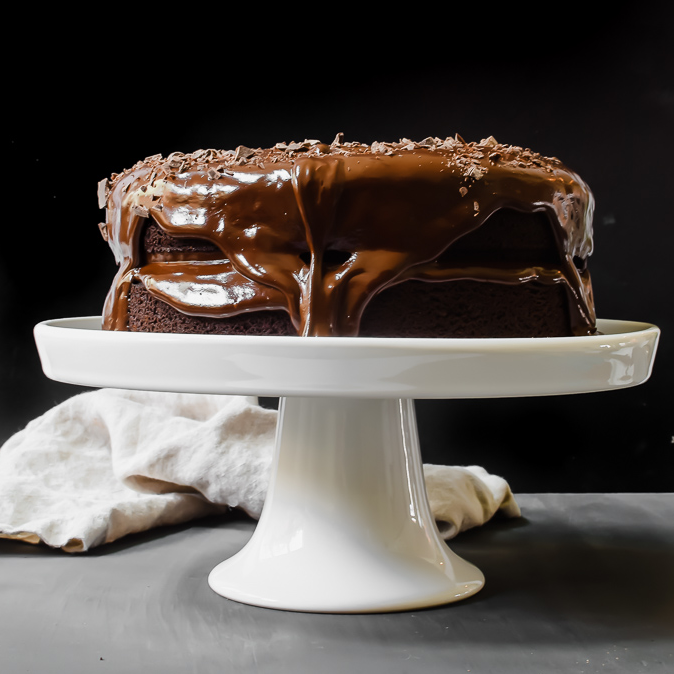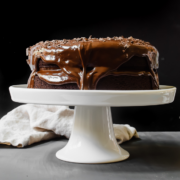 The Best Paleo Chocolate Cake.
---
Description
My favorite homemade paleo chocolate cake recipe. It's the fudgiest and a crowd pleaser!
---
Ingredients
Chocolate Cake
4

cups

almond flour

3/4

cup

coconut flour

1 and 1/4

cups

cocoa powder

1

Tablespoon

baking soda

1/2

teaspoon

baking powder

1/4

teaspoon

salt

6

large eggs, room temperature*

1

cup

coconut sugar

1/3

cup

honey

3

teaspoons

vanilla extract

1 and 1/4

cup

unrefined coconut oil, melted

2

cups

coconut milk, full fat
Chocolate Ganache Glaze
16

ounces

dairy-free chocolate, chopped in like-size pieces or chocolate morsels*

1 and 1/2

cups

unsweetened almond milk

2

Tablespoons

unrefined coconut oil
---
Instructions
Preheat the oven to 350°F and spray two round 9-inch cake pans with non-stick spray. Set aside.


Make the cake: Whisk the flours, cocoa powder, baking soda, baking powder, and salt together in a large bowl. Set aside. In a large bowl, whisk together the eggs, coconut sugar, honey, and vanilla. While whisking, slowly add the coconut oil. Pour the wet ingredients into the dry ingredients, add the coconut milk, and whisk or fold until the batter is completely combined. Do not overmix. The batter will be thick and slightly gritty looking - that's OK.

Divide the batter evenly between the two cake pans. Bake for 48-50 minutes. Baking times may vary, so keep an eye on yours. The cakes are done when a toothpick inserted in the center comes out clean or with a few moist crumbs.

Remove the cakes from the oven and set on a wire rack. Allow to cool completely in the pan.




Make the glaze: Heat the almond milk and coconut oil in a medium saucepan over medium heat until simmering. Allow to simmer for 30 seconds. While it heats up, place the chocolate in a heat-proof glass bowl. Once simmering, remove the milk from heat and pour over chocolate. Let sit for 3 minutes. Gently whisk until smooth. Allow to cool for a few minutes.

Assemble the cake: Once the cakes are cool, run a thin knife around the edges to release them from the pans. Place bottom cake layer on your cake stand or serving plate. Pour half the glaze into the center of cake. Spread glaze just to the edges of cake allowing it to gently drip down the sides. Place second cake layer on top and gently press down to adhere to the glaze. Repeat with the remaining glaze. Top with shaved chocolate, if desired.
---
Notes
*For the chocolate, I prefer to use Enjoy Life Milk Chocolate Morsels or Enjoy Life Dark Chocolate Morsels.
*Cake will not set up properly if using cold eggs.
Make ahead tip: Baked and cooled cakes can be prepared 1 day in advance. Cover and store at room temperature, and continue with step 5. Cake stays fresh and moist at room temperature (covered) for up to 4 days. Cake can be refrigerated (covered) for up to 5 days.
PIN IT for later!