These homemade buttermilk biscuits are tender on the inside with crisp edges and full of flavor. This recipe requires only 6 ingredients and ready in about 40 minutes.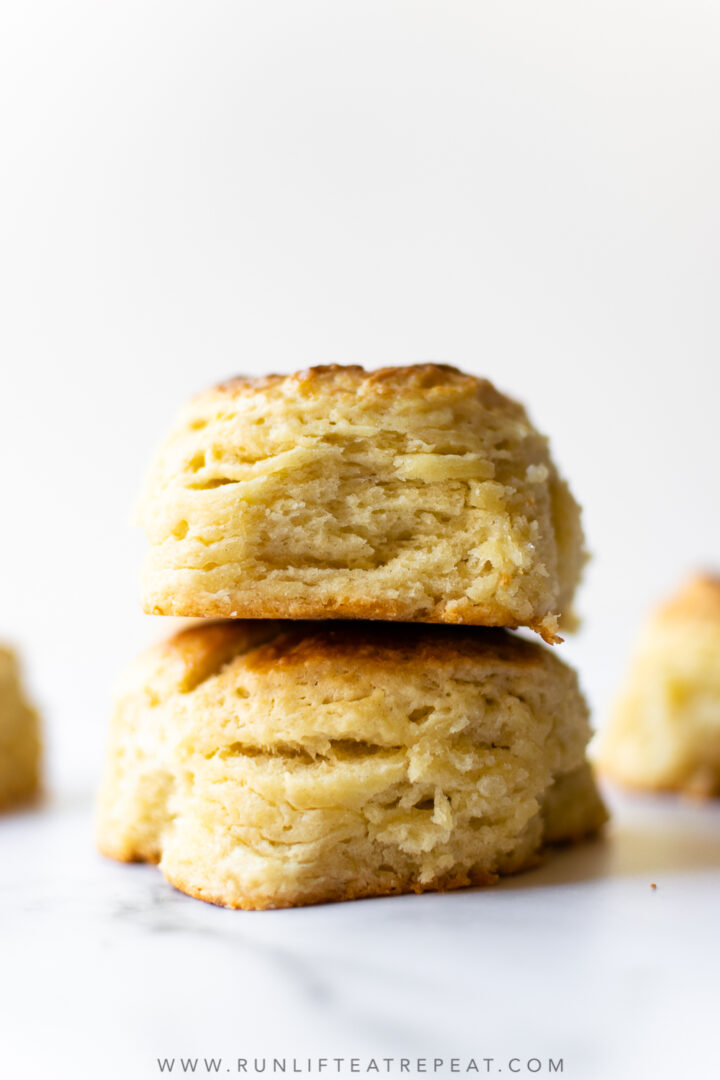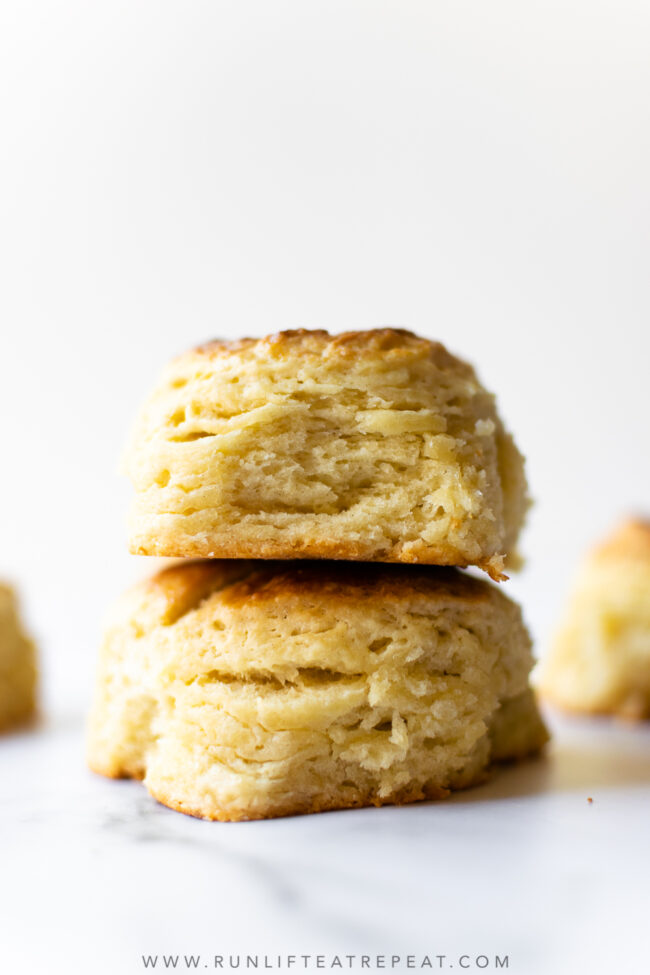 I have a confession to make. I'm one of those people that has always HATED biscuits (I KNOW!) That is, until now.
So let's celebrate BIG. We're making BIG delicious biscuits today— flaky, fluffy, and buttery. The type of biscuits that even non-biscuit lovers will love! 😉
What Are Biscuits?
Depending on where you live, the term "biscuits" can have different meanings. Here in the United States, biscuits are a dinner roll that typically aren't made with yeast. Because of that they are technically called a "quick bread" like banana bread. In other areas of the world the term "biscuits" means cookies or crackers.
Tell Me About These Biscuits
I found that all the biscuits that I tried were either too dry, too bland or not flaky enough. They really just fell apart. These biscuits are none of that!
Texture: These biscuits are soft and tender on the inside while still flaky. If you want crisp edges, bake them in a cast iron skillet.
Flavor: These are NOT bland biscuits. Between the salt and honey, these actually have flavor.
Time: From start to finish these biscuits take 40 minutes which means you can easily make these on a weekend morning.
Easy: This is truly a no-fuss recipe.
Ingredients For Biscuits
You only need 6 ingredients for these biscuits— with so few ingredients, it's important to avoid any substitutions .
Flour: We're using all-purpose flour for this recipe— nothing fancy.
Baking Powder: The recipe only requires baking powder and a lot of it. You are in fact reading the recipe correctly and there is 3 Tablespoons of baking powder.
Salt: The salt helps give the biscuits flavor. I also sprinkle a little bit on the tops after I brush them with buttermilk.
Butter: Like most of my recipes, I'm using unsalted butter. If you only have salted, you can use it, but omit the salt. We need this butter very, very, VERY cold. More details on that below.
Buttermilk: Using buttermilk helps create a tender biscuit. The buttermilk, like the butter, needs to be cold. I recommend pouring it into a measuring cup and sitting it in the refrigerator until you need it.
Honey: The touch of honey helps give it a slight sweetness and balances out the salt.
You'll notice the emphasis on very cold in the ingredients. This is very important to achieve the best biscuits.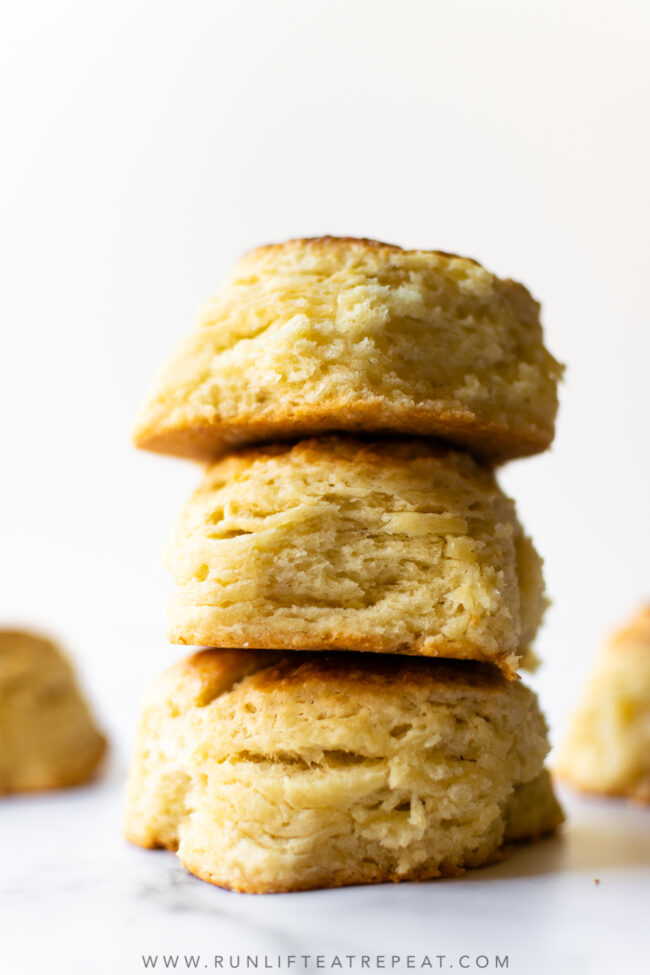 Tips For Homemade Biscuits
Cold Butter: It's important to use very cold butter to ensure the flaky layers and pockets of air. The trick I do is cut the butter into pieces then place them in a bowl into the freezer until you're ready to add them to flour.
Avoid Overmixing: You never want to overwork the dough. It will cause it to become tough. The dough should be crumbly as you turn it onto the counter.
Bake Close Together: The closer you sit the biscuits together in the baking dish the better they will rise.
Folding Method: This method helps create the layers within the biscuit. You roll out the dough into a rectangle, fold in each side, then roll again into a rectangle. Repeat 4-5 times.
What Should I Bake Biscuits In?
You can bake the biscuits in any oven-safe dish, but you want the biscuits close together (see tips above.) If you want the crispy edges, go for the cast-iron skillet.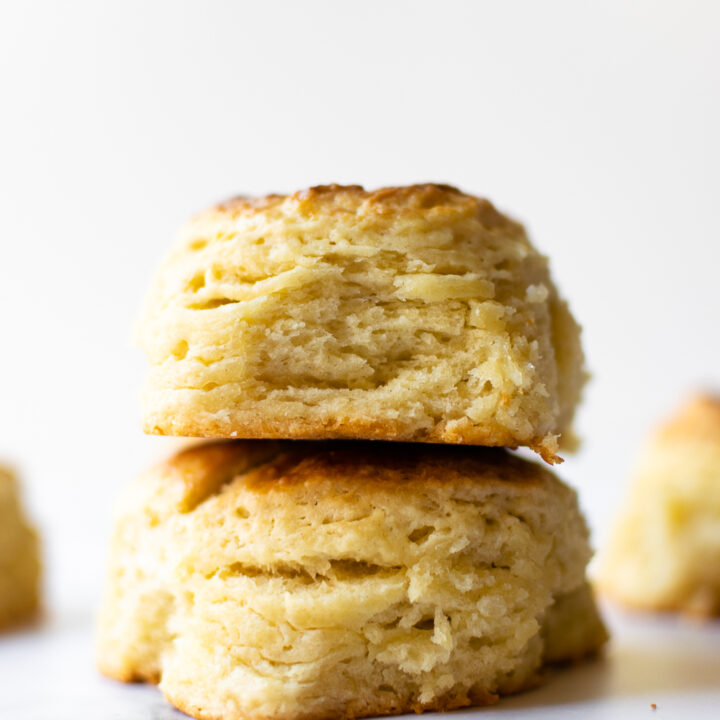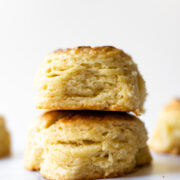 Homemade Buttermilk Biscuits
---
Description
These homemade buttermilk biscuits are tender on the inside with crisp edges and full of flavor. This recipe requires only 6 ingredients and ready in about 40 minutes.
---
Ingredients
2 and 3/4

cups

all-purpose flour

3

Tablespoons

baking powder

1

teaspoon

salt

3/4

cup

(1.5 sticks) unsalted butter, very cold, cut into cubes

1

Tablespoon

honey

1 and 1/4

cups

buttermilk, very cold
---
Instructions
Preheat oven to 425°F. Lightly spray a pan or cast-iron skillet with non-stick spray. Set aside. From the buttermilk, remove 2 Tablespoons and set aside (to brush the biscuits before they bake.)

Combine the flour, baking powder, and salt together in a large bowl or food processor. Whisk or pulse until combined. Add the cubed butter and cut into the dry ingredients using a pastry cutter or by pulsing the food processor several times. It should resemble coarse crumbs.

If you used a food processor, pour the mixture into a large bowl. Make a well in the center of the mixture, then add the buttermilk and honey. Fold everything together with a rubber spatula until it starts to come together. Do not overmix the dough. The dough will be crumbly. Pour the dough and any dough crumbles onto a floured surface and gently bring together with generously floured hands. You may need extra flour to keep the dough from sticking.

Using your hands or rolling pin, flatten the dough into a 1/2-3/4 inch thick rectangle. Fold one side into the center, then the other side. Turn the dough horizontally. Gently flatten the dough again. Repeat 4-5 times. Flatten into the final 1/2-3/4 thick rectangle. Cut into the dough with a 2.75 or 3-inch biscuit cutter— do not twist the cutter when pressing into the dough. Re-roll the scraps until all the dough is used. You should have about 9-11 biscuits.

Arrange the biscuits into the prepared pan as close together as you can. You want the biscuits touching. Brush the tops with remaining buttermilk. Bake for 10 minutes at 425°F, then while leaving the biscuits in the oven, reduce the temperature to 350°F and bake for an additional 15-20 minutes or until the tops are golden brown.

Remove from the oven and allow to cool for 3-5 minutes before removing from the pan. Serve warm. Leftovers stay fresh at room temperature for up to 5 days.
---
Notes
Make Ahead & Freezing Instructions: The baked biscuits freeze well for up to 3 months. Thaw at room temperature or in the refrigerator, then warm to your liking before serving.
Butter: Cut the butter into cubes. Keep the butter as cold as you can until you need it. I usually place the cubed butter in the freezer for about 10 minutes prior to using.
Buttermilk: Don't have buttermilk? Make your own. Add 3 teaspoons of fresh lemon juice or white vinegar. Then, add enough milk to make 1 and 1/4 cup. Stir together and let it sit for 5 minutes before using. It's best to use whole milk for this.
Tagged in:
biscuits, breakfast